Are you someone that moves their bird cage around the house a lot so you wanted to upgrade and get a bird cage on wheels?
Transport of the cages we reviewed in this article will be a piece of cake. We advise you to continue reading this article if you wanna be sure that you're getting the best bang for your buck. We made sure to review different types of cages as well so that's why you'll be reading reviews about aviaries, budgie, parrot, and even large cages all on wheels.
The Summary
Best 6 Rolling Bird Cages
BEST OF BEST BIRD CAGE ON WHEELS
Super Deal Pro Large Bird Cage
Things You Can't See
It's very obvious that a lot is going on with what this cage has to offer but we'll start with the thing that's not visible when you look at it and that's the metal used to make it. This is a wrought iron bird cage which means that it has a lower carbon content that makes it more durable.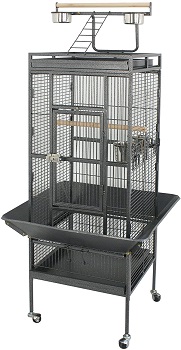 Finish Properties And Use
With wrought iron, and regular iron bird cages you'll want to make sure that they have a coating finish on them. This rolling bird cage has a powder coat finish that will protect your bird from suffering metal poisoning. It will do so by preventing your bird to get into direct contact with the metal. It's a finish that doesn't chip or crack.
Top Tray Reason
It actually features two slide-out cleaning trays. One is located where any other tray can be found while one is found on the top. The top has a tray because that's where the play area can be found. This play area consists of a single wooden perch, 2 bowls for water and food, and a play ladder.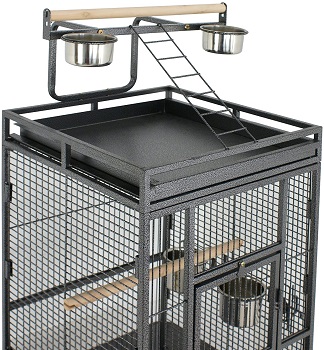 Wire And Cleanliness
The wire spacing of the Super deal pro bird cage is 0.5-in. What this means is that you'll get to use it to safely house small birds like budgies and some other medium parakeet species. IT even features a seed guard that will help keep your floors cleaner making you have to clean them less frequently
In Short:
Made with wrought iron
Has a powder coat finish
Features a 0.5-in wire spacing
Comes with a seed guard
Has a play area on top
Has a top and bottom cleaning tray
BEST AVIARY ROLLING BIRD CAGE
PawHut 44 Hexagon Cage
How Big Is It
Right off the bat, we have to mention that this is an aviary for smaller birds. We mention this because some aviaries for small birds can easily function as indoor bird cages as well since smaller birds don't require that large of space when flying around. This one is 44-in long and wide.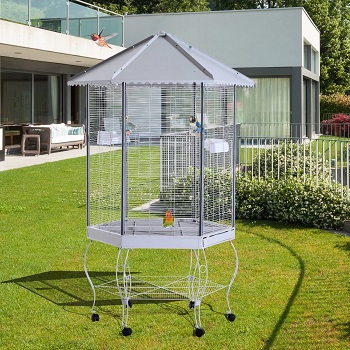 Color And Shape
Although it's equally wide and long, this does not mean that it features a square shape. It's actually a hexagon-shaped bird aviary on wheels. This shape makes it more aesthetically pleasing and the thing that also helps with that is the white and light grey colors it's coated with.
Stand Contents
It doesn't just have a regular old stand though. It's actually an antique bird cage stand that has 6 curved and hollow legs with each one having a wheel for easier movement. It also has a hexagon-shaped wire grid where you'll get to store most, if not all of your birds' supplies.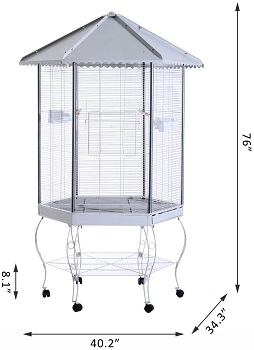 Top And Wire Middle
We covered what the bottom consists but we are yet to mention the top. On top of this bird aviary on wheels, you'll find a canopy that will help keep the birds inside in the shade. It should also help keep your birds dry during rain but we wouldn't advise this to happen too often. It has a 0.5-in wire spacing making it suitable for small and some medium-sized birds.
In Short:
Has a hexagon shape
Features a canopy on top
Sits on an antique stand that has 6 wheels
It's 44-in long and wide
Can mostly be used indoors and only sometimes outdoors
Has a 0.5-in wire spacing
BEST BUDGIE BIRD CAGE ON WHEELS
Topeakmart Wrought Iron Cage
Common Metal Build
It comes as no surprise to us that this is yet another bird cage on wheels made out of wrought iron. This material is cheaper than let's say stainless steel while still offering the durability some bird owners might be looking for. Its flaw, just like with regular iron, is that it rusts more easily.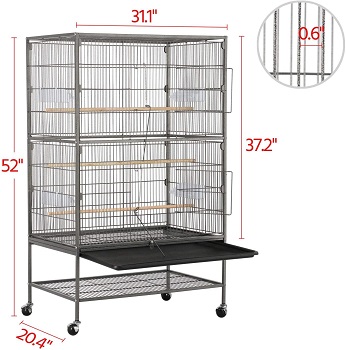 Typical Flight Cage Dimensions
The cage before it was an aviary while this is a flight cage. The difference between the two is that flight cages are usually only wider while aviaries are generally large. A flight cage is not meant to fully replace your birds' need for outdoor cage time. This one is 31.1-in wide and 20.4-in long.
Dimension Specification
Although its weight shouldn't pose a problem when moving it from room to room since it only weighs around 32 lbs, what might is its size. Overall, it's 52-in tall, and what will make moving it easier is the stand with wheels it sits on. Although it can't be removed from the stand it's good to know that its interior height is 37.2-in.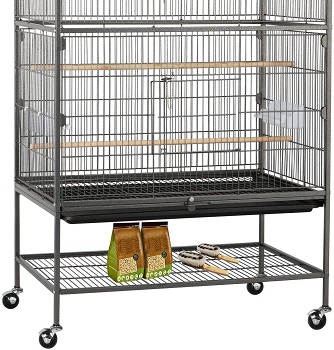 Larger Wire Spacing
The wire spacing of this cage is somewhat bigger than the ones we've seen so far. It has a 0.6-in wire spacing and although it is only a 0.1-in difference, it makes all the difference to birds. We'd avoid using it for smaller birds and focus on mainly using it for birds like parakeets. Budgies belong to this group of birds.
In Short:
Has a wrought iron build
Acts as a flight cage
It's 31.1.-in wide, and 20.4-in long
Overall, it's 52-in tall and the interior is 37.2-in tall
Has a 0.6-in wire spacing
Weighs around 32 lbs
BEST LARGE BIRD CAGE ON WHEELS
Featherland Paradise Large Cage
Multiple Transportation Methods
The whole point of wheels on a cage is to make transport from room to room or anywhere else a lot easier. Although this cage does sit on wheels for easier movement, what it also has is the ability to be folded down. This will make both storage and transport of the cage even easier.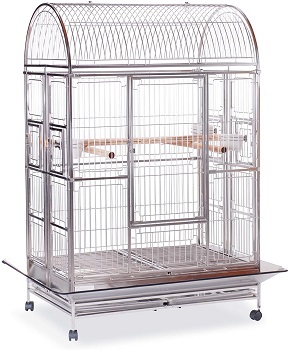 Stainless Steel Benefits
If you have the chance to purchase a stainless steel bird cage like this one, we'd definitely advise you to do so. With these cages, you don't have to worry about your bird suffering metal poisoning. You're also getting a generally more durable cage whose wire will be tough or even impossible to bend.
Who's It For
We'd go after a large bird cage with wheels like this if we had a larger parrot since they have stronger beaks and can easily damage a regular indoor bird cage. You can be sure that the wire is durable since it's a 7 gauge wire. Gauge determines the thickness of a material.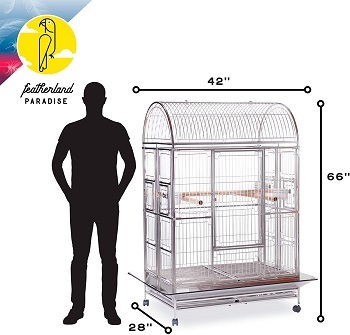 Wire, Bottom, And Top
It's actually made to house larger parrots because of the 1-in wire spacing. We've learned that this is definitely the highest wire spacing you can get on a cage. It features a dome top and on the bottom, along with the wheels, you'll find a bird cage seed guard that will help keep your floors cleaner.
In Short:
Made out of stainless steel
Has a 7 gauge wire build
Features a 1-in wire spacing
Has a bird cage seed guard
Can be folded for storage or transport
Made to house larger parrots
BEST PARROT BIRD CAGE ON WHEELS
A&E Cage Company Corner Cage
Shape Comparison
If we had to compare the shape of this cage to something we'd compare it to 1/4 of a circle. It's shaped like this so that it can fit inside corners of your house and look seamlessly well inside. The front is not actually rounded though. It consists of 3 panels that are angled.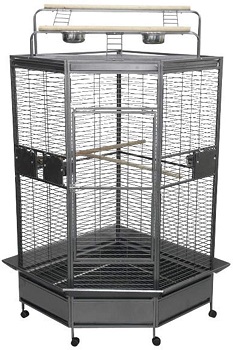 Finish Information
Although it's easy to guess that a finish for a bird cage is non-toxic to birds, it's always good to check. The coating finish on this cage is safe for birds which leads us to believe that it's free of harmful metals like lead and zinc. On top of it, it's a powder coat finish meaning it won't chip or crack.
Three Front Panels
The 3 panels that make up the front of this rolling bird cage hold all of the doors that you can find on it. The center panel holds the largest door that acts as the main entrance to the cage. Each side panel then has 2 additional smaller doors used as feeding entrances. All of these doors have birdproof locks.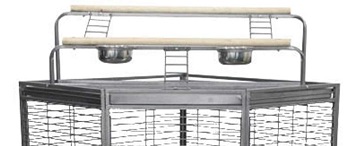 Birds Allowed Inside, Top, And Bottom
Since it has a 1-in bar spacing, it's safe to say that it's made for larger parrots. The bottom can contain a bird cage seed guard while the top has a play top. This play top has a lot more content than we usually expect a play top bird cage to have. It has 3 play ladders, 2 perches, and 2 bowls.
In Short:
It's a corner bird cage
Has a 1-in bar spacing
Features bird-proof locks on all doors
Has 4 feeding entrances
Comes with seed guards
Has 3 ladders, 2 perches, and bowls on top
BEST WHITE ROLLING BIRD CAGE
PetcageMart Metal Dome Top Cage
Vintage Looks
This is the most typical vintage-looking cage that you can find. Usually, vintage bird cages are associated with fully round cages but you'll want to avoid that since they aren't healthy for birds both mentally and physically. If you find a cage with a rectangular shape that has a dome top, you're looking at a safe antique bird cage.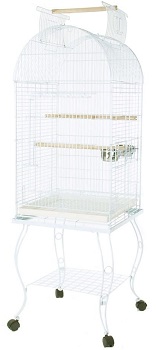 Stand And Color
Another indicator of a vintage metal bird cage is the stand it sits on. A vintage stand usually has curved legs that are most likely hollow and that's the cage with this stand. With the stand, the whole cage is 65-in tall while the usable interior is actually 35-in tall. It's a fully white bird cage on wheels.
Rest Top
When a cage features a dome top, it's common practice that it features 2 doors there. These doors can be opened ad stay open if you just place a perch in between them. This creates somewhat of a play area on top but it's mostly a rest area when your bird is getting outdoor cage time.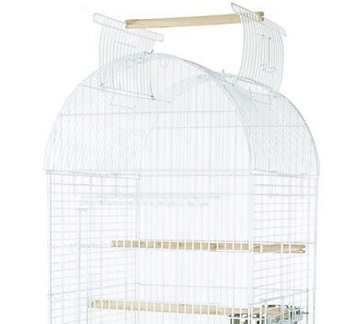 Interior Equipment
Apart from the perch that you can place on top, the interior can be equipped with 2 wooden perches and 2 bowls for food and water that are made out of stainless steel. It has a 5/8-in wire spacing which makes it suitable for use by medium-sized birds like cockatiels, conures, and parakeets.
In Short:
Has a dome top
Sits on an antique stand
Has a 5/8-in wire spacing
Has a rest area on top
Comes with 3 perches, and 2 bowls
Overall, it's 65-in tall
The interior is 35-in tall
How To Pick A Bird Cage On Wheels
Any old rolling bird cage won't do for most birds. You have to take into account the safety of a cage, the bird you're getting it for, your primary needs for a bird cage, and many other things before you can decide on one. We'll give you all of the information needed, and then it's up to you to decide what it's best for you and your bird.
How Often They Come With Wheels – Almost any bird cage that you find is most likely to sit on wheels. The exception is small cages that are big enough to fulfill the minimal cage requirements for your specific bird but even with those, you can still easily find a cage with wheels there too.
When It Makes Sense – The wheels make the most sense if you're someone that moves their cage around a lot or if the cage is really heavy so it's a matter of mobility. Cages are going to be heavier if they're bigger and if they're made out of special metals like stainless steel.
Locking Wheels – You should pay extra attention to whether or not your bird cage wheels can be locked. If it's a lightweight cage designed to house smaller birds you might not need for the wheels to lock but if it's a heavy bird cage for a larger parrot, at least two of the wheels should lock. The lock will make it more stable while it sits in place
What Bird Goes In What Cage – To truly know what cage can house your specific bird, it's good to categorize your bird into either a small, medium or large size. Small birds do well in cages up to 0.5-i wire spacing, larger birds in 1-in wire spacing cages and medium birds vary the most and range between 5/8-in up to 1-in so make sure you check if you don't know.
To Sum Up
The one bird cage on wheels that we recognized to be the best you can get out of all of them is definitely the Featherland Paradise Large Cage. It has amazing mobility due to the wheels but also the fact that you can fold it down, It's made out of stainless steel and can endure a lot of abuse coming from larger parrots. If you figured out that you'd actually like vintage cage by seeing a few here, we advise for you next stop to be either the article about large antique bird cages or about vintage hanging bird cages.