Are you here because you really want to find a great-looking and functioning vintage metal bird cage?
If you are, you're in the right place. All that's left for you to do is to keep on reading this article where we collected our top picks and reviewed them. Furthermore, we made sure to include all sorts of cages like brass, white, with a stand, and even wrought iron cages.
The Summary
Best 6 Vintage Metal Bird Cages
BEST OF BEST VINTAGE METAL BIRD CAGE
Vivohome Wrought Iron Bird Cage
What Makes It Vintage
The most common indicator of a vintage bird cage is definitely its antique bird cage stand. The stand of this cage is not the one to help with the vintage look since its legs are straight and don't really have such a vintage look. The thing that does make it vintage though is its top and details.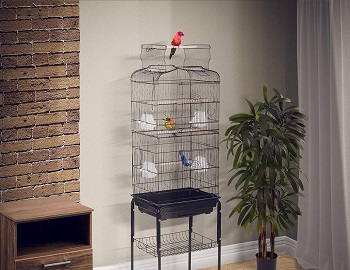 Top Doors And Shape
The top of this vintage metal bird cage is curved but it's not round. The edges are concave and it still manages to have a fat top. There, you'll find an entrance that consists of two doors. These doors can be opened and you can place a perch in between to keep them open.
Stand Information
You can actually detach the stand from the cage as well. The stand features wheels and even a shelf where you'll get to store most of your bird supplies. Although the cage isn't really heavy with only around 15 lbs of weight, it sure will be useful to simply move it from room to room using the wheels.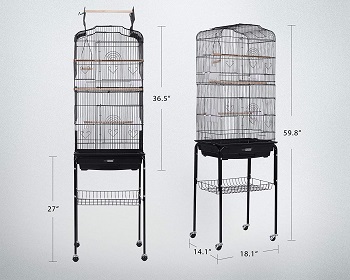 Metal Safety And Durability
The cage is made out of wrought iron. This is one of the more common materials used in making these cages so it's of pretty standard quality and durability. You also need to think about how the metal is protected. This cage protects it with a black powder coating finish. The wire spacing is 0.39-in so it's fit for housing small birds.
In Short:
Made out of wrought iron
Has a 0.39-in wire spacing
Features a black powder coating finish
Has 2-doors on top
Comes with a stand with wheels and a shelf
Can be detached from the stand
BEST BRASS VINTAGE METAL BIRD CAGE
King's Cages Pbr Parrot Cage
Brass Safety
You really shouldn't get a brass cage for your birds. Brass is a zinc and copper alloy that can both be toxic to birds. This is especially true if you're looking at a large antique bird cage that's designed to house larger parrots that tend to easily chew through their cages. Luckily, this cage isn't really a vintage brass bird cage.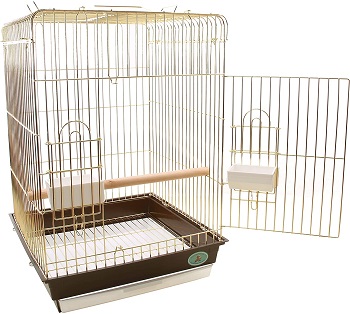 Brass Finish
The only thing brass about this vintage metal bird cage is the fact that it has a brass powder coating finish. If you don't like this you can also choose to get it coated with a black powder coating finish. We would recommend you get the brass finish though since it's safe for birds.
Top And Bottom Construction
The top of the cage is made out of wire while the bottom is made out of plastic. The plastic base isn't very deep but it does feature a drawer that will collect your bird's litter. You can then easily pull it out for cleaning. On top of the cage, there is a bottom wire grid that will prevent your bird from getting into contact with its own soil.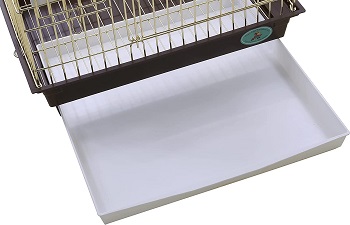 Size And Wire Spacing
The cage has a square shape since it's both 18-in wide and long. It's a bit taller than that though with a height of 27-in. This makes it fit into the category of small bird cages. It has a wire spacing of 5/8-in so it's good for medium birds like cockatiels. You can actually convert it into a small bird cage with stand if you get it with a stand that's sold separately.
In Short:
Has a brass finish
Made out of metal wire
Has a plastic bottom base with a cleaning drawer
Features a 5/8-in wire spacing
Can house medium birds like cockatiels
It's thought of as a small bird cage
BEST WHITE ANTIQUE METAL BIRD CAGE
PawHut 44″ Hexagon Canopy Cage
Cage Type
This is the biggest cage we are reviewing so far and further on in this article and it's because it's actually a parakeet aviary. Aviaries or flight cages are large enclosures that are meant to provide enough space for your bird to stretch its wings since there is a large interior.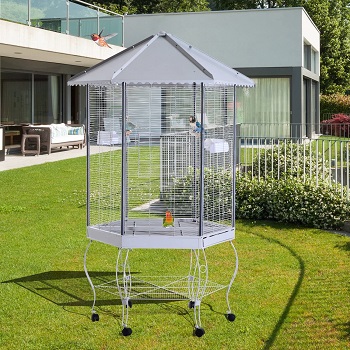 Vintage Looks
It's a vintage metal bird cage for multiple reasons. The first one is that it has a hexagonal shape, the second one is the fact that it has a canopy and the third reason is the stand. The stand has 6 legs with wheels that are curved and hollow. You'll also find a supply storing grid there.
Canopy Use
The canopy of this cage is actually made out of metal sheets. What this does is give it an interesting look but it also helps protect your birds from rain or the sun if you ever choose to use it outdoors. Since it has a wire spacing of 0.5-in and it's quite big you'll get to house multiple small birds inside.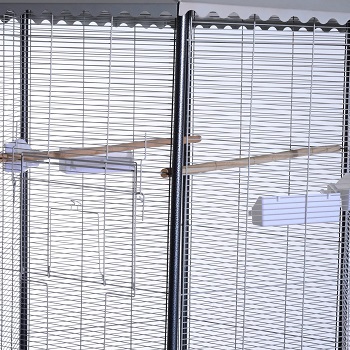 Color And Accessories
It's actually an antique white metal bird cage. Not all of it is white though, It features a light grey color while the wire is colored white. the inside comes equipped with 4 food and water boxes and also 2 perches. The boxes are made out of plastic while the perches are made out of wood.
In Short:
Has a hexagonal shape
Meant to be used as an aviary
Comes with a metal sheet canopy
Sits on a stand with 6 wheels and a storage shelf
Has a 0.5-in wire spacing so it's good for small birds
It's colored white and grey
BEST WROUGHT IRON VINTAGE METAL BIRD CAGE
Yaheetech Wrought Iron Rolling
Wire Diameter And Spacing
When looking at cages for larger parrots and other birds, you not only want to make sure that wire spacing is large enough but also that the wire has a large diameter. This is because large parrots have much stronger beaks and chew on the wire to navigate through the cage. This cage has a 1-in wire spacing and a 0.14-in wire diameter.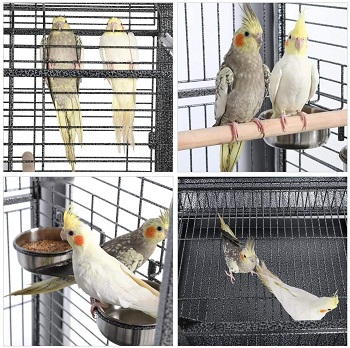 Metal Durability And Protection
This is an antique wrought iron bird cage. Wrought iron does rust more easily but luckily, the coating finish helps protect it. it's also a welded cage so you can be sure it has a durable construction. The finish in question is hammer tone paint that protects it from rusting and water.
Door Uses
There are 2 large entrances on the vintage metal bird cage. one is located in the front and will be enough for you to access the cage when needed as well. On top, there is a 2-door entrance that will be useful to your bird when getting the exercise she or he needs. This is because you can place a perch in between the door to keep them open.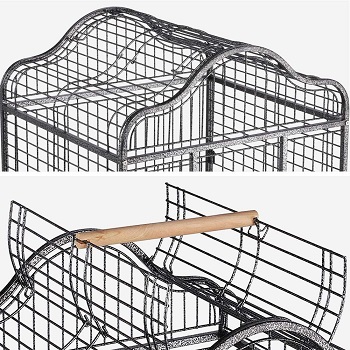 Bottom Features
The stand of this antique wrought iron bird cage doesn't take much from the cages' actual height. With the stand on, it's 63-in tall and without it it's 44.5-in tall. Along with the bottom cleaning tray, you'll also get metal panels that you can on the outside to serve as seed guards.
In Short:
Made with wrought iron
Has a hammer tone paint finish
Has a 1-in wire spacing and 0.14-in wire diameter
Made to house large parrots like African grey
Comes with a stand with wheels
Features a seed guard close to the bottom
BEST SMALL VINTAGE METAL BIRD CAGE
Prevue Hendryx Designer Cage
Antique At Its finest
If we had to pick one cage to represent the antique category because it's the most thought of when picturing an antique cage it would be this one. This is due to the little wire details on the outside, its shape and also its size, and how it's used. It's designed to be a vintage hanging bird cage.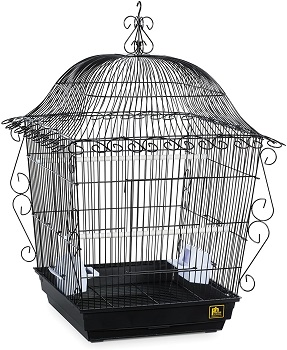 Cage Size
You will rarely find a hanging bird cage that is large. It's only logical so you won't really get to house large birds inside this vintage metal bird cage. It has a wire spacing of 5/8-in or 0.625-in. This is already too big of a wire spacing for it to be considered a small parakeet cage so it's better for medium birds like cockatiels.
Sides And Top Shape
The only thing round about this cage is its top and it's not even fully round. The sides of the cage have corners and angles which is really important for birds because rounded cages confuse them and can be damaging to their mental well-being. The sides are a bit angled though.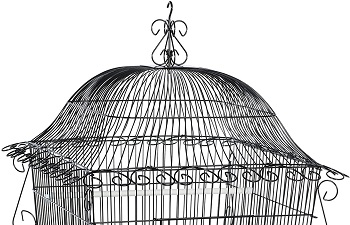 Materials Used
It's not a fully metal cage though. The top part is made out of steel wire and coated with a black finish but the bottom is plastic. It's not a very deep plastic base as well. You'll find a slide-out cleaning drawer there that's located below the wire grid. If you'd like, you can also get the cage in white.
In Short:
Has a wire top and a plastic bottom
Comes with a plastic cleaning drawer
Made to house medium birds because of the 0.625-in wire spacing
Can be used as a hanging cage
BEST WITH STAND VINTAGE METAL BIRD CAGE
Yaheetech Rolling Bird Cage
Modern And Vintage
We feel like it's really great to have a cage that combines modern elements with vintage ones and this is exactly that type of cage. Thanks to the stand it sits on you can view it as a vintage cage and because of the top that makes it a parakeet bird house it's modern as well.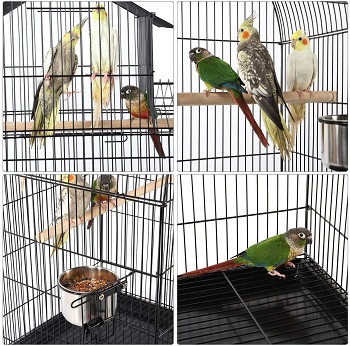 Vintage Stand Abilities
Another great thing about the stand of this vintage metal bird cage stand is that you can detach it from it. This will allow you to place the cage virtually anywhere without the stand. It weighs around 25 lbs so you can easily carry it around even without its stand with wheels.
Wire Durability And Protection
Since the bar spacing is 0.6-in, you can use it to house both small and medium-sized birds. You also won't have to worry about the durability of the wire since these birds don't have that strong of beaks to bend this already durable wire. It's also safe for birds because of the powder coating that makes it resistant to rusting and water.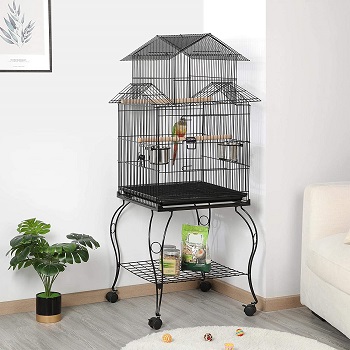 Bottom And Inside Contents
The bottom has a gridded wire shelf located just above the plastic tray for cleaning so that your birds don't step into their own soil. The interior comes equipped with 2 stainless steel bowls so they're bound to last a really long time and you'll also get 2 wooden perches with it.
In Short:
Built with powder-coated wire
The finish protects the wire from rusting and water
Has a triple roof house top
Comes with a detachable antique stand with wheels
The wire spacing is 0.6-in
Features 2 stainless steel bowls and 2 wooden perches
How To Pick A Vintage Metal Bird Cage
Choosing a bird cage made of metal and that comes in antique design is easy, just pick the one you find the most pleasing to look at but there's more to them than just how they look. You'll have to think of their size, wire spacing, metal safety and so much more so be sure to read all about it and more here.
Bending The Rules Of Vintage – Many cages can count as vintage if you look hard enough. Typically, vintage cages are considered to be round but there's more to them than just that. Try to look for a cage with a curved and hollow legs stand or a cage with a rounded out top. These are all vintage and make the perfect addition to your home.
What You Shouldn't Get – Thanks to the past, vintage metal bird cages are often considered to be fully round bird cages with stand or without one but the problem with them is that they are extremely unhealthy for the bird. The fact that they have no corners can confuse the bird and damage their mental health and they are really hard to maintain and keep clean.
Metal Safety – There are two ways that you can look at metal safety: through wire spacing and through the coating finish of the cage. Metal can easily cause the bird to get metal poisoning so in order to protect the bird from it, you'll want to look for a quality finish, typically a powder coating or hammer tone finish.
Figuring Out The Size – Checking the wire spacing counts as both a safety feature and a feature that can help you determine what bird you can house inside a cage you're looking at, If the wire spacing is up to 0.6-in, you can house small birds inside, Anything above up to 0.7 or 0.8-in can be used for medium sizes birds while large birds require a wire spacing of 1-in and above
To Sum Up
IT was really easy to figure out that the vintage metal bird cage we should recommend is the Yaheetech Wrought Iron Rolling. It has a wrought iron metal construction, features a 1-in wire spacing so it's great for housing a larger bird and it even comes with a seed guard to keep your floors clean. If you want to check out more options for large cages but antique you can read the article about large antique bird cages or if you want a more natural version you can always check out the article about antique wrought iron bird cageS.