Looking for a proper budgies aviary but can't seem to fully understand what the cage you're looking for needs?
If you continue reading this article you'll be reading only about budgie flight cages. We reviewed the safest and the best for this type of bird and if you need a specific type of cage we've categorized them so you can easily find indoor, outdoor, large, and small cages. One cage is bound to fit your needs.
The Summary
BEST OF BEST BUDGIES AVIARY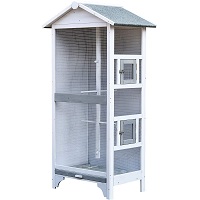 PawHut Wooden Outdoor Bird Cage
Not only does the waterproof asphalt roof protect your budgies from rain and the sun but also the back and left sides since they're made out of full wood.
Jump To Review
BEST INDOOR PARAKEET AVIARY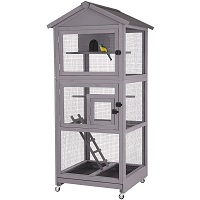 Aivituvin Wooden Bird Cages
The wire sides of this wooden cage are far more resistant to corrosion and outdoor weather because it's galvanized steel wire.
Jump To Review
BEST CHEAP BUDGIES AVIARY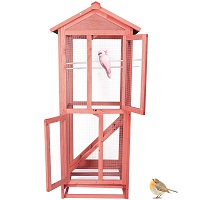 Lonabr Wooden Aviary House
The two large entrances might help with you accessing the cage for cleaning or any other business but be careful since it's made to be used outdoors.
Jump To Review
BEST WOODEN PARAKEET AVIARY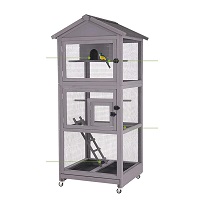 Gutineen Outdoor Bird Aviary
Of course, this aviary is made to be used outdoors but the wheels will help you move it indoors. These wheels are made out of stainless steel so they won't rust over time.
Jump To Review
BEST LARGE BUDGIES AVIARY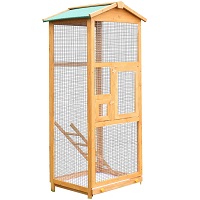 PawHut Large Outdoor Aviary
The wood used to make the aviary is natural pine wood that's been covered with a weather-resistant finish to ensure that it'll last for years.
Jump To Review
BEST OUTDOOR PARAKEET AVIARY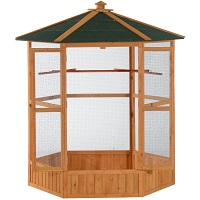 PawHut Large Hexagonal Outdoor Cage
The roof of the cage is an asphalt roof and the frame of the cage is made out of fir wood. Both are weather-resistant so you can use the aviary outdoors.
Jump To Review
Best 6 Budgie Aviaries
BEST OF BEST BUDGIES AVIARY
PawHut Wooden Outdoor Bird Cage
Sides Of The Cage
The sides of this cage are a bit different than what we're used to seeing. You can divide them into two parts the back and left side and the front and right side. The back and left are made with full wood to provide your birds with shade and to protect them from rain when needed.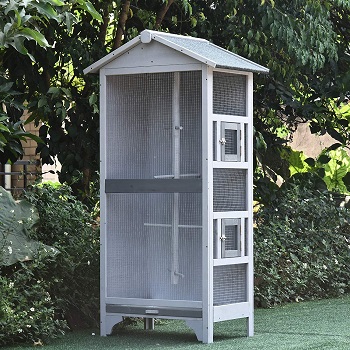 Wire And Wood Details
The wire used in the front and on the right side is there to provide this parakeet aviary with enough air and to protect them from predators outside. The rest of the cage is made out of fir wood that is lightweight. You won't have to worry about it damaging easily because it's weather-resistant as well.
Roof Design And Use
The roof of this aviary makes the whole thing a parakeet bird house since it's shaped like a house roof. it's an asphalt roof which means that it's waterproof and it will, like the back and the left side, protect your budgies from both rain and sun by giving them some shade.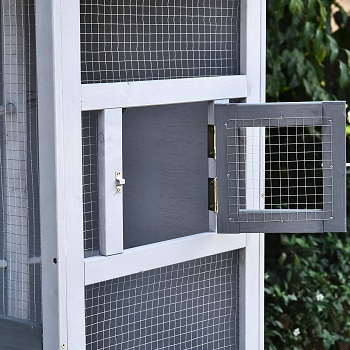 Fun Interior
Your budgies will be anything but bored in this aviary. In the middle of the interior space, there is a pillar that hangs from the roof and doesn't touch the ground. Inside it, there are four wooden perches pulled through that visually look like a tree with branches.
In Short:
Has a tree-like pillar with perches inside
Made out of wood and chicken wire
Has full wood back and left side for rain and sun protection
Has a waterproof asphalt roof that protects from rain and sun
The wood used is lightweight
BEST INDOOR PARAKEET AVIARY
Aivituvin Wooden Bird Cages
Build Resistance
All sides of this aviary feature wire sides and a wooden frame. The wire is made out of galvanized steel which means that it has a zinc coating that makes it better stand up to corrosion. The painting finish of the aviary is safe for animals so there's no worry about your birds getting metal poisoning.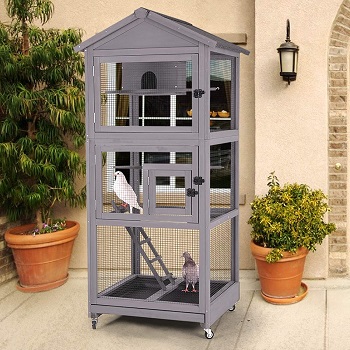 Easy Transport
Although everything about this budgies aviary points to the fact that it's best used outdoors, you can easily use it indoors as well. it's not every day that you come across an outdoor aviary that has wheels to easily bring it inside your home. Of course, this depends on whether or not you have access to a yard and other things.
Aviary Cleanliness
Just because it's used outdoors doesn't mean that it is destined to be dirty. The top asphalt roof will protect your birds both from the rain and sun and the interior of the cage as well while the slide-out cleaning tray on the bottom will help you clean out any bird excrements.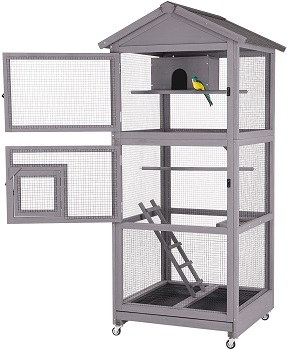 Interior Toys
The interior of this aviary is filled with all sorts of accessories that are sure to keep it interesting for your budgies. On top you'll find a hideout spot where your birds can hide and rest, there are two wooden perches and even a ladder  on the bottom. You'll also get a wooden feeder.
In Short:
Features a wooden frame
Has galvanized steel wire sides
The bottom has wheels and a cleaning tray
Comes with a plethora of accessories
Has a waterproof asphalt roof
BEST CHEAP BUDGIES AVIARY
Lonabr Wooden Aviary House
Waterproof Finish
The wood used to make this cage is solid fir wood so you can be sure that it's durable. It does have steel wire bits as well but that's not why it's also durable. We concluded it's durable because it acts well in outdoor weather. The paint finish makes it waterproof.
Entrances Size And Location
There are two entrances located in the front of this parakeet aviary. One can found on the bottom part of the front to the left and the other one on the top part to the right. They are big entrances for you to access the interior easily but it's important that you be careful since the birds might fly out if they're not trained.
Roof Importance
The roof of this aviary is covered with asphalt paint. It's an environmentally friendly paint that helps with waterproof abilities. This is so that the roof doesn't lea through and so that your birds are protected from sun and rain when it's needed since you won't get to easily move it inside since it has no wheels.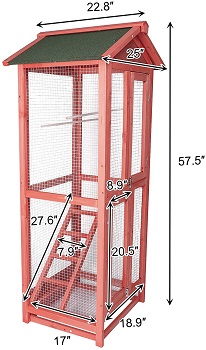 Plenty Of Accessories
Although aviaries are usually filled with greens to imitate the natural environment, the cage alone comes with a few useful accessories that can help you make the aviary look even better. These things are 2 perches and a wooden ladder that's quite big. The bottom is also equipped with a cleaning tray.
In Short:
Made out of solid fir wood
Has steel wire bits
Has 2 large entrances in the front
Comes with 2 perches and a ladder
The bottom has a slide-out cleaning tray
Has a waterproof roof
BEST WOODEN PARAKEET AVIARY
Gutineen Outdoor Bird Aviary
3 Entry Points
The entrances to this aviary are really something different. There are three of them which is more than we reviewed so far. There are two large entrances located in the front. The bottom one does have a built-in smaller door that will help prevent bird escapes if you ever need to access the cage while they're in.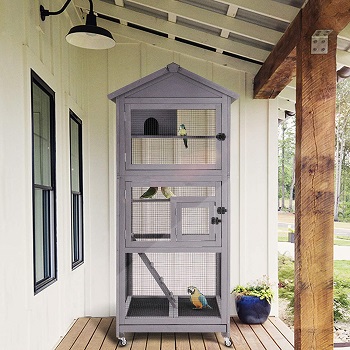 Cage Construction
The wood that makes parts of this budgies aviary is completely solid wood. That alone should be enough for you to believe it's durable but to top it all off, it also has durable steel wire sides. It's designed to be used outdoor as well so there's o worry that the materials will get worn out too soon.
Stainless Wheels
It was a really smart idea to put wheels on the bottom not only because you'll get to move it easily indoors and outdoor. it's also because the wheels are made out of stainless steel so they won't rust over time. The top of the aviary features a waterproof roof to keep your birds dry when outside.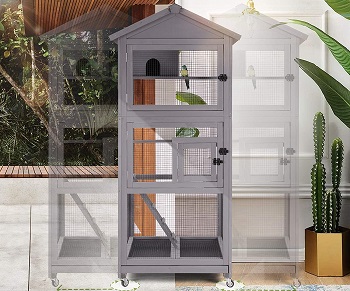 Toys Details
If you don't want to, you don't really have to install additional accessories inside because it comes with a lot of them anyways. There's a hide-out spot on top with a small entrance so that your budgie can get all the privacy, 2 perches that are made out of wood, and even a ladder.
In Short:
Has 2 large entrances and one small one
Has a waterproof roof
Made out of solid wood and wire
Has a hideout spot and a ladder inside
Comes with 2 perches made out of wood
Has stainless steel wheels on the bottom
BEST LARGE BUDGIES AVIARY
PawHut Large Outdoor Aviary
Natural Wood
The aviary has more of a natural look since the wood doesn't have a colored finish. The wood used to make it is solid pine wood and not only is this wood durable on its own as it is but also because it's got a finish that will help protect it from different outside weather conditions.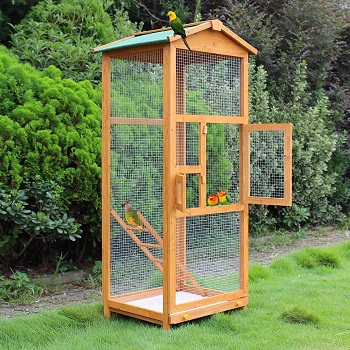 Bird Protection
The finish will protect the wood of this parakeet aviary while the asphalt roof will protect your birds. It will provide them with some shade and will protect them from the rain since it's waterproof. It even has a baseboard to provide even more protection from the rain.
Entrance Purposes
The two entrances in the front serve different purposes solely base on their size. The left door is a much smaller door that will help with feeding your budgies and getting into contact with them without them escaping while the larger right door can help access the aviary.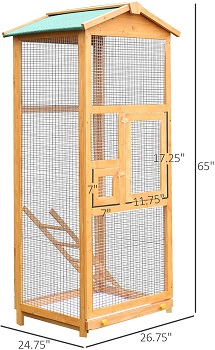 Outside Protection, Inside Contents
All sides of the aviary feature a steel wire that will not only provide the inside with good ventilation but will also protect your birds from predators. The interior doesn't have much except for the large ladder that you can place on the bottom. This is mainly because most people decorate aviaries.
In Short:
Made with natural pine wood
Has steel wire sides
Comes with a ladder for the inside
It's finished with weather-resistant finishes
The asphalt roof is waterproof
BEST OUTDOOR PARAKEET AVIARY
PawHut Hexagonal Outdoor Cage
How It's Made
If this cage were round we wouldn't really have it reviewed here without some warnings but it's not. It's actually a hexagonal cage that logically consists out of 6 panels. These panels have a wooden frame and the rest is covered with steel wire.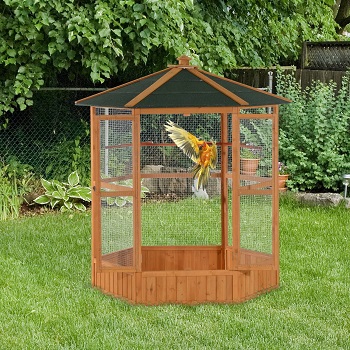 Entry To The Interior
The cage has a double door for entrance in the front. They are large doors so you'll have to be careful with your budgies trying to fly out of this budgies aviary. The door will also allow you to replace your birds' food and water and will let you access the interior for cleaning.
Outdoor Abilities
Did we mention that's it's a flight cage for outdoor use? If not, the roof of the cage is an asphalt roof that is waterproof so it will protect your birds from rain but also provide them with shade. The wood that makes it is fir wood that's made to be weather resistant as well.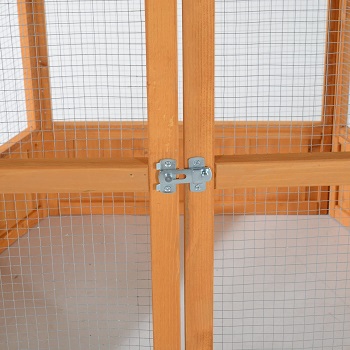 Safety And Toys
The wire spacing of the cage is safe since it's 0.5-in and the interior is really fun in terms of toys. It's very spacious so you'll get to place all sorts of toys and accessories with no problems. As it is, the cage comes with one long central perch and 2 shorter ones.
In Short:
Has a hexagonal shape
HAs a wire spacing of 0.5-in
The wooden frame is weather-resistant
Comes with 3 perches
Feature a large double door in the front
The top has an asphalt roof
How To Pick A Parakeet Aviary
To keep your bird happy and safe, you'll probably want to get a parakeet aviary that will allow them to safely get the exercise they need. To pick out the best, you must know how flight cages are defines, what's the safest build they can have, and more.
Important Dimensions– When choosing an aviary you'll want to make sure that the cage is wide and long enough. It doesn't really matter how tall it is although it's always best to go bigger when it comes to bird cages in general. The width is important because budgies don't fly up or down but to the left and right. Since they're small birds, all of these work well for them.
Why Get A Flight Cage – Flight cage for parakeets or also called budgies aviary is necessary because it allows your bird to safely exercise and spread their wings. It's to mimic what they do in their natural environment and it's much safer to do it in a cage than it is to do it outside of a cage even though you should still let your budgie out of a cage for a couple of hours a day.
Safety Of The Aviary – Flight cages are sometimes nothing more than big bird cages for parakeets and extra-large parakeet cages and the problem with bigger sizes is that oftentimes they then come with large wire spacing. The biggest wire spacing that a cage for parakeets should have is 0.6-in although it's better to go with 0.5-in because they can't get their head through those.
Clipping Bird Wings – To make sense of a flight cage, your bird must have the ability to fly. Clipped birds are stripped away from their natural flying ability and it's only going to make your bird depressed and mentally unwell. Although it's much easier to handle a bird that has clipped wings, the benefits of not doing it are much greater if you're willing to put in the time to train them properly.
To Sum Up
Since you can't go wrong with bigger, the parakeet aviary we have to recommend is the PawHut Large Wooden Hexagonal Outdoor Cage. The simple reason is that it's much larger than any other ones since it has a hexagonal shape and it looks very nice in general. You'll also get to decorate it easily because of the size. If you'd like to travel with your parakeet we suggest that you read the article about parakeet travel cages and if you're ready to breed your parakeets you can always check out the article about parakeet breeding boxes.