Do you want to ensure that your budgie is happy in his cage by getting him an extra-large parakeet cage?
You can make it happen fast if you continue reading this article where we gave our best and reviewed the best. We didn't just review any extra-large cage but we made sure to include a large variety of them so you can easily find the corner, indoor, and even round cages so one is bound to fit your style.
The Summary
Best 6 Extra Large Parakeet Cages
BEST OF BEST EXTRA LARGE PARAKEET CAGE
PawHut Rolling Metal Bird Cage
Introducing Budgies
You can easily consider this cage to be a 2 budgie cage but not just because it's extra-large. It's because it comes with a divider so it will allow you to introduce your budgies to each other in neutral territory. When you're done, you can remove the divider and house them both inside one space.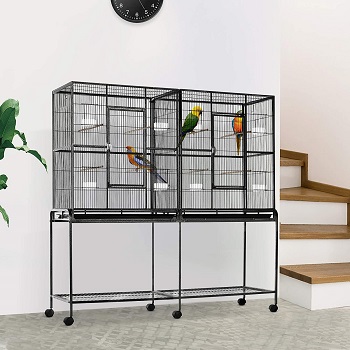 Removable Stand
It's really convenient for indoor use because it has a stand that you can remove which is great in terms of how the cage looks. The stand features caster wheels s that you can easily move this extra-large parakeet cage. You'll also get wire racks where you can put your bird's accessories and food.
Door Number And Types
You'll get 2 large front entrances with the cage and 2 smaller side entrances. You can be sure that your bird or birds won't fly out of it that easily when you open the cage. You'll even get feeding doors that slide open. Each part f the cage has 4 feeding entrances. In terms of the safety of the cage, the wire spacing is 0.5-in so it's perfect for parakeets.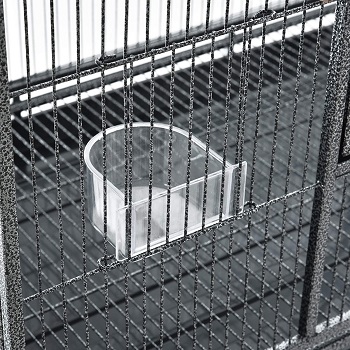 Accessory Numbers
A lot is going on with the accessories you'll get not because they're unique but because of their sheer amount. You'll get 8 wooden perches with it that will help your parakeet feel like he's in his natural environment and 8 feeding containers as well.
In Short:
Features a cage divider
The wire spacing is 0.5-in
Has 2 entrances, side doors, and 8 feeding doors
Comes with 8 perches and feeding containers
The stand is removable
BEST INDOOR EXTRA LARGE BUDGIE CAGE
Yaheetech Extra Large Bird Cage
Stand And Cage Size
When determining whether or not the cage you're looking at really is extra-large you have to take into account the height of the stand. Luckily the stand of this cage isn't too tall. Its height comes out around 17.8-in and compared to the cages' height of 51.2-in it's still extra-large.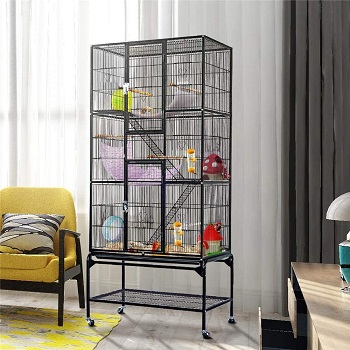 Accessory Abundance
The fun begins when you realize what this cage comes with. The interior holds many accessories that will keep your budgie happy and properly stimulated. These accessories include two ladders that take your budgie to the second and third floor, a perch, and a special bungee rope toy.
Door Details
It has 2 large front doors that can be locked safely with crescent locks instead of the typical sliding bolt locks. It also comes with feeding doors that can be found in the front and on the sides that will become useful when you place the feeding containers inside where they belong.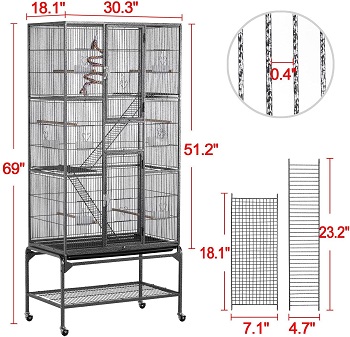 Safe Build
It comes as no surprise that this extra-large parakeet cage is made out of a durable metal frame and steel wire sides. What's so great about its construction is the wire spacing. Parakeet cages need to have a smaller bar spacing and this one does with 0.4-in of space between each bar.
In Short:
The cage itself is 51.2-in tall
Has  floors that can be accessed with ladders
Features a perch and a bungee rope toy
Has 2 large entrances and multiple feeding doors
The bar spacing is 0.4-in
BEST ON WHEELS BIRD EXTRA LARGE PARAKEET CAGE
Prevue Pet Products Empire Bird Cage
Angled Tray
The manufacturer f this cage realized that birds when they litter, don't just litter and create messes right below the cage. With a regular slide-out cleaning tray you'll still get some dirt on the but with this one, that possibility is even smaller because just above the regular tray there are angled plastic bits that prevent dirt from winding up on your floors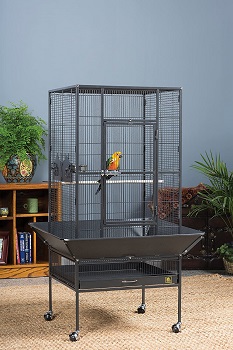 Birds It Can House
We did categorize it like a small bird cage with stand even though it really is an extra-large parakeet cage. This is because parakeets are small birds and you'll get to house them and other small bird types inside like canaries. It's even fit for medium-sized birds.
Bar Spacing
The thing that mostly determines what birds a cage can house is the wire spacing. Parakeets are going t be the safest inside cages that have up to 0.6-in wire spacing. This one is even safer since the wire spacing is 0.5-in so there's no chance for your budgie to get stuck between the wire with his head.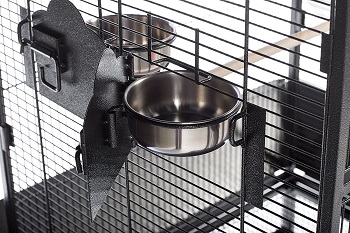 Bowls And Perches
You'll get two stainless steel bowls with the cage that come preattached to them. This is so that when you open the feeding doors, the bowls come peeking out so that you can easily refill them with food or water. It also comes with a single perch that's made out of hardwood.
In Short:
Has a 0.5-in bar spacing
The angled top tray prevents dirt from falling on the floors
Comes with 2 stainless steel bowls and a perch
It can house small and medium-sized birds
BEST HEAVY DUTY EXTRA LARGE PARAKEET CAGE
McCage Stackable Parakeet Cages
Lot Of 3 Cages
If you happen to be a parakeet breeder you'll probably enjoy this cage more than others. You will have to pay around $500 for it so it isn't exactly a cheap parakeet cage but it's well worth the price since you'll get three cages that you can stack for this price.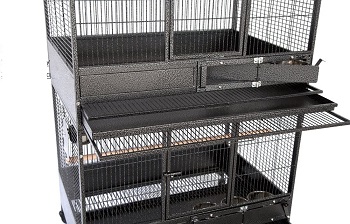 2 Budgie Cages
Since they are all parakeet breeding cages it's only logical that they are large enough to house 2 parakeets since you do need two to breed them. Each cage has a single large entrance that's centered in the front through which you'll get to access your birds and your birds will get to access the cage.
Side Entrances
Each extra-large parakeet cage also has 2 side doors that are a bit smaller. These doors can either be used for feeding purposes or you can use them for breeding. This means that you can place a breeding box on it which is an essential part of breeding your birds in general.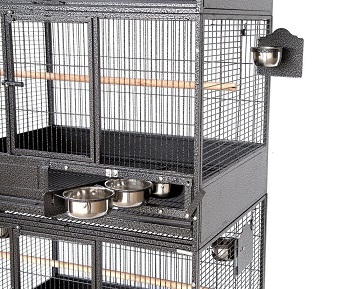 Accessories And Stand
You'll get a total of 9 feeding cups and 3 wooden perches so 3 feeding cups for each cage and a  single perch for each cage. Surprisingly enough, this cage actually has a stand with wheels so that you can move them all together with ease. Keep in mind that the wheels are not lockable.
In Short:
Comes with 3 cages
Each cage can house 2 budgies
Can be used as a breeding cage
The cages are stackable
They come with a stand with wheels
Features 9 feeding bowls and 3 perches
BEST WITH STAND EXTRA LARGE PARAKEET CAGE
Super Deal 2 in 1 Large Cage
Top Play Area
The most noticeable feature of this cage is that it has a fun little play area located on the outside and top. This play area consists of 2 bowls for food and water, a perch above them, and even a ladder for playing. This setup is mainly made out of metal.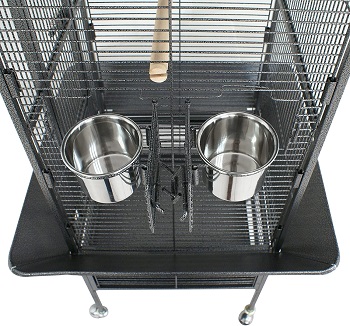 Metal Safety
The important thing about this cages' build is not that it's made out of metal and metal wire but that it's a safe extra large parakeet cage. This is done in two ways. One is that it has a small enough wire spacing of 0.5-in and the fact that it has a coating finish that's safe for birds.
Metal Seed Guard
Although you'll find a slide-out cleaning tray at the bottom, at the outer edges of this cage you'll find a metal construction that has angled edges. This is a seed guard that will prevent the food and other dirt from falling on your floors. They will always find their way back to the cage.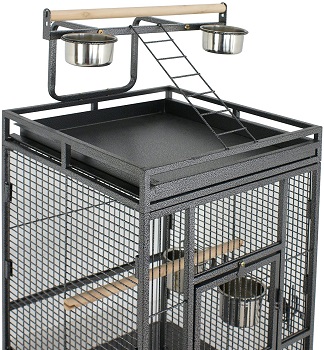 Entrance Lock And Interior
The interior can be accessed through a large form door that has a sliding bolt lock. This lock is birdproof meaning that your bird won't get to escape the cage. On the inside, you'll find another wooden perch and 2 stainless steel bowls for both food and water. You'll get a total of 5 of these bowls.
In Short:
Has a 0.5-i wire spacing
Features a metal seed guard
Has a play area on top
The entrance has a bird proof lock
The inside is equipped with a perch and 2 bowls
BEST OUTDOOR EXTRA LARGE PARAKEET CAGE
King's Cages Superior Line
Safe Color Finish
The cage is made out of metal but it has a beautiful Coppertone finish. This finish may vary from what is shown in the pictures we've shown you so take this color with a grain of salt. Don't worry about whether if it's safe for your budgies because it's veterinarian recommended.
Branch Perches
What really makes it stand out is not its color though. It's the accessories it comes with. You won't just get typical perches with this cage but they're actually shaped like tree branches. You'll get two of these branches and they're colored in the same color as the cage.
Entrances And Their Details
Since it's an extra-large parakeet cage it does require more entrance than just one. You'll get two fairly large entrances at the front for you to access the top and bottom of the cage. On the sides of this cage, you'll find smaller entrances that will help you easily feed your birds.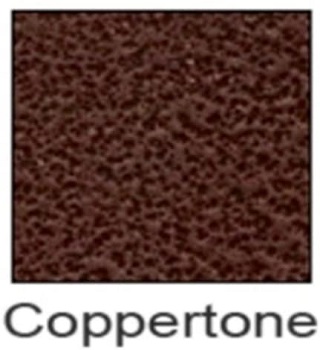 Stand Information
The cage sits on a stand with 4 wheels attached to it. The stand is also made out of metal and it even has an additional grid where you'll get to store all of your bird-related supplies. This feature will help you save some space in your home and get better organized.
Cage Dimensions
When talking about its size we have to take into account the height of the actual stand so even though it's said to be 62-in tall you have to take into account the height of the stand. Otherwise, it's pretty wide and long with a width of 32-in and a length of 21-in. The interior height is 35-in
In Short:
Made out of metal wire
Has a 0.5-i wire spacing
Has a Coppertone finish
Sits on a stand with wheels
Has 2 large entrance and 2 small side ones
The interior height is 35-in
Comes with 2 branch perches
How To Pick An Extra Large Parakeet Cage
If there's one thing to keep in mind when buying an extra-large parakeet cage it's to think about their safety. With larger cages come a set of challenges for small birds like budgies so to get the safest and with it the best, make sure you read this quick guide on how to pick the best.
What Extra Large Stands For – All of these cages are either longer or taller than 60-in with the stand included. Some are both longer and taller than 60-in so you can see them as budgie aviaries. Most cages of this size are described as aviaries since budgies are small birds and a cage doesn't need to be as big.
Problem That Might Occur – The number one problem of extra-large flight cages and cages, in general, is that with bigger size, comes bigger wire spacing. Budgies can only ever be safe with up to 0.6-in wire spacing since they're small and can easily get their head through anything bigger than which then puts them at the risk of injuries.
Extra Large Cage Benefits – If the extra-large parakeet cage you're looking at does have the correct wire spacing and is big enough t be considered extra large the benefits of that are immense. You can't really go wrong with getting a bigger cage for birds, they will be much happier inside a bigger cage since it will allow them to play, spread their wings, and even fly
Housing More Than One Budgie – Although budgies aren't really aggressive birds, you'll still have to take some measures if you're buying the cage for multiple birds. They should be introduced to one another in neutral territory either outside the cage or with a divided bird cage. If you do have a chance of getting one with a divider you'll be saving yourself a lot of money since you only need to buy one cage in that case.
To Sum Up
We won't just recommend the PawHut Rolling Metal Bird Cage as the best extra large parakeet cage because it's the largest. We also recommend it because it has a 0.5-in wire spacing, comes with a divider, and is overall incredibly durable. If you think you need a slightly smaller budgie cage we advise you to read the article about big bird cages for parakeets or if these are too expensive, about cheap parakeet cages.