Want your bird to safely get the exercise they need so you sought out to find the best extra large flight cage?
You're right where you should be and all that's keeping you from getting the best cage possible is reading this article. We tried hard to find the best and review them for you so you'd know exactly what you're buying and we made sure to review different types of cages like ones for parakeets, finches, and more.
The Summary
Best 6 Extra Large Flight Cages
BEST OF BEST EXTRA LARGE FLIGHT CAGE
Flyline Large Bird Flight Cage
Moving The Cage
The issue that might have arisen was how you're going to move this cage from one point to the other if you ever need to. This would be a problem since the cage weighs over 100 lbs but thanks to the small undetachable stand that features wheels, you'll have no problems moving it.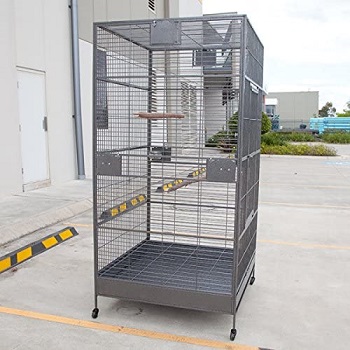 Birds You Can House Inside
Everything that you see on the cage is made out of durable metal and it must be durable The reason why is because this extra large flight cage is made as a parrot enclosure. We were able to conclude this because of the wire spacing of 1-in which is perfect for larger birds.
Cage Dimensions
Although typically flight cages are a lot wider than they are long and tall this cage is all of these things. It's 80-in tall and the stand doesn't take away much from its height and 35.5-in wide and long. This is yet another good reason why it's designed for larger birds since otherwise they wouldn't be able to spread their wings properly.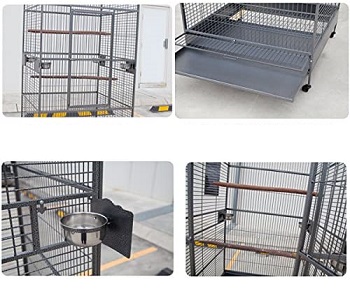 Accessories And Cleaning
On the bottom of the cage, you'll find a wire grate that you can easily remove when you want to. The purpose of this grate is to prevent your bird from stepping into its own soil that will end up on the slide-out cleaning tray. You'll also get 4 cups for food and water and 2 natural perches.
In Short:
Made out of metal
Has a 1-in wire spacing
It's good for housing larger parrots
Sits on a stand with wheels
The cage is 80-in tall and 35.5-in wide and long
Comes with 4 bowls and 2 perches
BEST PARAKEET LARGE FLIGHT BIRD CAGE
Prevue Hendryx Pet Products Flight Cage
Metal Used
If you have a chance to get a wrought iron bird cage you can be sure that the quality of the cage is pretty standard. Wrought iron is nothing more than metal with a lower carbon content which makes it more durable. The problem that might occur is easier rusting but this is prevented through the finish coating.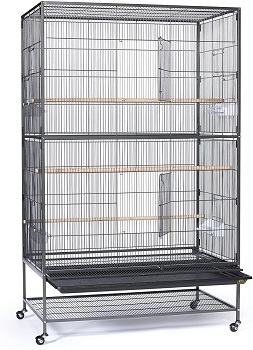 Coating Finish Details
Powder coatings like the one on this large parakeet flight cage are an excellent choice of finish since they won't chip or crack. They also provide the metal with better rust resistance. This Prevue Pet Products wrought iron flight cage it's important because of the wrought iron construction.
Space In Between The Wire
This large flight bird cage is designed to house small birds like parakeets, finches, or cockatiels. No matter the bird, you can be sure it's safe for them since they won't get to pull their head through in between the wires. This is true due to the wire spacing of 0.5-in or 1/2-in.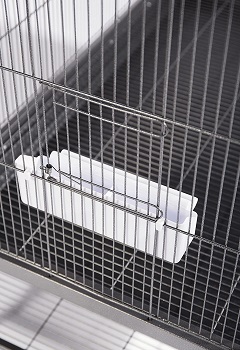 Stand And Accessories
The cage sits on a stand that you can't really detach from it. You'll also find wheels on this stand and even a grate that will allow you to store your birds' accessories and supplies there. The 3 cups that come with the cage have separate spaces for food and water and you'll also get 3 wooden perches for the inside.
In Short:
Made out of wrought iron
Has a bird-safe powder coating finish
Features a 0.5-in wire spacing
Sits on a stand with wheels and a storage grate
Comes with 3 food and water cups and wooden perches
BEST COCKATIEL LARGE FLIGHT BIRD CAGE
A&E Cage Co. Double Flight Cage
Double Large Cage Size
This is not the only double flight cage we will review here. By double we mean that it actually consists of two large cages so you can truly be sure that the interior space is large and enough for your bird or birds to fly around safely and get proper daily exercise.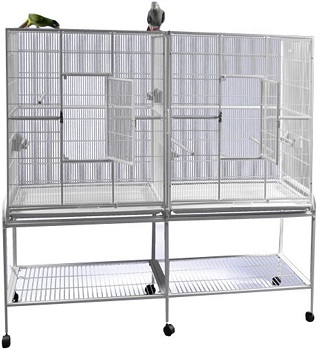 Cage Divider
The A&E extra large flight cage will allow you to separate your birds when needed or leave them in the same space. This is possible due to the divider that you can easily remove when you want to. The divider is centered so each bird will get the same amount of space when separated.
Lock And Bar Spacing Safety
There are 2 large entrances on each large cockatiel flight cage. The locks on the doors are safe meaning that your birds won't get to open the doors by themselves and escape. In terms of wire safety, this cage should be good for housing small birds like cockatiels since the wire spacing is 1-in wide.
Other Cage Supplies And Functions
You can even use this as a bird breeding cage since each large flight cage comes with its own breeding box entrance. Each cage also comes with a stand with 4 wheels and a grate, 2 food and water cups, and 2 wooden perches. The stand with wheels is important because the age weighs around 70 lbs and would be hard to move otherwise.
In Short:
Consists out of 2 large flight cages
Has a 0.5-in wire spacing
Come with a removable cage divider
The cages feature a stand with wheels and a grate
Features breeding box entrances
Each cage comes with 2 water and food cups and perches
BEST FINCH LARGE FLIGHT CAGE
PawHut Rolling Metal Bird Cage
Housing Multiple Birds
You don't have to think twice about using this cage to house multiple birds. You can use it as a parakeet cage for 2 or you can use it to house multiple finches and cockatiels. It's so large that it's actually 2 large bird cages in one. The interior living space can also be divided if you want.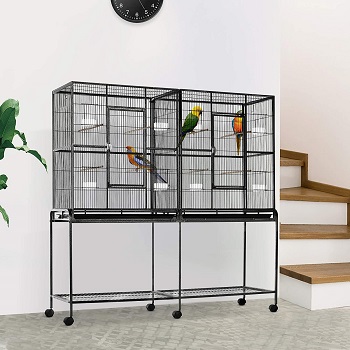 2 Stands Contents
You'll actually get to remove each cage from its own separate stand. The stand is made out of metal and features wheels for easy moving and even a grid where you'll get to store any of your birds' accessories, toys, and supplies that you might have hanging around.
Cage Width
Although this large finch flight cage is tall and long the focus in terms of dimensions is on its width. With the two cages combined and with the divider removed, this extra large flight cage is around 65-in wide. Width is important because birds fly left to right and not up and down.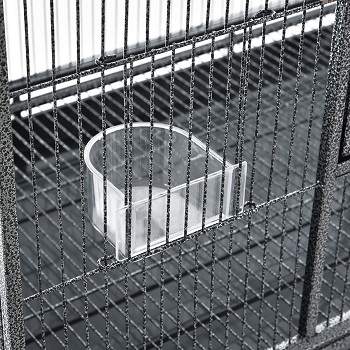 Cage Contents
Each cage comes with its own slide-out tray for cleaning and a wire grid above it to prevent your birds from getting into contact with their own soil. On the inside, each cage features 4 perches and 4 feeding cups that you'll get to place on the feeding entrances in the front.
In Short:
Consists of 2 cages
Can house small birds like finches and budgies
Can be used to house multiple birds
Features a removable center cage divider
Each cage comes with 4 perches and 4 cups
Has its own feeding entrances
BEST FOR SMALL BIRDS LARGE FLIGHT CAGE
Yaheetech Wrought Iron Standing Cage
Birds To House
With a wire spacing of 0.6-in, you'll get more versatility in terms of what birds you can house inside. Cockatiels, although small, can thrive in a cage with a larger wire spacing and the same can apply to budgies and finches. You shouldn't go over this wire spacing though because you'll risk your birds passing through the wire spacings.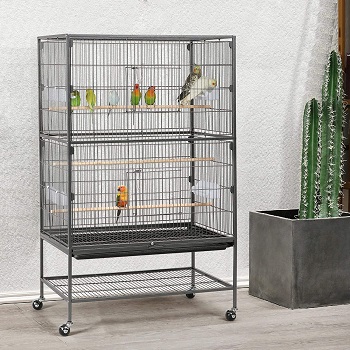 Metal Durability
You can be sure that this large flight cage for small birds is durable. Even though small birds don't have beaks as strong as larger birds, you still want to get a durable metal cage. It's a wrought iron bird cage but the thing that actually makes it durable is that it's welded and the coating finish.
Weight And Movement
It's not as heavy as some of the cages we reviewed before it but it does make sense that it's not. Although it's smaller than the rest, it can still serve as a safe and large space where your bird or birds will get to spread their wings. It weighs around 37 lbs and you'll get to move it easily since it comes with a stand with wheels.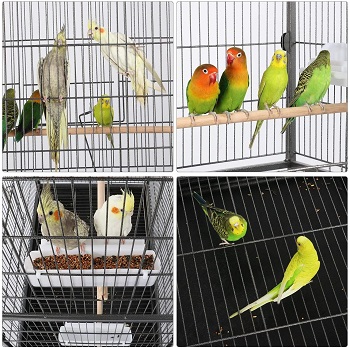 Interior Size And Details
Although you have to take into account the height of the stand, on its own, the cage is still pretty tall with a 37.2-in height. This, the length of 20.4-in and width of 31.1-in will allow you to place multiple accessories inside. As it is, it comes with 3 wooden perches and 4 plastic food cups.
In Short:
Has a wrought iron construction
Metal parts are welded
Weighs 37 lbs
Comes sitting on a stand with wheels
Has a 0.6-in wire spacing
Comes with 3 perches and 4 plastic food cups
BEST ANTIQUE EXTRA LARGE FLIGHT CAGE
PawHut 44″ Hexagon Covered Canopy Cage
Cage Visuals
Visually speaking, this cage is probably one f the most beautiful cages we'll review. It's made up of 6 wire panels that give it that hexagonal shape, it's colored white and has light grey accents and it even features a canopy on top. To top it all off, it comes with an antique bird cage stand.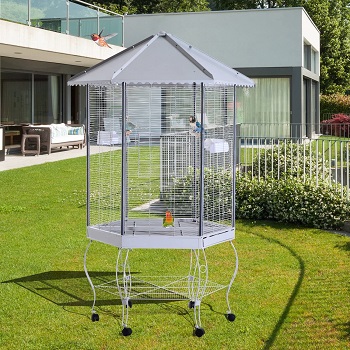 Size Of The Interior Space
Like we already, said, it has a hexagonal shape that makes it comes close to a round bird cage but without all of the flaws that a round bird cage carries with it. Thanks to this, the interior space is enough to give your bird the chance to fly around safely and freely. Altogether, the cage is 44-in wide and long.
Metal And Wire Details
This large flight bird cage is mostly made out of iron. The plastic bits that you'll find on it are the cleaning drawer on the bottom that you can easily slide out when it needs cleaning. The wire spacing is something you should know about because it determines what bird size can safely be house inside. The spacing on this cage is 0.5-in wire so you can house small birds inside.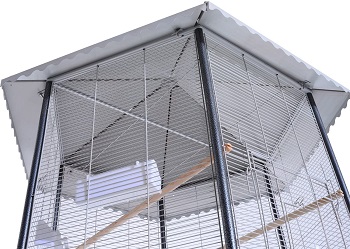 Stand And Additional Equipment
The stand of this cage isn't really detachable from it. It's got 6 curved and hollowed-out legs that make it look vintage. You'll also find six wheels on its legs and even a tray made out of wire where you'll store bird accessories. Its interior is equipped with 4 feeding boxes and two perches made out of wood.
In Short:
Mostly made out of iron
Has a hexagonal shape
The wire spacing is 0.5-in
Features a canopy on top
Comes with 4 feeding boxes and 2 perches
Sits on a stand with 6 legs with wheels
How To Pick An Extra Large Flight Cage
Although it seems simple, picking out the perfect extra large flight cage comes with its own set of challenges. We're here to go through these challenges with you so that you can purchase a cage in the end and be sure that it's the right one for your and more importantly, your bird.
What Are Flight Cages – Flight cages are also known as aviaries. They come in all shapes and sizes but the thing that connects them is their purpose. Their purpose is to provide your bird or birds with a safe enough place where they can spread their wings and fly around a bit.
Going Bigger – Although small flight cages do exist if you have the room for it and are willing to spend a few extra bucks you should always go bigger. The bigger the cage the more room to fly around your bird or birds get. They should get a few wig flaps in general but with bigger cages, it's even better.
Small Birds In Large Cages – There is an issue with large flight cages that are intended to house smaller birds though. With larger cages, it's common that the wire spacing increases as well so you should look out for that as well. Small parakeet cages and other small bird cages should have a wire spacing of 0.6-in but preferably smaller.
Assuring Cage Safety – Cage safety is more than just picking out a cage with a small or large enough wire spacing. Birds can easily suffer metal poisoning so it's important to get a cage with a quality finish. Your safest bet is to go with a powder coating finish since they don't chip or crack.
To Sum Up
If you have the space for it, we'd definitely advise you to get the A&E Cage Co. Double Flight Cage if you want the best extra large flight cage out there. It consists out of 2 cages that can be separated with a divider, it's meant to house small birds like finches, parakeets, and cockatiels and you can even use it as a breeding cage. If you want to check out flight cages that are meant to be used outdoors we'd advise you to check out the article about large aviaries or if you want to focus more on large bird cages then the article about outdoor parrot aviaries might interest you.