Do you wish you could get your macaw a cage specifically designed for him so you set out to find a large macaw cage?
You've stumbled upon an article where we reviewed nothing but these cages. All you need to do to ensure you truly get the best is to keep on reading. Here, you'll find all sorts of cages ranging from antique to outdoor. Whatever cage you need, you'll almost definitely find it here.
The Summary
Best 6 Large Macaw Cages
BEST OF BEST LARGE MACAW CAGE
Prevue Pet Products Empire Bird Cage
Perfect Dimensions
It's easy to review this cage as the best when it's this good. Starting with its dimensions, this cage has perfect for a large macaw to live comfortably inside. It is 46 inches long, 36 inches wide, and around 78 inches tall. You do have to take into account the height of the stand it sits on to determine the height though.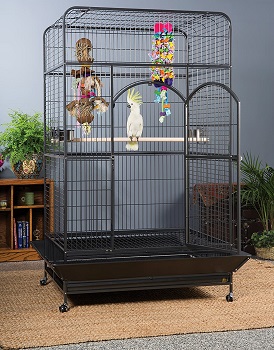 More Stand Details
The stand of this large macaw cage isn't all that special in terms of how big it is. It doesn't take away much from the cage's actual usable height. The only thing it has is wheels that you won't get to lock but they will allow you to move the cage with ease since it weighs over 100 lbs.
Protective Finish
The metal of this cage, specifically the wire, is thick which is really important since macaws have stronger beaks and could bend the wire easily otherwise. It even has a hammertone finish that adds another beautiful visual note to the cage but also protects it from corrosion and rusting. The wire spacing of the cage is 1.375-in which is still food for macaws or it can act as a parrot enclosure.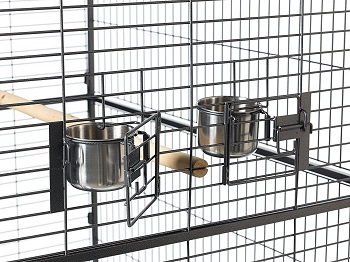 Bottom And Inside Supplies
The seed guards that come with the cage have rounded corners so you won't have to worry about them damaging your walls. You'll also find a cleaning drawer on the bottom and a removable wire grid. On the inside, the cage comes equipped with 2 stainless steel bowls and a single wooden perch.
In Short:
Has a thick metal wire build
Has a hammertone coating finish
Features a 1.375-in wire spacing
Comes with stainless steel bowls and a perch
Features a rounded corner seed guard
BEST ON WHEELS BIG MACAW CAGE
Prevue Pet Products Stainless Steel Cage
Stainless Steel Bits
Typically, when you see that a bird cage is actually a stainless steel parrot cage, what's meant by this is that the food and water bowls are made with this material. In this cage, the cage actually is made out of stainless steel. It's a great material of choice for birds since it won't rust, corrode, and it's safe for birds.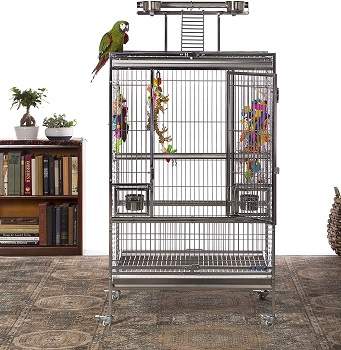 Top Playground
The top of this cage makes it a parrot cage with playtop. What we mean by this is that your bird will get to play there with a perch, 2 stainless steel bowls, and a ladder. This will come in handy when you let your bird out of the cage to fly around a bit.
Front Part
The front of this large macaw cage features entrances. There are three of them in total and the center one is the largest. It features 2 types of locks that you can be sure won't get opened by your bird. The left and right entrances are much smaller since they serve the purpose of feeding entrances.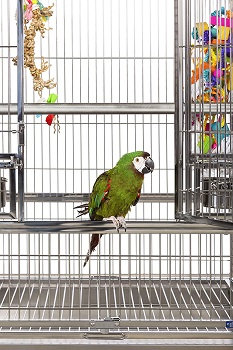 Weight And Accessory Materials
To our surprise, the cage is actually much lighter than the one we reviewed before it. It weighs around 70 lbs but its steel comes with a stand that has wheels. You can actually lock all the wheels to set the cage into place. All of the accessories, including the perches and bowls are made out of stainless steel.
In Short:
Completely made out of stainless steel
Has a top play area with 2 bowls, a perch, and a ladder
Has a large front entrance with 2 bird-proof locks
Comes with 2 feeding entrances
All the accessories are stainless steel
Has a stand with lockable wheels
BEST WITH STAND LARGE MACAW CAGE
King's Cages Parrot Cage
Quality Finish
Sometimes, the best thing you can invest in when it comes to a bird cage is the coating finish. The reason why this is true is that birds can suffer metal poisoning and the coating finish protects them from it. That's why this cage has a quality powder coating that won't crack or even chip.
Door Size And Safety
The single door located in the front of this large macaw cage is very large. In fact, it is so large that you'll easily get to access the interior parts of the cage in case you need to clean it or change something. There's a single lock on this door that won't get opened by your bird.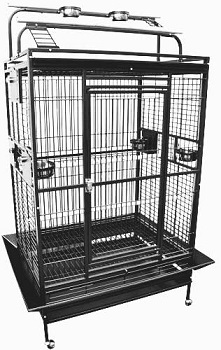 Top And Interior Toys
The top of this cage features a playground just like the previous one. It's built out of a metal frame and has 2 bowls, a single perch, and a ladder. On the inside, you'll get 3 additional food and water bowls that can be attached to their own entrances and it comes with a single perch for the interior.
Breeding Cage
If you'd like, you can use this cage like a bird breeding cage. It's large enough to house a pair of birds and you'll also get a separate entrance where you can place a breeding box. The wire spacing of 0.75-in makes it fit for housing large macaws or other similar-sized parrots.
In Short:
Features a top playground
The metal is coated with a quality powder coat
Has a 0.75-in wire spacing
The interior holds 3 stainless steel bowls and a perch
Comes with a separate breeding box entrance
Has a large door with a bird resistant lock
BEST ROUND LARGE MACAW CAGE
Yaheetech Wrought Iron Rolling Bird Cage
Round Part
What we mean by round is certainly not a fully round cage, that's for sure. If you don't know already, round cages aren't exactly good for birds in terms of their mental well-being. Even if this cage was fully round, it would just be too small for a large macaw. The only thing round about this cage is its top.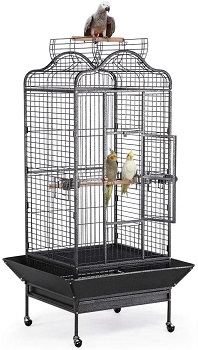 Rest And Front Entrance
This large macaw cage has 2 entrances. The large front one will allow you to access your bird and cage interior while the top one will create a fun play and rest area. This is because the entrance is a 2-door one and you can place a perch that comes with the cage between to keep them open. In order to unlock the door, you'll have to push a button so it's a birdproof lock.
Cage Materials
This cage is actually a wrought iron bird cage. These cages are probably the most typical ones in the bird cage world. They are durable since wrought iron has a lower carbon content but they do rust easily. The hammertone finish of the cage offers protection from rust and corrosion.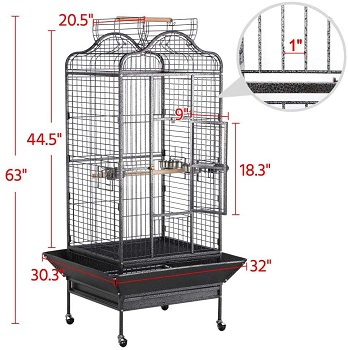 Cleaning And Interior
You can be sure that the surrounding area of this cage will be kept clean. This is true because the cage comes with a seed guard on the outside. The bottom features a stand with wheels and a slide-out cleaning drawer. For the inside, you'll get a single wooden perch and feeding bowls and doors.
In Short:
Has a round top
Features a 2-door top entrance and a single front
Made with wrought iron
Has a hammer tone finish
Comes with a seed guard
Features 2 wooden perches and 2 feeding bowls
BEST ANTIQUE BIG MACAW CAGE
McCage Wrought Iron Bird Cage
Why It Looks Antique
There are two things that most commonly make a cage a vintage or antique-looking one. The first one is if the cage is a dome top bird cage and the second one is if the cage has an antique bird cage stand. In this case, the thing that makes the cage look antique is the dome top.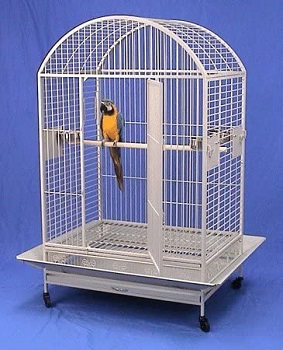 Metal Gauge And Type
You can trust that the wire of this large macaw cage won't get bent easily if ever. Macaws have strong beaks so it's really important to ensure that the wire is thick. The gauge of this wire is 7 and 9 and to top it all off, the material used to make this cage is actually wrought iron.
Color And Cleaning
Although the cage is large, it will still blend into your home a lot better than any of the other cages we reviewed so far. The reason for this is because this cage is completely colored white. Even the seed guard that will help keep your floor clean is colored white. This seed guard can also be removed.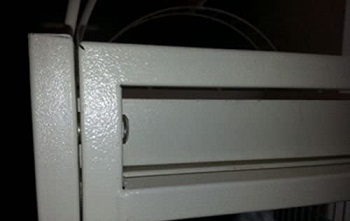 Cage Extras
There are three more entrances apart from the large front one on this cage. You'll find one on the left and two on the right. They're a lot smaller and can hold the 3 stainless steel bowls that are included in the package so that you can easily refill them. You'll also get a single white perch with it.
In Short:
Features a dome top
Has a wrought iron construction
It's Painted white
Features 3 feeding entrances and bowls
Has a bird cage seed guard
Has a 7 and 9 wire gauge
BEST OUTDOOR LARGE MACAW CAGE
FlyLine XXL Flight Cage
Flight Cage And Aviary
You can consider this cage to be both a macaw aviary or an extra-large flight cage. They are virtually the same thing since they both offer your bird a safe place to fly and spread their wings but the difference is that an aviary can be used outdoors. This one can be used both indoor and outdoor.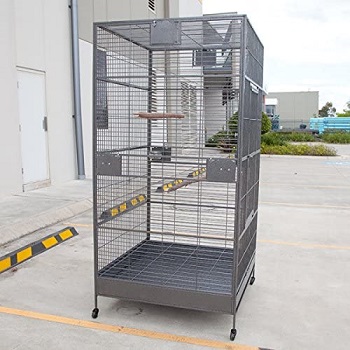 Weight And Moving It
The large macaw cage is quite heavy. You would have had issued moving this 120 lbs cage from the outside to the inside and vice versa if it didn't come with a stand. This stand can't be removed but it does feature wheels that will allow you to move it with ease from one point to the other.
Wire Thickness And Safety
The metal wire of this cage has quite an impressive gauge. It's a 6 gauge wire so you can be sure that your bird won't bend it. Even the wire spacing is perfect for macaws since each space between the wires is 1-in wide. To top it all off, the metal features a powder coat finish that's durable and safe for birds.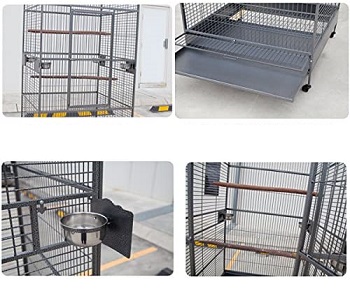 Extras Inside The Cage
For each cup purposed for food and water that you get, you'll get a feeding door for it as well. There's a total of 4 cups and swing-out feeding doors. These doors will allow you to easily refill your birds' food and water supplies. You'll also get 2 natural-looking wooden perches.
In Short:
Made with 6 gauge wire
Has a powder coating finish
Can be used as an aviary or flight cage
Comes with 4 feeding doors and cups
Has a 1-in bar spacing
Features 2 natural wooden perches
How To Pick A Large Macaw Cage
If you really want to get the best large macaw cage out there you first need to know, if you don't know already, a few things in general about these birds, cage sizes, safety, metal quality, and a lot more so be sure you continue reading this buying guide to learn about it all.
Large In Terms Of Cage Size – When we say large and extra-large macaw cage we mean two things. The first one is cage size. As it is, macaw cages are big since these are large birds. The minimal cage size requirement for these birds is 36 inches in width, 48 inches in length, and 60 inches in height. Of course, you can step away from these measurements a bit.
Large In Terms Of Bird Size – Large also means that these cages are made for large macaws. There are a lot of types and sizes of macaws so each cage you see here is designed to house large macaws. Smaller macaws can thrive in a cage that's at least 34-in wide, 24-in long, and 36-in tall.
Preferred Wire Spacing – Wire spacing is the single best way to determine if your bird can live inside a cage you're looking at. Larger macaws tend to live in cages with a wire spacing of around 1-in to 1.5-in. This wire spacing is small enough so that they don't pull their body through but large enough for them to navigate the cage with their beaks and claws.
Cage Durability Importance – Larger birds tend to have stronger beaks and also tend to bite on the wire of their cage. THat's why it's important to get a cage with a thick enough wire. You want to be looking for a cage with a gauged wire or for a cage that's made out of quality metal like stainless steel. Another thing to worry about if the finish of the cage is good. You should be looking for a cage with either a hammertone finish or a powder coat.
To Sum Up
We had no trouble when deciding that the Prevue Pet Products Stainless Steel Cage is the large macaw cage that we should recommend. The main reason is that it's fully made out of stainless steel and that includes the accessories and it even has a playground on top and birdproof locks. If you want to read more about these cages we advise you to read the article about stainless steel macaw cages next or if you want to house 2 macaws inside one cage, read the article about double macaw cages.