Have you finally saved enough money to get your bird one of the safest cages out there  and that's a stainless steel parrot cage?
You can let us help you find the best by continuing to read this article where we reviewed nothing but the cages that fit the description. We even made sure to include a large variety and types of cages so that one is sure to fit your needs like outdoor, travel, small, and large cages with more to come.
The Summary
Best 6 Stainless Steel Parrot Cages
BEST OF BEST STAINLESS STEEL PARROT CAGE
Featherland Paradise Large Cage
Folding Design
It's hard to narrow down the choices for the best when all of these are made out of stainless steel so it came down to other unique features that made this cage earn it's place as the first review. This feature is that you can fold this whole cage to store it away when you don't need it.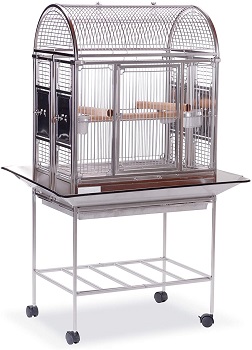 What It Gives
There are differences between stainless steel as well but this one isn't specified. All we know is that it offers amazig corrosion adn rust resistance and that it's highly durable. You won't have to ever worry about your parrot bending the wire of this stainless steel parrot cage.
Top And Size
To make it less boring to look at, it has a rounded top while the sides makes it a rectangular bird cage. This dome top bird cage is 18-in long, 27-in wide, and 56.5-in tall. This height is not the interior height since it does sit on a stand with wheels for easier moving. The interior is 33-in tall.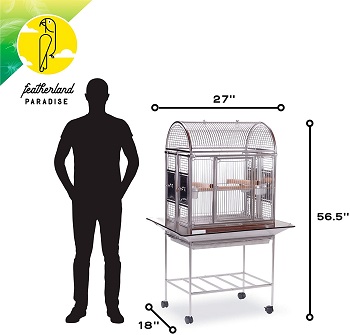 Other Details
You won't have to worry about cleaning its surrounding area either because of the bird cage seed guard it comes with. The entrances to the bird cage on wheels are self-locking so even if you forget to lock it you won't have to risk your parrot getting out. The corners of the cage are welded for more durable construction and it has a 0.5-in wire spacing.
In Short:
Has a dome top
It's perfectly rusting and corrosion resistant
Has a 0.5-in wire spacing
It's 18-in long, 27-in wide and 56.5-in tall
Sits on a stand that has wheels
The interior is 33-in tall
Can be folded
BEST SMALL STAINLESS STEEL PARROT CAGE
Birdcages Stainless Steel Cage
Bare Minimum Size
If the cage we reviewed before was small then this cage can easily be considered extra small. It's only 16.5-in tall, 14.1-in long and it's equally wide. These dimensions are the bare minimum of cage size for some birds. Specifically, it's a minimum for smaller birds like budgies and finches.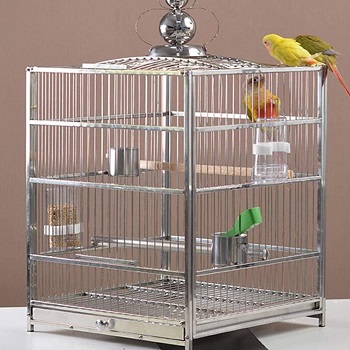 Protection Coating
Although it is made out of stainless steel, it does have an additional protection layer as well for even mroe durability and rust and corrosion protection. The coating in question is a PP coating or a polycarbonate coating. This is a clear material so it won't disrupt the visuals of this decorative metal bird cage.
Two Uses
Due to its small size, this stainless steel parrot cage will definitely blend well into any home but that's not all. You can actually hang it either on a stand or a ceiling with the hook it comes with that's located on top. This hook can also serve the purpose of a carrying handle if you ever want to travel with it.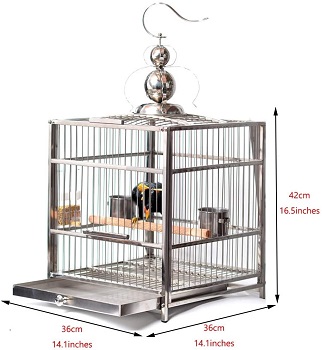 Birds And Accessories
Even though the wire spacing isn't specified, we were able to conclude that you can only hosue small birds inside through its smal dimensions. It comes with a single perch for the inside and 2 small bowls for food and water. below it, there is a drawer that you can easily slide out for cleaning.
In Short:
It's 16.5-in tall and 14.1-in long and wide
Has a protective PP coating
Comes with a cleaning slide out drawer
The inside features a perch and 2 bowls
Can be hung or carried like a travel cage
Only suitable for housing small birds
BEST LARGE STAINLESS STEEL PARROT CAGE
Prevue Pet Products Stainless Steel Cage
Big Parrots Cage
When we review parrot cages that aren't targeted at a specific species, when we review a cage as large it usually means that it's both alrge and made to house larger birds. This is one of those cages. It has a 7/8-in wire spacing so you can think of it as a stainless steel macaw cage.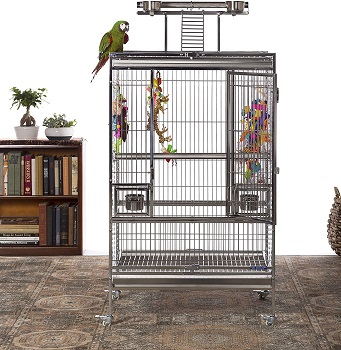 Everything That's Stainless Steel
When we say that it's made out of stainless steel we mean it all the way through. IT means that even the perches are made out of it. Speaking of perches, you'll get 1 perch for the inside and one perch for the outside. The outside perch is located on top because this is a play top bird cage.
More Inside And Outside Perches
Apart from the inside being equipped with a single metal perch, it's also equipped with 2 stainless steel bowls that you can place on the feeding entrances in the front. The top also has 2 bowls for food and water and it also features a ladder. These are all of the contents of the playtop.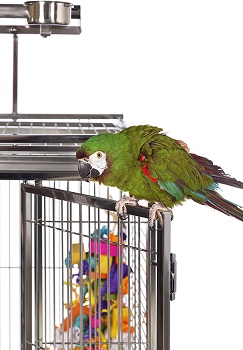 Size And Gauge
This stainless steel parrot cage sits on a stand with 4 wheels that are easily lockable. It's around 31-in wide, 23-in long, and 61-in tall. Apart from the wire spacing being important, for larger birds, gauge is also important because of their stron beaks that easily bends wire. The wire gauge of this cage is 10 and 11.
In Short:
Made with 10 and 11 gauge wire
Has a 7/8-in wire spacing
Even the accessories are stainless steel
Has a top play are with a perch, bowls, and a ladder
It's around 31-in wide, 23-in long, and 61-in tall
The wheels on the stand are lockable.
BEST TRAVEL STAINLESS STEEL PARROT CAGE
Pawhut 25 Dome Top Cage
The Only Function
Although we partially already included a travel cage in our reviews, this ons definitely doesn't have another function and it's best to use it just like a parrot travel cage. Along with the travel features that we'll mention later on, it's small so it can't house birds for prolonged periods of time.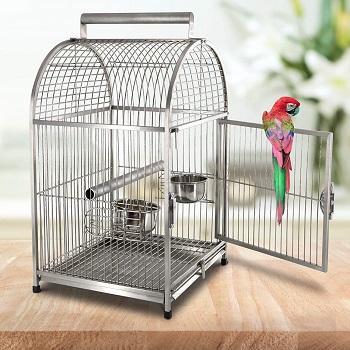 Handle On Top
It does have a rounded dome top and at the outside of this top, you'll find a metal carrying handle. This handle functions as a perch as well. When you reach your destination and want to let your bird out to fly around for a bit, this perch can become a great resting area.
Small Bird Travels
With the perch/handle, it's 24-in tall and without it, it's 21-in tall. It's also 13.75-in long and 13-in wide. It would be suitable for smaller birds like parakeets because a medium-sized bird like a cockatiel or African grey would end up with a bent tail since they are usually 13-in long when fully grown.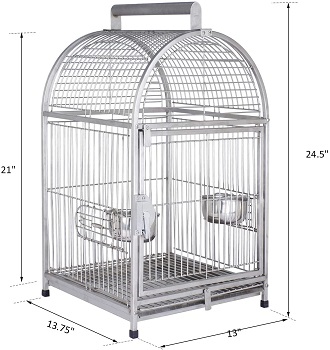 Accessory Info
Just like the stainless steel parrot cage before, this cage is also completely made out of stainless steel and that includes the extras. Apart from the perch, you'll get two stainless steel bowls for the inside that can each be placed on their own small feeding entrance. They're found on each side while the front holds the main entrance.
In Short:
Made for traveling
It's 13.5-in long, 13-in wide, and 21-in tall
Comes with a handle and perch on top
Made to house smaller birds like budgies
Has a dome top
The perch and bowls are stainless steel
BEST OUTDOOR STAINLESS STEEL PARROT CAGE
Wonline Large Walk in Bird Cage
Place Of Use
It was bound to happen that we'd include a parrot aviary in our reviews. It makes perfect sense that an aviary would be made out of stainless steel since it's the perfect material for outdoor use. Unlike the indoor bird cages we reviewed, this one does have a powder coat finish.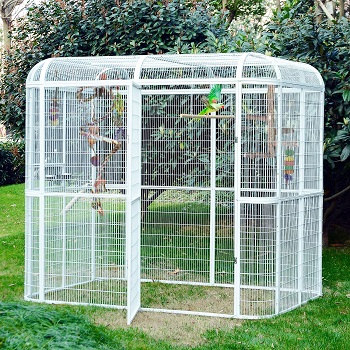 Size Of The Thing
Outdoor aviaries are usually very large enclosures designed to give your bird a safe space to stretch its wing and get its daily exercise. All of these things stand true for this aviary. It's so large that you'll even get to walk inside it unless you're more than 80.7-in tall which we highly doubt.
Empty Interior
Other than being 80.7-in tall it's also 86.5-in long and 60.5-in wide. There's only one entrance to enter this stainless steel parrot cage and it doesn't feature much on the inside. This is because an aviary of this size is mean to be fully customized by you for your bird.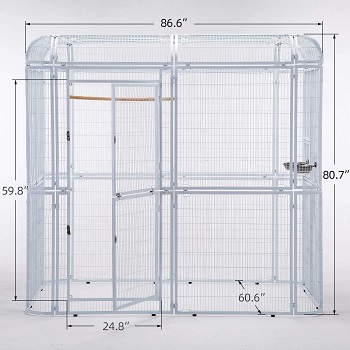 Medium And Large Birds Aviary
It has a 3/4-in wire spacing which makes it suitable for some medium-sized birds as well as African greys. Generally speaking, it's made to house larger parrots. You will have to perform maintenance every once in a while by spraying it down with a layer of bird-friendly spray paint.
In Short:
Acts as an aviary
You can walk inside it
It's 80.7-in tall, 86.5-in long, and 60.5-in wide
Has a 3/4-in wire spacing
Has a powder coat finish
Requires simple maintenance from time to time
BEST ON WHEELS STAINLESS STEEL PARROT CAGE
A&E Cage Co. Play Top Cage
Weight And Movement
You have to be prepared that a stianless steel cage is going to be heavy. IT's especially true if it comes in a size like this one so it makes perfect sense why it would have wheels on the bottom. It's 135 lbs so moving it from room to room should be a piece of cake to do with them.
Bottom And Top
The bird cage seed guard it comes with is definitely not the one to disrupt the visual aspect of this stainless steel parrot cage since it's located all the way at the bottom. On top, you'll actually find a playtop that consists of a perch, two arched ladders on each side, two bowls, and a hook for a toy.
Stainless Steel Type
We mentioned previously that there are many different types of stainless steel and this is the first cage that reveals the stianless steel type used. This is one of the most common stainless steel types used in many applications because it is the cheapest but it's still stainless steel so you can rely on it to be of high quality.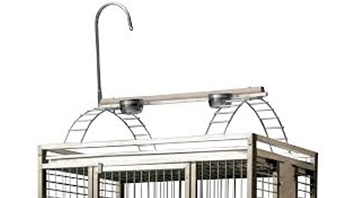 Doors And Size
You will actually get to breed your parrots inside this 36-in wide, 28-in long, and 66-in tall cage. That's because the top righ side, apart from the feeding entrances, features a breeding box entrance. There are two more feeding entrances on the other side and a single main entrance in the front. It has a 1-in bar spacing so it's made for larger parrots.
In Short:
Made with 304 grade stainles steel
Has a 1-in bar spacing
Comes with a seed guard
Weighs around 135 lbs and come with wheels
It's 36-in wide, 28-in long, and 66-in tall
Has a play top area
How To Pick A Stainless Steel Parrot Cage
You're here because you want the best for your birds and deciding on a stainless steel parrot cage is a step on its own. Let's take it even further and make sure you really get the best by providing you with important information on their build, contents, size, safety, and a lot more in this buying guide.
Power Metal – Stainless steel is considered to be one of the safest metals for making bird cages in general. The next best is aluminum but they go hand to hand with each other. It offers great corrosion and rust resistance and as it is, it's durable enough to prevent bent wires.
Price Points – Its only flaw is that it's very expensive. It'll be very difficult to find a cage that costs below 500 dollars unless that cage is extremely small and not meant to house birds for extended periods of time. It's worth it though since it's a worry-free metal ad it's very easy to clean as well.
Parrot Categorizations – We can divide parrots into three size categories, small, medium, and large. Large parrots will do find in a cage with a wire spacing of 1-in, medium birds are the most versatile and range from 0.6-in to 1-in while small birds will be the safest in a cage with a wire spacing of p to 0.5-in.
Large Parrot Cages – We would definitely advise that you get a stainless steel parrot cage for a larger parrot. This mainly has to do something with the strength of their beaks that can easily bend wires of common metals like iron and they can also expose metal parts by chipping away the finish which would put them in danger of suffering metal poisoning.
To Sum Up
It's hard to pick out the best stainless steel parrot cage when all of them are just so good but in the end, we decided to go with the Prevue Pet Products Stainless Steel Cage. It can house larger parrots due to its 7/8-in wire spacing will definitely benefit from a strong cage with a 10 and 11 gauge wire the most. If you want to check out more of these cages for larger parrot we advise you to read the article about stainless steel macaw cages next or if you want to read about its top material contender cages, you can read the article about aluminum bird cages.