are you tired o looking at your bird cage and thinking it doesn't look great inside your home so you decided to finally get a decorative metal bird cage?
In this article, we reviewed nothing but the best-looking and the best functional cages out there. We advise you to continue reading because there's a cage for everyone's taste like antique, outdoor, and many more cages since this we just scratched the surface with what you'll find.
The Summary
Best 6 Decorative Metal Bird Cages
BEST OF BEST DECORATIVE METAL BIRD CAGE
Prevue Hendryx Designer Cage
Small Cage Benefit
Often bird cages face a challenge in looking good if they are large and it's a lot easier to make a small cage look nice inside homes than it is to make a large cage look nice. This cage avoids the problem since it's very small. It's 18-in wide and long and 25-in tall.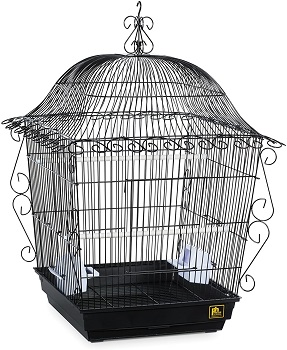 Decorations And Shape
The shape and decorations on it make it a really decorative metal bird cage. 4 sides feature regular corners but the sides are angled. They become wider at the tp and that's where you'll find its top that's curved in all the right places. On the outside edges, you'll find wire details.
2 Ways Of Using It
You'll get to choose between using it as a vintage hanging bird cage or you'll get to lay it down on a flat surface. Of course, we'd advise you to hang it somewhere since that is also a factor that determines how good it looks inside homes. The hook on top for hanging is detailed and also looks very nice.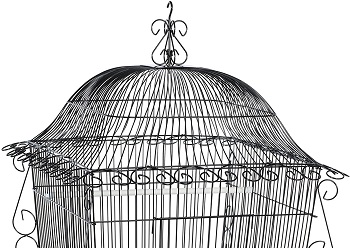 Wire Spacing Specfifics
The wire spacing of 5/8-in and its size makes us conclude that this cage is best used as a medium bird cage. Specifically, we'd advise you to use it as a cockatiel cage. You could use it to house smaller birds but it would be too much of a risk to place small birds in a cage with a wire spacing above 0.5-in.
In Short:
Has angled sides
Features a curved top
Has outside metal wire decorations
Can be hung with a top hook
It's 18-in long and wide and 25-in tall
Has a 5/8-in wire spacing
BEST LARGE DECORATIVE WIRE BIRD CAGE
PawHut 44″ Hexagon Covered Cage
Shape And Its Benefit
We already said that it's a lot easier for smaller cages to look good but another thing that decides this is the shape of a cage. We are yet to find a hexagonal cage that doesn't look great as it is, only because of its shape. The benefit of having a cage shaped like this is that it's very spacious on the inside.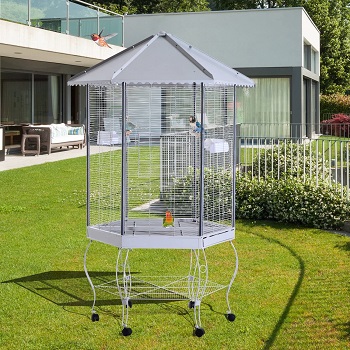 Colors And Contents
The decorative metal bird cage is colored with a grey and white color. The light grey bits make up most of the cage while the white is used for the wire sides. It even sits on an antique bird cage stand and features a wonderful canopy that's made out of metal sheets and extends over the edges of the cage.
Size And Birds
Due to its shape, the length and with are the same. It's 44-in long and wide and overall, it's 79-in tall. The height includes the stand and the highest point of the canopy. It has a 0.5-in wire spacing so you can use it to house any small bird like budgies and canaries, but also medium birds like cockatiels.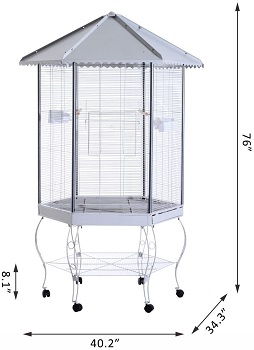 Canopy Build And Functions
The canopy isn't there to just make it look pretty though Since it's a metal sheet canopy, you can use it to give your birds some shade from direct sun when you're using it outdoors. We wouldn't advise you to use it outdoors often but it can even help keep your birds dry during rainy days.
In Short:
Has a hexagonal shape
The top features a canopy
The bottom has an antique stand
It's 44-in long and wide and 79-in tall
Has a 0.5-in wire spacing
Can be used outdoor occasionally
BEST WOODEN DECORATIVE METAL BIRD CAGE
PawHut Large Outdoor Aviary
Metal Parts
You can't really avoid metal being on bird cages and that's why it was easy for us to place this wooden aviary here and review it under the metal theme. The metal wire is used for its sides. It's actually galvanized wire so that it has better weather protection and that it resists rusting and corroding.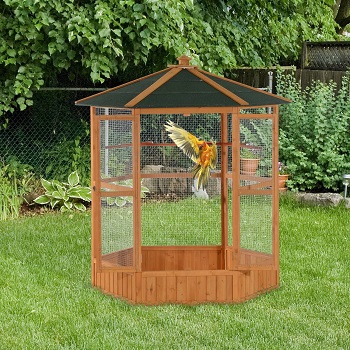 Other Materials
Other than that, the cage is made out of fir wood. This is a great material of choice for outdoor cages since it's a material that always goes back to its original size even when it shrinks and expands due to excess moisture. It also has an asphalt roof that's waterproof to protect birds from direct rain and sun exposure.
Size And Shape
It also has a hexagonal shape and due to its partially wooden build, it'll bend easily into any backyard or garden. You can think of it as an outdoor decorative wire bird cage. Overall, it's 59.1-in long and wide and 65-in tall. Due to its large size, it can be considered a large outdoor bird aviary.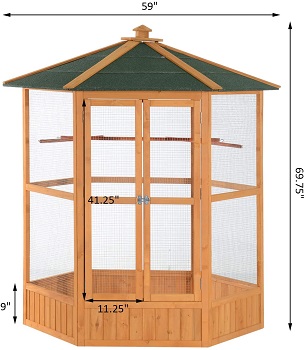 Entrance And Wire
The only entrance to this cage is found in the front. It's a 2-door entrance that's 51.2-in tall and 26-in wide. This door size will allow you to partially step inside it to change a few things up or to clean it when you need to. It has a 0.5-in wire spacing so it's good for housing small birds.
In Short:
Made with metal wire and fir wood
Can be used outdoors
Has a waterproof asphalt roof canopy
It's 59.1-in long and wide and 65-in tall
Has a 2-door main entrance
Features a 0.5-in wire spacing
BEST ANTIQUE DECORATIVE WIRE BIRD CAGE
Super Deal 63-in Rolling Bird Cage
Antique Looks
This is probably the most typical antique-looking cage you'll find. You can find them everywhere and what makes them stand out is their top and bottom. the top is usually a dome top while the bottom is usually a curved antique stand. Both of the things mentioned are featured on this cage.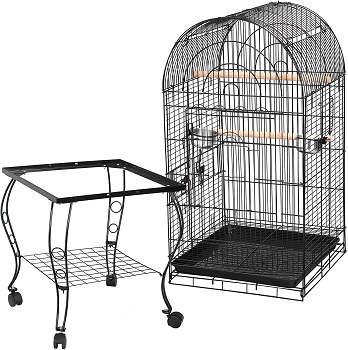 Common Metal
We were waiting for an antique wrought iron bird cage to finally pop up since it is a widely known material for making indoor bird cages. It's a durable material because of its low carbon content but it does rust fairly easily much as regular iron does. It's an easy fix with a good quality powder coat finish though.
Interior And Top Accessories
The dome top does feature something that will turn it into a play or resting spot. It's a 2 door entrance that can be kept open if you place one of the perches in between them. It does come with another wooden perch for the interior and also with 2 bowls for food and water.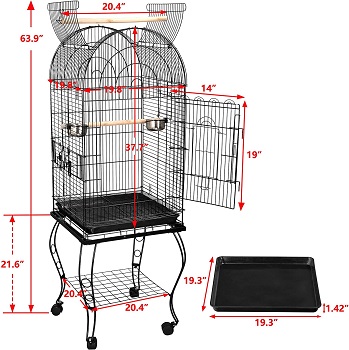 What You Can Do With The Stand
The antique stand that it sits on has curved and hollow legs. You will get a small wire grid where you can place some of your birds' supplies and accessories. The best thing about it is that you can take it off the stand if you don't particularly like how this decorative wire bird cage looks with it.
In Short:
Has a wrought iron construction
Features a dome top
Sits on a removable antique stand
Has a rest top area
Comes with 2 perches and 2 bowls
Has a powder coat finish
BEST SMALL METAL DECORATIVE BIRD CAGE
Prevue Pet Products Copacabana Cage
How It Looks
If you were to downsize the 2 hexagon shape cages we reviewed before you'll end up with a cage that looks like this. It still stands true that it's far more spacious than a rectangular or square-shaped cage would be but you have to think about the fact that it's only 12-in long and wide.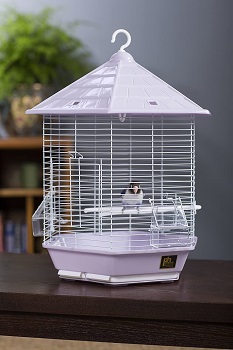 Plastic Parts
It's not really all that uncommon for small cages like this to feature plastic parts as well. Usually, it's just the base that is plastic but in the case of this decorative metal bird cage, the top is plastic as well. The top is made to function as a canopy but this is more of a visual thing than a functional one.
Metal Parts
You will get to hang it with a hook that sits on the far top of the canopy. The metal bits it includes are only the wire that's colored with white color. It has a 3/8-in wire spacing so it will be a suitable cage for the smallest of birds like finches and canaries. We concluded this due to its size as well.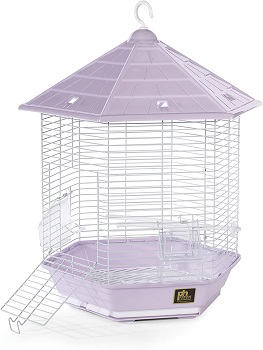 Small Accessories Info
Much like the cage, the accessories it comes with are small. The single perch you'll get to place inside is shaped like a branch, it's white, and made out of plastic. The two water and food cups are made out of clear plastic so that you can always keep an eye on how much food and water supplies are left.
In Short:
Has a plastic bottom and top
The middle is made out of metal wire
Has a hexagon shape
Can be hung
It's 12-in long and wide
Features a 3/8-in wire spacing
Comes with a perch and 2 clear cups
BEST PARAKEET DECORATIVE WIRE BIRD CAGE
Featherland Paradise Stainless Steel Cage
Birds To Be Housed Inside
We don't exactly mean that this cage is only suitable for parakeets but we decided to recommend it under this category because there are a lot of species of parakeets and we believe that most would be happy inside this cage that has a 0.5-in wire spacing and that's 18-in long, 27-in wide, and 56.5-in tall.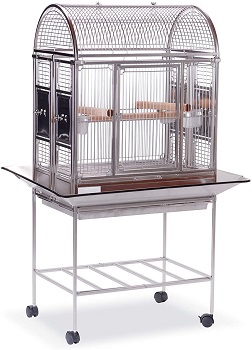 Material Quality
The reason why it's so versatile is that it's an incredibly durable cage. If you're wondering why it's because it's a stainless steel bird cage. It's one of the safest materials used for making bird cages and to top it all off, it's made with 11 gauge wire so you don't have to fear that your bird will bend it.
Saving Space
We haven't even gotten to the best part yet though. It's very rare to find a decorative wire bird cage of this size that you can store away without it taking too much space. That's because most of them in general aren't foldable but this one is and you can even fold it with the stand.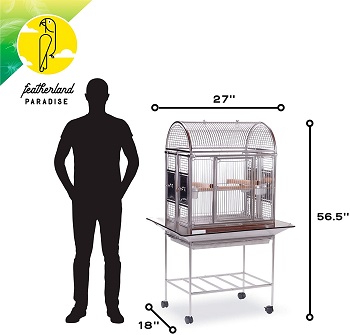 Other Visuals
Other than everything mentioned, it has a dome top so that it looks nicer while the bird cage seed guard that some might thin disrupts its visuals, can easily be removed if you'd like. The actual cage is 33-in tall, while the rest of its 56.5-in in height falls down to the stand with wheels.
In Short:
Made with stainless steel
Has a dome top
Can be folded down for storage
Made with 11 gauge wire
Has a 0.5-in wire spacing
Comes with removable seed guards
Sits on a stand with 4 wheels
How To Pick A Decorative Metal Bird Cage
If you're really after the best decorative metal bird cage, you'll put aside your visual cage preferences and put the functional bits in the first place. To know what you want to be after, you'll have to understand what you're reading through and we're here to explain everything you should know before purchasing.
Cage Sizes Benefits – If you want to save space with a cage, you could opt for getting a smaller cage but if you want a more functional one that'll keep your bird happy, you'll want to opt for a bigger cage. A smaller cage will indeed blend better inside homes but bird welfare should always come first.
Focusing On Shape – Many things determine whether a cage looks good or not and one of the biggest influences is shape. Any deviation from the classic flat-top rectangular cage is good. You can go with a dome top, a hexagon shape, angled sides, and many more things.
The Best And Most Common Metal Used – Since these are metal cages we just have to talk about materials as well. The most common metal generally used to make bird cages is wrought iron. It's a great material but an even better one would be stainless steel. Small birds don't really need strong metals though since their beaks are weaker and they can't really bend the wire.
Metal Commonness – No matter what decorative wire bird cage you choose to get, there are always going to be some metal parts. This is not always true but we'd say it stand true for around 90% or all bird cages. Material combining is also something that will make a cage look nicer like wood and metal.
To Sum Up
It's not always that simplicity is key and with that kept in mind, we decided it was if we recommend the PawHut 44″ Hexagon Covered Cage as the best decorative metal bird cage. It has a hexagon shape, a spacious 44-in long and wide interior, a beautiful canopy, and even sits on an antique stand. If you want to dive more into decorative cages that don't actually function as birds cages, we advise you to either read the article about vintage decorative bird cages or large decorative bird cages.