Are you looking to enhance your home's beauty and visual aspect with a large decorative bird cage?
You can make it happen today by continuing to read this article. We made sure to review nothing but the best and we even have some actual functioning bird cages here. You'll read through reviews of metal cages, parakeet cages, and a lot more than just that.
The Summary
Best 6 Large Decorative Bird Cages
BEST OF BEST LARGE DECORATIVE BIRD CAGE
Prevue Hendryx Designer Cage
Cage Visuals
It's kind of troublesome to find a bird cage that's visually pleasing but also large and functioning as both a bird cage and a decorative piece but this cage has it all. Visually it's a vintage bird cage and functioning it's a vintage hanging bird cage. Its shape and little details are what make it pleasing.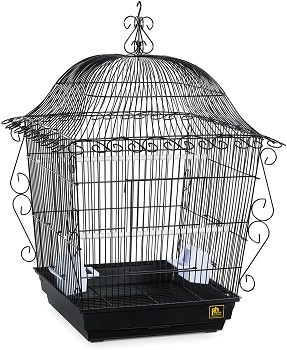 Top And Sides Shape
This large decorative bird cage is also somewhat round. It features a curved top that then extends to a detailed hook that you'll use to hang it where you want or need to. The sides and most of its living space aren't round but squared. The sides are angled a bit as well.
Bottom Cleaning Area
If its actual living space is completely made out of wire, the bottom is made out of plastic. It's actually a deep plastic base The features a wire grid and a drawer. This drawer can be slid out and you can clean your birds' excrements easily. The grid prevents your bird from getting into contact with its own soil.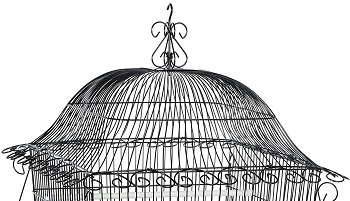 Dimensions And Bird It Can House
Since it's 18-in long and wide and also 25-in tall but has a 5/8-in wire spacing it does step away slightly from the minimal cage requirement for parakeets but can't house them because of the too large wire spacing. Luckily you will get to use it as a large cockatiel cage.
In Short:
Has a wire top and plastic bottom
Comes with a slide-out cleaning drawer
Features a 5/8-in wire spacing
Can house birds like cockatiels
It can be hung
BEST METAL LARGE DECORATIVE BIRD CAGE
Blue Mars 18-inch Large Bird Cage
How Big It Is
When compared to truly large bird cages, all of these cages don't come close to them, but with a larger size, they lose their decorative aspect. That's why all of these will be large enough to comfortably house one bird by stepping away slightly from the minimal cage requirement for that bird.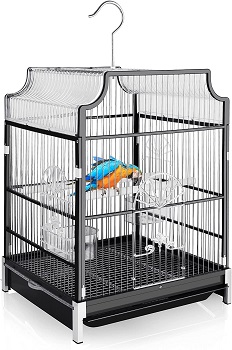 Stainless Steel Wire
A lot is going on with the materials this large decorative bird cage is made out of. The most distinctive material used, and the one that offers the best build is stainless steel. it's used for the wire sides of this stainless steel bird cage. We'll explain the rest more down the road of this review.
Plastic Bits
If we were to describe the rest of the cage in one word we'd use the word plastic. this is not entirely true since plastic can mean a lot of things. The frame of the cage is made out of ABS material, while the doors and the top bit are made out of PC. PC of polycarbonate is actually a clear material.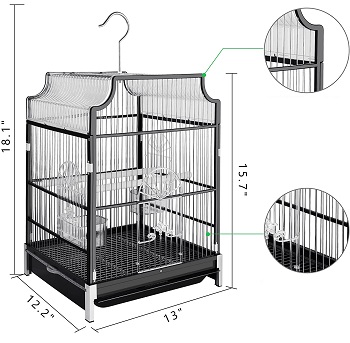 Birds It's For
Just like the cage before, you'll also get to hang this cage wherever you want to. With a length of around 18-in, a width of 13-in, and a height of 13-in, you'll comfortably get to use this cage as a small parakeet cage. What also helped us conclude this is the fact that it has a 0.43-in wire spacing.
In Short:
The wire is made out of stainless steel
Has an ABS material frame
The top and doors are made with PC material
Has a 0.43-in wire spacing
Suitable for housing parakeets
Can be hung with the top hook
BEST WOODEN LARGE DECORATIVE BIRD CAGE
FutchToy Mini Square Wooden Bird Cage
Size Comparison
If this cage was slightly bigger you could technically use it to house a single small bird inside it like a parakeet. The minimal cage requirement for parakeets is 12-in in length, 18-in in width, and 18-in in height. Of course, some small changes in size are applicable but this one is not with around 10-in in both length and width and a bit over 10-in in height.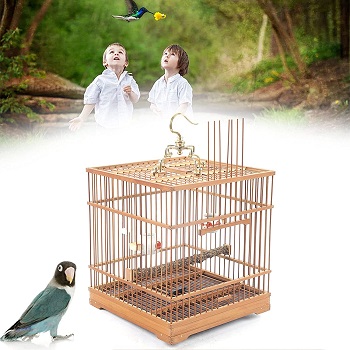 Build Materials
Even though it can't actually be used to house birds, it's still a beautiful-looking cage and its applications are still various. Surprisingly enough it's made out of wood but the wood is bamboo. This material is used to make the whole cage except for the top hook that you'll use to hang it somewhere when you want to.
Color And Looks
Since it's a wooden bird cage, it's definitely a large decorative bird cage that will add a different type of visual to the room you want to decorate as opposed to metal cages that we reviewed so far and will review further down the road. We wouldn't say it's pin but the natural bamboo color gives it that type of undertone.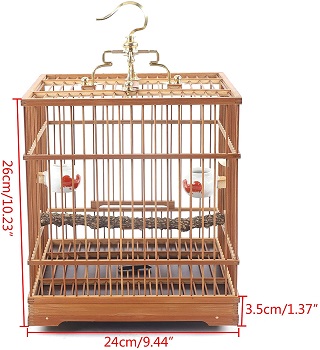 Things It Comes With
It does come with a natural perch and 2 water and food cups that are shaped and look like round ceramic cups. You'll also get a cage cover so you can now see that it is actually made to house a bird. You might get away with using it for when your bird is sleeping or for short trips to the veterinarian. Keep in mind that it has a 0.43-in wire spacing so it's best to use it for the smallest of birds.
In Short:
Fully made out of bamboo wood
Has a 0.43-in wire spacing
You can hang it with a metal hook on top
Comes with a perch, cover, and 2 water and food cups
Can house birds but it's not recommended
BEST WITH STAND LARGE DECORATIVE BIRD CAGE
Benzara 55122 Victorian Style Bird Cage
Two Ways Of Use
There are two ways that you'll get to use this cage and make it fit well inside your home visually. You'll either get to hang it since it comes with a hook for hanging on top or you'll get to place it on a stand that comes with it. The stand just like the cage, look antique and vintage.

Only For Decorative Purposes
This is the first cage out of the rest that can't actually be used to house birds. The reasons for it are abundant but we'll go through the most obvious ones here. First thing is that it's a full round cage ad birds should never be housed in round cages and the second bit is that the wire is unsafe because of the large spacings between them.
Visual Presentation
The cage is made out of metal and just the material can make a big difference in how a cage looks in the place you put it. it's colored black and that includes the stand. The middle of the cage features a curved wire pattern while the top and bottom feature floral detailing.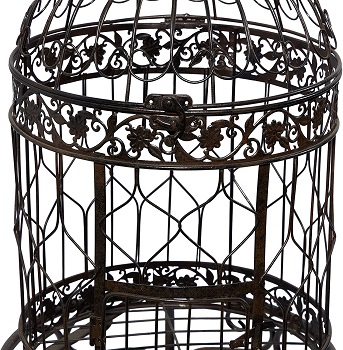 Entrances And Uses
This large decorative bird cage features 2 entrances. One is small and located at the bottom of the cage and the other one is found on top. Its top is actually dome-shaped and you'll get to take the whole thing off to put plants, flowers, or greenery inside. It'll definitely look great inside any home.
In Short:
Made out of metal
Comes with a stand
Can be hung with a top hook
The dome top opens fully
Features and entrance in the front
Can be used for plants and other greenery
BEST GOLD LARGE DECORATIVE BIRD CAGE
Longble Round Wedding Birdcages
2 Cages
The best thing about this cage is that you won't just get one cage but two. Apart from that, you'll get to choose what size of cages you want. You can get the large ones or the small ones. The large one has a 6-in diameter and it's around 10-in tall while the small one is around 8-in tall and 5-in in diameter.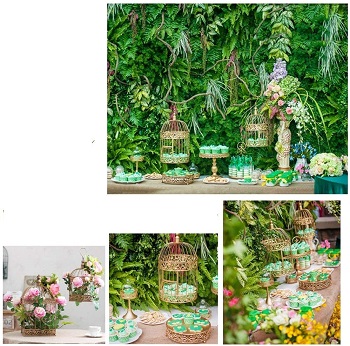 Entrance To The Cage
You can really get creative with how you're going to use this large gold bird cage ad that's mainly due to its entrance. To access the interior you'll get to take off the whole top which will allow you to place larger things that have a similar diameter. You can easily put the whole thing back and lock it as well.
Shape And Looks
The cage is actually made out of metal but it doesn't weigh all that much. It weighs around 1.32 lbs. as we mentioned, it's painted in gold and is actually shaped like a large round bird cage. Its shape and details point out the fact that it's also vintage or antique-looking cage.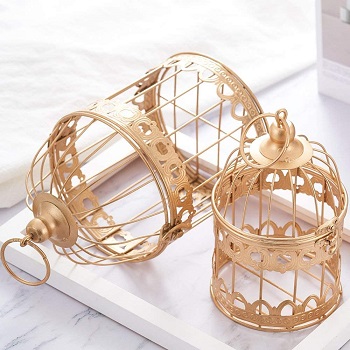 Uses For The Cages
Like we mentioned it has many uses but being a bird cage isn't one of them. It only looks like one. You will get to hang it somewhere and you can choose to use it at weddings for wedding card holders or you can use it inside your home for anything you can think of that you think will look good.
In Short:
Made out of metal
Weighs 1.32 lbs
The dome top opens completely
HAs a round shape
You can hang it
You'll get two cages
BEST CHEAP LARGE DECORATIVE BIRD CAGE
Fun Express White Birdcage
Top And Bottom Shape
This cage is the perfect example of how sometimes the shape of the cage is not the only thing stopping you to use it as an actual bird cage. It's partially round with its dome top but the sides are squared. one of the problems of this cage is that it has too big of a wire spacing.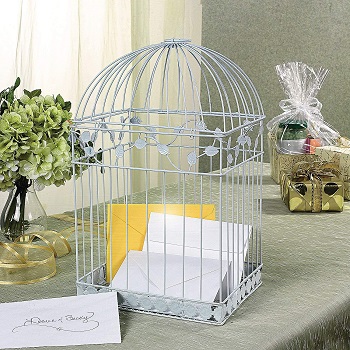 Cage Details
It's definitely made to look a bit more simple.  The sides and top are made out of wire and the only details that you'll find can be seen on the transition from the sides to the top and the bottom. On the transition, you'll find leaves made out of metal, and on the bottom, you'll find flowers.
How It Can Be Placed
You can use this large decorative bird cage in two ways. You can either hang it somewhere because of the loop found on the top or you can simply put it on a shelf or table. Both add a different feel to how the cage looks inside your home or wherever you want to put it.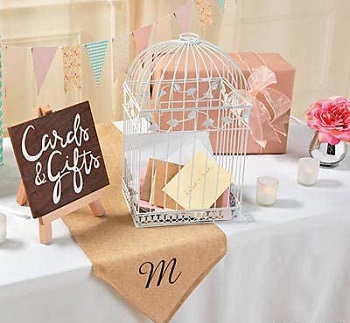 Entrance And Uses
The entrance to the cage will allow you to reach for the whole interior since it's located at the top. The top is the entrance and you can easily take it off to access what you have inside. Normally, it can be a good wedding card holder but you can also use it for greenery, and other plants.
In Short:
Has a dome top
Features flower and leaf details
It's colored grey
The top comes off
Can be hung
It's made out of metal
How To Pick A Large Decorative Bird Cage
We tried hard to review cages that are functional as actual bird cages but also look beautiful enough to be considered large decorative bird cages but unfortunately, not all are like this. In this guide, we'll help you tell the difference between good and bad, safe and unsafe, and a lot more.
Large Size Definition – If you know what an actual large bird cage looks like you'll quickly realize that all of these are actually small. When we reviewed these we determined that the largest of these cages are the ones that step away slightly from minimum small bird cage requirements so that's what's considered large with these.
What To Avoid – Most of these, if not all, are considered vintage decorative bird cages. When you think of vintage, it's most likely that you'll think of a round cage. Even if you were to find a cage that actually functions as a bird cage but is round you should avoid buying it at all costs. These cages are detrimental to a birds' health both physically and mentally.
How To Separate Functioning And Decorative Cages – We already mentioned one factor that goes into how you'll determine if the cage is decorative or an actually functioning bird cage and it's if the cage is fully round. The other factor you should look out for is wire spacing if the cage even has it. If it's visibly too big or simply bigger than 0.5-in you should avoid it.
Decorative Cage Functions – We already conclude that most of these aren't actually bird cages and if you're wondering what they're good for the title says it all. They're decorative and will definitely enhance the look of your home. You can use them to house plants, flowers, or other greenery, or you can use them as mail holders. The important thing to remember is, they're not made for housing animals.
To Sum Up
We decided we should recommend the Prevue Hendryx Designer Cage as the best large decorative bird cage just because it's beautiful enough to act as a decorative piece but it also functions safely as a bird cage. If you want to have a look at more actual bird cages that are large as well we'd recommend you read the article about big bird cages for parakeets or about parakeet aviaries.