Do you wish you could provide your budgie with a small parakeet cage that has enough space but doesn't look bad indoors?
You can trust us to help you find the cage you're looking for if you continue to read this article. We tried our best to find and review the best cages that fit in all sorts of categories like travel, indoor, and even cages with a stand and on wheels. One is bound to stand out and fit your wishes and needs perfectly.
The Summary
Best 6 Small Parakeet Cages
BEST OF BEST SMALL PARAKEET CAGE
Yaheetech Rolling Flight Cage
Wide But Not Tall
Although this is a small bird cage with stand it's still considered an aviary or flight cage. This is because birds don't fly up and down so they don't really need much space in terms of height but instead, they need a wide space to be able to fly left and right. This cage is 30-in wide.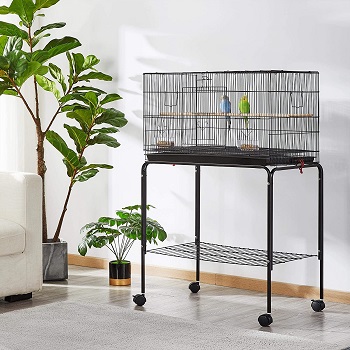 Build Details
The material used to make it is a strong metal wire. The paint finish of the small parakeet cage is safe for animals since it's non-toxic to them. it's especially safe for budgies because the spacing between each wire is 0.4-in so there isn't a chance that your budgie might pull his head through.
Correct Height
You want to be careful when buying a parakeet cage because of its height. The height represented is usually the height of both the stand and cage so make sure you always look at the height of the cage. The stand of this cage adds 29-in in height to the cage that's only 18-in tall.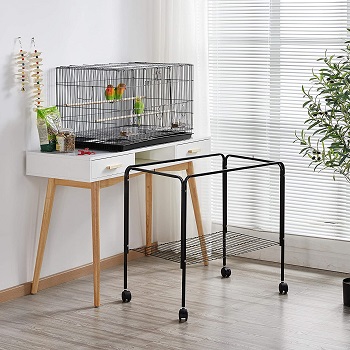 Entrance Types
You'll get one front entrance door to the cage that's centered on the wider side. Two additional doors are located to the left and right and can be used as feeding doors since they're much smaller. You'll get two clear food containers with it and also 2 long perches.
In Short:
The cage is 30-in wide and 18-in tall
Comes with a 29-in tall stand
Features 2 long perches and 2 clear feeding cups
Has a 0.4-in wire spacing
Has 1 front entrance and 2 feeding entrances
BEST INDOOR SMALL PARAKEET CAGE
Prevue Pet Products Flight Cage
Elegant Color
The reason why we're reviewing this cage under the indoor category is simple. Not only does it fit well inside your home because it's small but also because the steel wire that's used to make the entirety of it is colored in white. It's going to be less of obstruction because of it.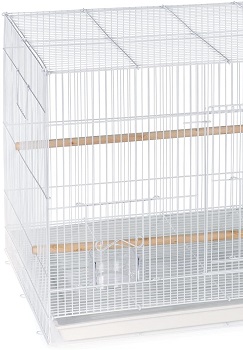 Flight Cage Dimensions
Since it's a small parakeet cage, you can't expect it to be tall wide, or long, but it actually is pretty wide. This is since it's a small indoor flight cage. Flight cages are typically very wide because budgies don't require height to fly but width since they fly left to right.
Perches And Cups
The things that come with this cage are pretty standard but they do have a twist of their own. The 2 perches that come with it are made out of wood and are as long as the cage is wide so 30-in while the 2 feeding cups can be placed in front of the small feeding doors and you can always check how much food is left because the cups are clear.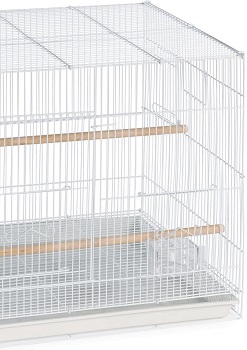 Door, Bottom, And Stacking
The single door that will allow your birds to access the cage is located in the center of the front side. On the bottom, you'll find an additional grid and just below it, there is a cleaning slide-out tray. You can actually stack multiple cages of the same model on top of one another as well.
In Short:
Made out of wire
Has a white color
Comes with 2 perches and clear cups
Features 2 feeding doors and 1 entry door
You can stack multiple cages on top
BEST PLASTIC SMALL BUDGIE CAGE
Vivohome Acrylic Parakeet Cage
Types Of Plastic
We did categorize this cage as a plastic one but that's not entirely true and we didn't even specify which types of plastic have been used. You're surely going to love the fact that the front and backside are made out of acrylic material while the frame is also made out of plastic but it's not clear.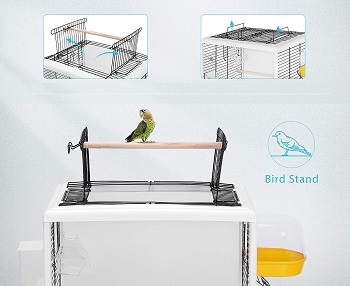 Steel Wire Location
The top left, and right sides of this small parakeet cage are made out of steel wire. The whole cage, including the steel wire, is corrosion resistant. The wire is also the only part of this cage that is colored black while everything else is colored in white, by that we mean the plastic bits.
Acrylic Base
The cage even features a deep base that's also made out of acrylic material. On top of the slide-out cleaning tray, there's a steel wire grid that will help prevent your budgies from stepping into their own soil. You can easily remove the base from the top to clean the cage more thoroughly when it's needed.
Lots Of Toys And Accessories
The entrance to the cage is found on top. It's a two-door entrance so you can easily place one of the two perches in between the doors to keep the cage open and to make it more fun for the birds. It also comes with an automatic feeder, to clear food cups, and even a bath located on the outside of the cage.
In Short:
Has an acrylic base, front, and backside
The frame is made out of plastic
The sides feature a black steel wire
It's corrosion-resistant
Comes with 2 perches, cups, and a bath box
Additionally, comes with an automatic feeder
BEST TRAVEL SMALL PARAKEET CAGE
Prevue Pet Products Travel Carrier
Travel Sized Cage
This cage is both the perfect size to be used as an indoor cage but it's also the perfect size to be used for traveling. With travel bird cages you don't want the cage to be too big but you don't want it to be too small either. It's around 18-in long and tall and it's around 15-in wide.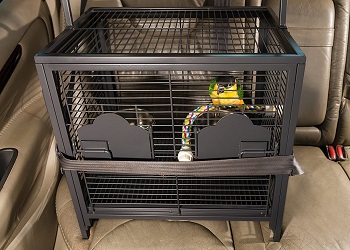 Safe Travels
We didn't just conclude that it's a great parakeet travel carrier out of the blue. It's incredibly safe for traveling because you'll get to fasten it to a seatbelt. This is possible because of the bracket that can be found on the right side of the front where the entrance is located.
Lightweight Metal Construction
It's completely made out of metal and features a powder coating finish. Because of the finish, the cage is waterproof and corrosion-resistant. You might think that it's heavy but it's actually really light and you'll have no problem carrying this 14 lbs small parakeet cage.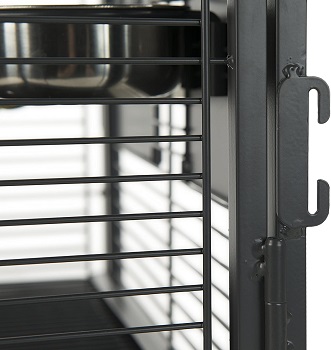 Additional Cage Info
It's even a bit elevated from the ground. The bottom does feature a cleaning slide-out tray as well. The inside accessories include 2 stainless steel bowls that are deep so they'll be hard to spill over. It also comes with a single perch that's made out of rope. On top, you'll find a handle to carry it easily.
In Short:
Completely made out of metal
The cage is corrosion resistant
It weighs 14 lbs
Can be attached to a seatbelt
Comes with a handle on top
Features 2 water and food bowls and a top perch
BEST ON WHEELS SMALL BUDGIE CAGE
PawHut 44.5  Indoor Bird Cage
Why So Tall
The cage is said to be 44.5-in tall which automatically removes it from the small cage category but to understand why it's still here, we have to look at what exactly makes it this tall. On its own, the cage is only 20-in but due to the stand it sits on, it adds around 28-in to its height.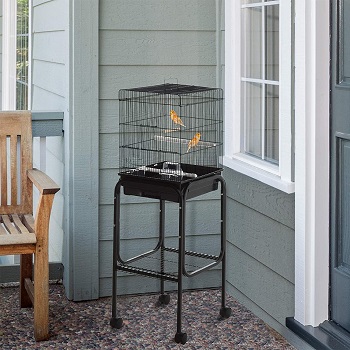 Stand Features
If you're wondering where the 4-in have gone from the height of the cage when put on the stand, it's because the cage doesn't get attached right at the top edges o the stand. It sits inside comfortably and safely. The stand has 4 wheels to move it as a whole easily and it has a supply storing grid.
Plastic And Metal Construction
There are two parts to how this small parakeet cage is built. The bottom is made out o plastic and it's quite deep while the top is made out of metal wire. The cage has been powder coated to get water and corrosion resistance as well. On top, you'll also find a metal handle or easy transport if you ever want to travel with your bird.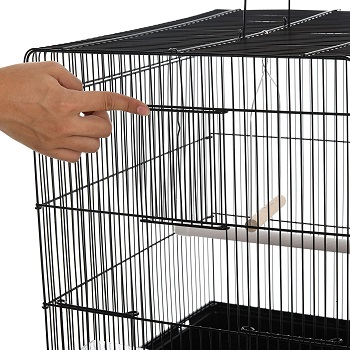 Wire Safety And The Inside
The wire spacing of 0.6-in is a bit bigger than what some are used to but it's still small enough for budgies to be safe inside. For them to not get bored so easily inside you'll get two plastic perches and even a swing made out of wood and also 2 see-through water and food bowls.
In Short:
The cage alone is 20-in tall
Comes with a 28-in tall stand with wheels
Made out of 0.6-in spacing steel wire
Has a powder coating finish
Comes with a swing and 2 perches and cups
BEST WITH STAND SMALL PARAKEET CAGE
Prevue Pet Products F070 Breeder Cage
Everything Metal
Everything that you see on this cage is made out of metal except for the wheels found on its stand. By everything we mean even the stand and, less commonly known and used, metal trays on the bottom that easily slide out with a handle for when you need to clean the cage.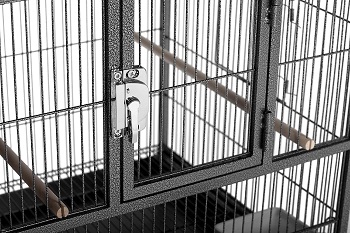 2 Parakeet Housing
Although this small parakeet cage is bigger than the rest of the cages we reviewed, it still deserves a spot here because it's only wider than most. It's wider because it's both a parakeet breeding cage and a 2 budgie cage. It's a 2 budgie cage because of its size but you can actually separate the cage into two with a center divider
Everything Doubled
Because you'll get to house 2 parakeets inside either separately or together, everything that it comes with is doubled. There are 2 entrance doors for each separate parakeet cage side, 2 perches for each cage, 2 feeding and drinking cups for each cage, and 2 cleaning trays as well.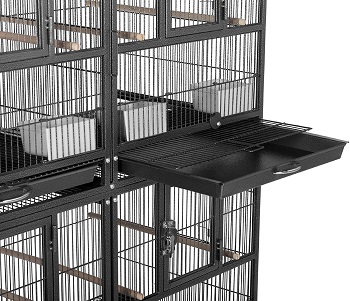 Breeding Box And Feeding Entrances
On the left and right sides, you'll find small entrances that are here for you to place a parakeet breeding box on the outside or inside. In the front, there are additional small doors that will help you easily refill the food and water cups. The wire spacing is perfect for parakeets since it's 0.5-in.
In Short:
Entirely made out of metal
Comes with a center divider for 2 budgie housing
Can be used as a breeding cage
Has a 0.5-in wire spacing
Comes with 4 perches and 4 cups
Features 4 feeding, 2 front, and 2 breeding box entries
How To Pick A Small Parakeet Cage
If you really want to pick out the best small parakeet cage possible we advise you to continue reading this part o the article where we'll go through all the important things that you need to know about budgie cages in general and these cages specifically. We'll touch upon their size, safety, and a lot more.
Minimal Cage Size – Although lots of people say different things about the minimum size requirement or budgie cages we decided to stick to what we know. The cage should be 12-inch long, tall, and wide, but it doesn't hurt to go slightly bigger than that as well. All o these cages are a bit larger than that.
Wider But Small Cages – If you come across a cage that's wider but still manages to it inside the small cage category, you're probably looking at a small light cage. Flight cages are wider than most so that your bird can stretch its wings and fly a bit inside since birds fly left to right and not up and down.
Best Benefits – No matter if the small parakeet cage you're looking at is made out of metal, metal wire, or even plastic, all of these cages are very light thanks to the size. This is great because you can travel with your bird in case you need to. If you want to get the most out of a travel cage make sure it comes with a handle on top for easy carrying.
What Makes A Cage A Parakeet One – It's pretty simple to determine what a cage should have to be considered a parakeet cage. Parakeets are one of the smallest parakeet breeds so they require a really small wire spacing to be safe. The recommended wire spacing is 0.5-in but you can get a 0.6-in wire spacing cage as well.
To Sum Up
There's no doubt about the fact that the Prevue Pet Products Travel Carrier is the small parakeet cage we have to recommend. You can travel with it since it comes with a handle, it's made out of light metal, and it's corrosion-resistant but you can also use it as an indoor cage because of its durability, size, and 0.5-in wire spacing. If you're looking for cages that are bigger than this we'd advise you either check out the article about big bird cages for parakeets or if you want to go even bigger extra-large parakeet cages.