Have you recently decided that you want to breed your budgies but need a parakeet breeding cage for it?
You can find one in this article if you continue reading it. We made sure to do proper research on these so that we can bring your reviews of the best ones. Not only that, but we also made sure to include a large variety of different types so you can easily find large, indoor, and even cages that sit on a stand.
The Summary
Best 6 Parakeet Breeding Cages
BEST OF BEST PARAKEET BREEDING CAGE
Yaheetech Stackable Breeding Cage
Stackable Feature
If you have more than one pair of parakeets that you'd like to breed you'll really enjoy the fact that this cage can be stacked. For safety reasons, you should only stack 2 more cages on top of the first one but that also includes the fact that you can stack them when the first cage is sitting on its stand.
Cage Build
The metal that makes the entirety of this parakeet breeding cage is wrought iron. wrought iron is known for its toughness because it has a low carbon content. You can be sure that your budgies won't be capable to bend the wires of the cage with their beaks. It even has a hammered paint finish that makes it rust-resistant.
Metal Stand Details
Although this parakeet bird cage with stand looks like it can't be divided from its stand that really isn't true. The stand is also made out of metal so it's no wonder that it can hold the weight of 2 more cages. It sits on wheels that you can lock for more stability and it even has a grate for storing toys, supplies, and accessories.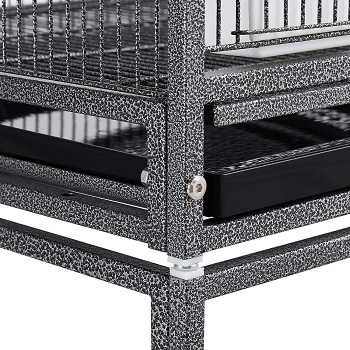 Interior Safety And Contents
The interior is safe for budgies because the wire spacing of the cage is 0.4-in. You'll get to divide the cage into two separate ones using a divider as well. With that in mind, each cage part comes with 2 perches and 2 feeding cups. The door locks are specifically designed to prevent birds from escaping.
In Short:
Made with wrought iron
Has a metal detachable stand
You can stack up to 3 cages on the stand
Has a 0.4-in wire spacing
Comes with 4 perches, and 4 water and food cups
Comes with a divider for cage separation
BEST WITH STAND BUDGIE BREEDING CAGЕ
Prevue Pet Products Breeder Cage
Metal Info
With other pet product cages, it's not that uncommon to see a wrought iron construction although it's then stated as a high tensile wire. It's all the same because wrought iron has high tensile strength and they both have a low carbon content. The lower the carbon content, the better.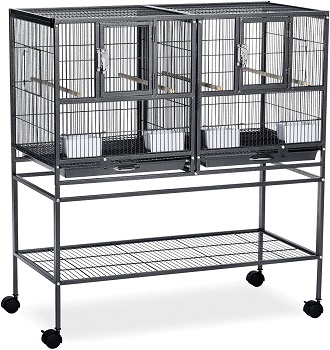 Single Cage Dimensions
If for some reason you'd like to separate your birds every once in a while you can easily do that by placing a divider in the center of the wrought iron bird cage. The divider is non-adjustable and splits the cage into two cages of the same dimensions. Without the divider, this parakeet breeding cage is 37.5-in long, 18-in wide, and 20.5-in tall.
2 Metal Trays
Not even the 2 slide-out trays found just below the cage are made out of plastic. They're very deep, made out of metal, feature a handle that you can pull to easily slide them out, and there's a stopper to prevent them from sliding out accidentally. They have a grid above them to prevent your budgies from standing in their own soil.
More Important Info
Each part of the cage comes with 2 perches and 2 feeding cups. You can remove them if you want to make room for a breeding box when you need one as well. It's got a 0.5-in wire spacing and it even sits on an undetectable metal stand that has lockable wheels and a supply tray.
In Short:
Has a wrought iron build
Comes with a cage center divider
Each cage part has 2 perches and 2 feeding cups
The 2 cleaning trays are made out of metal
Has a 0.5-in bar spacing
Sits on an undetectable wheeled stand
BEST ON WHEELS PARAKEET BREEDING CAGE
Vivohome Stackable Divided Bird Cage
Frame And Sides
You can divide the build of this cage into two parts. The first one is the frame that's made with metal tubes and the second are the insides of the frame parts that are made with wire. The finish of the cage is a white paint finish that's no-toxic to birds and helps with rust resistance.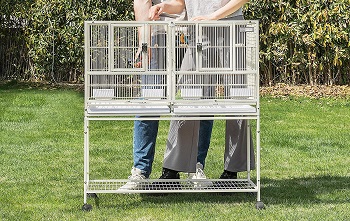 Stand Pros And Cons
The cage is quite heavy even though it may seem small It weighs 40.1 lbs so it would be hard to move by carrying. That's why it sits on a stand that has wheels on the bottom to help you move it. Keep in mind that the wheels are not lockable so it might move when you're not moving it.
2 Cages In One
Of course, as all of the budgie breeding cages so far reviewed, this parakeet breeding cage features a center divider in case you ever need to separate your budgies. Since each cage part is a great size for a single budgie, this cage can easily be considered a big bird cage for parakeets if you ever want to use it to house a single budgie inside.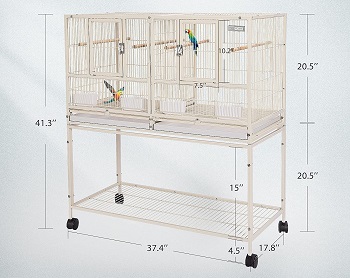 Contents Pairs
Because of the divider and the fact that you're actually getting two cages in one because of it, all the things that a single cage needs to have come in pairs. This means that you'll get two cleaning trays, 4 perches, 4 feeding bowls, and 2 doors for access to each cage part.
In Short:
Made with metal tubes and wire sides
Comes in pairs of 2 perches, feeding cups, and a door
Features a divider
Has 2 slide out cleaning trays
Features a stand with wheels
BEST INDOOR BUDGIE BREEDING CAGE
Topeakmart Divided Breeder Parakeet Cage
Places To Use It In
Although you can use this cage indoors and it is the recommended place to use it, there's also the option of using it outdoors from time to time. This is true because its hammered paint finish makes it water-resistant so it won't get damaged easily when it gets into contact with rain.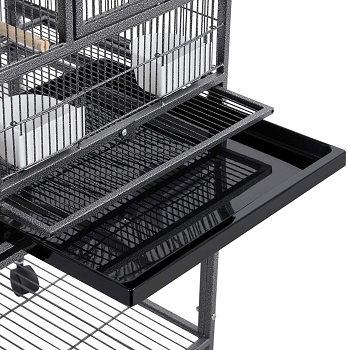 Small Feeding Doors
Although it's typical to get 4 feeding cups and perches for these types of cages and their size, what this cage also brings you is a door for each of the 4 feeding cups. This way you'll easily get to refill the food or water for your birds without risking them flying out of this parakeet breeding cage.
Door And Wire Safety
The wire spacing of this 2 budgie cage is even smaller than the maximum recommended spacing. It's a 0.4-in wire spacing so you really don't have to worry about it not being safe for your birds.  The locks on the two small doors for entry are also very safe because of the locks that will prevent your birds from escaping the cage.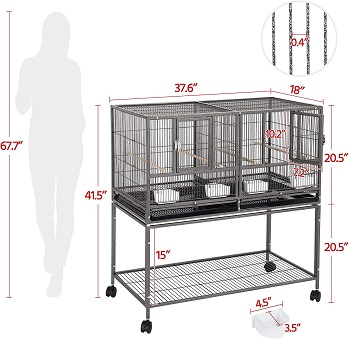 Important Grids
There are two important grids on this cage. The first are the ones located right above the cleaning tray that will prevent the birds from stepping in their own soil and the second one is the grid found on the stand that will let you store all your bird-related stuff on it.
In Short:
Features 2 safely locking doors
Can be separated with a divider
Comes with 4 perches and feeding bowls
Has small food refill doors
The cage is water-resistant
Has a 0.4-in wire spacing
BEST LARGE PARAKEET BREEDING CAGE
McCage Stackable Breeding Cage
3 Cages
If you decide to buy this cage you'll be spending a lot of money on it. To be more precise you'll have to spend around $500 but it's no wonder since you'll get a total of 3 cages. Each cage is big enough to house 2 budgie so you can breed 3 parakeet mates in total.
Stacking Design
You won't have to use up a lot of space to place them all together somewhere. This is since these cages are actually stackable bird cages. The base cage has a small stand on the bottom so that wheels could be put there. You'll move them all with little to no problems when needed.
Durable Metal
Each parakeet breeding cage is made out of wrought iron. Wrought iron is fairly commonly used in the making of bird cages in general so this comes as no surprise. It's a durable material because it has a low carbon content and the lower the carbon content, the stronger the metal gets.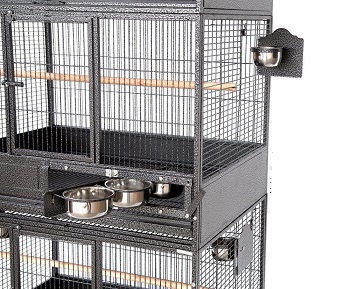 Accessories, Entries, And Safety
You'll get a total of 3 perches and 9 stainless steel bowls with the cage. There's an entrance at the front of each cage and you'll even get a smaller side entrance. This entrance is designed for you to put a parakeet breeding box there. The cage is safe for budgie because of the 0.5-in wire spacing.
In Short:
Made out of wrought iron
Has a 0.5-in wire spacing
Comes in a pack of 3 stackable cages
Each cage has its own breeding box entrance
Comes with 3 perches and 9 stainless steel bowls
BEST METAL PARAKEET BREEDING CAGE
Mcage Lot of Breeding Flight Bird Cage
4 Stacking Cages
If you have a lot of budgies that you want to colony breed instead of selective breeding you'll enjoy this cage as well. You won't just be enjoying one cage but a total of 4 cages. Each can cage be stacked on top of one another to help you save space inside your home.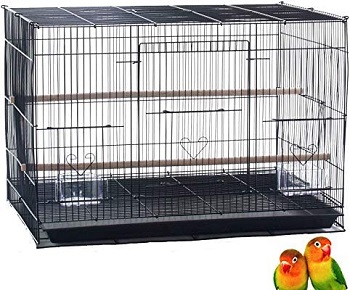 Metal Strength
The metal used to make the entirety of the cages is steel wire. They are a bit flimsier than the ones we reviewed before it but can still do the job right. These cages will cost you around 180 dollars so you can see that this lot of cages can be considered cheap parakeet cages.
Small And Large Entrances
Each parakeet breeding cage has its own front entrance to help you interact with your birds and for your bird to easily access the cage. On the sides of the entrances, you'll find smaller entrances that are designed to be used for filling up the two clear feeding cups each cage comes with.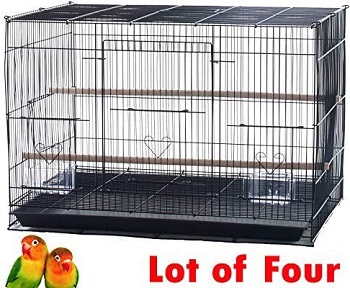 Keeping It Clean
Each cage also comes with 2 perches and on the bottom, you'll find a wire grid that covers the cleaning tray below. This is to help prevent your birds from stepping in their soil. This is important because birds like one clean and keep their living area clean, otherwise they get stressed.
In Short:
Made with steel wire
Comes in a lot of 4 cages
The cages can e stacked
There are 2 feeding entrances in the front
Each cage comes with 2 perches and feeding cups
How To Pick A Parakeet Breeding Cage
To pick out the best parakeet breeding cage it's important t get familiar with what you'll need for it, what it has to contain, what's the appropriate size for these cages, and a lot more so to learn about all that or to refresh your memory, make sure you read this buying guide where we'll go through it all.
Cage Size – If you were to look at the recommended dimensions for a single budgie cage you would get the answer that the minimum should be 12-in in all aspects. For breeding cages, since they need to house two budgies you'll want to double that and add a bit more. The minimum cage size is 24-in long and 16-in wide and tall but all of these are slightly bigger than that which is better.
What It Should Contain – You'll want to make enough room for the most important thing when breeding budgies and that's the parakeet breeding box. If the cage is too small you can place the box outside the cage as well. Another thing all of these containers is a divider for times when you really need to separate your birds.
Cage Safety – Budgies are small birds. They're actually one of the smallest types of parakeets and because of it, they need to have a small wire spacing for them to be safe ad not get their head through in between the wires. All of these cages have a wire spacing that's below 0.6-in so they're all safe.
Going Bigger – You can go bigger when getting cages for birds. you should watch out for the wire spacing but bigger is always better in this case. That is of course if you have enough room in your home. Bigger cages can also easily be used as flight cages if they're wide enough and there's not a chance that you won't get to fit everything needed for our budgies inside.
To Sum Up
Even though all of these are pretty much the same, some minor differences make us want to recommend the Yaheetech Stackable Breeding Cage as the best parakeet breeding cage out of these. It's fully made out of metal, you can stack up to 3 cages on the stand that's also made out of metal but can be detached from the cage, and it comes with a divider. If you want to give your budgies a large cage to live in we advise you to read the article about parakeet aviaries or extra-large parakeet cages.