Do you want nothing but the best for your cockatiel so you want to get him a safe large cockatiel cage?
You can make it happen if you continue reading this article where you'll read reviews of our top picks for these cockatiel cages. You won't just go through mundane cages that are all the same but rather you'll see a lot of different cages like flight cages, cages with a stand, and a lot more.
The Summary
Best 6 Large Cockatiel Cages
BEST OF BEST LARGE COCKATIEL CAGE
Yaheetech 61-inch Playtop Cage
Top Exercise And Rest Area
When you have a bird, even if the bird is housed in a large cage you want to make sure that you let the bird out of it once every day. it's good for both their mental and physical health and with this cage, it'll be more fun since you'll find a playground on top. It consists of a ladder, a perch, and 2 water or food bowls.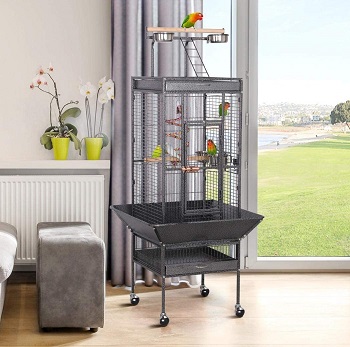 Finish Coat And Metal Used
The whole cage is actually made out of wrought iron which is the most common material for making bird cages in general. It has a lower carbon content so it's pretty durable because of it. To protect it from rusting prematurely, it has a glossy black coating finish that also makes it easy to clean.
Lock And Bar Spacing Safety
There's a single door located in the front of this large cockatiel cage that safely locks with a button lock. This means that you'll have to push a button to unlock it. That, on its own, makes the lock birdproof. It's a cage designed to house cockatiel but it can also be used as a big bird cage for parakeets and other small birds because of the 0.6-in wire spacing.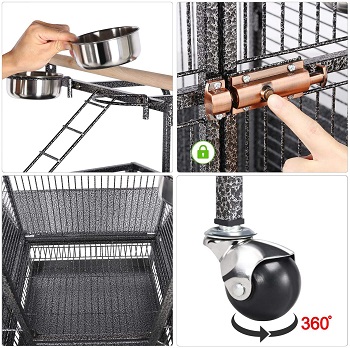 Cleaning And Interior Accessorizing
There are three features that conveniently make the cage easy to clean. These things are the bottom but also the top slide-out cleaning trays and a bird cage seed guard. The interior can be accessorized with a single wooden perch, 2 stainless steel bowls, and even a hanging bungee toy.
In Short:
Built out of wrought iron
Has a top playground
There's a cleaning tray on the bottom and top
Has a seed guard
Features a 0.6-in wire spacing
You can place a perch, 2 bowls, and a bungee toy inside
BEST WITH STAND LARGE COCKATIEL CAGE
Mcage Large Wrought Iron Flight
Multiple Bird Cage
Since cockatiels are small birds, it's easy to find a cage that's large enough to act as a flight cage. Flight cages are typically wider and longer than regular cages so that they allow the bird to fly around while being safe inside. This one is actually large enough to house 2 cockatiels.
Detachable Stand
If you don't particularly like that it's a large cockatiel cage with stand, you can choose to remove it from the stand as well. The stand will make it easier for you to move it since it's equipped with wheels but you'll also get to organize your bird-related supplies a bit more since it also features a wire grid.
Different Entrance Functions
You'll even get to use it as a cockatiel or a parakeet breeding cage because it features nesting doors on top where you'll get to place a breeding or nesting box. you'll also get a single large front entrance and four small entrances that act well as feeding cup entrances.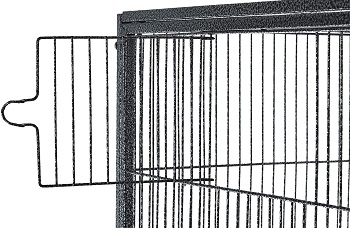 Metal Construction And Toy Details
Just like the large cockatiel cage before it, the Mcage large wrought iron flight canary parakeet cockatiel lovebird finch cage with removable stand is also made out of wrought iron. It also has a 0.5-in wire spacing and comes, as it is, with 4 wooden perches and 4 feeding cups.
In Short:
Constructed out of wrought iron
Can act as a flight cage
Comes with a removable stand with wheels
Has a 0.5-in wire spacing
Has a breeding box entrance
It's equipped with 4 perches and feeding cups
BEST FLIGHT LARGE COCKATIEL CAGE
PawHut Rolling Metal Bird Cage
Splitting The Cage Into Two
If we had to put into perspective just how big this cage is, we could easily compare its size to 2 large bird cages. It actually is made out of two cages but the interior can or doesn't have to be connected. This is due to the fact that there's a removable divider in the center.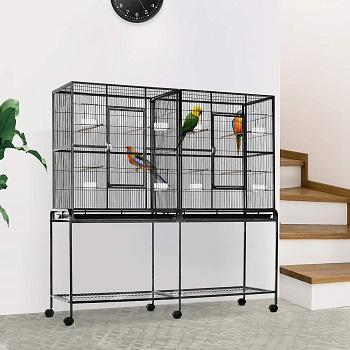 2 Cages, 2 Stands
We did already mention that this large cockatiel flight cage is sized like two large cages. That's why everything you get comes in pair of two. You'll get to put each cage on its own stand with 4 wheels and a grid for storing bird-related toys, accessories, and supplies.
Cage Function And Wire Spacing
This is an extra-large flight cage. Flight cages are typically wider and longer than regular cages because birds don't fly up or down but left to right so they need the width and length and not exactly height. With bigger cages, it can be a problem to find a cage with a small enough wire spacing but you won't need to worry about it with this large cockatiel cage because it has a 0.5-in wire spacing.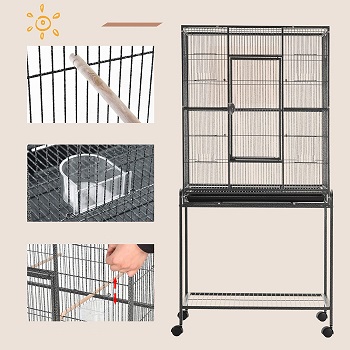 Double The Accessories
The same double everything rule applies to the accessories the cage comes with. Each cage comes with 4 wooden perches, so 8 in total, 4 food, and water cups, so also 8 in total, and you'll even get 4 feeding entrances so it can be easier for your to refill your birds' water and food supplies.
In Short:
It's as big as 2 large bird cages
Comes with a removable center divider
Has a 0.5-in wire spacing
Sits on 2 detachable cage stands with wheels and a grid
Comes with 8 cups, perches, and feeding entrances
BEST ON WHEELS LARGE COCKATIEL CAGE
Superdeal Pro Large Rolling Bird Cage
Affordable Metal Quality
Surprisingly enough, this cage is actually a cheap big bird cage. We said surprisingly because it comes with most of the things you would expect to get from a bird cage with a standard price. The first thing to notice is that it's made out of wrought iron that's a lot more durable than some other types of cages out there.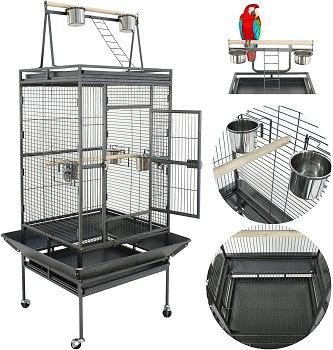 Metal Problems And Solution
With wrought iron cages, come some problems. Although it's a tough material because of its low carbon content it does have some flaws. The particular flaw we have in mind is that it rusts easily. There's an easy fix to that problem though and it has to do with the coating finish. This large cockatiel cage has a powder coating finish that's lead-free meaning it's not toxic for birds.
Keeping Outside Of Cage Exercise Fun
Your bird should get some daily exercise outside of a cage even if you do have a flight cage. This cage will make it a lot more fun because of its top contents. It's a play top bird cage that features a single wooden perch, 2 food and water bowls, and a ladder.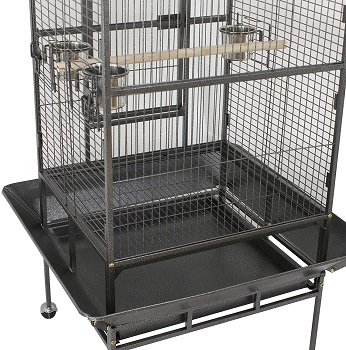 Cage And Surrounding Area Cleanliness
Cleaning this cage will also be a breeze since you'll find a slide-out cleaning tray on the bottom, which is standard, but also the top. You'll also get a seed guard with it that will help keep the surrounding cage area as clean as possible since most droppings will end up on the bottom tray.
In Short:
Made with wrought iron
Has a lead free powder coating finish
Comes with a playground top
Features a seed guard on the outside bottom edges
Has a top and bottom slide out cleaning tray
BEST INDOOR LARGE COCKATIEL CAGE
PawHut Wrought Metal Bird Cage
Housing Multiple Birds
Even though all of these cages can house multiple cockatiels and other birds of similar size, this one might do it best. The reason why is because you'll get to separate your birds when needed. You'll get to place a grid and another cleaning tray in the middle so that you can have one bird space on top of another.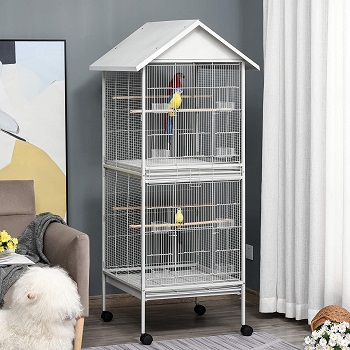 Blending A Little Bit Better
This cage might blend a little bit better inside homes for three reasons. The first one is that most of its size comes from its height. there's also the part that this is a cockatiel or parakeet bird house which means that it has a lovely roof housetop, and it's completely colored white.
Pair Of Two
Since this large cockatiel cage is designed to house separately more than one bird, it's only logical that it comes with double everything. Each cage part has its own entrance, 2 feeding entrances, and both come with 2 perches and clear feeding cups so you can monitor how much food is left at all times.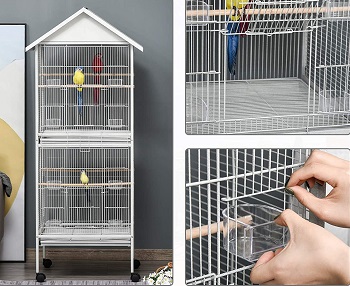 Wire Construction And Spacing
To top it all off, it's actually made out of wrought iron so you be sure that it has a durable build. The wire spacing is not specified but it is a bit smaller than 0.5-in which is great for cockatiels, parakeets, canaries, finches, and other similar-sized birds.
In Short:
Has a wrought iron construction
Has a wire spacing a bit smaller than 0.5-in
Can house two birds separately
Comes with 2 cleaning trays and above wire grids
Features a roof housetop
BEST OUTDOOR LARGE COCKATIEL CAGE
Zeny Bird Cage With Stand
Standard Durability
In terms of price, we did save the best for last. For this cage, you'll have to spend only around 100 dollars to get the quality your bird deserves. To start easy, it's made with wrought iron. Like we said many times before, it's the most common material used in making bird cages since it offers the most standard durability
Stand And Cage Height
When looking at this large cockatiel cage and checking out its height, you need to consider checking out the height of the stand it sits on. With the stand on, this cage is quite tall with 53-in in height. Without it, on the other hand, it's 27.4-in tall. You can remove the stand from the cage or leave it on to move the cage easily with wheels.
Feeding And Main Entrances
The front comes with a large front entrance that's centered and locks with a sliding bolt lock. To the left and right of it, you'll find tiny wire arches that mark the place where 4 small doors are located. These doors are actually feeding doors and will help you easily refill your birds' food and water supplies.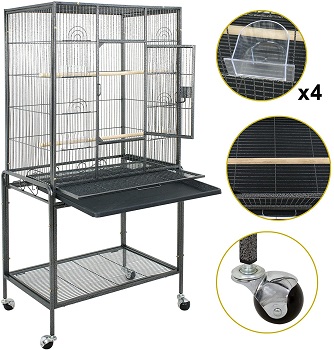 Accessories Included And Their Storage
We didn't mention that this large bird cage with stand has a wire grid on the stand. This grid can help you organize anything that you have that's bird-related a lot better. The interior comes with a set of accessories as well. You'll get 4 clear food cups so you can always know how much food is left in there and 2 perches that are made out of wood.
In Short:
Has a wrought iron build
Features a detachable stand
Without the stand, the cage is 27.4-in tall
The stand has wheels and a storage grid
Features 4 feeding entrances and a single main one
Comes equipped with 4 clear food cups and 2 perches
How To Pick A Large Cockatiel Cage
If you really want to pick out the best large cockatiel cage possible, you might want to consider reading this buying guide if you don't already know everything you should before buying. We'll go through it all: the differences, similarities, cage safety, and much more than that.
Minimum Cockatiel Cage Requirements – Cockatiels, like budgies, are small birds. They are bigger than parakeets, depending on the parakeet breed, but generally, it's a true statement so their cage size requirements are a bit bigger as well. The minimal cage size for cockatiels is 24-in in length, 18-in in width, and 24-in in height.
Why You Should Go Large – There really isn't a limit when it comes to cage size for birds. Large birds, of course, need to be housed in large cages since they have a large wingspan but for small birds like cockatiels, it's more of a commodity than a necessity. They are good for their mental and physical health though.
Cockatiel Cage Bar Spacing – What you should really look out for especially with large cages is the wire spacing. Too big of a wire spacing can be very dangerous for small birds since they can get their wings stuck between the wires and man other things. For cockatiels, the max bar spacing should be 0.6-in.
General Cage Safety For Cockatiels – Cockatiels are smaller birds which means their beaks aren't as strong but you still shouldn't underestimate and think that they can't easily bend the wire of a cage if they want to. You want to be looking for a large cockatiel cage made of stronger metal like wrought iron and a quality finish so that it doesn't rust.
To Sum Up
We thought about the price too when we decided that we should recommend the Superdeal Pro Large Rolling Bird Cage as the best large cockatiel cage. It's made with wrought iron, has a lead-free powder coating finish, has a top playground, and even a seed guard. If you want to keep its low price and check out some cages for parakeets you can read the article about cheap parakeet cages or if you want to go smaller, about small parakeet cages.