Is money scarce these days but you still need a cage for your small or large bird so you're looking for cheap big bird cages?
Then, you're definitely lucky to be here!
If you continue reading this article you're guaranteed to find a cage for your bird at an affordable price. whether the cage is for parakeets or cockatiels or even large birds like parrots, you'll find it all, and a lot more, here.
The Summary
Best 6 Cheap Big Bird Cages
BEST OF BEST CHEAP BIG BIRD CAGE
PawHut Rolling Metal Bird Cage
Size And Price
If we were to simply point out the price of this cage which is around 240 dollars you'd probably skip it and go after another cage. It's only reasonable that you'd do it but before you move on let us tell you one thing. This cage is actually 2 large cages in one so it really isn't all that expensive in the end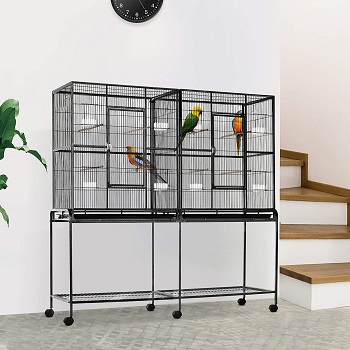 Small Bird Cage
Cheap big bird cages and large cages in general typically have a much larger wire spacing so it's harder to find one for a small parakeet like a budgie. Luckily, this cage boasts a wire spacing of 0.5-in and because of it, you can safely use it as a 2 budgie cage or even more.
Connected Interior
We did say that you'll get to cages in one even though each cage part has its own stand with 4 wheels and a storage grid. Each cage also has its own cleaning tray but the interior is connected. You can remove the divider that's located in the center to largen the interior space or you can leave it there to divide the birds' living spaces.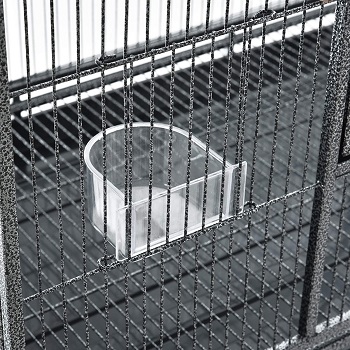 Double The Accessories
The entrances to each cage part feature safe locks that will not be opened easily or even at all by your birds. Each cage part also comes with its own 4 perches so you'll get a total of 8 perches. You'll also get 4 food cups made out of plastic for each cage part so also a total of 8.
In Short:
Has the interior space of 2 large cages
Has a 0.5-in wire spacing
The interior can be separated with a removable divider
Comes with 8 perches and plastic cups
Both cages sit on a stand with wheels
BEST PARAKEET CHEAP LARGE BIRD CAGE
Topeakmart Wrought Iron Large Cage
Multiple Small Bird Housing
The advantage of getting a big bird cage for parakeets is that you'll actually get to house more than one parakeet inside since they're small birds. With parakeets, this is especially true since they're very social birds and it's preferred that they have a partner although that might mean that they won't bond with you as well.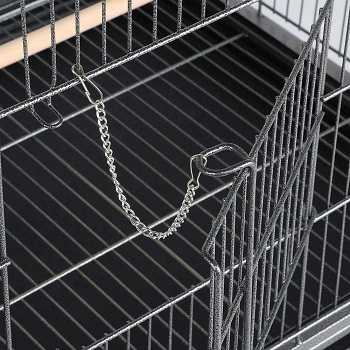 Cage Height
Since it's big and weighs around 33 lbs it might be difficult to move. The manufacture of the cage solved that problem by setting the cage on a metal stand with wheels. the stand doesn't take away a lot from the cages' height. With the stand, it's 52-in tall and without it, it's 37.2-in tall.
Durable Metal Protection
The cheap large bird cage is made out of wrought iron which is a very common material used in making bird cages. It's durable that's for sure since it has a low carbon content. It also has high tensile strength but it does rust more easily. The solution to this problem is offered through a coating finish that protects it.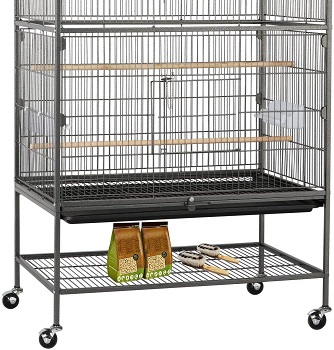 Interior Access And Equipment
The interior can be accessed through one of the two front doors. On the inside, you'll get to place 4 large feeding cups on the inside. They're made out of plastic and each has a separate compartment for food and water. It also comes with 3 wooden perches for resting.
In Short:
Made with wrought iron
Comes with 3 perches and 4 cups
Can be accessed through 2 front doors
Sits on a stand with wheels
Alone, the cage is 37.2-in tall
Has a 0.6-in bar spacing
BEST COCKATIEL CHEAP BIG BIRD CAGE
Zeny Bird Cage With Stand
Cage Metal Durability
Like we said, wrought iron cages are pretty common because they offer the needed durability while staying safe for the bird. The solution to the easy rusting problem is offered through a coating finish. It's better to have it this way than to have a galvanized steel cage that can cause metal poisoning in birds.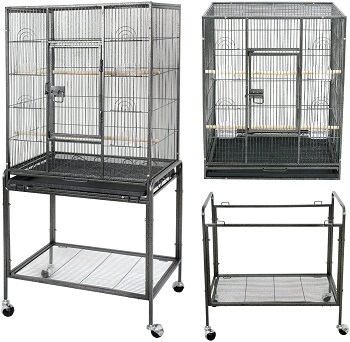 Detachable Metal Stand
Luckily, you can remove this cage from its stand even though it might not seem like it at first. The stand is also made out of metal and it's quite tall so it adds a lot of inches of height to the 27.4-in tall cheap big bird cage. It has wheels so you can easily move the whole cage around and even comes with a storage wire grid.
Wire Spacing
Although cockatiels are birds that are large than budgies and can afford to have a slightly bigger wire spacing to be safe inside, this cage has a smaller wire spacing than the maximum for these birds. It's a 0.5-in wire spacing so it's safe enough to be a big bird cage for parakeets.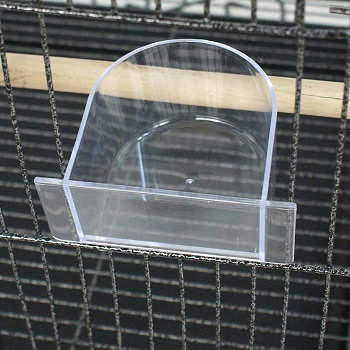 Feeding Entrances And Other Accessories
Each small entrance for feeding features beautiful wire arches that enhance the looks of this cage. The 4 cups that you'll get for food and water are clear so you can always know how much food and water is left in these cups. To make it a bit more fun, you'll also get 2 wooden perches.
In Short:
Made with wrought iron
Comes with a detachable metal stand with wheels
The stand features a wire grid for accessory storing
Has a 0.5-in wire spacing
Comes with 4 clear feeding cups and 2 perches
BEST PARROT CHEAP LARGE BIRD CAGE
Vivohime Bird Cage Wrought Iron
Big Bird Cage
When getting a cage for a big bird like parrots, you have to think about size more than ever. This is due to the fact that parrots as opposed to parakeets need a much bigger cage in general when comparing the minimum cage size requirements of cages.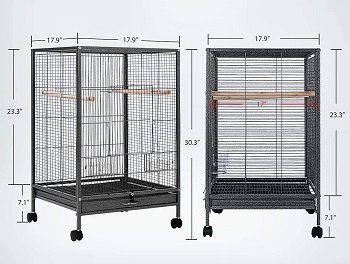 Wire Spacing
A good indicator of what counts as a parrot cage is to check the wire spacing. Parrots, like parakeets which are just smaller parrot species, come in many different breeds and sizes so it's difficult to determine the recommended wire spacing for your exact bird but the 1-in spacing is pretty standard.
The stand of this cage won't take a lot from the actual height of this cheap large bird cage. With the stand on it's around 30-in tall and without it, it's around 23-in tall. It's large because it isn't narrow. Instead, it has a square design with the width and length being the same. They measure at 17.9-in each.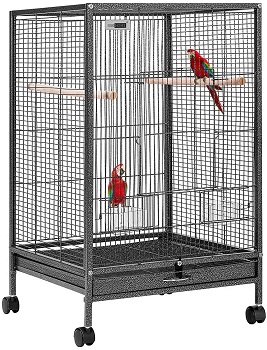 You can make this cage fun for your birds when they're getting their daily exercise because the door opens downward and will allow your birds to stand on the door. The interior will also be kept fun because it comes with a bird swing, 2 perches, and for food and water, 2 clear cups.
In Short:
Made for big birds
Comes with a stand
The cage alone is 30-in tall
The parrots can stand on the open door
Comes with 2 perches and 2 clear cups
BEST INDOOR CHEAP BIG BIRD CAGE
Prevue Hendryx Flight Cage
Visuals And Cage Type
Cages like this one are usually the cheapest ones you can find. They have a flat top, visually very little going for them, a steel wire top, and a plastic bottom base. This one is colored with a brown and black color, depending on what part of the cage you're looking at.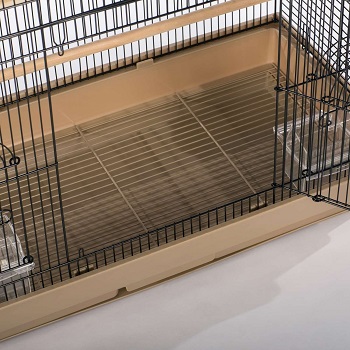 Birds It Can House
Since each wire spacing of this cheap big bird cage is 0.5-in wide or 1/2-in wide if you prefer, this means that it's a perfect cage for housing small birds like parakeets. For them, it's big enough to be considered a flight cage and you'll even get to house multiple birds inside.
Handle Use And Weight
If you'd like you can actually use the metal wire handle on top to either hang the cage or to easily transport it elsewhere since it doesn't come with a stand. It only weighs around 12 lbs so moving it like this really won't present an issue. Don't worry though the quality of this hanging parakeet cage is anything but compromised.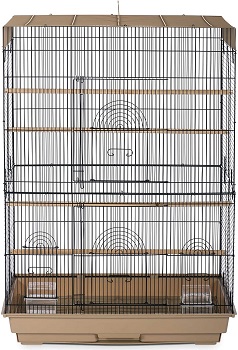 Entrances And Inside Accessories
You'll get two large entrances in the front to access your birds and the cage from various points without struggling. the inside comes equipped with 2 plastic cups that are clear so you'd always know how much stuff is left inside and you'll also get 4 wooden perches.
In Short:
Has a steel wire top
The base is deep and plastic
Can house multiple parakeets
Has a wire spacing of 0.5-in
Comes with 4 perches and 2 clear plastic cups
BEST WOODEN CHEAP LARGE BIRD CAGE
PawHut Wooden Outdoor Bird Cage
Materials Used
It makes sense that this cage costs more than 100 dollars since it is made to be used outdoors. Outdoor cages require special finishes that will prevent the material from getting damaged too soon. With this parakeet aviary, the material in question is wood and also on some parts wire.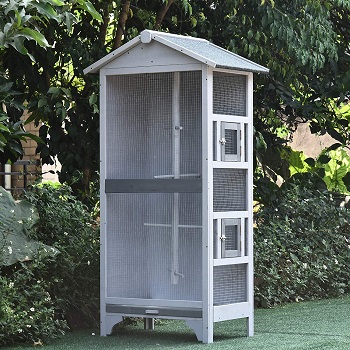 Sun And Rain Protection
The left side and the back of this cheap large bird cage are made out of full wood. These will help your bird get some shade when it's sunny and help with rain protection. The roof of this cage also helps with that. It's an asphalt roof so it is waterproof so it won't soak after some time of use.
Cage Durability
The front of the cage and the right side are made out of wire. The wire has been powder coated so this is a finish that will protect it from rusting. On the right side, you'll find too small entrances to the cage as well. The wire spacing is not specified but it is made for calmer and smaller birds.
Interior Fun
The inside of the cage is interesting because of the accessory that's provided there. There's a large central pillar that hangs from the top and stretches to the bottom, but not all the way. The 4 perches that come with the cage are pulled through it so they create a tree with branches sort of thing.
In Short:
Made out of wood and wire
The wire is powder-coated
The left and back are made out of full wood
Has a waterproof asphalt roof
Features a pillar with perches on the inside
Comes with 2 small entrances on the right side
How To Pick A Cheap Big Bird Cage
With so many cages on the market these days it's really easy to find cheap big bird cages in a sea of expensive ones. You don't even have to sacrifice quality for the price but in order to get the best quality, you should know a few things about cages in general in order to get the safest.
Largest Cage Type – The largest cage types that you can find on the market are usually flight cages or bird aviaries. They can be used both outside and indoor and will allow your bird to get the exercise they need by allowing them to spread their wings and get a few flights in.
Size According To Bird Size – The cheap large bird cages are big but what counts as big for some birds doesn't mean it's big for others. Large birds like parrots generally need bigger cages while smaller birds can easily in small cages like 18-in cages. A good measure to figure out whether a cage is big is if it can house multiple birds.
Small Bird Wire Spacing Problem – The problem with large cages for small birds is that usually they come with a larger wire spacing and it's important to have a small wire spacing for the bird not to pull its head through the wire. with smaller parakeets, the safest option would be to get a 0.5-in wire spacing cage.
Recommended Large Bird Bar Spacing – Parrots are usually considered to be larger birds but it's a problem to determine what bar spacing is best for which bird since there are so many different breeds. The safest thing to do is of course check but a good starting point is getting a cage with a 1-in wire spacing.
To Sum Up
It's easy to recommend the PawHut Rolling Metal Bird Cage as the best cheap big bird cage when it's this good. It's incredibly so big in fact that it acts as two large cages. It has a connected interior that can be divider with a divider though. If you're after cages that look a bit nicer but are still big we advise you either check out the article about large white bird cages or about large antique bird cages.