Do you really enjoy hanging cages so you're looking for the perfect hanging parakeet cage?
We can easily help you find one. Al that's left for you to do is continue reading this article where we did our best to find and review the best. The result is an article full of reviews of all sorts of different cages like metal and plastic cages and of course so much more.
The Summary
Best 5 Hanging Parakeet Cages
BEST OF BEST HANGING PARAKEET CAGE
Prevue Hendryx Designer
Round Top Square Sides
We're not usually the ones to recommend round bird cages and it's for a good reason. They're really hard to clean and they aren't really good for intelligent birds' health. This one is different since the top is round. Its sides have corners and are slightly angled as well.
Antique Detailing
This is definitely not an ordinary-looking cage. It's got incredible detailing on the outside making it a large antique bird cage. This detail can be found on the edges that separate the round top from the square bottom, on the actual hook to hang it, and on its corners.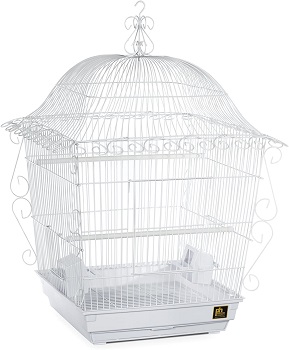 Bottom Base
The bottom of this hanging parakeet cage features a not-so-deep base where your budgie will get to litter without most of it ending up on your floors. You'll also find a bottom wire grid on the bottom that will help prevent your birds from stepping into their own soil. There's also a cleaning drawer on the bottom.
Accessories And Color
For the interior of the cage, you'll get 2 plastic cups that are hooded and also 2 plastic perches. Of course, you can put more accessories inside but you won't get to hang them on top since it's rounded out. The cage is also white so it'll blend even more easily inside your home.
In Short:
Has a round top and square sides
Features a plastic bottom base
Has a cleaning drawer and a grid on top of it
It looks antique
Comes with 2 cups and 2 perches
BEST METAL HANGING PARAKEET CAGE
Ergdfh Stainless Steel Cage
No Metal Poisoning
If you ever worried about your budgie getting metal poisoning from chipping the cheap paint for a cage and ending up biting the metal itself you don't have to anymore. This types of poisoning usually come from lead or zinc but this cage is made out of stainless steel so there's nothing to worry about.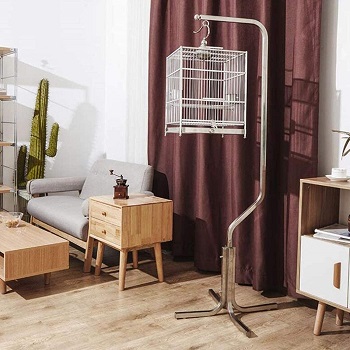 Rust And Water Resistance
Not only is it made out of stainless steel but all parts of it are welded as well. This creates a far more durable structure and improves the rust and water resistance of the metal. Because of this, we'd easily recommend this hanging parakeet cage as a parakeet travel cage.
Perch Use
Perches are important for birds to have since they not only imitate the natural environment of the bird in the form of a branch but hey also help with claw grinding so you don't have to clip them. The perch of this cage is made out of stainless steel as well so it's going to endure the passage of time a lot better.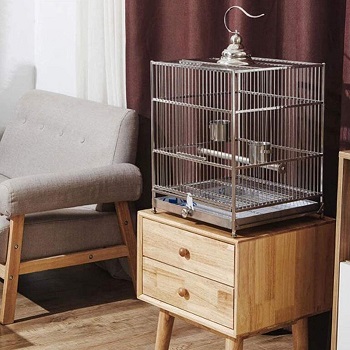 Other Mention Worthy Features
The last three features worth mentioning are of course the hook for hanging the cage on top and on the bottom a wire grid to prevent your birds from going onto their excrements that will land on the tray. You can easily slide this tray out to clean it. You'll also find 2 metal cups for food and water inside.
In Short:
Made out of stainless steel
It's welded so it's water arust-resistantant
Comes with a stainless steel perch
Features 2 metal water and food cups
Has a gird above the cleaning pull out tray
BEST STEEL HANGING PARAKEET CAGE
Prevue Hendryx Shangai Parakeet Cage
How It Looks
The best way to describe this parakeet bird house in terms of how it looks is to say that it looks like a Chinese palace. This is due to the centered taller level that features a roof house top. It rises from the lower level and incomplete bottom roof housetop that gives it that authentic Chinese palace look.
Color And Spacing
Steel wire is to thank when talking about how this cages' shape is made possible. The cage is colored in green and white and what's really important is that it has a 7/16-in wire spacing. When turned into decimals this equals a 0.4375-in wire spacing which is perfect for small birds like parakeets.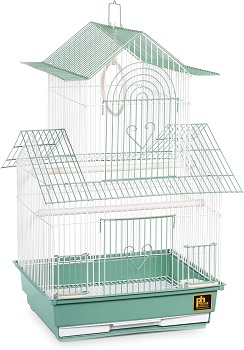 Second Part
We can split this hanging parakeet cage into two sections. One is the already described top and the second one is the green plastic base. This base is deep so that it collects bird excrements well and so that you have less to worry about in terms of litter getting on the floor. It also has a cleaning slide-out tray.
Entrances And Toys
There are multiple entrances of different sizes in the front. The smaller entrances act as feeding cup entrances. You'll get two water and food cups with it. Other entrances are bigger and help you interact with your budgie and help them get into the cage. The cage also comes with 2 perches and a swing.
In Short:
Looks like a Chinese palace
Comes with 2 perches and cups and a swing
Made with steel wire and plastic
Has a 7/16 inch wire spacing or 0.4375-in
BEST FOR TRAVEL HANGING BUDGIE CAGE
Nykk Hanging Round Bird Cage
Top And Sides Shape
Just like the first cage we reviewed, this is a round cage but that's only true when it comes to its top. It's a U-shaped top while its sides are made just like any other square cage. It's got a handle on top that you can use to either transport the cage or to hang it.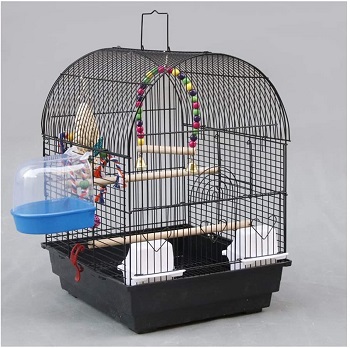 Top And Bottom Connection
The hanging parakeet cage has red clips close to the bottom that help hold the bottom and top parts together. The bottom in question is a plastic base that's very deep. You can easily unclip these to clean the bottom of the cage thoroughly when it comes filled with bird litter.
Gridded Bottom
The wire that makes the top can also be found in between the plastic base and top. It's a grid that will help prevent your budgie from getting into contact with his own soil. Budgies like to keep their living space clean so it will be the perfect tool to ensure this.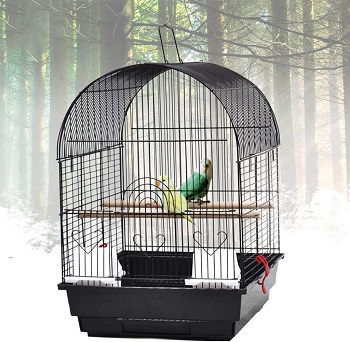 Accessory And Toy Amount
What we like the most about this cage is that it comes with a lot of toys ad accessories to keep it interesting for your budgie. You'll get one hanging swing, 2 perches and food cups that can be placed in front of feeding entrances, and also a plastic box on the outside for bathing.
In Short:
The top handle can be used for easy transport as well
The top and bottom are connected with plastic red clips
Features a grid to separate the bird from the soil
Has a U-shaped top
Come switch a hanging toy and 2 wooden perches
Features a bath box and 2 feeding cups
BEST CHEAP HANGING PARAKEET CAGE
Prevue Pet Products Economy Bird Cage
Cheap Quality
If you're a little low on cash you can provide your bird with just enough space and a cage that won't be detrimental to their health with this cheap parakeet cage. It's made like any other small animal cage. It used a plastic bottom base and a steel wire cage top for its construction.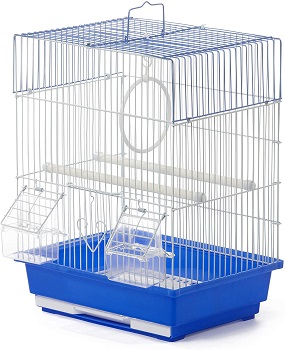 Top Color And Safety
The top part of the cage, which is the steel wire bit has a flat top and it's colored white while the plastic bottom base is colored blue. What's important about the wire is that it has a small spacing between each wire strand. This one has a 0.5-in wire spacing which is perfect for budgies.
Plastic Bits Details
Surprisingly enough, the deep base of this hanging parakeet cage has a hole that stretches along the full edges and makes room for a cleaning tray. You'll even get a grid that will help separate the bird from its own soil that's made out of plastic. The tray for cleaning is made out of plastic as well.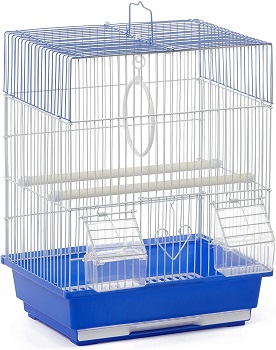 Additional Supplies
Even though it's cheap it still manages to come with plenty of useful accessories for your budgie to play with and use in his day-to-day life.  You'll get a hanging swing toy 2 plastic perches and 2 clear feeding cups to easily monitor how much is left. You can place these on the feeding entrances.
In Short:
The cage is very affordable
Made out of steel wire and plastic
Has a plastic slide-out cleaning tray on the bottom
The handle can be used for easy transport as well as hanging
Has a 0.5-in wire spacing
Comes with a swing toy and 2 perches and clear feeding cups
How To Pick A Hanging Parakeet Cage
Picking out a hanging parakeet cage is tough work mainly because there aren't as many good ones to find. Luckily we were able to find ones worth buying but in order to pick out the best, we thought we'd familiarize you with these types of cages by going through some of their differences like size safety and more.
Most Typical Hanging Cages – The most typical hanging cages are usually going to be either round or rounded out at the top. There are some with flat tops but they're much rarer. Another thing you should know is that these cages are all small parakeet cages so you can only house one bird inside.
Round Cage Warning – It's okay to get a round cage if that cage is only rounded out at the top but getting a completely round cage is something you won't see us reviewing here even though they're the most typical hanging cages. They're unsafe bad for the birds' health and hard to clean and maintain in short.
Cage Safety – Since all of these have either a fully metal wire build or a partial metal wire build it's important that you know what to look for in these cages. The wire spacing should always be equal to or smaller than 0.6-in because budgies are small birds and could easily pull their head through a spacing bigger than that.
Additional Hanger Uses – Hanging budgie cages have two things going for them. They're great indoor cages visually but thanks to their small size and the handle on top you can actually use them as cages for traveling with your bird. Make sure you adequately prepare your bird for it though since this can easily be stressful for them.
To Sum Up
It's easy to recommend the Ergdfh Stainless Steel Cage as the hanging parakeet cages for the sole reason that all parts of it are welded and made out of stainless steel. You can even use it to travel if you want to. If all you want is a big parakeet cage we'd recommend you either read the article about big bird cages for parakeets or if you want an even bigger one about extra large parakeet cages.