Want to get your bird a big cage but also want it to look inside your home so you're after a large antique bird cage?
Make your bird happy with a spacious cage and you with a beautiful vintage design by continuing to read this article where we reviewed the best ones we could find. We even made sure to give you a lot of options to choose from like parakeet and parrot cages.
The Summary
Best 5 Large Antique Bird Cages
BEST OF BEST LARGE ANTIQUE BIRD CAGE
Yaheetech Rolling standing Cage
Both Modern And Vintage
This cage manages to both look modern and vintage at the same time. The modern look is achieved by it being a bird cage house. This means that its top is shaped like a roof housetop. The antique look is achieved using the stand it sits on that has curved and hollowed-out legs.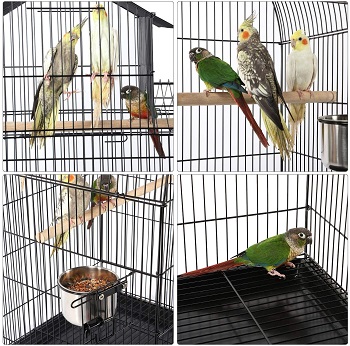 Cage Dimensions
The stand adds a lot to the height of this large antique bird cage but even without it, it's tall. On its own, the cage is 32.7-in tall while the stand makes it have a height of 55-in. It's a square cage meaning that its length and width are the same. It's 23.4-in wide and long.
Saving Space
You will be saving space thanks to this antique bird cage stand. Apart from having wheels so that you can move the cage with ease when you need to, you'll also get a wire grid where you can store all of your supplies, toys, and accessories for your bird or birds.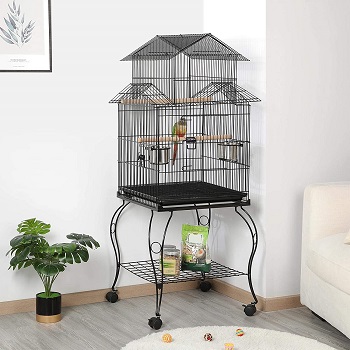 Cage Equipment
The bottom of the cage, as with any bird cage, come equipped with a plastic tray for cleaning. You can slide out the tray when it' necessary and clean it easily. The interior is equipped with 2 long wooden perches and even 2 stainless steel bowls that have their own feeding entrances.
In Short:
MAde out of steel wire
Has a roof housetop
The stands' legs are curved and hollow
Can house smaller birds
Comes with 2 perches and bowls
BEST OUTDOOR LARGE VINTAGE BIRD CAGE
PawHut 44″ Hexagon Cage
How It Looks
We would recommend this cage almost solely on the basis of its looks but luckily it's not the only thing it has going for it. It consists out of 6 metal wire panels that together form a hexagonal shape so your bird will get plenty of space. It's colored white and even has a hexagonal canopy on top.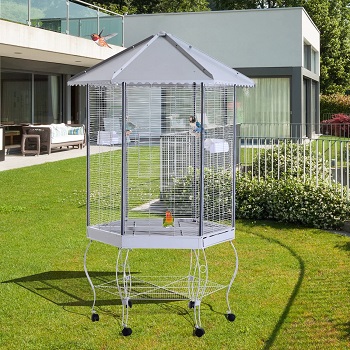 What Is It
This large antique bird cage is actually a parakeet aviary. Aviaries or flight cages are very large establishments where your bird can get the exercise it desperately needs by stretching out its wings and getting a few flights in. It's made for parakeets because of the 0.5-in wire spacing.
Leg Number
As a stand-alone cage it looks antique and this look is further enhanced with the stand it sits on. Instead of having only 4, this stand with hollow and curved out legs has 6 of them. The same goes for the number of wheels and it's only logical that there's six since it's hexagonal.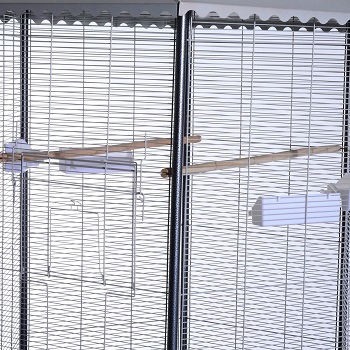 Entry Points And Interior
There are two large entrances that will allow you to access the interior in case you need to get to something inside the cage or if you want to refill the 2 food and water cups it comes with. To simulate the natural environment in the form of branches, you'll get to perches with the cage as well.
In Short:
Acts as an aviary
Has a 0.5-in wire spacing
It's designed to house parakeets
Has a canopy
Features a hexagonal shape
Sits on an antique stand with 6 wheels
BEST ROUND LARGE ANTIQUE BIRD CAGE
Super Deal Rolling Bird Cage
Rounded Part
It's more likely that people will think of a fully round cage if they're after an antique one and although these cages were popular in history, they've proven to be quite bad for the birds' health. That's this cage is only rounded out at its top with a dope shape.
Stand Contents
This is actually an antique bird cage stand model. The stand adds its height but it's still tall enough on its own with 38-in. You can separate it from its stand that has wheels on the bottom and a wire grid where you'll get to place your bird-related toys and accessories.
2 In 1 Entrance
The main entrance of this large vintage bird cage is actually two entrances in one. Since it has a 0.7-in wire spacing you can both house smaller bird inside and larger ones. Depending on the bird you get it for you can use either of the two entrances. The large one can also help you access the interior for more extensive cleaning.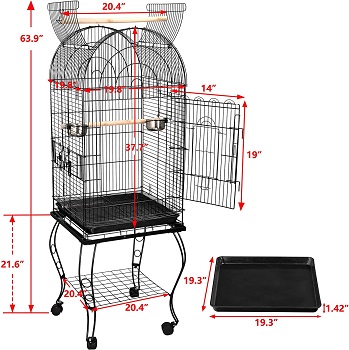 Wire Durability
It's an antique wrought iron bird cage. Wrought iron is the way to go in terms of durability since it has a lower carbon content than what is usual. It does have its flaws like the fact that rusts a lot more easily but this is prevented with a finish and polished surface.
In Short:
Made with wrought iron
Has a 0.7-in wire spacing
Comes with a 2 in 1 large and small entrance
Has a rounded top
Come switch a stan with wheels and storage grid
BEST PARAKEET LARGE VINTAGE CAGE
A&E Victorian Dome Top Cage
Welded Metal
The cage has a metal frame and steel wire sides. The Insurance for its durability is definitely the fact that each part of the frame is welded together. Welding metal also helps with corrosion and rust resistance as well as the powder coating so this cage is set to last you for years.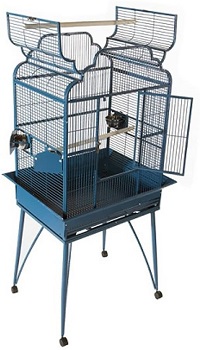 Unnoticeable Seed Guard
Bird cage seed guards can easily be a bit of an obstruction when it comes to how the cage looks overall. To prevent this from happening with this cage as well the seed guard is set low on this large antique cage with stand. It almost connects with the slide-out cleaning tray and you can easily remove it as well.
Removable Angled Stand
The stand of this large vintage bird cage is a bit different than what we saw so far in this article. This parakeet bird cage with stand has a hollowed-out stand but it isn't curved. It's actually straight but angled. On the bottom, you'll find wheels to move it with more ease since it does weigh 63 lbs. The stand is removable as well.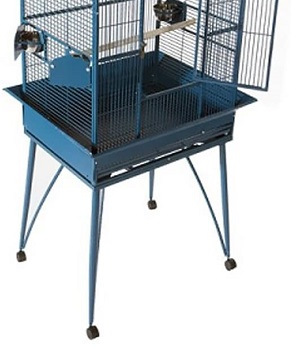 Entrance Functions
There are a total of 5 entrances. One is a 2-door entrance found on the top and the second one is the front entrance. The last three entrances are a lot smaller and they serve the function of feeding entrances. You'll get to attach 3 stainless steel bowls to each one and 2 wooden perches.
In Short:
MAde out of welded metal
Has a powder coating finish
The removable stand is straight and angled
Weighs 63 lb and can be move with wheels
Has 3 feeding entrances and 2 regular ones
Comes with 3 stainless steel bowls and 2 perches
BEST COCKATIEL LARGE ANTIQUE BIRD CAGE
Prevue Pet Products Metal Cage
Fully Metal
Everything that you can see and find on this cage in terms of the actual cage construction is made out of metal. This includes the not so commonly used, deep metal tray that you can easily slide out to clean when it's needed. It has a dome-style top and it features a stand.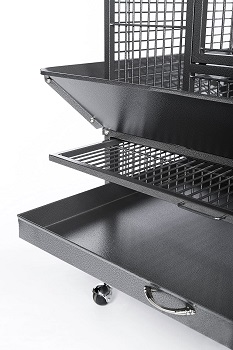 Dome Top Details
Usually, you'll see that the stand is what makes a cage a large antique bird cage but in this case, all the credit goes out to the dome top that's even sturdier than other cage parts because it's made out of wrought iron that has a lower carbon content so it's more durable than regular metal.
Lock And Wire Safety
This large cockatiel cage features a large entrance that has a push-button lock. This lock makes the door birdproof meaning that your birds won't get to open the doors on their own and escape. The wire spacing of the cage is a bit bigger than what you would want to get for a parakeet with 3/4-in width so it's best for cockatiels.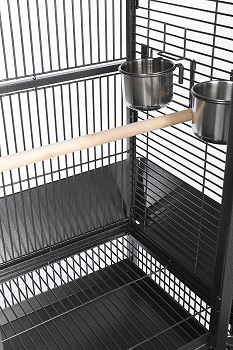 Interior And Exterior Decor
The things that you'll use to decorate the interior are very typical. It comes with 2 stainless steel food and water bowls and a single wooden perch. The outside, on the other hand, comes with a metal seed guard that will help you to keep your floors surrounding the cage as clean as possible.
In Short:
Has a wrought iron dome top
Fully made out of metal
Has a 3/4-in wire spacing
Comes with 2 stainless steel bowls and a perch
The entrance features a push-button lock
Sits on a metal stand with wheels
How To Pick A Large Antique Bird Cage
There are just so many things that you have to consider when choosing a large bird cage in vintage style or any bird cage for that matter. We're here to shed a light on some of your concerns and question. This simple guide is sort of a basic introduction to these cages so be sure to continue reading.
Size Dependant On The Bird – Although you can usually trust the manufacturer of the cage to recommend a bird type you can house inside it, you should still think about the bird you're getting the cage for. I the bird large like a parrot or small like a budgie? depending on their size, a large cage will mean many different things.
What Counts As Antique – In our article, we determined that there are two main factors that make a cage antique and vintage looking. These are the stand it sits on and the shape of its top. The top is most likely to be rounded out while the stands are usually curved and hollow.
What Antique Used To Mean – Antique cages before used to be fully round. Today, it's hard that you'll actually find a round cage for birds and the ones that you do find will usually have bird professionals warning. These cages are simply bad for birds in terms of mental and physical health.
Getting A Safe Cage – The safety of a large vintage bird cage can vary between bird types. A safe cage for parakeets is usually a cage with up to 0.6-in wire spacing while a cage for a macaw will be safe with a wire spacing of 1-in. It's all dependant on your bird's size. In terms of size, it's always best to go bigger no matter the rid size.
To Sum Up
It's easy to recommend the PawHut 44″ Hexagon Cage as the best large antique bird cage when it's this good. It has a beautiful hexagonal shape and a canopy on top with an antique stand with 6 wheels. It's mainly used as a flight cage so you can be sure it's spacious. If you want to read more about the different types of vintage and antique bird cages, we'd advise you to read the article about vintage metal bird cages or about vintage hanging bird cages.