Looking for bird cage houses that have unique and versatile roof shapes that aren't just there to make it look pretty?
If you are, you're sure to enjoy this article. Keep on reading if you want to read about nothing but these cages. We reviewed only the best and we made sure to include different cages so that almost no one is the same. That's why you'll find lovebird, parakeet, and even parakeet cages here.
The Summary
Best 6 Bird Cage Houses
BEST OF BEST BIRD CAGE HOUSE
PawHut 65 Large Wooden Aviary
What It Is
The first thing to keep in mind about this cage is that it's an outdoor bird aviary of a much smaller scale. Aviaries are meant to give your bird to freely and safely fly around either with the aviary placed indoors or outdoors but they are generally more likely t be placed outdoors.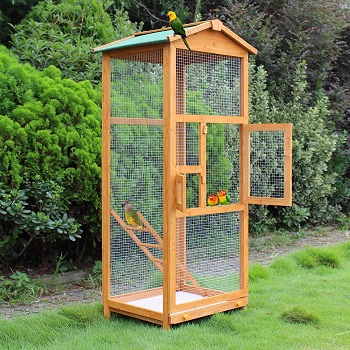 Wood Abilities
Although some say that pine wood is a bad material for birds, that only reigns true for pinewood that hasn't been treated and still has resin on it. It also resists shrinking and expanding due to moisture well. It takes paint very well but this bird cage house is colored with natural wooden color.
Top Materials And Looks
The top of the cage is where the roof that's shaped like a house roof is located. It's an asphalt roof that's water-resistant. Since it's angled and that it extends from the edges of the cage, water won't stay on top and when it slides down, it won't enter the cage which will keep your birds dry.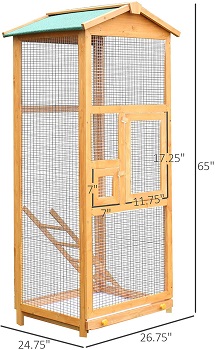 Size And Safety
Most of its size comes from its height of 65-in. Apart from that, the Pawhut 65 aviary bird cage is 24.25-in long and 26.25-in wide. We can only guess that the wire spacing is 0.5-in since it's a cage recommended for housing small birds like budgies and finches which are the safest in a cage like that.
In Short:
Made with pine wood
The wood resists shrinkage and expansion
The top is shaped like a house roof
Its roof is a water-resistant asphalt roof
Can be used outdoors
It's 65-in tall, 24.25-in long, and 26.25-in wide
Made to house small birds
BEST PARAKEET BIRD CAGE HOUSE
You & Me Parakeet Ranch House
Looks And Price
Just by looking at this cage, we were able to conclude that it most likely falls into the category of cheap parakeet cages. We were able to know that because of the common build these cages have. This build makes the cage consist of a full wire body and a base on the bottom that's made out of plastic. You'll be paying around 35 dollars for it.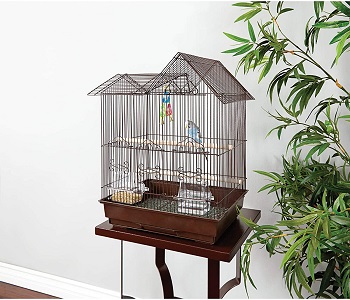 Front Details And Doors
In the front, you will get some wire details that make it look a bit more interesting and elevate its looks. These wire details can be found on the entrances and above the entrances which makes them look and act as arches. There are three small doors and one larger front door.
Two Roofs And A Handle
The You & me parakeet cage holds two roofs on top. One has a lesser angle so it's narrower while the other has a bigger angle so that it is placed lower but much wider. We feel like it's a great thing that the manufacturer placed a wire-carrying handle on top as well so that you can easily transport it when you need to and want to.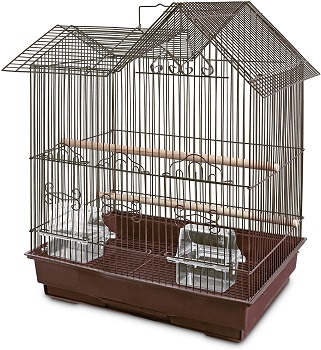 Dimensions And Bird Quantity
This parakeet bird house is 16-in wide, 11-in long, and either 20 or 22-in tall. The height depends on the two roofs since we did already mentioned that one is positioned higher and one lower. It can house a parakeet or two parakeets if you'd like but you'll have to give them outdoor cage time too.
In Short:
Has a wire body and plastic base
Costs around 35 dollars
Can house up to two parakeets
It's 16-in wide and 11-in long
Features two roofs
The cage is 20-in tall and also 22-in tall
BEST AVIARY BIRD CAGE HOUSE
Aivituvin Large Pigeon Aviary
Number Of Birds to House Inside
We previously mentioned that aviaries can be used outdoors as well as indoors. With this one, you won't possibly get to use it outdoors due to its large size. Before we mention its dimensions, we'll start by saying that it's able to house around 10-15 pigeons at once and comfortably.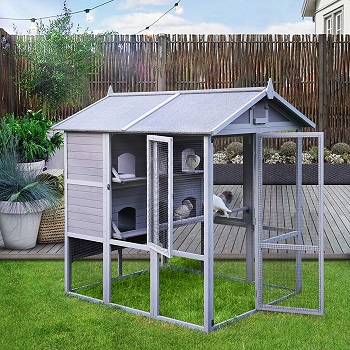 Outside And Inside Access
This bird cage house is 66-in long, 44.5-in wide, and 68.6-in tall. Due to its height and the large front door, you can actually walk inside it if you ever need to change something. The inside back of this wooden aviary can be accessed through the outside back but we'll get into that later on.
Wood And Paint
The wood it's made out of is fir wood. It doesn't resist shrinking and expansion but instead, it does do both when it gets into contact with moisture but it always goes back to its original shape. The finish on the wood is grey and what's great is that it's an eco-friendly paint.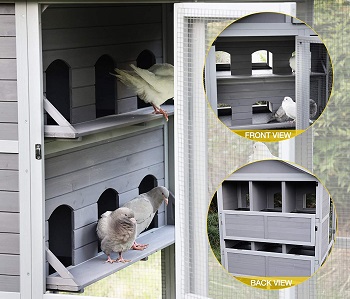 Nesting Areas
The roof is a large house asphalt roof that's waterproof. On the inside, you'll find a total of 6 separated nesting boxes so you can actually use it as a bird breeding cage as well. The outside back access is for you to clean these nesting boxes and check up on the eggs during mating of your pigeons.
In Short:
Made with fir wood
Has eco-friendly paint
The asphalt roof is waterproof
Can house up to 15 pigeons
Comes with 6 nesting boxes
You can walk inside it
It's 65-in long, 44.5-in wide, and 68.6-in tall
BEST COCKATIEL BIRD CAGE HOUSE
PawHut 44 Hexagon Cage
Roof Shape And Color
So far we reviewed nothing but cages with a house roo but with this one, it's about to change. It features a 6 side canopy on top that complements its hexagon shape well. It's colored with light grey and white colors so it's sure to blend seamlessly inside most homes.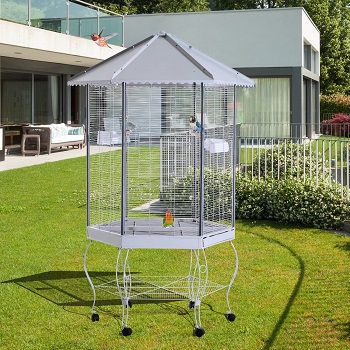 Hexagon Shape Benefit
Due to the hexagon shape, it's much more spacious than your average rectangular or square-shaped bird cage that looks like a house. it's 44-in long and wide and overall, it's 76-in tall. We said overall because it does sit on a stand with 6 wheels that will allow you to move it easily.
Stand Stuff And Looks
What we failed to yet mention is that the stand is actually an antique bird cage stand. It has 6 hollow legs that are curved in two places each. It features a shelf made out of wire in the center that will allow you to store a lot of your birds' supplies and accessories on it to make it more organized.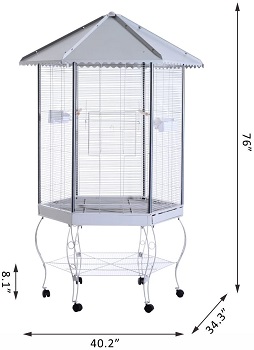 Width Between Wires
The width between each wire of this cockatiel house is 0.5-in. Cockatiels can usually be housed in cages of up to 5/8-in or 0.625-in but they can do just fine in cages with a wire spacing like this one. You'll also get to house more than one inside. The inside comes with 2 perches and 2 plastic feeding stations.
In Short:
Has a hexagon shape
features a 6 side canopy
It's 44-in long and wide
Comes sitting on an antique stand
Has a 0.5-in wire spacing
Painted with light grey and white colors
BEST LOVEBIRD BIRD CAGE HOUSE
Ibnotuiy Lovebirds Bird Cage
Top Shape
Quite often, to make a rectangular cage look more interesting cage manufacturers will make a dome top bird cage. Although that's the case with this one as well it's still unique in its own way. That's because the dome top is actually cornered in 4 places so it has a sharp look all around.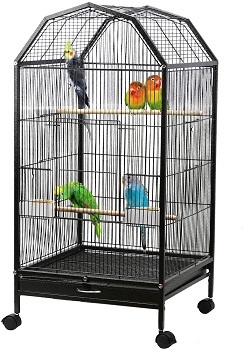 Build And Wire Width
It's fully made out of metal if you exclude the plastic wheels it sits on. The frame is made out of metal tubes/bars and the sides are made out of wire. The width between each wire is 0.4-in so it's able to house even some specific breeds of small birds that are the safest in a cage lower than 0.5-in of width between each wire.
Stability And Movement
It weighs around 14 lbs and although that isn't much and it could easily be carried, it's best to be able to rely on wheels for movement. The wheels on this bird cage house can actually be locked so that the cage is more stable. It's an 18×18 bird cage which means it's the minimum sized cage for love birds.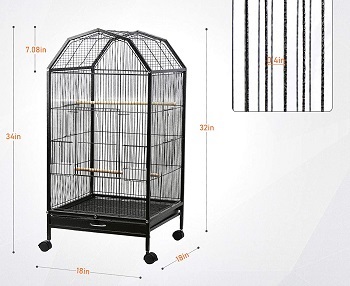 All Of The Doors And Their Locations
It has 3 doors in the front and one on the right side. The door in the center of the front panel is the largest one out of all because it's the main entrance. The doors located on the left and right sides of it are much smaller and act as entrances for feeding. The last door on the right can act as a breeding box door.
In Short:
Made with metal and wire
Has a cornered dome top
It's an 18×18" cage
Has a 0.4-in wire spacing
Sits on 4 lockable wheels
Has a side breeding box entrance
BEST PARROT BIRD CAGE HOUSE
A&E Cage Split Level Cage
Bougie Price
A good cage for parrots that are appropriately sized to house them is hard to come by if you want to keep its price on a budget. For this cage, you'll have to put aside over 1000 dollars. We're not surprised with its price since it is the A&E split-level bird cage and this company is known for making quality bird cages.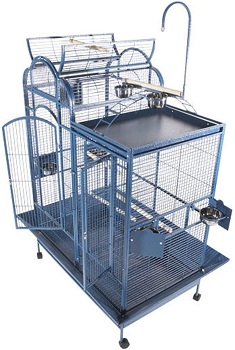 Separate Cages
You can actually house two parrots inside this parrot bird house. THat's because it's 42-in wide and it comes with a divider located in the center that you can easily remove. This cage has 2 main entrances reserved for each separate part of the cage and each side also has 2 entrances for feeding.
Left And Right Top Contents
The left part of the cage is a bit taller than the right side because each side has a different thing located on top. It's a play top bird cage no matter what but the left side has 2 doors that can stay open with a perch while the right side has a ladder, perches, and 2 bowls for food and water.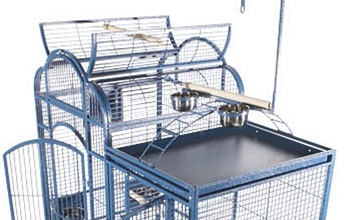 Bottom Equipment And Wire
The bottom of the cage is equipped with wheels for you to move it easily and you can place seed guards there to make cleaning the surrounding area of the cage less frequent. It has a 3/4-in wire spacing which means it's suitable for medium-sized parrots like quaker parrots, mini macaws, and African Greys.
In Short:
Comes with a center divider
Can have two separate cages
Has a left and right play top
The left top is 2 doors with a perch
The right top has a perch, ladder, and 2 bowls
Features a 3/4-in wire spacing
Has bird cage seed guards
How To Pick A Bird Cage House
You'll have to know more than just what roof you want your bird house cage to have to pick the best one out. We'll talk about types of roofs, cage safety, use of outdoor roofs, and more things. You might be surprised with what you'll find out and it all might make it easier to pick the best and the safest one out.
Roof Types – The most common bird cage roof is the roof that you typically see on houses. It has a triangular shape, two sides, and one peak. The one we like the best is a canopy roof that usually goes on the hexagonal cages but we very much like the dome tops as well. Either way, they all make each cage look quite different.
Outdoor House Roofs – Most commonly, a cage made for outdoor use is going to have a rooftop that extends over the edges of the actual cage or aviary. This will help prevent water droplets from ending up on the inside. These roofs are usually waterproof because they're asphalt roofs.
Outdoor And Indoor Function – Although in the indoor application, the house roof shape is there to make the cage look prettier, in outdoor applications they're made to keep your birds in the shade and away from direct rain. Some indoor roofs have play areas for when your bird is getting out of cage time.
Cage Safety – The way to determine whether or not the bird cage house is safe for your birds is to check its wire spacing. Small birds will be the safest in a cage with a wire spacing of up to 0.5-in. The width between each wire for medium-sized birds can vary and can go up to 1-in but for large birds, a 1-in wire spacing is definitely a must.
The
A&E Cage Split Level Cage
has two roofs that both have different play top areas. One is a 2-door top that can stay open with a perch while the other one is a play top with a ladder, perch, and 2 bowls. Because of this, we'd definitely recommend it as the best bird cage house we reviewed here. If you want to check out houses for only small birds we advise you to read the article about
parakeet bird houses
next or if you want to check out more play tops, you can read the article about
parrot cages with playtop
.