Is your parrot one that easily gets bored when they spend their time out of a cage so you need a solution like getting a playtop bird cage?
If that's the case, you'll enjoy continuing to read this article because we reviewed nothing but the best in it. We made sure to not just review any old play top cage and that's the reason why you'll find that each cage is placed into a category like large, small, cheap, and more.
The Summary
Best 6 Parrot Cages With Playtop
BEST OF BEST PARROT CAGE WITH PLAYTOP
Prevue Pet Products Stainless Steel Cage
All Metal
If you truly want to get a great cage you can't only focus on the contents of the playtop. You have to also think about the materials the cage and the playtop accessories are made out of. With this one, you'll get a fully stainless steel bird cage which is great because this metal is very safe for birds.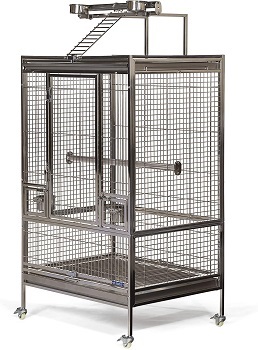 Stainless Steel Accessories
Even the accessories of this parrot cage with playtop are made out of stainless steel. this includes the interior perch and 2 bowls and the contents of the playtop. The playtop consists of a perch, 2 bowls, and a play ladder. They are placed on a frame that's made out o stainless steel.
Sizes Available
You'll get to choose between getting a small, medium, or large version of this cage. The one we're reviewing is the large version. This means that it's 31.5-in long, 23.63-in wide, and 61.25-in tall but the height includes the stand. The stand is short and only features 4 lockable wheels.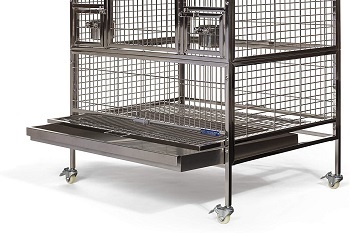 Bird Housing Specifics
A large cage doesn't necessarily have to mean that the cage is made to house large birds but in this case, it stands to be true. This is only due to the large wire spacing of 7/8-in. You'll get to house birds like African greys and macaws inside. The macaw bit is also true because the wire is durable and not easy to bend.
In Short:
Made out of stainless steel
The playtop and interior extras are stainless steel
Has a 7/8-in wire spacing
It's 31.5-in long, 23.63-in wide, and 61.25-in tall
Features a short stand with lockable wheels
The playtop has a perch, 2 bowls, and a ladder
BEST LARGE PLAYTOP BIRD CAGE
A&E Cage Co Corner Bird Cage
Large But Space Saving
You can never go wrong with getting a larger bird cage for your bird especially if the bird in question is a highly active one. The problem that might occur is that they just won't look nice as indoor bird cages but this cage fixes the problem by being a large corner bird cage.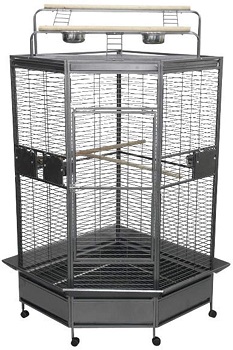 Cleaning Breeze
Not only is it a space-saving cage but also a cage that will make cleaning the surrounding area less frequent. Along with the slide-out tray which is a standard content of any bird cage you will get a bird cage seed guard. You won't find that it disrupts the looks of the whole cage because it's located all the way at the bottom.
More Playtop Accessories
Altogether, the cage is 33-in wide and long and 72-in tall. The height includes the stand and the playtop while the actual usable height is 45-in. This playtop bird cage has a bit more playtop contents than your average cage. It comes with 2 wooden perches, 2 bowls, and a total of 3 ladders.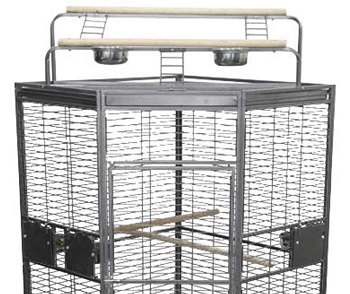 Front Panels And Birds It Can't House
The whole front consists of 3 angle panels. The center panel features a large main entrance while the left and right panels feature smaller entrances. These 4 entrances act as feeding entrances. Any bird that can be safe in a cage with a 1-in wire spacing will be safe inside. This excludes any small type of bird and some medium birds.
In Short:
Can be placed in a corner to save space
It's 33-in long and wide and overall 72-in tall
The playtop has 2 perches and bowls and 3 ladders
Has a 1-in wire spacing
The interior comes with 4 bowls and 2 perches
Has a bird cage seed guard
BEST SMALL PARROT CAGE WITH PLAYTOP
Avian Adventures Chiquita Bird Cage
Perfect Medium
Although we categorized this cage as a small bird cage with stand this could be misleading because it can't really house small birds. It would be unsafe for them because of the larger wire spacing. It would be ideal for medium-sized birds like African greys and mini macaws and cockatoos.
Playtop Shape And Contents
The 2 ladders on each end of this parrot cage with playtop create a triangular shape. You'll also get a single wooden perch on top and two metal bowls for food and water. Way up high there is a metal piece that has a sort of a hook shape. On it, you'll get to hang an additional bird toy.
Size And Cage Parts
The Avian adventures Chiquita playtop bird cage is 22-in long, 28-in wide, and 63-in tall. You do have to consider that this height includes the height of the stand and the playtop. The stand consists of 4 wheels for easier movement and a wire grid that you can use for bird supply storage.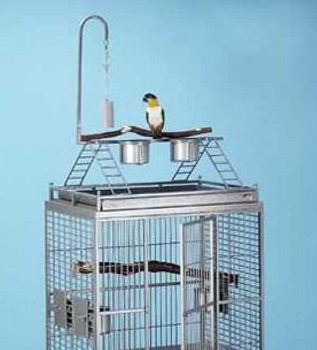 Inside Extras And Cleaning
Just like the cage before it, this one also features bird cage seed guards that you can easily remove if you don't have the need for them or just don't like how they make the cage look. For the inside, you'll also get a single wooden perch and 2 bowls that you can place on the feeding entrances. A big surprise is that it comes with a bottle of paint for minor fixes.
In Short:
Made to house medium sized birds
Has a stand with wheels and a wire storage grid
The top has 4 ladders, a perch, 2 bowls, and a hanging toy hook
It's 22-in long, 28-in wide, and overall 63-in tall
Comes with 2 bowls and a perch
BEST WITH STAND PLAYTOP BIRD CAGE
Midwest Nina Bird Cage
Finish Color And Quality
All of the cages we reviewed so far were painted black or grey. This cage stands out in this cage because it's a white bird cage with stand. A white cage will definitely be able to bleed better inside homes. The white color is actually a powder coat finish meaning it won't chip or crack.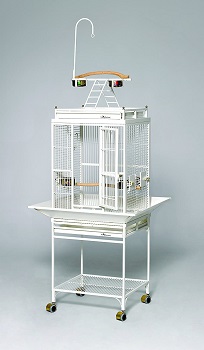 Small Bird Safe
The Nina playtop bird cage is just another smaller cage for birds but this one truly can house small birds, unlike the previous cage. It has a 0.5-in wire spacing meaning that you can use it to house birds like parakeets, finches, canaries, and any other bird that is safe inside a 0.5-in wire spacing cage.
Playtop Construction
The playtop actually doesn't have a frame structure all of the accessories are located on it. For the frame, it uses 2 ladders connected together to create a triangular shape. On top of the ladders, you'll find a single wooden perch, 2 bowls, and a hook for hanging a toy.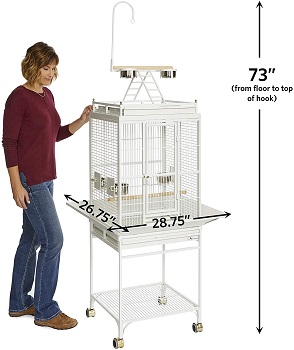 Proportions And Other Extras
The height of 72-in was measured from the bottom of the stand all the way to the top of the hook for hanging a toy. The interior of this playtop bird cage is around 18-in long, 20-in wide. You can choose to place a bird cage seed guard there as well. It even has a breeding box door and is made with 1/8-in thick wire.
In Short:
Has a white powder coat finish
Has 2 ladders and bowls, a perch, and a toy hanging hook
Has a 0.5-in wire spacing
Made with 1/8-in thick wire
Comes with a removable seed guard
Best for housing small birds
Has a breeding box door
BEST ON WHEELS PARROT CAGE WITH PLAYTOP
Mcage Elegant Playtop Bird Cage
Metal Pros And Cons
It really surprises us that this is only the first wrought iron bird cage we are reviewing. It's a surprise because along with regular iron, it's the most common build material for bird cages. Wrought iron is very durable because of its low carbon content but it does rust easily.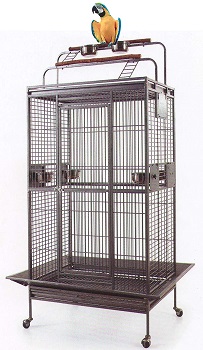 Finish And Assembly
A good quality finish is an easy fix to the previously mentioned problem of wrought iron and this one has exactly that. It's a powder coat finish that is most importantly safe for birds. You won't have to exactly be handy to assemble this parrot cage with playtop but you will have to perform some assembly.
Determining Birds It Can House
Of course, size is a factor that you have to think about when deciding whether or not a cage is made for your bird but one of the surest ways to know is to check the wire spacing of a cage. This cage has a 5/8-in wire spacing meaning it would be able to house medium-sized birds.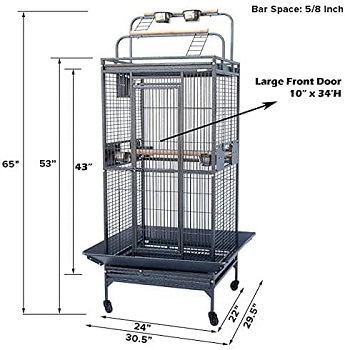 Playtop, Doors, And Bottom
The playtop actually has two levels. We start off with a ladder that leads to a perch and then another ladder that leads to a higher perch. The top perch is where you'll find the two food and water bowls. It has 4 feeding entrances and bowls for the interior, a breeding box door, and it sits on a stand with wheels with a bird cage seed guard located there as well.
In Short:
Made out of wrought iron
Has a bird-safe powder coating finish
Made with 5/8-in wire spacing
Able to house medium birds
Has a bird cage seed guard
The top has 2 perches, bowls, and ladders
BEST CHEAP PLAYTOP BIRD CAGE
Vivohome Wrought Iron Bird Cage
Price Comparison
We didn't mention the prices of any of these cages but it's safe to say that they're not exactly cheap. You could easily pay around 800 dollars for one. Comparing these prices to this cage makes it a cheap large bird cage since it will cost you below 200 dollars. To be specific, it costs around $170.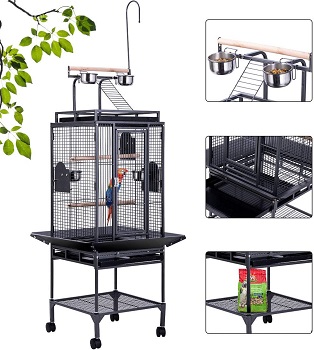 Playtop Contents
The playtop really isn't any different than that of the other ones. You'll get a single ladder, a perch, 2 bowls, and even a hook for hanging some kind of hanging toy there. This playtop comes with its own cleaning tray as well that you can easily slide out for cleaning when you need to.
Front And Side Entrances
The main entrance can be found in the ron while the other, much smaller entrances are found on the sides of this playtop bird cage. You'll get two feeding entrances that you can place a bowl on and even a breeding box entrance so that you can breed your birds inside if you'd like.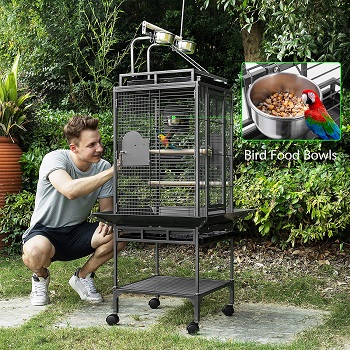 Brief Construction And Size Info
We won't go into much detail about its build since we already went through the details of a wrought-iron cage. The stand it sits on has wheels ad a storage grid and you'll even get a seed guard. it has a 0.5-in wire spacing so it's best if you'd house smaller birds like parakeets inside it.
In Short:
Has a wrought iron construction
Features a 0.5-in bar spacing
Made to house smaller birds
On top, there is a ladder, perch, bowls, and a hook
Features a bird cage sed guard
Sits on a stand with a wire grid and wheels
Has 2 feeding entrances and one nesting box entrance
Costs around 170 dollars
How To Pick A Playtop Bird Cage
You can' just focus on the playtop when picking out a parrot cage with playtop but you already know this. TO make it easier for you to pick the best one that's almost tailored for your bird, we decided it was only right to make this simple buying guide that will give you all of the information you're after and don't know you need yet.
Why You Need One – Unless you let your bird out to get its exercise inside an aviary you probably need a playtop bird cage. Even if you don't, it'll just be an extra place where your bird can play when you let it out of the cage to socialize with you and fly around the house a bit.
Birds In Need Of A Playtop – There are some birds that require a lot of out-of-cage time. These birds are usually larger parrots like African greys, macaws, and cockatoos, and a playtop but also a rest top will definitely be something that will be beneficial for any highly active bird.
Common Contents – The playtop isn't really anything extravagant. They usually consist of a ladder, a perch, and bowls for food and water. Some can even come with a hook where you can hang any hanging toy accessory. Accessory numbers also vary from cage to cage.
General Bird Cage Info – Apart from looking at the specific minimum cage size requirements for your bird, it's an absolute must to check out the wire spacing as well since too big of a wire spacing can be dangerous for birds. Small birds usually thrive in cages up to 0.5-in wire spacing, medium birds range from a 0.6 up to 1-in wire spacing while larger birds like macaws can be housed in cages from 1-in and above.
To Sum Up
Although it costs around 800 dollars, the Prevue Pet Products Stainless Steel Cage is well worth the price considering the fact that it's a playtop bird cage made out of stianless steel, ad that it's large and durable enough to house large and strong beaked parrots. If you want your bird to get its daily exercise inside a cage and not inside your home, we advise you to read the articles about outdoor parrot aviaries or about parrot aviaries.