Interested in getting a quality cage that's tailored to fit your and your birds' needs but want to make it specifically an African grey parrot cage?
You can find out almost all that there is to know about the different types of cages offered for them if you continue reading this article. If you're asking yourself how it's actually pretty simple: We reviewed different types of cages like corner cages, travel cages, breeding cages, and many more.
The Summary
Best 6 African Grey Bird Cages
BEST OF BEST AFRICAN GREY BIRD CAGE
Prevue Pet Products Stainless Steel Cage
Metal Safety
If your first choice for an indoor bird cage would be a safe one, this is one of the safest cages you can get. With metal bird cages, there's a bit of a risk that our bird will end up suffering metal poisoning but with this one, the risk is significantly smaller or nonexistant since it's a stainless steel bird cage.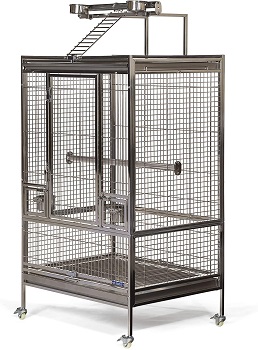 Interior And Outside Accessories
When we said that's it's a stainless steel bird cage we meant everything. This includes the interior and exterior accessories as well. If you're curious about how there could be exterior accessories, you'll find them at the top of this African grey bird cage. It consists of a perch, 2 bowls, and a ladder.
Front Panel Doors
The front panel of this cage is where you'll find all of the entrances to the cage. The centered entrance is large and it's used as the main cage entrance. To the left and right sides of it, you'll find smaller entrances that serve the purposes of feeding entrances. You can attach 2 bowls to them.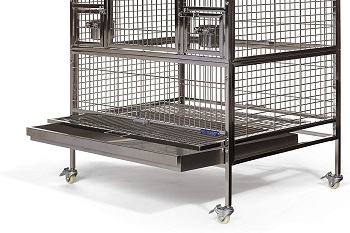 Size And Wire
The cage is 31.5-in long, 23.63-in wide, and 61.25-in tall including the stand that has 4 lockable wheels. It features a 7/8-in wire spacing which is safe for African greys since they thrive in cages with a wire spacing of up to 1-in even though they're considered to be medium-sized birds.
In Short:
Entirely made out of stainless steel
Has a stainless steel play top
Has a large main entrance and 2 feeding entrances
Has a 7/8-in wire spacing
Sits on a stand with 4 lockable wheels
It's 31.5-in long, 23.62-in wide, and 61.25-in tall
BEST BREEDING AFRICAN GREY CAGE
Mcage Store Stackable Breeding Cage
Minimum Breeding Cage Size
When checking out a breeding cage you have to consider that two bird will go into one cage. Luckily, this is where their medium size comes in handy because you don't have to get a huge cage at all. It will be enough to provide africa greys with a cage that's at least 24-in wide, 36-in long, and around 50-in tall.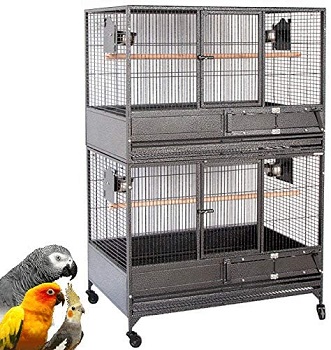 Single Cage Proportions
The minimum requirement for the size of an African grey breeding cage is just a reference guide. There is some wiggle room to make some size changes and that's why this 36-in wide, 24-in long, and 23-in tall cage works. the height is the least important measure and it's important to add that you'll get 2 cages of this size.
Stacking And Moving
To save space and to make this African grey cage look more appealing, you'll get to stack the cages on top of one another. Like this, the cages then have a height of 54-in. The bottom of one cage features 4 wheels so you'll get to move the whole thing a lot more easily when you need to.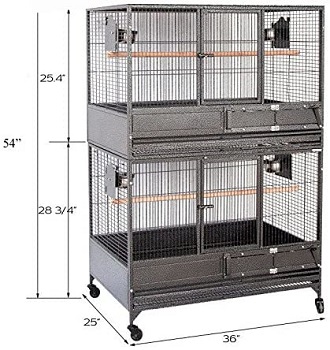 Accessories And Wire Spacing
You'll get a total of 10 feeding cups and made out of stainless steel and 2 wooden perches. The side feeding entrances can be converted into breeding box entrances. This bird breeding cage has a 0.5-in wire spacing which is usually the wire spacing that you see on cages made for budgies and cockatiels.
In Short:
You'll get two cages in total
The cages can be stacked
A single cage is 26-in wide, 24-in long, and 23-in tall
Features a single stand with wheels
Has a 0.5-in wire spacing
Comes with 10 feeding cups and 2 perches
The side feeding entrance can convert into breeding box entrances
BEST CORNER AFRICAN GREY PARROT CAGE
Flyline Parrot Escape Jumbo
Elegant And Space Saving
You can never go wrong by getting a larger bird cage for any parrot but the problem that might arise is that it won't look as great inside your home. You might not be able to even fit it inside and that's where a large corner bird cage like this one comes in handy. You can place it in a corner for a smooth elegant look and space-saving.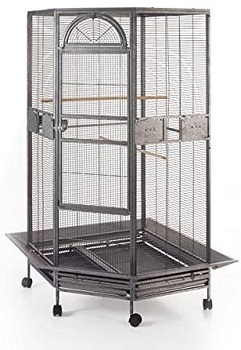 Finish Safety And Function
We mentioned earlier that birds can sometimes suffer metal poisoning if they get into contact with rust but lead and zinc are also a problem. They are usually found on coating finishes that are meant to protect your bird from biting on exposed metal parts. With this powder coat finish, you won't have to worry since it's free of those metals.
Wire Thickness And Spacing
Along with having to think about a wire spacing, you'll also have to think about the wire gauge of an African grey parrot cage because they have stronger beaks than most medium and small birds. This one is made with 10 gauge wire which is properly thick and has a 3/4-in wire spacing.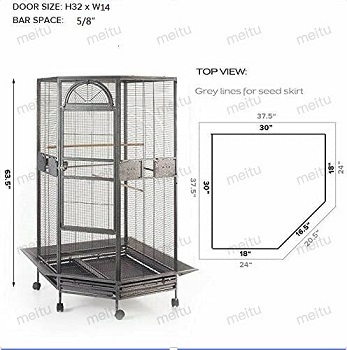 Cleaning And Unique Entrances
If you are tired of having to clean any and in this case, an African grey corner cage you will be released from this struggle thanks to the bird cage seed guards on the bottom. The top of the main entrance has an arched small door that your parrot can rest on if you open it. Each side has 2 feeding entrances.
In Short:
The finish is lead and zinc free
Save space and look elegant indoors
Made with 10 gauge wire
Has a 3/4-in wire spacing
Features a rest door on top of the main entrance
Has 4 feeding entrances
Comes with a bird cage seed guard
BEST ENCLOSURE AFRICAN GREY BIRD CAGE
Wonline Large Walk-in Cage/Aviary
What It Is
A parrot enclosure can mean a lot of things but in this case, we decided that there was a need to present to you a bird aviary. Aviaries can be very large and are meant to be used mostly outdoors if the build allows it. They are designed to offer your bird a safe place to fy around and get their exercise.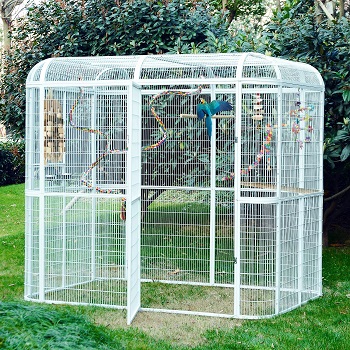 Aviary Maintenance
This African grey parrot enclosure is painted white but it's actually made out of stainless steel. This is why you'll be able to fee safe placing it outdoors because it won't rust that easily. To make sure that it never really rusts and corrodes, you can do simple maintenance every 2-3 months by spraying it down with a bird-safe finish.
Truly Large
If you don't believe us that this African grey bird cage is large, you might believe its proportions. It's 86.5-in long, 60.5-in wide, and 80.39-in tall. Because of its size and door size of 59.8-in in height and 24.8-in in width, you'll even get to easily walk inside this outdoor parrot aviary.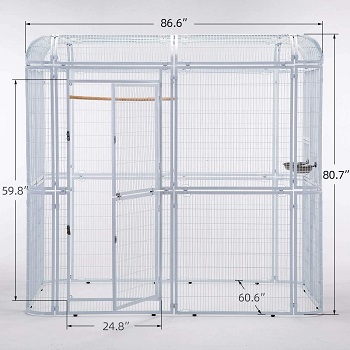 Horizontal And Vertical Wire
The horizontal wire has a 14 gauge while the vertical wire has a 9 gauge. It will be enough for almost any parrot especially an African grey. The wire spacing is 3/4-in so we wouldn't recommend it for small birds but it should be amazing for birds like macaws and cockatoos.
In Short:
Functions as an outdoor aviary
Made with stainless steel
Requires simple maintenance every 2-3 months
Has a 3/4-in wire spacing
Made with 14 and 9 gauge wire
You can walk inside it
It's 86.5-in long, 60.5-in wide, and 80.39-in tall
BEST TRAVEL AFRICAN GREY CAGE
Kings Cages Large Aluminium Parrot Cage
Size Rules For Trave Cages
When you're getting a travel cage for any bird, you need to forget everything that you know about the minimum cage size for your bird. These cages are meant to contain birds short terms and the only way to make them travel cages is for them to be small. This one is actualy bigger than most with its length of around 29-in, width of 20-in,a and height of 20.25-in.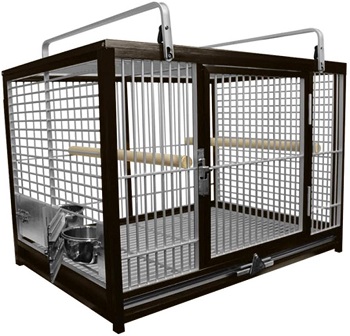 Travel Cage Size Determinaton
The way to determine what size of travel cage would be good for your bird is to focus on the length of your bird and the length of a cage. African greys grow up to be 13-in long birds so you won't have to fear or risk their tail getting bent inside this arican grey travel cage.
Aluminum Info
The best thing about it is that this is an aluminum bird cage. Why is this great? it's because aluminum is both a durable and a safe material for any bird. It doesn't rust and even if it would rust, aluminum oxide or aluminum rust isn't harmful to bird and they can easily ingest it with no harm done.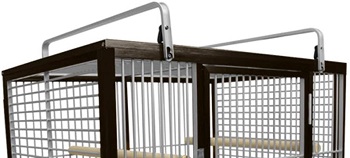 Cage Weight And Carrying
You will have to take into account that this African grey cage weighs 29 lbs. It's definitely not light but to make it easier for you to carry it, you'll get not one but two carrying handles. Apart from the main entrance it has 2 side feeding entrances and comes with 2 feeding bowls and 2 wooden perches.
In Short:
Made out of aluminum metal
Aluminum rust is safe for birds to ingest
It weighs 29 lbs
Comes with 2 feeding bowls and 2 wooden perches
It's around 29-in long, 20-in wide, and 20.25-in tall
Has 2 carrying handles
BEST CARRIER AFRICAN GREY PARROT CAGE
Paradise Toys Perch N Go Large
Cage And Carrier Differences
If you're looking for a difference between bird travel cages and carriers the main difference is that they are much lighter than cages. Another thing is that you won't have to worry about wire spacing being too big for your bird because they mostly don't feature metal parts. This carrier is an exception with its wire back panel.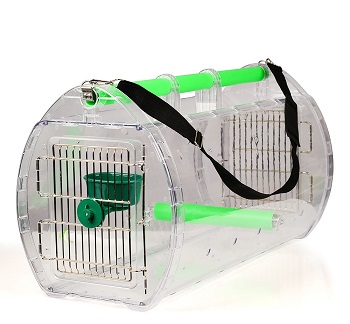 Clear Carrier Benefits
When traveling with any birds you want to make sure that they can get a good look of their surroundings to reduce travel stress. This polycarbonate African grey carrier will allow them to have a 360-degree view of those because polycarbonate is a fully seethrough material.
Larger And Smaller Proportions
This African grey parrot cage is a lot longer than what you'll actually need for an African grey. This would be a problem and you'd risk your bird getting tossed around when traveling if it wasn't small in terms of width and height. It's 30.25-in long, 15-in wide, and 17.5-in tall.
Accessories And Metal Bits
It does come with a perch for the inside and an outside perch. This perch can be used as a carrying handle as well but for that, you'll also get a nylon shoulder strap. The door of this bird carrier with perch is made out of stainless steel and has a 5/8-in wire spacing. For the interior, you'll also get a small water or food cup.
In Short:
Made mostly out of polycarbonate
It's fully see-through
Has a stainless steel door
It's 30.25-in long, 15-in wide, and 17.5-in tall
The door has a 5/8-in wire spacing
Can be carried with a perch/handle or with a shoulder strap
How To Pick An African Grey Bird Cage
Since there are so many to choose from, picking the right parrot cage might be a difficult task only because you might not know why you'd want to choose the cage you're looking at. We'll clear things up and inform you on basic cage musts in this buying guide.
African Grey Bird Info – African greys can grow up to be 13-in long. This puts them into the category of medium-sized birds and they're similar in size to cockatiels. if you were to compare them and cockatiels, you would see some major differences. The main difference is that African greys have a larger wingspan and stronger beaks.
African Grey Cage Size – The size of cage you'll get all depends on the type of cages you'll get. For travel cages and carriers, you should worry about getting a cage or carrier that's a bit longer than them so larger than 13-in. For a regular indoor cage, you should think about getting one that's at least 36-in long, 24-in wide, and 48-in tall. These are just a reference and can vary slightly but you can never go wrong with a bigger cage.
Bird Behavior – These birds are highly active and no matter how big of a cage you get them, they'll always going to need time out of the cage. To make it more fun for them you can get a playtop bird cage or if you want them to still be inside some type of enclosure when they're exercising you can consider getting them an aviary.
Wire Spacing And Metals – Since these birds have strong beaks, you might also focus on getting a cage made out of low gauge wire. The width between each wire varies but shouldn't go over 1-in. With stronger beaks comes the risk of them destroying the finish and exposing metal parts so if you want to avoid that risk, you can always opt for an aluminum or stainless steel cage.
To Sum Up
If we're focusing solely on living cages, we'd definitely recommend the Flyline Parrot Escape Jumbo as the best African grey parrot cage. It saves you space indoors, has a safe lead and zinc-free finish, and it's fairly large and can be a comfortable cage for any African grey. If you wish you could house two parrots inside a cage we advise you to read the article about double parrot cages next or if you want to specify and get a cage like that made for macaws, you can always read the article about double macaw cages.