Looking for a large corner bird cage that will effectively save you space inside your home and look nice?
You're right where you should be and all you need to do to actually find a cage is to continue reading this article where we reviewed our top picks for these cages. We made sure to include all sorts of different cages like for parrot and other breeds, with stand, wheeled, and more.
The Summary
Best 4 Large Corner Bird Cages
BEST OF BEST LARGE CORNER BIRD CAGE
Prevue Hendryx Corner Parrot Cage
Top Play Area
Both you and your bird will absolutely love this cage. Aside from its shape that will allow you to place it in a corner to save space, your bird will get to play on top of it. This is because the top features a playground that has a metal construction and consists of a perch, bowls, and a ladder.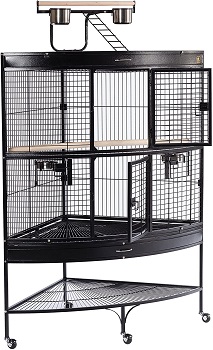 Rounded Bits
Since the back sides of this large corner parrot cage are angled at 90 degrees and then extended with additional corners to the round front you won't have to worry about this large corner bird cage being unsafe for birds. It's a large round bird cage but it's definitely not fully round which is what you want in a bird cage.
Metal Used To Make It
The material used to make the prevue pet large corner parrot cage is wrought iron. it's a truly reliable metal when it comes to making bird cages since it's more durable. It's more durable because of its low carbon content. It does rust more easily but the coating finish is here to protect it from it. It has a 7/8-in wire spacing so it's good for larger birds.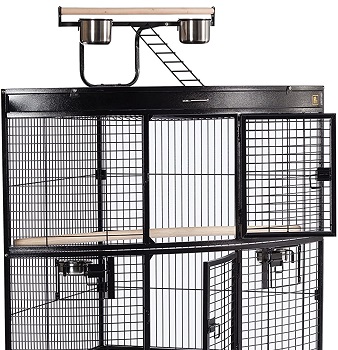 Space Saving Stand
The sheer fact that this cage fits in a corner should be enough for you to save space inside your home and make the cage blend elegantly inside. There is more to it though since it sits on a stand with wheels that also features a grid where you can store your birds' supplies and toys.
In Short:
Built out of wrought iron
Has a 7/8-in wire spacing
Sits on a stand with wheels and a grid
The top has a play area with bowls, a perch, and a ladder
Features a black finish
BEST PARROT LARGE CORNER CAGE
A&E Cage Co. Bird Cage
Finish Quality
When getting a cage that's supposed to house birds, you should really watch out for the metal and how easily it rusts. To stop you from spending more money than you can on a cage it's important to check out the coating finish that will protect the metal and protect your bird from biting on the metal. Luckily, this cage has a powder coating finish that doesn't chip or crack.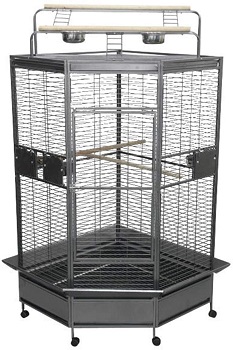 Enhanced Play Top
We're about to get used to the fact that these cages all feature a top play area but the play area of this large corner bird cage is definitely enhanced. It enhances because there's a lot more to it. It comes with 2 wooden perches, a total of 3 play ladders, and the standard 2 bowls for food and water.
Cleaning Tray Locations
It goes without saying that this play-top bird cage comes with a cleaning tray on the bottom that you can slide out but what's different about it is that the top also comes with its own slide-out cleaning tray. On the bottom, you'll even get a seed guard that will keep your floors clean.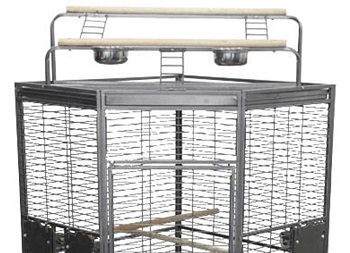 Wheels And Other Extras
Since the front of this cage isn't round but instead has 3 angled wire panels, there are more wheels on it than on the previous cage. You'll get 4 in the front and one in the back. For the inside of the cage, you'll get 3 stainless steel bowls and 2 perches. You'll get feeding doors where you'll get to place the cups.
In Short:
The play top features 3 ladders, 2 perches, and bowls
Has a safe and quality powder coating finish
Features a clean tray on top and the bottom
Comes with a seed guard
Comes with 3 stainless steel bowls and 2 perches
BEST COCKATIEL LARGE CORNER BIRD CAGE
McCage Large Corner Parrot Cage
Two Colors
There are two types of cages that this model offers. You'll either get to choose to have it in black or white. We don't see why you would choose black over white since the white will definitely blend even better inside your home if you also count on the fact that you can place it in a corner.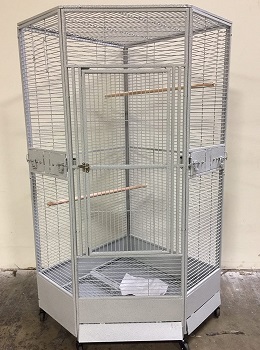 Durable And Safe
You can trust that this large corner bird cage is both safe and durable. The metal used to make it is wrought iron. In short, wrought iron has a lower carbon content, and the lower the carbon, the stronger the metal. To protect it from rusting, it is coated with a powder coating that is safe for birds.
Wire Gauge
Apart from being a wrought iron bird cage, you might be impressed with the fact that the wire of this cage has a 9 gauge which is really impressive and important. Important because the wire spacing 5/8-in which means you'll get to house larger birds inside that have stronger beaks and can bend the wire more easily.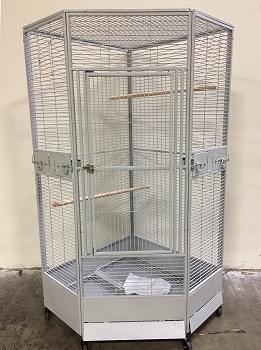 Movement And Interior Contents
Although we don't see why you'd move this cage from its corner, you can do it since it sits on wheels. It might, on the other hand, be good for when you need to clean it though. You'll get four feeding doors and 4 cups for food and water and also 2 wooden perches.
In Short:
Made out of wrought iron
Has a 5/8-in wire spacing
Comes with 4 feeding door and cups
Features 2 wooden perches
Made with 9 gauge wire
BEST ON WHEELS LARGE CORNER BIRD CAGE
McCage X-Large Parrot Escape
Size Of The Cage
This cage is so large that it can even be considered an extra large flight cage. Flight cages are typically made large and wide with enough interior square footage so that your bird, small or large, can spread its wings and fly around a bit but the accent is on safety.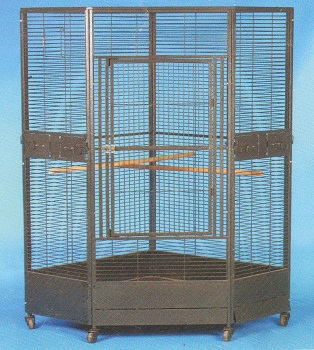 Precise Dimensions
Even though it's large, the whole point of this cage is to save you space inside your home since it still is a large corner bird cage. To be precise about its size we'll specify its dimensions. The cage is 50-in wide, 36-in long, and 62-in tall. You do have to take into account the depth of the space for bird litter.
Front Panels And Their Contents
The front of this cage is made up of three panels. The center panel is the largest and features a large entrance. The entrance is large enough for you to access the cage when you need to. The left and right panels also feature entrances that are a lot smaller because they're actually feeding entrances.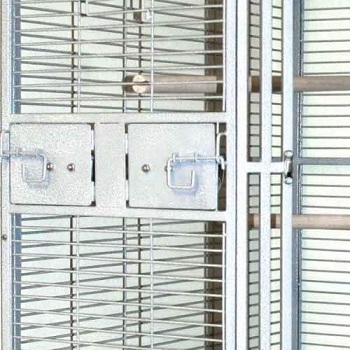 Material And Interior
The cage is made out of wrought iron which is great since it is a durable metal because of its low carbon content. TO decorate the interior without having to spend extra money on it, you'll get 4 stainless steel bowls for food and water and you'll also get 2 perches that are made out of wood.
In Short:
It's so large it can act as a flight cage
Made out of wrought iron
Features a large front entrance
Has 4 feeding entrances in the front as well
Comes with 4 stainless steel bowls and 2 wooden perches
How To Pick a Large Corner Bird Cage
To get the best large corner cage possible, you first need to know a few crucial things about these cages. We'll go through their differences in shape, build, safety, and size in this quick and easy buying guide so you can truly get the best cage possible for your bird.
Why Get A Corner Cage – the number one thing about these cages is that they save you space. Apart from being excellent space savers they also tend to look more natural inside homes because they only have three sides and you're basically hiding two of them by placing them in a corner.
Round Bits Safety – it's not unusual that the front of a corner cage is actually round. This doesn't have to worry you since the cage still has 3 corners. Corners on the inside of a cage are important because they don't confuse birds like large round bird cages do and keep them happy and mentally healthy.
What Constitutes As Large – You have to remember that if you're getting a cage for a large bird like a Macaw or an African grey, the large corner bird cage you want to get will most likely only be large. Smaller birds like parakeets can be housed inside both small and large cages. The important thing to know is how big of a wire spacing your bird can have. Generally, small birds thrive in cages with a 0.5-in wire spacing while larger birds thrive in cages of 1-in wire spacing and up.
Cage Safety – If the bird you're getting the cage for is large, you'll want to make sure that the wire is thick enough since larger birds have stronger beaks and can easily bend a weak and thin wire. Another thing to worry about is the coating finish. preferably you want to look for a cage with a powder coating since these don't chip or crack.
To Sum Up
The one large corner bird cage we'd recommend is the Prevue Hendryx Corner Parrot Cage. It's made with wrought iron comes with a stand with a grid so it saves you even more space. it can safely house larger birds like Macaws because of its 7/8-in wire spacing. If you'd prefer to get a regular but still nice looking cage we'd recommend you either read the article about antique bird cages with stand or about large antique bird cages.