Have you come here hoping to find an outdoor parrot aviary that will make your bird happy both physically and mentally?
You can stay here and continue reading because we reviewed nothing but these in this article. we didn't just pick out any aviaries but we made sure to review the best and also a wide range of aviaries. Some of the aviaries we reviewed are small, antique, large and that's just the beginning.
The Summary
Best 6 Outdoor Parrot Aviary
BEST OF BEST OUTDOOR PARROT AVIARY
Talis Large Deluxe Bird Aviary
Quality But Not Affordable
It's easy to review this aviary as the best when it's that good. Before we get into the why's, we do have to mention that it isn't a very cheap aviary. You'll be paying around 1.200,00 dollars for it but like we said, it's well worth the price if it's something you can afford.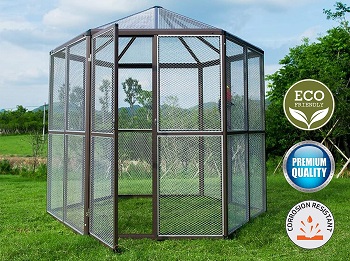 Metal Build Details
The material that was used to make this outdoor parrot aviary is aluminum. Alumium as a metal is great with resisting corrosion and rusting so it's the perfect material of choice for the great outdoors. Another reason why it's so great is that even if it does rust and corrode, these parts are still safe for your birds.
How It Looks
When we say it's made out of aluminum we mean that both its frame and netting are made out of it. It has a lovely hexagonal shape and a canopy-shaped top so it's also going to look very nice wherever you plan on putting it. You can be sure it's going to keep your birds happy.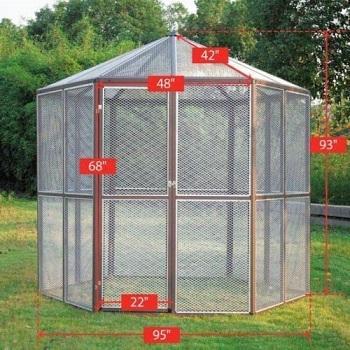 Size And Birds Allowed Inside
We do have to mention that this is an incredibly large aviary. It's so large, in fact, that you'll comfortably get to walk inside it through the single large front door. It's 93-in tall at its highest point and 95-in wide and long. The birds you'll get to house inside should be medium or large birds like African greys or macaws.
In Short:
Has an aluminum frame and netting
HAs a hexagonal shape
You can walk inside it through the front door
Can house birds like macaws or African greys
It's 93-in tall and 95-in long and wide
BEST WOODEN OUTSIDE PARROT AVIARY
Pets Imperial Stunning Wooden Bird Aviary
Birds It Can Contain
This is probably the smallest aviary that we will review but if check out which birds you can hosue inside, you'll quickly realize that it can be just as large as the previous one for smaller birds like parakeets. It also features a hexagonal shape and that comes with a benefit or two.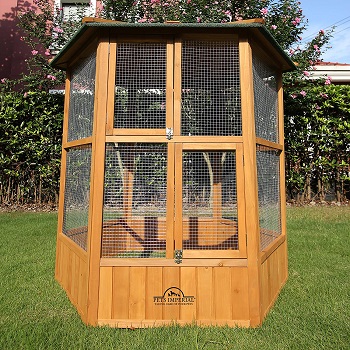 Hexagonal Shape Benefits
The first benefit of any hexagonal outdoor parrot aviary is that they look nice. If you use it as a backyard aviary you can be sure that it won't disrupt how your backyard looks. The other benefit has something to do with housing birds. Your birds will get a lot more space on the inside since these aviaries are equally long and wide.
Colors And Build Materials
Another thing that makes it visually pleasing to look at is the materials used for it and its colors. It's primarily made out of timber wood that's stained with a natural finish. It has a canopy on top that green and made to act as a waterproof asphalt roof.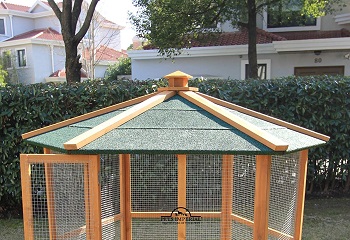 Aviary And Bird Protection
The finish on the wood of this wooden aviary, the wire bits galvanization, and the asphalt roof all work together to protect your birds from different weather conditions like rain and the sun. They also work together to protect the cage itself from rusting, corrosion, and fading.
In Short:
It's shaped hexagonally
Made out of timber wood and wire
The wire is galvanized and the roof is waterproof
Can house parrotlets like budgies
Has a natural wood finish
BEST METAL OUTDOOR PARROT AVIARY
ShengYang Garden Bird Aviary
Why It's Antique
This is the last, out of a total of three aviaries for parrots that has a hexagonal shape. Each one, so far, has showed us how different they can be. This one will show you that aviaries can be great looking and they can also be considered antique and look like large antique bird cages.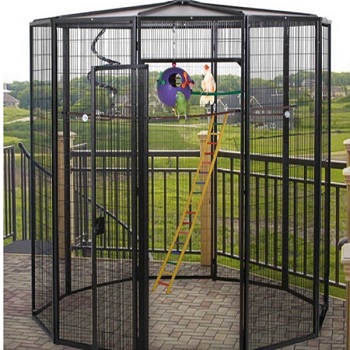 Diameter And Height
Although it looks a bit narrow, that's only because it's incredibly tall. If you measured it from the bottom to its highest point you'd get a height of around 7 ft.  To put the usable interior space into perspective a bit more, you might have use of the information that it has a 8 ft diameter.
Metal Wire And Tubes Info
It's made with both square steel tubes and wire. The tubes are used as the frame material of this outdoor parrot aviary while the wire is used on the sides. The great thing about it is that the wire has a 6 gauge meaning it's thick enough to not be easily bent by your birds. It has a 1-in wire gauge so it's good for large parrots.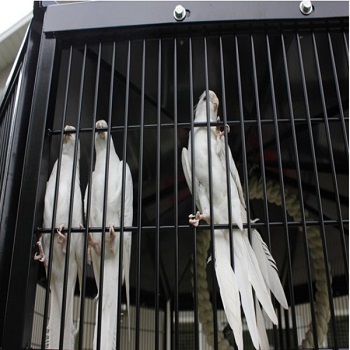 Other Construction Details
Other important details include the fact that it's welded together so it has a firmer construction. The top is made out of metal sheets so that your birds don't get soaked during rainy weather and so that they can get some shade when needed. The coating finish is a powder coat so it won't chip or crack.
In Short:
Made with metal tubes and wire
The wire has a 6 gauge
It has a powder coat finish
It's around 72-in ft tall and has a 8 ft diameter
The wire spacing is 1-in
Features a top that protects birds from rain and the sun
BEST LARGE OUTDOOR PARROT AVIARY
BaoChuan Walk-In Aviary
Two Parts Build
There are two parts to this aviary. There's the actual aviary where your birds will safely get to get their daily exercise and there's a much smaller part. The purpose of this small space is for you to enter the aviary without having to risk your birds flying out. All you need to do is enter, close the door behind you, and then enter the space where your birds are.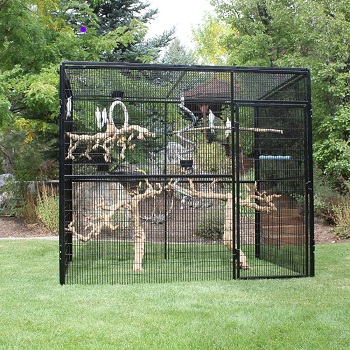 Panels Construction
Just like the previous aviary, this one is also made out of steel tubes and wire. The actual outdoor parrot aviary is made up of 4 panels that have a 14 gauge steel tube frame. The tubes also have a 1-in diameter and it features a glossy black powder coating finish that's meant to protect the steel from rain and the sun.
Easy Assembly
Although you shouldn't have too much trouble with assembling this aviary. You can have to realize that it is almost 100-in tall, and 59-in wide and long so maybe it would be best if you could get some help with assembly. Everything you'll need for assembly comes with it and the instructions should be pretty clear on how to do it fast.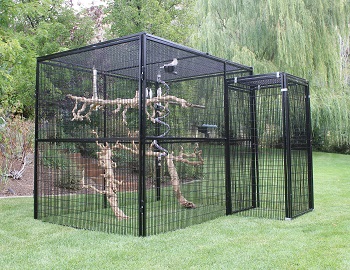 Lacking Top Protections
You should also know that the roof of this macaw aviary doesn't have the function or protecting your birds or bird from direct rain and sound because it's made out of steel wire just like everything else. It does have a 1-in wire spacing so that's why we said it's an aviary for macaws.
In Short:
Has a separate personal space
The aviary has a square shape
it's 99-in tall and 59-in wide and long
Has a 14 gauge steel tube frame
The wire spacings are 1-in wide
It's coated with a glossy black powder coat
BEST MESH OUTDOOR PARROT AVIARY
ShengYang Modular Bird Aviary
Birds To Contain
What we mean when we say small is that you won't exactly get to walk inside this aviary. Don't worry though, it's still a large enough aviary to house multiple birds and in fact, it can house multiple large birds.. We really can't say just how big it is but we'll explain why in a little bit.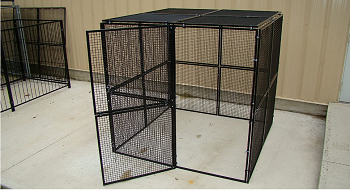 Modular Design
The reason why its size is so undefined is because it's actually a modular outdoor parrot aviary. What we mean by modular is that you'll get to assemble it however you see fit. This means that it can change shape, height, width, and length to fit into your garden in many ways.
Panels Construction
What we do know about it is that it's made out of panels that have a steel tube frame and are filled with wire. The wire has an 11 gauge and if you don't know what gauge is, it's a measure that determines how thick the material is. The lower the gauge the thicker the material.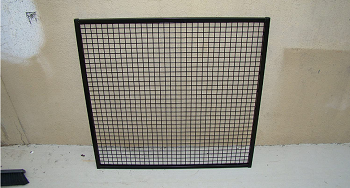 More Wire Details
The wire of this aviary is actually welded to treasure you that it has a stable construction. It also has a wire spacing of 1-in x 1-in so  just like the previous aviary, it's made as a large bird aviary or a macaw, cockatoo, and African greys aviary. It comes with 16 3 ft x 3ft panels that, like we said, can be assembled in multiple ways.
In Short:
Comes with 16  3 x 3 ft panels
Can be assembled in multiple way
The wire bits are welded
The wire has a 11 gauge
Has a 1-in wire spacing
BEST IRON OUTDOOR PARROT AVIARY
A&E Company Small Walk-In Aviary
Metal And Finish
If you don't know out of which metal the cage is made out of, it's best to assume that it's made out of regular steel. After you assumed that, you'll want to make sure that the coating finish is unable and able to protect the metal well. This is one of those coating finishes since it's a non-toxic powder coat.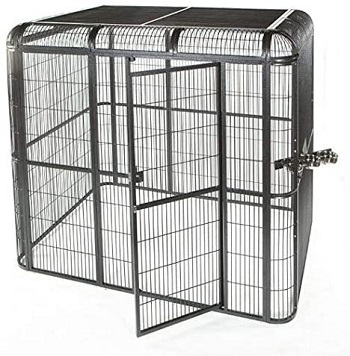 Door And Its Locks
You'll get a single door for this outdoor parrot aviary. The great thing about this door is that it not only locks with a hasp latch lock but also with a key. You can be certain that your bird or birds won't get to unlock the doors and escape. This is important to note since you will use it outdoors.
Other Doors And Their Accessories
Although aviaries are meant to be completely customized with greenery, plants, branches, and other things you will get a few accessories as it is. It features 3 smaller entrances apart from the large walk-in entrance. They serve the function of feeding doors and you'll get to place 3 stainless steel bowls on them to easily refill your birds' food and water supplies.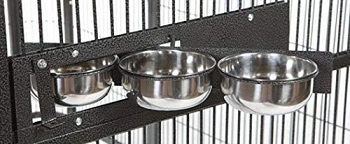 Wire Spacing Importance
Most of the aviaries that we had reviewed so far were meant to house larger birds. We concluded this because their wire spacings were big. This one has a much smaller wire spacing of 0.5-in which makes it a perfect parakeet aviary or an aviary for other similar-sized birds like cockatiels and finches.
In Short:
Made with steel
Has a non-toxic powder coating finish
Features a 0.5-in wire spacing
Has a walk-in door that locks with a key and hasp latch
Comes with 3 feeding entrances and 3 food and water bowls
How To Pick An Outdoor Parrot Aviary
It's easy to choose a parrot aviary for outdoor use aviary when you have all the information needed to make the right choice. That's why we've prepared this buying guide for you with information about their safety, functions, price, and a lot more so be sure to stick and continue reading.
Aviary Sizes – The aviaries we reviewed here were all large. Large can, of course, means a number of things but the kind of large we're talking about here is that you'll get to comfortably step inside most of these. The ones that you can't walk in are still large since the whole point of aviaries is for them to be big.
Size According To Birds – Smaller birds are going to have different needs for aviary size than larger birds. This makes sense because aviaries allow birds to spread their wings and fly a bit and larger birds have a much bigger wingspan than smaller birds so the aviaries should be bigger as well.
Metal And Finish – You should pay extra attention to the metal and finish safety of these aviaries. This is because with outdoor use, come risks of the metal rusting and corroding which is unhealthy for birds because they can suffer metal poisoning. To ensure that everything is going to be okay, you should get a aviary with a quality powder coating finish as well.
Wire Spacing Importance – Wire spacing will actually allow you to determine which birds you can house inside a specific outdoor parrot aviary. This is because a bird in an aviary or cage that has too wide of a wire spacing can easily get seriously injured by catching its wings on the spaces and pulling its head through. Big parrots will thrive in a 1-in bar spacing aviary while smaller birds will do fine in a 0.5-in wire spacing aviary.
To Sum Up
It's easy to choose the Talis Large Deluxe Bird Aviary as that one outdoor parrot aviary we'd recommend when it's that good and safe. It's made with aluminum which means that even when if it corrodes or rusts, it won't be toxic to birds and it's quite large with 93-in in height and 95-in of width and length. If you want to check out more aviaries for smaller birds we'd advise you to read the article about finch aviaries and if you want to you can also check out the article about indoor finch aviaries.