Want your bird to safely and successfully get the exercise it needs inside a large aviary?
You can start working on getting one today by choosing to continue reading this article. Here, you'll find reviews of the best aviaries that fit the large category. We did our best to include all sorts of aviaries like outdoor, indoor, wooden, and even walk-in aviaries.
The Summary
Best 5 Large Aviaries
BEST OF BEST LARGE AVIARY
PawHut 65″ Large Wooden Bird Cage
Aviary Visuals
We looked at the visual presentation of this aviary when chose to review it first and as the best. it's got a hexagonal shape, a top canopy, and a lovely natural wooden color. it's bound to fit any backyard or patio and if you can, you can even use it indoors since it's that beautiful.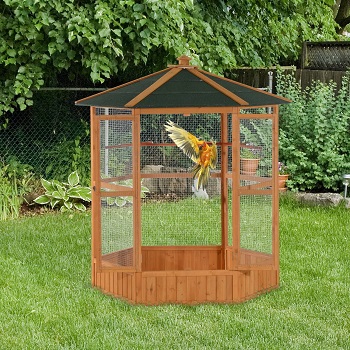 Protective Finish
Even though it's a large aviary, it still manages to be light. This is since it's made out of lightweight fir wood. The wood is used to make its frame and other top and bottom components while the sides feature a metal wire. it's an outdoor bird enclosure because the coating finish makes everything water-resistant.
Entrance Functions
Technically, if you're under 70-in tall or 5 ft 10" you can think of this aviary as a walk-in one. This is due to its large door that extends all the way from the top to the 9-in tall wooden bottom. It's actually a 2-door entrance that locks with a single hasp latch lock.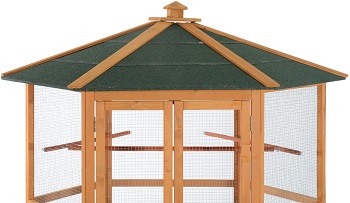 Bar Spacing And Dimensions
Since it's a hexagonal aviary, the length and width of the cage are the same. It's 59-in long and wide. Because of the wire spacing of 0.31-in, you'll get to use it as a parakeet aviary or if you have a cockatiel finch, canary, or a similar-sized bird, for them as well.
In Short:
Made with lightweight fir wood and wire
Has a water-resistant finish
Has a hexagonal shape
The wire spacing is 0.31-in
Can house birds like budgies and canaries
Features an asphalt roof canopy
BEST INDOOR LARGE BIRD AVIARY
Prevue Pet Products Charming Aviary
Perfect Size
There's no doubt that you won't enjoy this aviary. It looks amazing because of its roof housetop, and it's of the perfect size to be considered large but also small enough to fit inside your home perfectly. You definitely won't think of it as obstruction inside your home.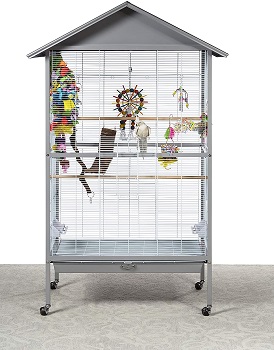 Top Roof Purpose
This parakeet bird house doesn't have a house roof made out of metal sheets for no reason. It's designed so that your bird or birds can get some shade from the sun or protection from direct rain if you intend on using it as an outdoor bird enclosure. It also enhances its visual appeal if you use it as a large indoor aviary.
Accessory Placement
If you think that you won't get to hang toys and accessories because of the roof you'd be wrong. It comes with a bar that is designed for you to hang any toys and other hanging accessories there. Apart from that, it also features 2 wooden perches and 4 cups for both food and water.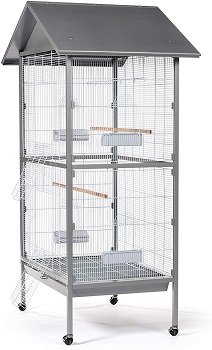 Birds It Can House And Moving
This large bird aviary is actually a parakeet bird house but you don't have to limit yourself and only house parakeets inside. The 0.5-in wire spacing will allow you to house inside most small and medium-sized birds. You'll get to easily move it indoors and outdoor because it comes sitting on a stand with wheels.
In Short:
Has a metal sheet house rooftop
The top protects our birds from rain and direct sun
Comes with a bar for hanging toys
Features 2 perches, and 4 water and food cups
Has a 0.5-in wire spacing
Intended to house small birds
Can be used indoor and outdoor
Sits on 4 wheels for easy movement
BEST OUTDOOR LARGE AVIARY
Wonline Large Walk in Bird Aviary
Going Big
If you want to go big, you should probably get this aviary. What we mean by big is durability, size, and unfortunately the price as well. You'll have to pay a little less than 600 dollars for this aviary but it's definitely worth it since it's made out of stainless steel.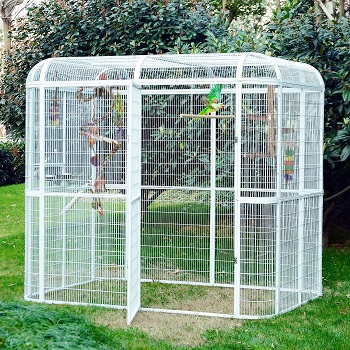 Materials And Their Durability
Not only is this aviary made out of stainless steel but parts of it are also welded together to ensure an even more stable construction. You won't have to worry about your bird or birds chewing on the wire and suffering from metal poisoning since the coating finish is non-toxic to birds.
Regular Maintenance
Aviaries do require maintenance and it's especially true if you're looking at a large outdoor aviary. This large aviary is no exception but it will be made easy since all you need to do every couple of months is spray it down with a new coating of paint to ensure that it lasts you for years.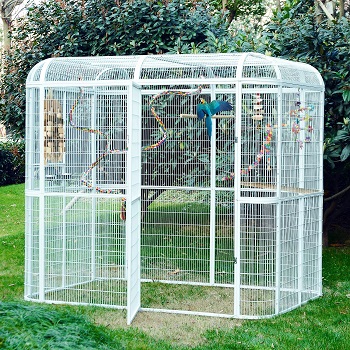 Spacing And Accessories
The spacing between the wire is 3/4-in which makes this large white bird cage perfect for housing medium-sized birds like mini macaws. Although you can completely customize it by walking inside and placing whatever accessory inside, you will get a hanging perch and 2 water and food bowls.
In Short:
Made out of stainless steel
Has a white coating finish
You can walk inside it
Designed to be used outdoors
Has a 3/4-in wire spacing
Requires maintenance with a new paint coating
Comes with a hanging perch and 2 bowls
BEST PARROT LARGE AVIARY CAGE
Aivituvin Wood And Metal Bird Aviary
How It Looks
If you have more of a rustic home this wooden aviary will fit perfectly inside. It still looks quite modern though because of the grey paint finish. it's not fully made out of wood since the side is made out of metal wire while the frame and top are made out of wood.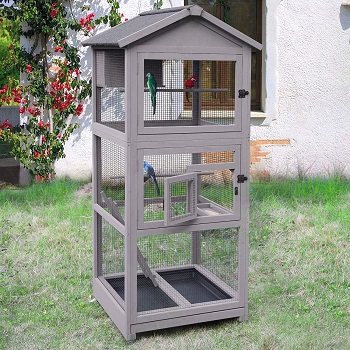 Moving The Aviary
You won't usually find wooden bird cages with wheels but luckily this one has them. This will allow you to move it from point A to point B and vice versa far more easily. The fact that the wire is galvanized and the wood is coated with a weather-protection finish makes it suitable for the outdoors.
Waterproof Top
You can also rely on this large metal bird cage parrot aviary cage with wheels to protect your birds from direct rain and sun as well. This is largely due to the house rooftop. It's actually an asphalt roof which means that it's waterproof and won't leak or get damaged easily.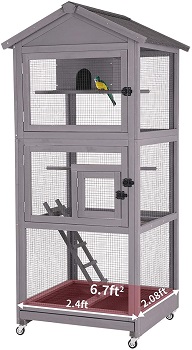 Interior Contents And Size
Most of its size is concentrated in its height but it's still a large aviary cage, don't worry. You'll get to house small and medium-sized birds inside due to the 1/2-in wire spacing. The interior will be kept fun due to the 2 wooden perches, a ladder, and also a hide-out area on top.
In Short:
Мade out of wood and metal
The metal wire is galvanized
Has a waterproof asphalt roof
Sits on wheels for easy indoor-outdoor moving
Features a 1/2-in wire spacing
Comes with 2 perches, a ladder, and a hideout spot
BEST WOODEN LARGE BIRD AVIARY
PawHut 65″ Large Wooden Aviary
Material Divide
There's definitely more metal wire than there is wood in terms of how many surfaces they both cover on this aviary. The wood is mostly used for the frame and top while the wire covers the rest. The wood in question is solid pine wood that's stained with a natural paint finish.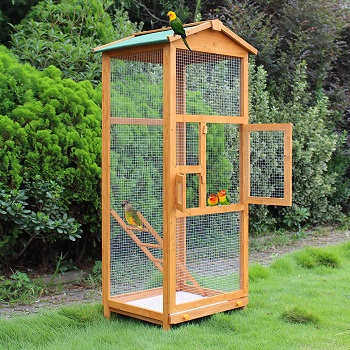 Size Specification
Most of the size of this large bird aviary is situated in its height. You'll get a 65-in tall aviary but only a 24.2-in long and 26.25-in wide one. Still, it can be of great service when it comes to safely housing birds to let them fly around a bit. On top, you'll find a waterproof asphalt roof that will protect your bird from rain and the sun.
Birds It's For
You can't really compare its size to any of the other aviaries we reviewed but you don't need to. It can function as an amazing parakeet aviary. These birds are small so the amount of space they'll get to fly around will definitely be enough for them to do so. Other than parakeets, you can house any similar-sized bird inside.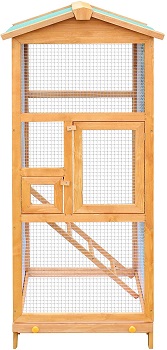 Proving Its Intended Use
This cage is intended to be used as an outdoor parrot aviary and the things that prove is the fact that it's water-resistant, protected from harsh UV rays, and it's also worth mentioning that this finish makes it safe for birds in regards to their physical health. The interior only comes with a single wooden ladder
In Short:
Made with metal and wire
Can house small birds like parakeets
The aviary is water and UV resistant
Has a waterproof asphalt roof on top
Comes with a ladder for the inside
How To Pick A Large Aviary
Picking out a large aviary isn't all about choosing the largest and the toughest. Even the toughest of cages can be safety hazards for birds if you don't know what you're doing and why you're choosing the cage you are. We'll go through all of this and more than just that in this buying guide.
Primary Aviary Function – Aviaries are quite useful to have if you want your bird to live a healthy life both physically and mentally. Their function is to provide your bird with a large enough space to fly around and feel like they're in their natural environment but safely.
What Large Means – You won't really find aviaries that aren't large. It's not that all of these are similar in size, but their size difference mostly comes from their different functions and different birds they can house. This manifests itself in the wire spacing which is just another thing to worry about.
Wire Spacing And What It Means – We'll start of by saying that a bird housed in an aviary or a cage that has too big of a wire spacing can easily get hurt and even die. Their wings can get caught on it and they can actually escape. Smaller birds like budgies tend to live in cages and aviaries that have up to 0.5-in wire spacing. Medium birds like mini macaws can thrive in a cage up to 3/4-in while larger birds like African grey can easily be housed inside 1-in wire spacing cages.
Cage Safety -You won't have to worry all that much about the safety of the bird aviary cage if you plan on getting an indoor aviary but for those who plan on using the aviary outside it's important that you get one that won't rust easily and that has a quality coating finish. You should refrain from getting wrought iron bird cages that function as aviaries in this case since wrought iron rusts very easily.
To Sum Up
We recommend the Pawhut large bird aviary as the one worth buying. It's not a hard conclusion since it is made out of durable materials and you can use it outdoors safely. Moreover, it's large enough for you to easily walk inside of it. If you want to look at the selection of aviaries for smaller birds we advise and encourage you to read the article about cockatiel aviaries or finch aviaries.