Are you struggling to find an outdoor parrot cage that's not an aviary but an actual bird cage?
We had troubles finding them as well but we managed to bring you this article where we reviewed nothing but these. if you continue reading you're bound to find a cage that suits you since we didn't review just one type of cage, we reviewed parakeet, cockatiel, antique cages and a lot more.
The Summary
Best 6 Outdoor Parrot Cages
BEST OF BEST OUTDOOR PARROT CAGE
FlyLine XXL Bird Cage
Width And Length
This definitely is a cage but it's definitely larger than we're used to seeing. This is since it has a square shape which means that its length and width are the same. You can be sure that your bird will easily get to stretch its wings inside this 40-in long and wide cage.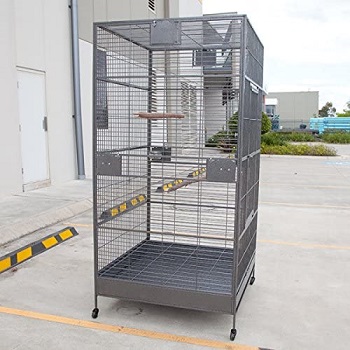 Outdoor To Indoor Movement
To our surprise, this outdoor parrot cage is quite heavy. It's made out of metal and weighs 120 lbs so it will be difficult to move. Luckily, it does sit on 4 wheels so that you can easily move it and use it as an indoor parrot cage when you need to or want to.
Difference Between The Cage And Aviaries
Typically, aviaries are the ones to have a big length and width to allow your bird to fly a bit inside. The difference between aviaries and this cage is that you can easily move it and it has a slide-out cleaning tray and wire grid below, aviaries usually don't and sit on the clear ground.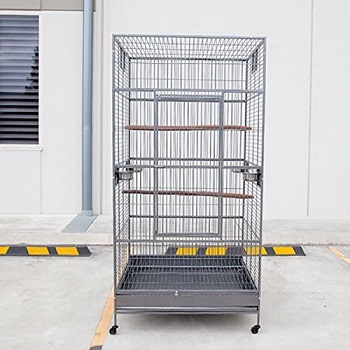 Entrance Details
It has a 1-in bar spacing which means that it can house large parrots like macaws and African Greys. It comes with a single large front door and with 6 smaller doors. Four of these are feeding entrances and you'll get to place the food bowls that come with the cage there. The last two entrances can be used to hold a breeding box.
In Short:
Has a 1-in wire spacing
Weighs 120 lbs
It's 40-in long and wide
Features a single access door
Has 4 feeding entrances and 2 breeding box entrances
Sits on wheels for easier movement
BEST WOODEN OUTDOOR PARROT CAGE
Aivituvin Wooden Bird Cage
Finish And Moving It
The cage we reviewed before was made for outdoor use but we wouldn't recommend you do that all the time. This cage on the other hand can easily be kept outside all the time. We don't know why though since it has a beautiful gray finish and it sits on wheels so it would make a great addition to any home as well.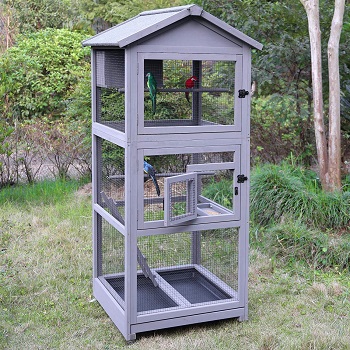 Build And Birds It Can Contain
The wood that makes it is fir wood. It's used to make the frame of the cage, its doors, and it makes up the top as well. The sides are filled in with wire that has a 0.5-in x 0.5-in wire spacing. This will allow you to house small parrots like parakeets or cockatiels.
Weather Protected Bits
The wire of this outdoor parrot cage is galvanized which means that it's protected from corrosion and rust with a thin layer of zinc. Another feature that will protect the cage from wearing out with outdoor use and your birds from different weather conditions is the waterproof asphalt roof.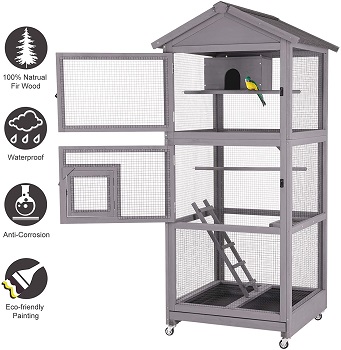 Access To The Interior And Its Contents
You'll easily get to access most parts of this large wooden bird cage due to the two large entrances located in the front. One of them also features a small built-in door that will prevent your birds from flying out if you need to access them while they're inside. The interior is equipped with a hideout, a perch, a wooden feeder, and a ladder.
In Short:
Made with fir wood and wire
The top is a waterproof asphalt roof
Has galvanized wire
The wire spacing is 0.5-in x 0.5-in
Can house small parrots like budgies and cockatiels
Has 2 large entrances and a small built-in one
BEST PARAKEET OUTDOOR PARROT CAGE
PawHut Wooden Outdoor Bird Cage
Differences Between Sides
The left and backside and front and right sides of this cage are completely different from one another. Unlike other cages that have wire bits all around, this one only has wire bits on the front and right sides. The back and left sides are entirely made out of wood.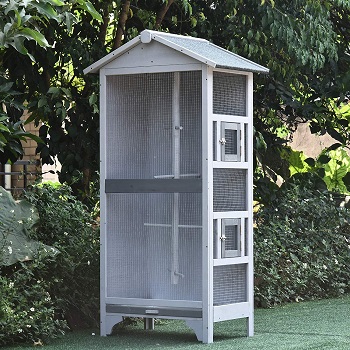 Wood Info
Thanks to the entirely wooden back and left side, you will have no problems providing your bird or birds with shade from the sun and keeping them dry and away from direct rain. The wood used to make them and the rest of the frame is fir wood that's lightweight and weather resistant.
Movement Issues
Since this outdoor parrot cage lightweight you will get to move it easily but it's not exactly small though. It also doesn't feature wheels on the bottom but only a 4.25-in tall stand. Because it's elevated you won' have to worry about mold building up down there and destroying the cage.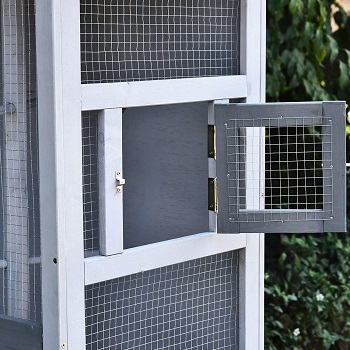 Access And Interior Accessory
The doors are located on the right side. They are small so you won't have to worry about your birds escaping. On the inside, it features a pillar that falls from the top. This pillar has perches pulled through it so it resembles a tree with branches. You should use this as a big bird cage for parakeets and other small parrots.
In Short:
Made with lightweight fir wood
The wood is weather-resistant
Has an entirely wooden back and left side
Has a waterproof asphalt roof
It's elevated from the ground
Can house parrotlets like budgies
Features a pillar with perches on the inside
BEST BACKYARD OUTDOOR PARROT CAGE
Trixie Pet Products Natura Aviary
Doors Use
This cage we are reviewing is a lot like the second and third cage we reviewed so far. It does have some minor differences that might make it a bit better for some. The first thing that comes to mind is the fact that the two doors it has are large enough and placed in such a way that will allow you to access all parts of the interior.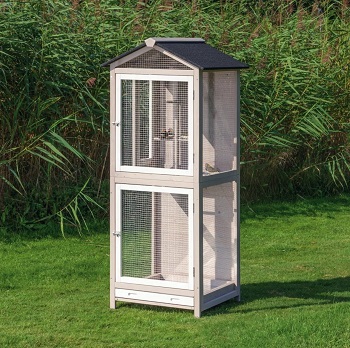 Bottom Things
It's slightly elevated from the ground so that there is no mold build-up on the bottom. Not even the legs will get mold since they have plastic caps on them. These caps will also allow you to place the cage indoors and keep your floors scratch-free. Another thing found on the bottom is a slide-out cleaning tray.
Standard Certification
Did you know that wood products that are composite materials emit fumes that might damage the indoor quality of air? There's actually a standard that helps reduce products that emit these fumes. It's called CARB phase 2 and this outdoor parrot cage is actually compliant with it.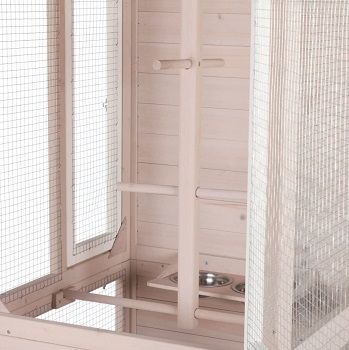 Inside Fun
Your birds are bound to have fun inside this large cockatiel cage. It comes with two wooden perches, a climbing frame, a ladder, two bowls made out of stainless steel, and a feeding tray where you'll get to place them. You can easily attach more toys inside and even a birdbath.
In Short:
The cage is CARB phase 2 compliant
Has 2 large entrances in the front
Sits on 4 legs with caps
Has a slide-out drawer on the bottom
Made to house parrotlets
Comes with perches, climbing frame, feeders, and ladder
BEST ANTIQUE OUTDOOR PARROT CAGE
PawHut 44 Hexagon Covered Canopy Cage
Shape And Size
It would be a shame not to use this cage indoors just from the way it looks. It has a hexagonal shape which means that it's going to give your birds a lot more usable interior space while still looking great. It's a large white bird cage and has a length of 44-in and a width of 44-in.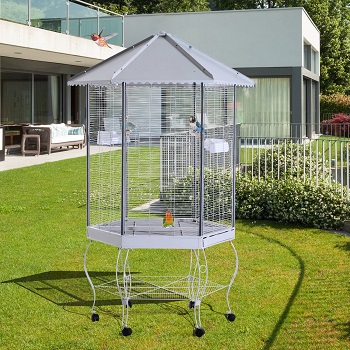 Important Top Details
You can be sure that your birds will be kept dry inside this outdoor parrot cage because the top has a metal sheet canopy. This canopy extends from the edges of the cage and it's angled so that water doesn't build up there but slides down and ends up on the ground.
Stand Looks And Features
To top it all off, it even comes with an antique bird cage stand. Its legs are hollowed out and curved and there are six of them in total. Each leg features wheels so you can easily move it anywhere you'd like and you'll also get a grid where you can store your birds' accessories and supplies.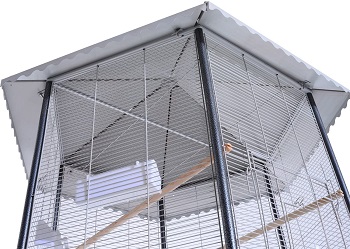 Space Between The Wire
One of the sides features a small entrance to allow your birds to access the interior. Due to the small entrance and a wire spacing of 0.5-in, you'll get to house small parrots inside. These parakeets can be budgies or cockatiels. They'll get to eat and drink out of 4 cups and rest on 2 wooden perches.
In Short:
Features a canopy
Has a hexagon shape
It's 44-in long and wide
Has a 0.5-in wire spacing
Comes with 4 cups and 2 perches
Sits on an antique stand with wheels
BEST ON WHEELS OUTDOOR PARROT CAGE
Prevue Pet Products Charming Aviary
The Looks Of It
This is definitely one of those last but not least situations. To start you off, this cage is definitely a wonderful addition to a home or backyard due to its pearl grey coating finish. It does have a rectangular shape but the fact that it has a house rooftop makes it look a little more elegant.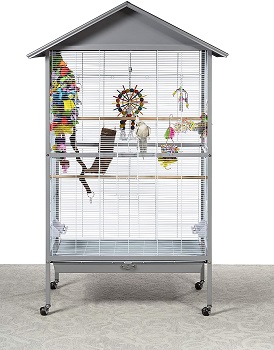 House Roof
The roof house top isn't there for strictly decorative purposes. When used outdoors, it's going to provide your birds with some shade from the sun and protect them from getting wet during rain. It extends from the edges of the cage interior so that if water drips, it doesn't fall into the cage.
Accessory Problems
The problem with this parakeet bird house and many others that are built like this is that you won't get to hang any additional toys on top. The solution to this problem on this outdoor parrot cage is that it comes with a bard specifically made for you to hang toys and accessories on it.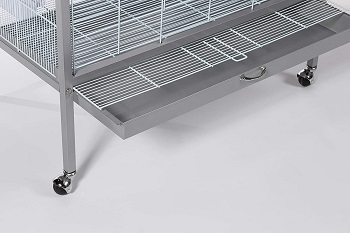 Bottom And The Inside
It sits on a stand with wheels so you'll get to easily move it indoors when you want to. The stand can't be detached from the cage and the bottom also feature a deep slide-out cleaning tray. It has a 0.5-in wire spacing and it also comes with 2 wooden perches and 4 feeding cups.
In Short:
Has a metal sheet house roof
Comes with a toy hanging bar
Features 2 perches and 4 feeding cups
Has a 0,5.in wire spacing
Sits on a stand with wheels
How To Pick An Outdoor Parrot Cage
We want to make it easy for you to pick out the best outdoor parrot cage for you and your bird. We will help you do this if you continue reading this simple guide with all the necessary information for you to start seeing the qualities and flaws of each bird cage and a lot more than just that.
Sizes Available – There really isn't a limit to how big of a cage you can get for your birds. The limits do show when the cage you're looking at is made to house larger birds or smaller birds. To figure this out you'll have to look at the wire spacing of a cage but a general rule of thumb is that the cage should be 3 times bigger than your bird's wingspan.
Wire Spacings Importance – If you were to get a cage with a wire spacing that's just too big for your parrot, she or he would be in a lot of trouble because their wings could easily get stuck in between or they could pull their head through and even escape. Small birds like cockatiels and parakeets should be in cages with a wire spacing no bigger than 0.5-in while birds like African greys can be housed in cages with a wire spacing of 1-in and above.
Outdoor Use Frequency – Unless the cage you're looking at is made out of stainless steel or aluminum, you should keep the outdoor use of a metal cage to a minimum. They should be fine when it's sunny out but we wouldn't risk outdoor use during rainy weather. Wooden cages on the other hand will do just fine with prolonged outdoor use.
Outdoor Use Dangers – Apart from the powder coating of these outdoor parrot cages fading, there are not many dangers during sunny weather but problems might occur when it's rainy. Metal bits could easily rust if they're not well protected from corrosion and rusting and that could put your birds' health in danger since they could suffer metal poisoning.
To Sum Up
If it were up to us, we'd look no further than the Aivituvin Wooden Bird Cage to find the one outdoor parrot cage that we'd get. Its galvanized wire, weather-resistant finish, and asphalt roof will ensure that it stays the same even when it rains and due to its gray finish and wheels on the bottom, you can even use it indoors. If you want to look up more outdoor cages but instead they're aviaries we'd recommend you read the article about outdoor parrot aviaries and if you want to look at indoor cages you could read the article about indoor bird cages.