Are you looking to get a dove aviary to allow your bird to live a happy and healthy life but safely?
Are you having difficulties finding one fit for them?
We won't just help you choose one, but will also teach you the important things to know when looking for these types of cages. All you need to do is continue reading this article where we reviewed the best ones out there like wooden, and antique aviaries and we even prepared a useful buying guide for you at the end.
The Summary
Best 6 Dove Aviaries
BEST OF BEST DOVE AVIARY
McCage Store Large Corner Aviary
Aviary Placement
This is actually a large corner bird cage. dIf you don't know the main purpose of these cages we'll help you out. They're designed to fit in corners and save you space inside your home. The corner placing bit also helps make your home look nicer and more elegant. This one is painted white so it blends even better.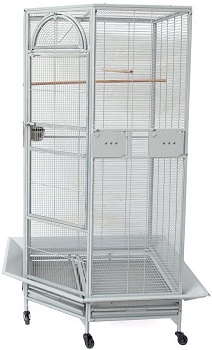 Reasons For Indoor Use
Since it's a corner cage, we'd definitely recommend you use it as an indoor bird cage to bring out its full potential. Another thing that makes it ideal for the indoor is the fact that it comes with a metal seed guard on the bottom that will help you keep the surrounding cage area cleaner.
Bird-Safe Finish
Birds can easily be endangered if the metal rusts and your bird bites on it or if the finish isn't safe for animal consumption because it has lead or zinc. Luckily, this dove aviary features a powder coating finish meaning that it won't crack or chip, and it's also free from lead and zinc.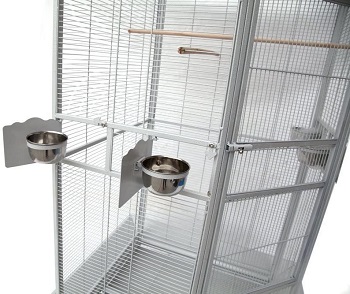 Wire Gauge And Spacing
Doves are small birds so their beaks aren't as strong as parrots' are. Even so, they might be able to bend the wire a bit but you don't need to worry about it here because the aviary features a 3/32-in wire gauge and it's also safe because of the 1/2-in wire spacing. You'll easily place at least 2 doves inside as well.
In Short:
The wire has a 3/32-in gauge
Features a 1/2-in wire spacing
Coated with a lead and zinc free powder coating
Fits inside home corners
Comes with a birdseed guard
BEST WOODEN DOVE AVIARY
Pets Imperial Stunning Wooden Bird Aviary
Shape And Design
We have nothing more to say than just that this aviary is stunning. It's stunning primarily because of its shape but also the little details. It's hexagonal and even has a canopy on top that actually acts as a waterproof asphalt roof that will keep your birds dry and in the shade.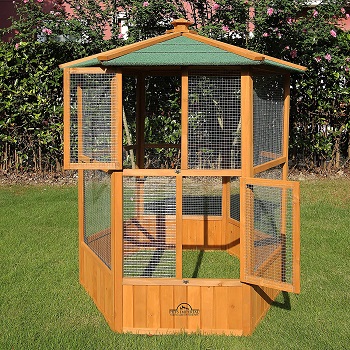 Outdoor Weather Protection
The wood used to make it is timber and it also features wire sides. Of course, both the wire and wood are protected in some way to resist damage from both the sun and rain. With the wire, the thing that protects it from corrosion and rust is the fact that it's galvanized.
Spaciousness Inside
You could use it indoors but it's more of a backyard aviary than it is an indoor one. This has more to do with its size than anything else. The hexagonal shape definitely helps it be more spacious on the inside for your birds. To be precise, it's 4ft 9" wide and long and 5ft 2" tall.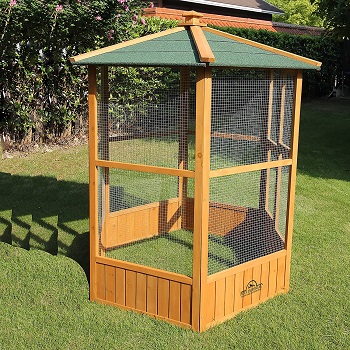 Bottom And Doors
Another reason why it's designed for outdoor use is that it doesn't feature a bottom or a slide-out cleaning tray so you'd have to work your way around that for indoor use. It has two doors on one of the sides. One will allow you to access the interior bottom and one the interior top.
In Short:
Has a hexagonal shape
Made out of timber wood and wire
It's 4ft 9" long and wide
Has 2 large entrances
Has a waterproof asphalt canopy
The wire is galvanized
BEST ANTIQUE DOVE AVIARY
PawHut 44″ Hexagon Covered Canopy Aviary
Color And Shape Benefits
Just like the aviary before, this is another hexagon-shaped aviary. The thing about the hexagon shape is that it doesn't make the cage look boxed in but offers a large living space for your bird of birds if you will. Unlike the one before, this one is stained with a grey and white finish.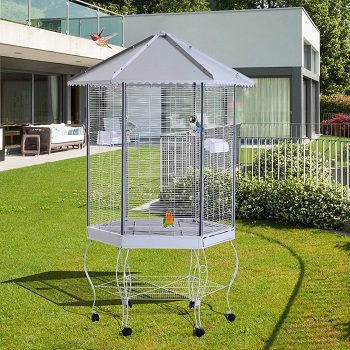 Vintage Looks
Even though it's shaped the same as the previous dove aviary, they're nothing alike. This large white bird cage features a stand that's actually an antique bird cage stand. The stand will also allow you to easily move it indoors or outdoors from time to time if you will.
Canopy Use And Looks
If you do place it outdoors, know that the metal sheet canopy will protect your birds from getting into contact with direct sun and rain. The canopy extends from the outer edges so that raindrops don't find their way inside. The canopy is also angled so water doesn't stay on top but slides down.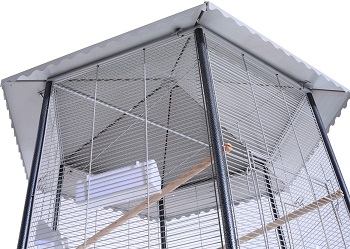 Safe Wire Spacing And Interior Details
This wouldn't really be an aviary for doves if the wire spacing wasn't right for them. Doves usually require a wire spacing of 1/2-in up to 5/8-in. This one has a 0.5-in wire spacing so you can be sure it's safe for them. The interior does come equipped with a few accessories like 2 wooden perches and 4 feeding cups.
In Short:
Made out of metal and metal wire
Has an angled metal sheet canopy
Features a 0.5-in wire spacing
Sits on a vintage stand with wheels
Comes with 2 wooden perches and 4 cups
BEST DIAMOND DOVE AVIARY
Aivituvin Bird Aviary With Perch
Diamond Doves Wire Spacing
Although doves can be housed in cages and aviaries with a wire spacing of 1/2-in up to 5/8-in, with diamond doves it's a bit different. They are smaller when compared to ringneck doves so they'll be safer in an aviary with a wire spacing of up to 1/2-in. This is one of these aviaries.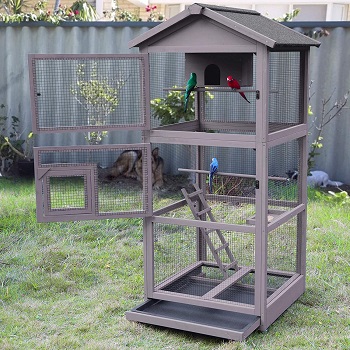 Moving It Indoors
It's made out of natural wood and wire. It has a grey finish and even though a lot of its features point to the fact that you can use it outdoors, you'll get the option of using this wooden aviary indoors as well. This is not just because of the beautiful gray finish but also because you'll get to move it easily since it sits on wheels.
Large And Small Entrances
Even though this dove aviary is not a walk-in aviary, you'll still get to access pretty much any part of it. This is due to the 2 large doors that take up 2/3 of the front side. The middle door also features a smaller built-in door that will allow you to access your birds while they're inside without having to fear they'll fly out.
Interior Space And Details
This diamond dove aviary is big enough to house multiple doves and you'll get 6.72 square feet of ground space. It's pretty tall and there are a lot of accessories on the inside as well. On top, you'll find a hide-out spot and on the bottom a ladder. It also comes with 2 wooden perches and a single wooden feeder.
In Short:
Made out of natural wood and wire
The wire is galvanized
Sits on wheels for easy movement indoors
Has a grey finish
Has 6.72 square feet of space
Comes with a hideout, 2 perches, a feeder, and a ladder
BEST WITH STAND DOVE AVIARY
Prevue Pet Products Charming Aviary
Important Height Notice
When looking at an aviary or cage that comes with a stand, usually its height takes into account the height of the stand as well. This is not a true representation of the interior height but luckily, with this aviary, the stand doesn't take much away from its actual height so it is large.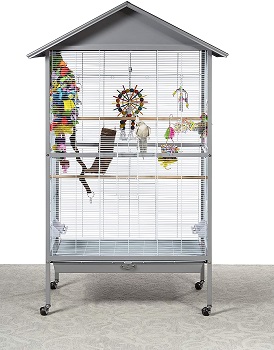 House Roof Use
It has a house rooftop and because of it, it can be considered a parakeet bird house. This top is made out of metal sheets and although it's not its primary purpose, you will get to place it outdoors and keep your birds in the shade every once in a while. You won't get to hand toys on top but you will get a bar to do that.
Dove Littering
It's a common misconception that doves litter more than other birds. The reason why you might think so and why you think it might be true is because they do have constant access to food so it's only natural that they'll litter. This dove aviary will do fine with being kept indoors and having just a slide-out cleaning tray.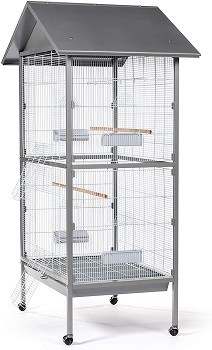 Beginner Accessories
Although it's best for you to customize the interior of the aviary on your own, if you're just starting, you might enjoy the fact that this aviary also comes with 2 wooden perches and 4 cups that have compartments for both food and water. The wire spacing of 0.5-in should be good for all types of doves.
In Short:
Sits on a stand with wheels
Has a cleaning tray on the bottom
Features a house rooftop
Comes with a bard for hanging toys
Has a 0.5-in wire spacing
Comes with 2 perches and 4 feeding cups
BEST ON WHEELS DOVE AVIARY
PawHut Wrought Metal Bird Aviary
Wrought Iron Build
So many metal aviaries that we reviewed and none of them were made out of wrought iron until now. it's a really common material used in making indoor aviaries and cages since it's a low carbon content material which makes it more durable. It does rust more easily though.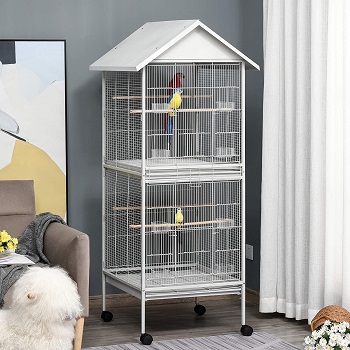 Top And Height
It has a roof house top just like the dove aviary before it. This time though, it's more of a decoration than an actual usable thing. This wrought iron bird cage 67-in tall but since it sits on a stand, it does take out some of its height. To be specific, it takes 9-in off which isn't really a lot.
Aviary Separation
What's so great about it is the fact that you'll actually get to use it as a bird enclosure as well. This is because you can place an additional cleaning tray and a wire grid in the middle to separate this aviary into two small cages. This is great for doves since they like to be partnered up with another dove since they're highly social birds.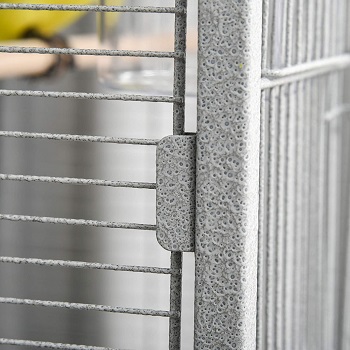 Separate Entrances And Other Details
When separated each part of this aviary comes with its own entrance. Each cage will also come with its own feeding entrance and clear cups for food and water so a total of 8 entrance and cups. Last but not least, you'll also get two perches made out of wood per cage part. The wire spacing is 0.47-in so it's safe for all types of doves.
In Short:
Made with wrought iron
It's 67-in tall with the stand on
Can be split into two living cages
Comes with 8 feeding entrances and cups
Has a roof house top
Has a 0.47-in wire spacing
How To Pick A Dove Aviary
With so many bird cages and aviaries, it's hard to find an aviary for your specific bird type, in this case, a dove aviary. In this buying guide, we'll help you figure it out on your own by providing you with the knowledge needed to choose a safe aviary for these birds specifically.
Aviary Placement – We reviewed large outdoor aviaries and indoor aviaries. The way you tell them apart is that outdoor aviaries are usually wooden while indoor ones are made out of metal. This does not mean that no metal aviaries can be used outdoors but you will have to look for ones with good quality coating finishes and metals that won't rust or corrode easily.
Common Health Hazards – Any aviary for birds will usually have some metal bits and this is what you need to pay close attention to. You should watch out for metals that rust easily since your bird can get metal poisoning even if it frequently bites on it. Another issue is lead and zinc. These are the most common reasons for metal poisoning so look for cages with materials and finishes that are pet friendly.
Aviary Use – Aviaries are never small. Of course, some are smaller than others but the whole point of an aviary is to provide our bird with a safe place to fly around so it wouldn't make sense that an aviary is small since your bird wouldn't really get some wing flaps in. you can't go wrong with aviaries since every bird should get to fly around and get the exercise it needs.
Dove Aviary Requirements – Generally, doves are small birds so the wire spacing that's safe for them is also small. Most will be safe in an aviary or cage with a 0.5-in wire spacing and a 5/8-in wire spacing. Diamond doves are smaller so go for 0.5-in wire spacing while ringneck doves are larger so they can be in a 5/8-in wire spacing aviary or cage
Further Recommendations – Doves, like most birds, are social so it would be good if you house them with a partner. That's why aviaries are excellent choices since they can house multiple birds easily. Another thing to remember is that if you can't find an aviary or cage specifically made for doves, try looking for an aviary for parakeets cockatiels, and finches since these are also small birds.
To Sum Up
We just had to recommend the Pets Imperial Stunning Wooden Bird Aviary as the best dove aviary out there. It has a hexagonal shape so it's much larger and able to house multiple doves at once, it's got a beautiful canopy that's waterproof since it's an asphalt roof, and everything else works to provide you with years of outdoor use. If you want to check out more aviaries of the same wire spacing but for different birds, we advise you to check out the article about parakeet aviaries or indoor finch aviaries.