Are you having trouble finding a parrot aviary for your specific parrot breed since there are over 400 of them?
We can help you pick out the one you like and that's made for your bird. All you need to do is keep reading this article to go through reviews of the best ones out there. We made sure to include a large variety, each one good for other birds like African greys, rainbow parrots, and even rainforest parrots.
The Summary
Best 6 Parrot Aviaries
BEST OF BEST PARROT AVIARY
Talis Large Deluxe Bird
No Health Risks
The best thing that you can do for your parrot is to get it an aviary of a cage that's made out of high-quality metal. This is because metal rusts and the rusted bits can easily cause your bird to get metal poisoning which is a very serious condition for birds. That's why this is an aluminum bird cage.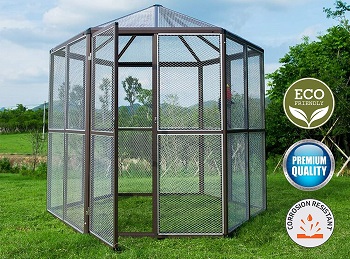 Price And Size
We do have to say that this is probably the most expensive aviary we will review but it's well worth the price of around 1200 dollars. You'll be paying for a size of 93-in in height and 95-in in length and width. it's equally long and wide because it has a hexagonal shape so it will look great as a backyard aviary as well.
Aluminum Rusting
Rest assured that your parrots won't risk problems with their health in this aluminum parrot enclosure for one simple reason and that's the aluminum. Aluminum is a metal that usually doesn't rust or corrode and even if it does, the leftover white substance or aluminum oxide is still non-toxic to birds.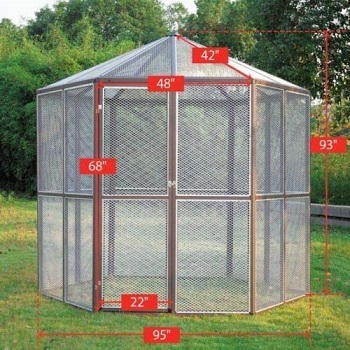 Customization And Birds
Due to the fact that it's 93-in tall, you'll easily get to walk inside this aviary and change things up or customize it with greenery and other plants. Because it's large, durable, and because of the 1-in aluminum netting, you can easily use this aviary to house larger parrots like macaws and African greys.
In Short:
Entirely made out of aluminum
The metal doesn't rust or corrode and is safe for birds
Can house larger parrots
It's 93-in tall and 95-in long and wide
Has a hexagonal shape
You can easily walk inside it
BEST CROWN PARROT ENCLOSURE
A&E Company Small Walk-In Aviary
Crown Parrot Specification
What we mean when we say crown parrots are birds like cockatiels and cockatoos that have beautiful crowns sitting on the top of their head. With this aviary, we had in mind cockatiels. Cockatiels are smaller birds and do well in cages and aviaries with a wire spacing of up to 0.6-in. This one has a 0.5-in wire spacing.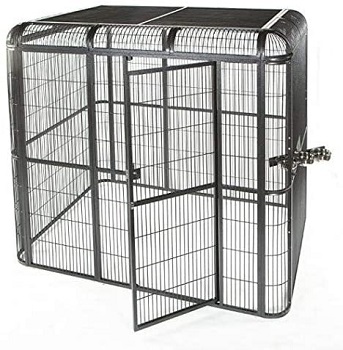 Where To Put It
Smaller birds and parrots specifically don't need that big of a space to safely get their daily exercise. That's why this aviary is considered to be a small indoor parrot cage. You can still easily walk inside it through the single door. This crown parrot aviary is 79-in tall, 61-in long, and 85-in wide.
Metal And Finish
Another reason why it would be a lot safer to use it indoors or at least on a backyard patio or sunroom is that the metal that's used to make it is not specified and you don't want to endanger your bird. It does have a quality powder coating finish that's not toxic to birds.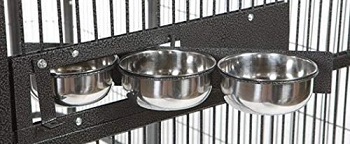 Lock Safety
You won't have to worry about your birds escaping this bird aviary through the large walk-in door. This is because the door doesn't just lock with a simple hasp latch lock but it also locks with a key. There's not a chance that your birds will ever reach there and unlock it.
In Short:
The metal is powder-coated
It's 61-in long, 85-in wide, and 79-in tall
Can be used indoors
The door additionally locks with a key
Has a wire spacing of 0.5-in
Can house smaller parrots like cockatiels
BEST INDOOR PARROT AVIARY
PawHut 44 Hexagon Covered Canopy Aviary
Why It Looks Good
This is probably the most beautiful aviary that you'll see for a plethora of reasons. The first reason being that it has a hexagon shape that comes with its own set of benefits, the second being that it features a lovely canopy rooftop, the third on is the stand, and last is its grey and white color.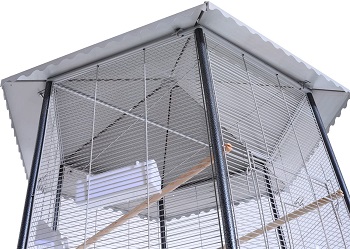 Stand Contents And Looks
The stand that comes with this model is actually an antique bird cage stand. This is because it's hollow but also has curved legs. It's not here just for its looks though. You'll also get wheels to easily move it indoors and a wire gird where you can store bird supplies.
Canopy Functions
The canopy is not just here to look pretty though. It's angled and is made out of metal sheets. If you choose to use it outdoors your birds will be kept in the shade and when it rains, the water won't build up on top but rather, it will slide down and fall to the ground since it extends from the edges of the actual parrot enclosure.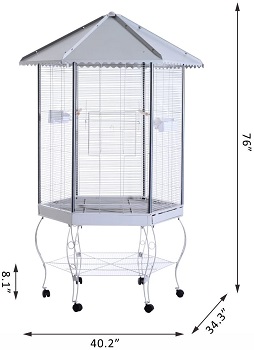 More Interior Space
It comes with a lot more interior space because of the simple fact that it's hexagonal. This means that its width and length are the same and they're 44-in. The wire spacing is 0.5-in so you'll get to use it to house parakeets and other birds of similar size. We do recommend it for indoor use just because it's that beautiful.
In Short:
Has a hexagon shape
Colored in white and grey
Has an angled canopy on top
Comes with an antique stand with wheels
Has a 0.5-in wire spacing
It's 44-in long and wide
BEST AFRICAN GREY PARROT ENCLOSURE
FlyLine XXL Bird Aviary
Figuring Out The Cage To Get
There are two factors that come into play when deciding how big of a cage you need to get for your bird. The first one is more obvious and you can easily figure it out. We're talking about the wire spacing here. The second one is your birds' wingspan. The cage you get should be at least 2 times larger than the wingspan.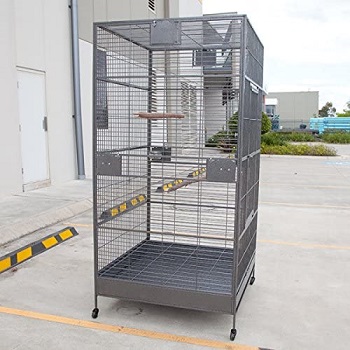 Size According To Wingspan
African greys have an adult wingspan of approximately 18-in so you'll need to double this to get an aviary of the perfect size. Luckily, this parrot aviary is 40-in long and wide so it's perfect for them. it' also 80-in tall and weighs 120 lbs but it comes with wheels for easy movement.
Cleaning And Safety
We say it's an African grey parrot aviary because of the wire spacing of 1-in which is great for them. You can be sure that your parrot won't pull its head through or get its wing caught in between the spaces. You will easily get to clean this aviary because of the bottom slide-out cleaning tray.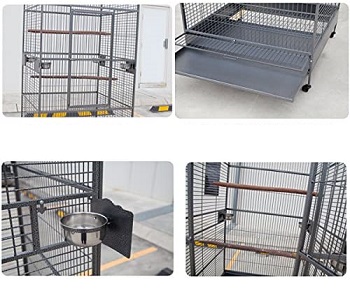 The Front And Sides
The front side of this aviary features a large entrance for you and your bird to access the inside. You'll also get 3 smaller doors on each side. The bottom two doors are feeding entrances and you'll get to place the stainless steel bowls there while the one on top is a breeding box entrance. You'll also get two natural perches with it.
In Short:
It's 40-in long and wide and 80-in tall
Has a 1-in bar spacing
It weighs 120 lbs
Sits on wheels for easier movement
Comes with a cleaning slide-out tray
Features feeding entrances and breeding entrances
BEST RAINBOW PARROT AVIARY
Prevue Pet Products Charming Aviary
Parrot Breed We're Talking About
The specific breed of rainbow parrots, since there are a lot out there, we're reviewing this aviary for rainbow lorikeets. They aren't that small of birds but still, the maximum allowed wire spacing for them is 0.6-in. This one is a bit safer than that with its 0.5-in wire spacing.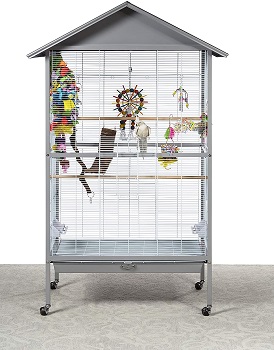 Roof Use
It is a parakeet bird house which only meant that it has a house roof-covered top. It's made out of metal sheets so if you choose to place this parrot aviary outdoors, your bird or birds will be kept in the shade. A problem would occur if it didn't come with a hanging bar for toys since it doesn't have a top you can hang them on.
Home Fit
It doesn't weigh as much as the previous aviary but the 70 lbs would still be difficult to move if it didn't sit on a stand with wheels. Primarily, you should use it as an indoor aviary not just because of the quality of its built but also since it features a lovely pearl grey color.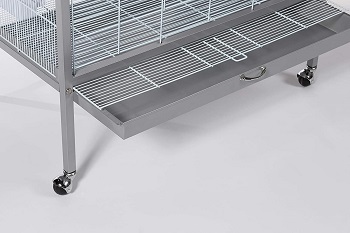 Other Details
Apart from the wheels and a toy hanging bar, you'll also get a slide-out cleaning tray on the bottom, and 2 perches, and 4 feeding cups on the inside. You'll get to place the cups onto the feeding entrances of this rainbow parrots aviary so that you can quickly and safely refill your birds' food and water supplies.
In Short:
Has a 0.5-in wire spacing
Made to house birds like rainbow lorikeets
Has a house rooftop
Made with metal sheets
Sits on a stand with wheels
Weighs 70 lbs and has a pearl grey color
Comes with a toy hanging bar, perches, and cups
BEST OUTDOOR PARROT ENCLOSURE
Paney Large Aluminum Bird Aviary
First Aviary Comparison
We made this article so that the best were first and last to be reviewed. Come to think of it, this aviary is actually a lot like the first one. It's made out of aluminum metal so that's why. It doesn't have a hexagonal shape though but rather it looks like a house with its two-sided angled roof and 4 bottom sides.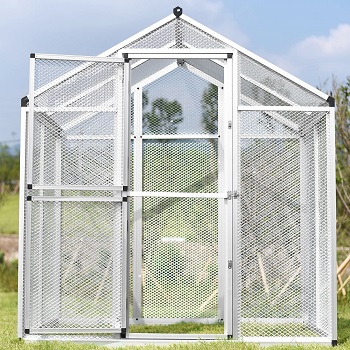 Entrances Design
It is somewhat smaller than the first parrot enclosure we reviewed but it's still large enough for you to easily walk inside You'll get to go inside through the single large doors that are located a bit to the right. It extends all the way from the bottom to the highest point which means it's 62.9-in long but it's actually 3 doors 2 are built into the large one.
Reasons For Outdoor Use
It's simmilar to other outdoor aviaries for parrots since its frame and netting are made out of aluminum. aluminum is not the material to rust, corrode, or easily bend, and even if it were, when it rusts and corrodes, it produces a white substance that's actually rust that won't harm your birds if they ingest it.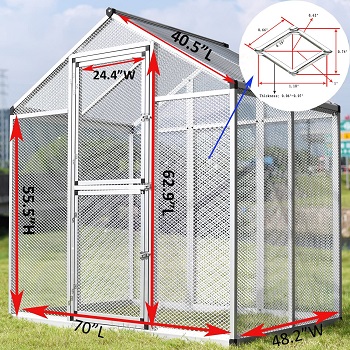 Solutions To Problems
You might have some trouble with assembly due to its size and instructions on how to do it We'd definitely recommend you get help with it. Another issue might be that some parts of the cage are quite sharp so the simple solution to this if you do notice it would be to sand it and smooth it out.
In Short:
Has an aluminum frame and netting
Designed for outdoor use
Features 2 doors built into the large door
Has a square shape and house roof
The highest point is around 63-in tall
How To Pick A Parrot Aviary
With so many parrot breeds, it might be difficult to find an enclosure for parrots that are safe enough for your birds specifically. We're here to provide you with all the information needed so that you can choose a cage on your own and be the one to judge its quality and safety as well.
Figuring Out Aviary Size – The more complicated way to figure out what size of aviary your bird will need is to check out their wingspan when they're adults. The aviary you're looking at should at least be 2 times bigger in all dimensions than that wingspan but it doesn't hurt to go bigger.
Aviary Function – You might get a better sense of just how big aviaries can and should be if we tell you their main purpose. They are made to allow your bird to fly around freely and safely so it's no wonder that some are around 100-in tall long and wide. Even you can fit inside the walk-in aviaries.
Parrot Wire Spacing – To know for sure what wire spacing is safe for your specific parrot, the best thing you can do is to check online. We'll tell you that it's important by saying that a too wide wire spacing can be incredibly damaging to a bird because it can get its wings stuck or pull its head through and escape.
Birds And Parrot Problems – There are so many parrot types out there. There's a total of 402 parrot species so it's hard to know each time what are the cage requirements for your species of parrot. You can generalize though and check out the recommended wire spacing for commonly domesticated birds. For small birds, go with parakeets, for medium ones, go with mini macaws and cockatiels and for larger birds, you can look at African greys or large macaws.
Best Materials To Use – What material is gonna be good for your aviary all depends on if you plan on getting an indoor or an outdoor parrot aviary. Outdoor ones are the focus here since they can easily corrode due to constant contact with rain which can cause metal poisoning in birds. The safest materials to use will always be aluminum and stainless steel.
To Sum Up
We did say that the safest parrot aviary that you can get should be made out of aluminum so that's why we decided to recommend the Talis Large Deluxe Bird as the best. Aluminum is a metal that doesn't rust and if it does, the rusting bit is safe for birds to ingest. It's also so large that you can easily walk inside it and customize how it looks on the inside. If you want to check out options for parrot cages we advise you to either read the article about outdoor parrot cages or about small parrot cages.