Have you recently decided that your parakeet or parrotlet is ready for a new small parrot cage?
Do you need help picking one out?
We can help with both if you keep reading this article where we only reviewed the best ones we could find. We didn't just review these cages though, we carefully chose each cage so that almost every type of cage is represented. That's why you'll find hanging, large, travel, and even more different cages here.
The Summary
Best 6 Small Parrot Cages
BEST OF BEST SMALL PARROT CAGE
Kings Cages Aluminium Cage
Main Dimension
Although this is a small cage, it's actually meant to house larger parrots. It's should only be used for traveling since it's too small to actually permanently house any bird. It's around 29-in long which is really impressive because not a lot of travel cages have this large of a length.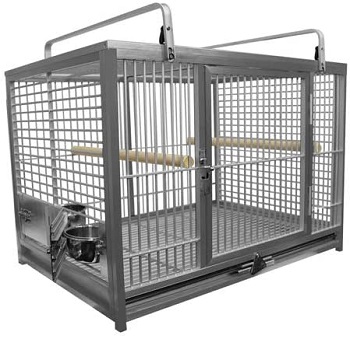 Consequences Of  A Short Cage
With travel cages, their length should be the most important dimension because that will determine whether or not your parrot can fit inside it. If you put your parrot inside a cage that is shorter than them you'll risk them ending up with a bent tail. This cage is designed for larger parrots like macaws.
Incredible Metal Safety
The best thing about this parrot small cage though is the fact that it's an aluminum bird cage. Aluminum is a great material of choice when it comes to housing birds because it doesn't rust. Even if it would, the white substance residue would still be safe for ingestion by birds.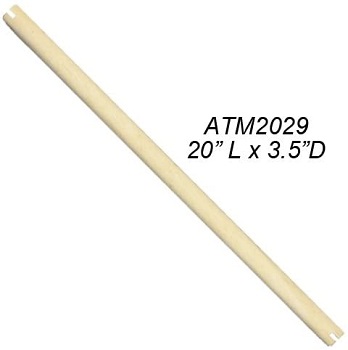 Spacing And Extras
It has a 5/8-in bar spacing so you can actually use it to house birds like cockatiels as well. The interior comes equipped with 2 wooden perches and 2 bowls for food and water. These bowls can be placed on their own small feeding entrances found on the left side. The main entrance can be found in the front.
In Short:
Made out of aluminum
Aluminum rust is safe for birds to ingest
Has a 5/8-in wire spacing
It's around 29-in long
Can be used to contain larger parrots
Comes with 2 perches and bowls
BEST WITH STAND SMALL PARROT CAGE
Vivohome Wrought Iron Cage
Dimension Perfection
If we had to choose a type of parrot this cage would be best for, we'd definitely recommend it for quaker parrots. The reason why is that it has the perfect minimum cage size recommendation dimensions for them which are 17.9-in in length and width.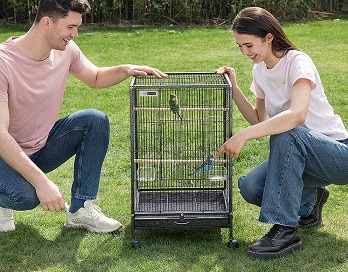 Metal Build
It's made out of wrought iron and the first benefit of this material is that it's a lot cheaper than let's say aluminum that we previously had a cage be made of. It's more durable than ordinary iron because of its low carbon content but it does rust easily just like regular iron does.
Finish Looks And Abilities
The finish that will, in the end, protect the metal and your bird is a hammertone finish that makes it resistant to rusting and corrosion. This finish also enhances the way it looks because of the specific color that combines a few colors to give it that distinctive, hammered paint look.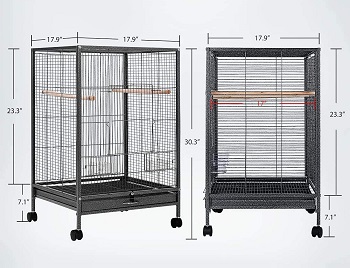 Wire Spacing
This small parrot cage with a stand definitely has one of the weirder wire spacings. That's why we were so specific with the type of birds it can house because it's a 0.8-in wire spacing cage. This wire spacing is unsafe for small birds like budgies but is great for most medium-sized parrots.
In Short:
Made with wrought iron
Has a 0.8-in wire spacing
It's 17.9-in wide and long
Sits on a stand with wheels
Has a hammered paint finish
It's rust and corrosion resistant
BEST TRAVEL SMALL PARROT CAGE
Prevue Pet Products Travel Carrier
Travel Cage Rules
If you know anything about cage sizes for birds it's time t forget all about it. With a bird travel cage, you want to only make sure that the bird is not longer than the cage. You should also worry about not making the cage too long because your bird is going to move a lot inside then which might make the bird more stressed.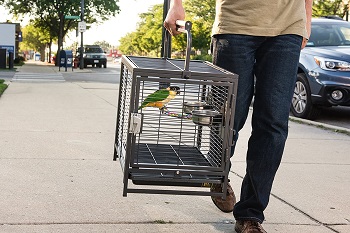 Important Dimensions
The reason why you'd want to avoid getting a cage that's shorter than your parrot is because the parrot might then end up with a bent tail. This one is around 19-in long so it will be able to fit most parakeet and parrotlet species inside. It's also around 15-in wide, and 18-in tall.
Seatbelt Fastening
As we mentioned earlier, a small parrot travel cage that moves a lot during transport is going to make your bird more stressed than it already is. That's why it's good that you'll get to fasten this parrot travel cage with a seatbelt. This is thanks to the bracket in the front that's welded onto it.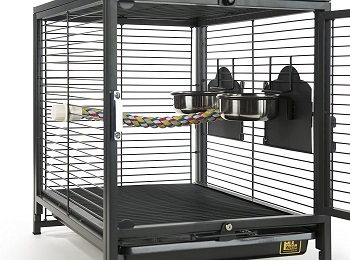 Wire And Extras
It has a 0.5-in wire spacing which we already mentioned is great for small parrots. On the inside, you'll get to place a total of three things. One is the perch made out of rope that can be twisted and shaped however you'd like and the other 2 are the bowls for food and water. The top handle can be used as a perch as well.
In Short:
Has a 0.5-in wire spacing
Has a bracket for seatbelts
Comes with a rope perch and 2 bowls
It's around 19-in long, 15-in wide, and 18-in tall
The carry handle acts as a perch
BEST HANGING SMALL PARROT CAGE
Prevue Hendryx Designer Cage
Small But Perfect
With small birds, you also have the benefit of getting a small cage. Of course, the cage size depends on the minimum cage size requirements for your specific type of parakeet or parrotlet but this cage should cover all of them. It's 18-in wide and long and 25-in tall.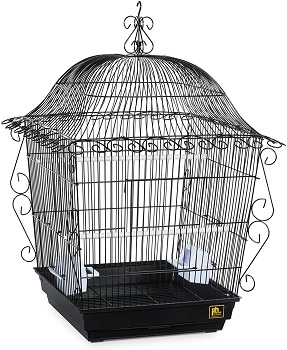 How You Can Use It
Of course, it'll be easier to place it somewhere in your home but to make it even nicer looking, you'll get the option to hang it someplace. You could either hang it on a ceiling or its own stand but you'd have to buy the stand separately. The hook used to hang this vintage hanging bird cage is decorated with wire bits.
Wonderful Details
The most wonderful thing about this small parrot cage is its looks. It has many small wire details on its outside edges and the edges of the roof. It also has angled sides and a beautiful curved top. The bottom is made out of plastic and it acts as a deep base that features a small slide-out tray for cleaning.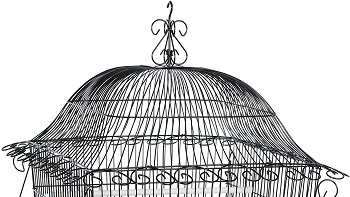 Who Can Use It
It might not be suitable for all small birds but most will still do just fine in it. It has a 5/8-in wire spacing so you could use it to house cockatiels and other similar-sized birds. Even though the top is somewhat rounded, it's still healthy for birds because it has cornered sides.
In Short:
Can be hung on a ceiling or a stand
It's 18-in long and wide and 25-in tall
Has a 5/8-in wire spacing
The sides are angled
The top of the cage is curved
Has a plastic base with a cleaning tray
BEST ON WHEELS SMALL PARROT CAGE
Lilithye Stainless Steel Small Cage
Incredible Safety
If the aluminum cage we reviewed before was the king of safety, then a stainless steel bird cage like this one would definitely be the prince of safety. You won't require a coating finish to protect it from rusting because it's already amazingly rust and corrosion-resistant on its own.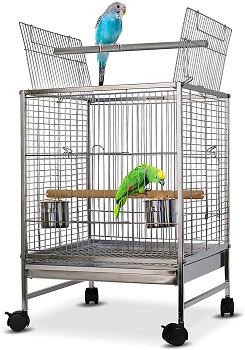 Birds It Can House
This parrot cage small model is a few inches smaller than the cage previously reviewed and even though it's not a big difference, it makes a big difference in terms of which birds you can house inside. We'd best recommend it for budgies and other birds of similar size like canaries.
Cage Stability
It's 14.1-in long and wide and 25.9-in tall. This height does include the height of the stand with wheels it sits on. These wheels are the only plastic thing about it and you can even lock each one of these wheels to better set the cage into place even though it only weighs 8 lbs.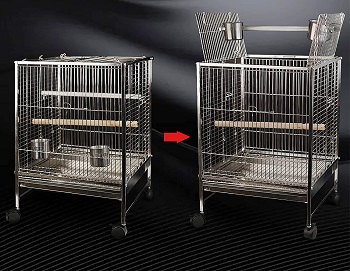 Top Contents
The top of this cage actually acts as a rest area. You can open the two entrances and place a perch between them to keep them open. If you'd ever like to travel with this cage, you can also do so by carrying it with a top handle. The doors won't open because they lock with safety buckles.
In Short:
Made out of stainless steel
Sits on a stand with lockable wheels
Best for housing small parrots
It's 14.1-in long and wide and 25.9-in tall
Has a top rest area
Can be carried with a top handle
BEST CHEAP SMALL PARROT CAGE
Petco Brand You & Me Flight Cage
What Is It
We rarely get the chance to review a small flight cage but they are just as important as large and extra-large flight cages. The description still fits. It's wider than it is long, and it's not meant to fully replace your birds' need to get their exercise and fly around daily.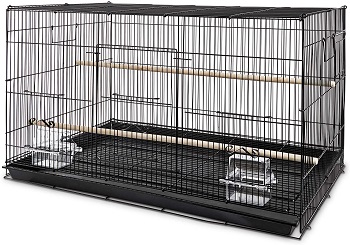 How It's Made
The way it's built is very common for cheap cages in general. It has a full wire body without a metal tube frame, and it has a plastic bottom base. The base is just the slide-out cleaning tray that has deeper edges. It slides into the hole in the wire body and on top of this tray, you'll find a wire grid.
Door Locations
The doors can be found in the font, on the left and right as well. Mainly, they're concentrated in the front where you'll find the main entrance and 2 smaller feeding entrances. On the left and right sides, we'd dare say that these can easily be breeding box entrances as well.

Accessories Details
The feeding entrances can hold cups for food and water that will make refilling them easier. What will also help is the fact that these are clear cups so you can always monitor how much food and water is left inside them. This small parrot cage also comes with 2 long and wooden perches.
In Short:
Has a full wire body
Features a plastic cleaning tray
Has 2 feeding entrances
The main entrance can be found in the front
Comes with 2 perches and clear cups
How To Pick A Small Parrot Cage
With so many parakeet and parrotlet species around, it might seem hard to choose the right bird cages for small parrots. We'll try and make it as easy as possible in this buying guide. What we'll do is go through the basics of bird cages and the specifics of small bird cages to make you better understand them.
Should You Keep It Small – If you don't have the space to buy a large cage for your parrotlet, you can opt for a smaller cage. You will have to make sure that the cage has dimensions that fit the minimum required for your specific type of bird but these dimensions are sort of a reference guide.
Going Big – By going big with a cage, you're guaranteed to make your small parrot happy. This rule can apply to any bird or parrot. By going bigger, you will have to make sure that the cage is safe for small birds. A large cage for small birds would be considered a cage that has x2 of the minimum cage size requirement for your bird.
Travel VS Indoor Cages – With travel small parrot cages there is such a thing as too big and there is also such a thing as too small. With a cage that's too small, you're risking your bird ending up with a bent tail and with too big of a cage, you'll risk them moving a lot during transport which will make them more stressed. A cage that's around 3-4 inches longer than your parrot should be fine.
Small Bird Cage Requirements – With cages for small birds you don't have to worry all that much about the durability of the wire since these birds don't have strong beaks. The focus is to get a cage with a wire spacing of up to 5/8-in, depending on the size of your bird. Most will be the safest inside a cage with a 0.5-in wire spacing though.
To Sum Up
Since having a bird cage for the indoors should be number one on everyone's to-do list, we decided it was best if we'd recommend the Vivohome Wrought Iron Cage as the small parrot cage we think you should definitely get. It has a pretty sturdy wrought iron construction and even though it's small, it's still large enough to house some medium-sized parrots. If you're looking to get bigger parrot cages, we advise you to read the articles about either large macaw cages or cheap parrot cages if you're on a budget.