Have you decided to get a love bird or do you already have one and want to upgrade to the perfect bird cage for lovebirds?
You can it fast if you first continue reading this article where we reviewed cages that are made specifically for lovebirds. You can be sure that they're going to be safe inside every one of these cages. To keep things and reviews interesting, we've even placed them into categories so that you can read about large cages, small, cages, breeding cages, and many more.
The Summary
Best 6 Cages For Lovebirds
BEST OF BEST LOVEBIRD CAGE
Featherland Paradise Large Folding Cage
Metal Used
There are many features on this cage that make it the best but the first and most obvious one is that it's made out of stainless steel. Stainless steel bird cages are great because the chance of it rusting and/or corroding is lesser which automatically makes your bird safer because there won't suffer metal poisoning easily.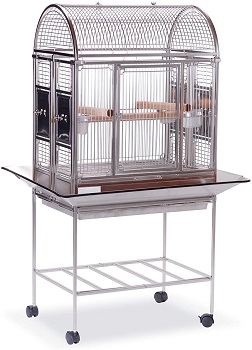 Cage Relocation And Storage
It's definitely not every day that you can find a bird cage that can be folded down so that you can store it or easily transport it elsewhere but this is one of those lovebird cages. Apart from having a folding design, you can also relocate it using the 4 wheels on the stand it sits on. 2 of the wheels can be locked.
Doors And Panels
The panels that make this cage and the doors it features are all-welded to give even more durability to this cage. The main access door has a bird-proof lock and it's even a self-locking door in case you ever forget to lock it on your own. The 4 smaller entrances can be found on the left and right sides and act as feeding entrances.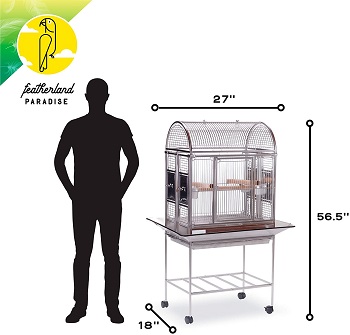 Wire Information
The wire spacing of 0.5-in not only makes it great for housing lovebirds but also great for housing small birds like budgies, canaries, finches, and other similar size birds. The wire has a 9 gauge so you can be certain that your lovebirds won't get to bend the wire and escape through it.
In Short:
Made out of stainless steel
Has a 9 gauge wire build
Panels and doors are all-welded
The lock on the front entrance is bird proof and self-locking
Features a 0.5-in wire spacing
Sits on a stand with lockable wheels
Can be folded down for storage and transport
BEST LARGE BIRD CAGE FOR LOVEBIRDS
A&E Cage Co. Double Flight Cage
Putting Its Size Into Perspective
The reason why this cage is so big is that it's a double flight cage. It's 64-in wide which means that it's as wide as 2 large single-flight cages. It's also 65-in tall and 21-in long. The height of 65-in takes into account the height of the stand it sits on. The stand has 6 wheels and a wide storage grid for bird supplies.
Flight Cage Function
Flight cages are usually meant to be wide and not nearly as long or tall since birds fly left to right. It's not meant to completely replace an aviary or outdoor cage time that the birds will use to fly around and get their daily exercise. Due to its size, you can house multiple lovebirds inside this cage.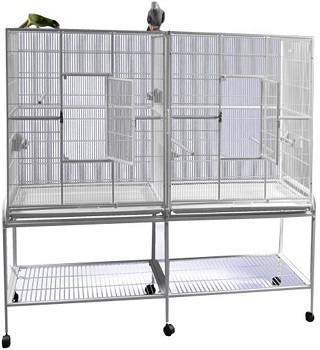 Cage Parts And Their Details
You can place a divider in the center of the cage to divided it into two separate ones. Each cage part features its own front entrance and 2 feeding entrances. You'll get to place one plastic feeding station on each door. Each part of this large lovebird bird cage also comes with 2 perches that are made out of wood.
Breeding Cage Details
Because each cage part has its own breeding box door and the fact that it comes with a removable cage divider, it's easy to think of it as a breeding cage for lovebirds. It has a 0.5-in wire spacing meaning it can easily and safely house lovebirds, canaries, cockatiels, and many other similar-sized birds.
In Short:
Acts as a double flight cage
comes with a cage divider
It's 64-in wide, 21-in long, and 65-in tall
Has a stand with 6 wheels and a wire storage grid
Has a 0.5-in wire spacing
Features 2 breeding box doors
Comes with 4 feeding stations and perches
BEST DOUBLE LOVEBIRDS CAGE
PawHut Rolling Metal Bird Cage
Going Big With Small Parrots
Just because these cages are intended to house small parrots surely doesn't mean that you can't go big. In fact, if you can go big, it is recommended that you do because any parrot just like lovebirds will appreciate the extra space. This cage is as big as 2 flight cages which makes it a double flight cage that's around 64-in wide.
Flight Cage Function
As we said, this double cage for lovebirds doesn't have to be small and you will rarely find a flight cage that's considered to be small either way. Flight cages are made to give your bird more room to fly around inside but they shouldn't replace outside cage time fully.
Stand And Cage Interior
Due to its stand, it's almost as tall as it is wide. Overall, it's 62.75-in tall but you can actually remove it from the stand that features 6 wheels and a wide wire grid for storing bird accessories. The interior that doesn't include the height of the stand is 33.75-in tall which is enough height for any small bird.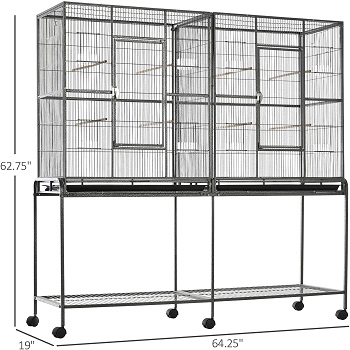 2 Cages In One
What we didn't already mention is that it comes with a divider that you can easily remove, This divider is located in the center and splits the cage into two equal parts. Each cage part then has its own main entrance, 4 feeding entrances, cups, and perches. It has a small bird-safe, 0.5-in wire spacing.
In Short:
Acts as a flight cage
It's around 64-in wide
Comes with a removable center divider
Each cage part has its own main door, and 4 feeding doors
Comes with 8 perches and 8 feeding cups
It can be removed from the stand
The interior is 33.75-in tall
Has a 0.5-in wire spacing
BEST FLIGHT CAGE FOR LOVEBIRDS
PawHut 44″ Hexagon Cage
What Is It
With flight cages for smaller birds, it's very easy to confuse them with aviaries. Some can function as both and this is one such cage. Usually, aviaries are both wide and long and can easily replace your birds' needs for exercise fully. This is not one of those aviaries so it's best to think of it as an extra large flight cage.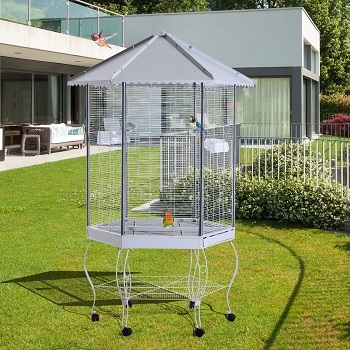 Visual Features
If you'd really like for your cage to blend well inside your home you might like the fact that this is a hexagon-shaped cage. It also sits on an antique bird cage stand and it even features a metal sheet canopy. To top it all off, it's colored with a light grey and white color.
Can It Be Used Outdoors
The metal sheet canopy on this cage for breed named lovebird will provide your birds with shade from the sun if you ever decide to place it outdoors. You could also use it to keep your birds from getting into direct contact with rain but we wouldn't exactly recommend you do it all too often since it's mean to be used as an indoor bird cage primarily.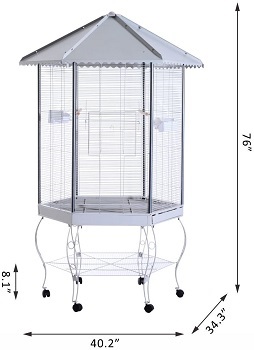 Interior Spaciousness And Wire
Due to the hexagon shape, its interior is much more spacious than the interior of a rectangular flight cage. This is true because it's equally wide and long. It's 44-in wide and long and overall 79-in tall. It has a 0.5-in wire spacing which means it's safe for lovebirds and many other small birds like budgies.
In Short:
Has a hexagon shape
It's 44-in wide and long
Has a metal sheet canopy
Sits on an antique stand
Has a 0.5-in wire spacing
It's colored with light grey and white
BEST WOODEN LOVE BIRD CAGE
PawHut 69″ Large Wooden Aviary
Wood Type Benefit
Most of the cages that are made out of wood are designed to be used outdoors. that's because the wood used to make most of them handles exposure to moisture well. One of these woods is the fir wood that makes up most of this cage. What's so great about it is that it always goes back to its original form even when it shrinks or expands.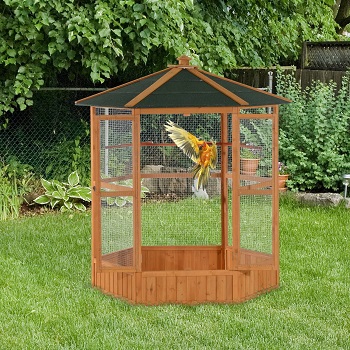 Use And What It Is
If you thought that the hexagon-shaped cage we reviewed before was nice looking, you'll then adore how this one looks and can fit inside any garden. It also features a hexagonal shape and a canopy but it's made out of wood and designed only for outdoor use. You can think of it as a wooden aviary.
The Size Of It
This wood lovebird cage is 59.1-in wide and long and 65-in tall. The door to access the interior is actually a double door that's 51.2-in tall and 26-in wide. What this means is that you can partially step inside this cage and change a few things up when you need to since it is large and an aviary.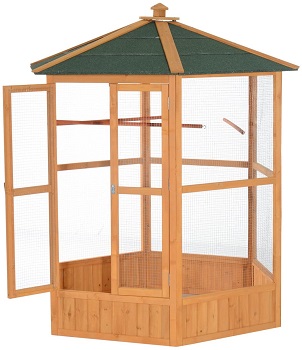 Weather Resistant Bits
The canopy on top is an asphalt roof and what it is is that it's actually waterproof. This will help keep your bird or birds dry when it's raining and will also keep them in the shade during sunny weather. The wire is galvanized which means that it's also weatherproof by being resistant to corrosion and rust.
In Short:
Made out of fir wood
Can act as an aviary
Designed for outdoor use
Has a waterproof asphalt roof
Has a 2-door main entrance
It's 59.1-in long and wide
Has a hexagon shape
BEST BREEDING BIRD CAGE FOR LOVEBIRDS
Yaheetech 2 Stackable Breeding Cages
Dimension Details
If the double flight cage we reviewed before could be considered a large breeding cage then this one can be considered a small breeding cage. It's 37.6-in long, 18-in wide, and 41.5-in tall. It does sit on a stand so 5the actual usable interior height is 20.5-in. The stand features 4 wheels for moving and a bird supply storage grid.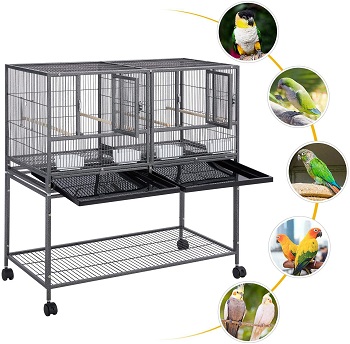 2 Cages In One Pack
If you'd like, you can remove the cage from the stand but it's not like you'll get to remove one cage. With this breeding cage, you'll actually get a pack of two cages that you can stack on top of one another. What this means is that you'll easily get to mate 2 lovebird pairs, each inside their own cage.
Cage Splitting
When introducing your lovebirds to one another, It's good to be able to rely on a cage divider in case your birds end up having a fallout or they just aren't compatible straight away. Both cages have this divider that you can easily remove when you want to. Each cage part has its own entrance and feeding entrance.
Finish And Wire
When you can't control the metal used to make lovebird breed cages what you can control to make it safer is the coating finish. You should focus on getting a finish that's pet safe and that won't chip or crack. Powder coat finishes in this cage would do well. It does have a 0.4-in wire spacing which is narrower than what we've seen on the other cages but it's still safe for lovebirds.
In Short:
Comes in a pack of two cages
The cages can be stacked
The stand with wheels is detachable
Has a 0.4-in wire spacing
Comes with a removable divider
How To Pick A Bird Cage For Lovebirds
It's easy to choose the best cage for your lovebirds if you have the right information to work with. You should first get familiar with the smallest cage you can get them, then it's time to turn to wire safety and general cage safety for birds. All of that and more can be found in this useful buying guide.
Lovebird Cage Size – Just like a quaker parrot cage, a minimum sized cage for these birds should be at least 18-in long, wide, and tall. These are just general guidelines for cages and can slightly differ from the real size. Of course, it can't eve hut to go bigger with a cage for any bird, and the same reigns true for lovebirds.
Lovebird Size Category – Lovebirds, just like cockatiels, belong to both small and medium-sized birds. That's why you can house them in cages with a wire spacing of up to 0.5-in. This is why they're small birds but they're also medium-sized birds since they can fit inside a cage with a wire spacing of up to 5/8-in.
How They Behave – If you get a pair of lovebirds, you have to know that they won't bond with you as much as you might like. If you get a single lovebird, then the bond is more likely to happen but you'll need to spend a lot of time with your bird. They're very social and they tend to chirp a lot as well.
Cage Safety Generals – When you've found a cage with a safe for lovebirds' wire spacing, you should then direct your attention to the material used to make a cage. An iron or wrought iron cage should be just fine but if you want your birds to be completely safe, you can always get stainless steel or an aluminum cage.
To Sum Up
We were really impressed with the looks and size of the PawHut 44″ Hexagon Cage and that's why we'd recommend it as the best lovebird cage. It's not only big because it's 44-in long and wide, but it also looks amazing because of its hexagon shape, top canopy, and antique stand it sits on. If you'd like to check out cages for similar-sized birds we'd advise you to either read the article about large cockatiel cages or African grey parrot cages.