Want to up your game in the home decor department by getting a decorative wooden bird cage?
Be sure to continue reading this article then and you're bound to find one you'll like. The simple reason why is that we made sure to review ages in different categories like round, hanging, and even outdoor models. There's a cage suiting everyone's taste here.
The Summary
Best 5 Decorative Wooden Bird Cages
BEST OF BEST DECORATIVE WOODEN BIRD CAGE
Birdcages Rectangular Bird Cage
Bamboo Benefits
The two main benefits of bamboo wood which is the main build material of this cage is that it's light and highly flexible. Its flexibility isn't used to its full extent here since this decorative wooden bird cage has a rectangular shape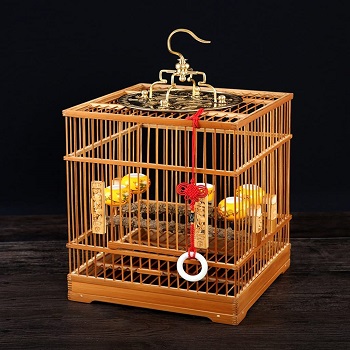 Cage Shape
With the rectangular shape, this can easily mean that you can actually house a bird inside it but due to the cat that it's 9.4-in long, wide, and 10.2-in tall, it's too small for even the smallest of birds to be housed inside permanently but not for short periods of time. It'll do well as an outdoor bird feeder as well.
Cage Size
Keeping in mind that it's small, has one entrance in the front and it is made out of bamboo wood, you can choose to use it outside for wild birds to feed themselves. You can place the food in the 2 porcelain food containers that you'll get with this small bird carrier.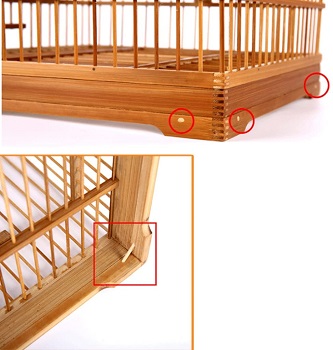 Accessories It Comes With
The cage comes with a perch as well but in case you want to use it for decorative purposes only, you should know that the cage is not glued except for the door. It has a metal hook on top that will allow you to hang it someplace in your home.
In Short:
Made with bamboo wood
Can be used inside and outside
Has a rectangular shape
It's 9.4-in long and wide and 10.2-in tall
Features 2 feeding cups and a resting perch
BEST ROUNDED DECORATIVE WOODEN BIRD CAGE
Kuandarm Wooden Bird Cage
Wood Carvings
It's hard not to appreciate the full wood, carved decorations of this cage. The decorations feature carved Chinese dragons and floral patterns that, with the bamboo wooden build, make sense for this, more of an eastern style vintage decorative bird cage so if that's your thing, this is the cage for you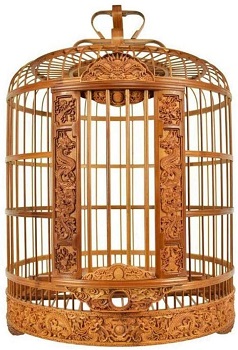 Bamboo Strips
A few of the bamboo strips are bent and make the sphere on top where the hook will go to allow you to hang the cage anywhere you'd like, like on a ceiling or stand. By anywhere we mean that you can either place it outdoors or indoors if you'd like.
The Bottom
The discreet legs on the bottom of this bird cage made out of wood for decorative purposes make it have an elevated design which means that you don't have to just hang it. You can lay it on a flat surface and it'll serve its decorative purpose just as well as it would hanging.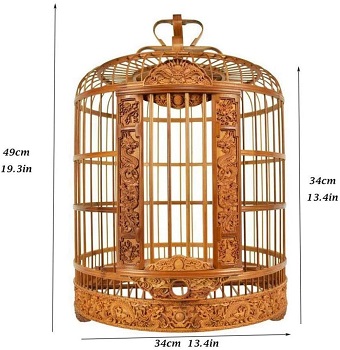 Wire Spacing And Size
Since this decorative wooden bird cage is rounded and the thin bamboo strips that act as wire have a huge spacing, you won't get to use it to house pet birds inside. It' has a 13.4-in diameter and overall, at its highest point, it's 19.3-in tall so it's pretty big for decorative cage standards. It can house birds though, you can use it outside as a wild bird feeder.
In Short:
Made with bamboo wood
Has Chinese dragon and floral carved decorations
It's rounded
Has a 13.4-in diameter and it's 19.3-in tall
Has an elevated bottom design
Can be hung on a ceiling or stand
BEST INDOOR DECORATIVE WOODEN BIRD CAGE
Plyfuns Wooden Hand Crafted Bird Cage
3 Materials
The frame and cage bottom make this model a wooden decorative bird cage. The bottom is also wooden and is made up of two pull-out compartments that will allow you to clean it easily. It has a plexiglass bird cage seed guard and the sides are made out of metal wire.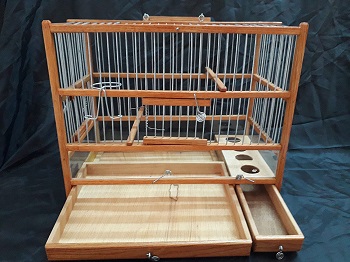 Cage Proportions
It's 15-in long, 11-in tall, and 9-in deep which makes it of an appropriate size to house smaller birds. You can use it as a small parakeet cage or a finch and cockatiel cage. It has a small entrance in the front made out of wire and with a wooden frame and the same on the left side.
Cage Extras
It has a cup holder made out of bent wire, 2 wooden perches that are squared, and on the outside top, you'll find two small wire loops that allow you to hang it someplace. Since the hooks are not centered, it will have to hang with the back laying on top of a flat surface.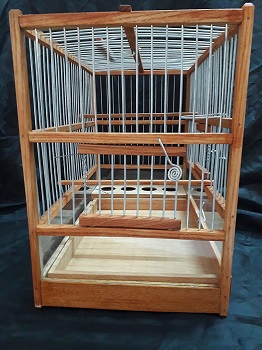 Diameter And Height
Although there are 2 wooden compartments that you can pull out, the cage still features a bottom also made from natural wood. The outside wooden frame is painted with a natural but darker finish while the inside doesn't feature a finish but is instead, light natural wood colored.
In Short:
Made out of natural wood
Has a plexiglass bird cage seed guard
Features wire sides
Has an entrance in the front and an entrance on the side
It's 15-in wide, 11-in tall, and 9-in deep
Can be hung on a flat back surface due to two back top hooks
BEST OUTDOOR DECORATIVE WOODEN BIRD CAGE
Znzn Bamboo Handmade Decor Bird Cage
Bright Color And Placement
With its light yellow bamboo color, this cage is bound to brighten any room up. What's even better is that you can hang it using the hook found on top for a creative way to make it work with your home interior.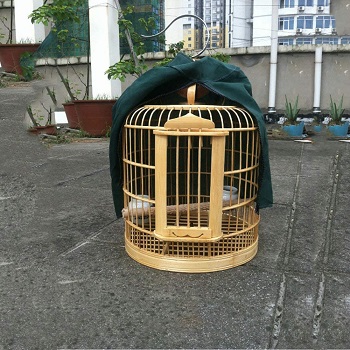 Wood Used
Apart from featuring a yellow bamboo color, the product is also made using bamboo wood. Bamboo is a very versatile material and allows for outdoor use although you'll have to take care of it to make it long-lasting. Goes without saying it's good for indoor use as well
Cage Proportions
Since it's a rounded hanging decorative bird cage, it's equally long and wide no matter how you look at it. Compared to the before model, it's definitely large since it has a 13-inch diameter and at its tallest point, which is the hook used for hanging it, it's 18.9-in tall.
Wire Spacing
This decorative wood cage for birds has a 0.66-in wire spacing meaning that it doesn't really have extravagant details. You could use it to feed wild birds using the 2 porcelain cup feeders and the birds that fit inside the tall front entrance can even rest on the perch you'll get.
In Short:
Has a light yellow bamboo color
Made out of bamboo wood
Features one tall entrance
Has a rounded frame
Has a 0.66-.in wire spacing
It's 18.9-in tall and has a 13-in diameter
Can be hung on a stand or ceiling
BEST HANGING DECORATIVE WOODEN BIRD CAGE
Orientliving Quality Handmade Decor Bird Cage
Dark Color Frame
Prior to the review of this cage, the rest of the cages were all light-colored but this one is dark brown. So dark in fact that it's easy to confuse it with a black cage. If you see yourself fitting this one into your home, it's a good choice no matter what.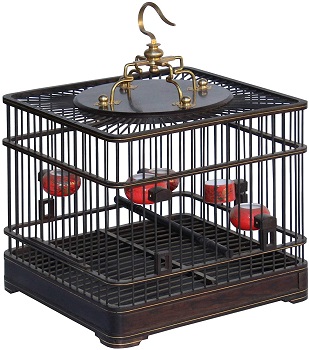 Edges And Shape
Much like the first one, this decorative wooden bird cage is rectangular but still features rounded edges which would make it safer for birds. It's 9-in long, 9-in wide, and 12-in tall so it's not really of a size that would allow you to house a bird inside permanently but rather, only for short periods of time when you're using it as a bird travel carrier for example.
Flexible Wood Build
It's made using bamboo wood, a flexible and easily manipulated wood that's also fairly cheap since bamboo wood grows incredibly fast so it is also an environmentally more friendly option to go with. Back on to the color, it's rosewood which is an endangered wood species.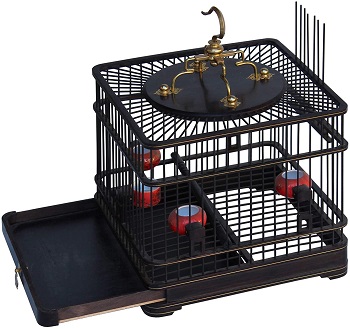 Hanging It
It has a top made out of full bamboo wood where the metal hook hangs as well. This will allow you to place it anywhere on a ceiling and use it as a lantern, a mailbox, and many other things. It also features 4 porcelain cups for food and water and even a perch. Perhaps it would be good for wild birds to safely feed themselves inside.
In Short:
Made with bamboo wood
Features a dark rosewood color
Has a hook for hanging on top
Comes with 4 feeding cups and 1 perch
It's 9-in long, 9-in wide, and 12-in тall
BEST LARGE WOODEN DECORATIVE BIRD CAGE
Trixie Pet Products Natura Aviary Cage
Wood And Finish
The wood coated with a glazed pine finish is CARB phase 2 compliant meaning you're caring more for the planet by buying this product. In simple terms, its production releases less toxic fumes and many more things. The finish is also weatherproof so the cage will last long easily.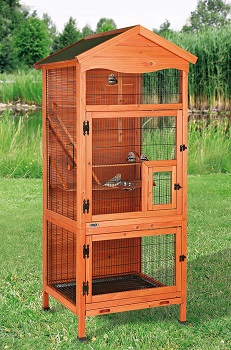 Metal Sides And Spacing
It features metal wire sides that have been powder coated black for rust and corrosion resistance. The wire spacing makes it suitable for house smaller birds like parakeets and cockatiels and you can house multiple birds inside easily since it is more of a parakeet aviary.
Colors, Shapes, Top, And Bottom
It's sure to blend well into most gardens. It has a house-shaped rooftop covered with an asphalt roof that's waterproof. It's green so it complements well the glazed pine finish of the wood and black finish of the metal wires. It's elevated from the ground on 4 legs and each leg features a rubber cap to prevent wood damage and mold build-up.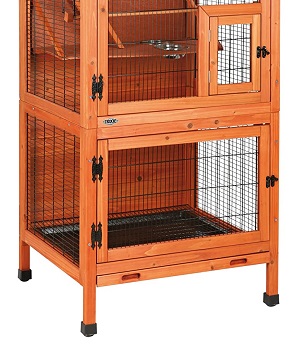 Doors, Size, And Extras
The front side of this wood decorative bird cage features nothing but doors. There are 3 of them, one large top door, one large bottom door, and a built-in smaller door into the largest one. They will allow you to access this 31-in long and wide ad 71-in tall easily to clean it or change things up. The inside features 2 perches, a climbing frame, ladder, tray for feeding, and 2 stainless steel fo and water cups. The inside bottom has a wire grid floor and a slide-out plastic tray below.
In Short:
Made with CARB phase 2 wood
Has powder coated metal wire sides
It's elevated from the ground
It's 31-in long, equally wire, and 71-in tall
Has 3 doors in the front
Features an asphalt roof
Comes with perches, 2 cups, a feeding tray, and a climb frame
How To Pick A Decorative Wooden Bird Cage
In case it's hard for you to base your decision on which decorative wood bird cage to get, information that will get you familiar with the products, in general, will definitely help you understand them better and prevent you from making the wrong choice.
What They're For – Most of these cages are never going to be cages meant to actually house birds and since you're here, that's the thing we assume you actually want. There are plenty of reasons why but we'll only state the main reasons. The first one is that some of these are too small, the next reason is that they're rounded but all of that is shaded by the fact that you can still use them as wild bird cages.
Rounded Shape – At all costs, you should avoid a rounded bird cage if you actually plan on housing a pet bird inside it. The lack of corners will easily confuse birds and will only deteriorate their mental and physical health.
Wood as a Bird Housing Material – All wood cages can actually house birds easily but the focus would be more on small birds that don't have strong beaks and can't easily destroy the wood. With this, we're thinking of birds like budgies and finches.
Small Size – All of these cages are too small to ever house a regular bird inside. If they are rectangular maybe you could get away with housing them for an hour or so inside but definitely no more than that.
Most Common Material Used – Most of the reviewed decorative wooden bird cages feature a bamboo wood build which is great since it's a wood that grows extremely fast and is environmentally friendly. It's also featured as a building material for these since it's easily bendable and won't break when force is applied to it so the manufacturers can easily spare to make rounded cages and corners.
Wild Bird Housing – If you care to help a few wild birds out and feed them, there's always the choice of hanging them outside. Wild birds won't spend much time inside if they're just there for the wood and who knows, maybe one will use it as a nest.
To Sum Up
All of the models had something going for them but one decorative wooden bird cage did stand out and that's the Kuandarm Wooden Bird Cage that features examplar carvings of dragons and flowers and it's made out of bamboo wood that can be used indoors and outdoors as well. If you've decided to get another type of decorative cage, we advise you to read the hanging decorative bird cage article or the post on the best vintage decorative bird cages.