Have you wished that you could just have a simple, down-to-earth cat tree just like a cat stand would be?
Have trouble to find them?
You'll want to stick around and read this article then because we made sure to review nothing but them in here. The best thing is, we focus on reviewing only the best in various categories so that anyone can make their pick based on the article alone. Do you need a big one for your big cat? We reviewed it. Do you need a cheap one that won't break the budget? We got those too and plenty more.
The Summary
Best 10 Cat Poles
BEST OF BEST CATS POLE
Petfusion Ultimate Cat Climbing Structure
Smaller Posts Making A Big One
As with any product that we will review here, the main star of this one is the pole wrapped in sisal rope made up of 4 smaller posts so that it fits into the shipping box more easily and so that the costs are reduced. It does feature a base and two platforms.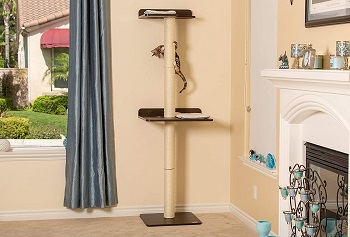 Build Material
It's made using MDF wood and the platforms have an espresso finish. Although you could make it sit on its base alone, you'll also be allowed to secure it to a wall for more stability. It's 76.8-in tall and each platform features a removable soft cushion as well. For strictly wall-mounted models, read our cat climbing structures article next.
In Short:
Made with MDF wood
The sisal rope post consists of 4 smaller posts
It's 76.8-in tall
Comes with a base and2 platforms
The platforms feature a removable soft cushion
Can be secured to walls
BEST FLOOR TO CEILING CAT POLE
Roypet Upgraded Stable Tall Cat Tree
Tree Stability
No wiggle room between the floor and ceiling is what will make this tree stable but for how is that possible if ceilings have varying heights? At the top of the pole, there is a screw nut metal rod hidden behind plush carpets that allows you to adjust the height anywhere from  90-in up to 116-in. This cat floor-to-ceiling pole is unique but not the only one so read about more of them in the extra tall cat tree article.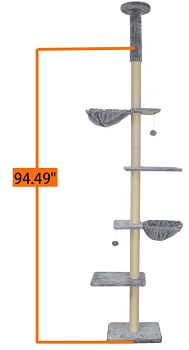 Small And Large Platforms
It has 4 platforms in total, 2 smaller and 2 larger ones. The smaller ones feature a hammock basket as well and the whole thins is also carpeted while the post is wrapped in sisal rope. The large platforms are 18.1-in wide and 11.8-in long and the basket hammocks have a 14.7-in diameter.
In Short:
Has an adjustable height screw nut metal rod
Can be anywhere from 90 up to 116-in tall
Features 2 large and 2 smaller platforms
The smaller platforms have basket hammocks lined with them
Each large platform is 18.1-in wide and 11.8-in long
The hammocks have a 14.7-in diameter
BEST BIG CAT STAND
Cat Craft Three Tier Cat Tree
Platform Height Differences
The 3 large platforms and the height difference of 21.7-in between each is what makes this product a big cat stand. If you want one with more abundant extras and details but still simple, you can read the minimalist cat tree article linked below next.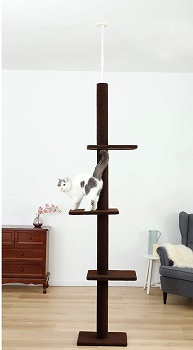 Grey Carpets
The tree is fully carpeted with soft and durable grey fabric carpets. This includes the pole and your cat will feel safe climbing it because of it. It has a tension rod on top that allows it to be anywhere from 7.5 ft up to 9ft tall. Each platform is 17-in long and 10.6-in wide.
In Short:
Features 3 platforms
It's fully carpeted with grey durable fabric
Each platform is 17-in long and 10.6-in wide
Can be 7.5 ft tall up to 9 ft tall
There's a height difference of 21.7-in between each platform
BEST HOUSE CATS POLE
PawHut Wall-Mounted Multi-Level Tree
Complete Features
We'd argue that every cat house should have play and rest areas and features and such is the case with this one. The center stage are the 2 poles, one being 61.5-in tall that determines the height of the whole thing but the two posts are connected with a fabric bridge at the bottom. If you'd prefer a non-mountable model, read the artistic cat tree article next.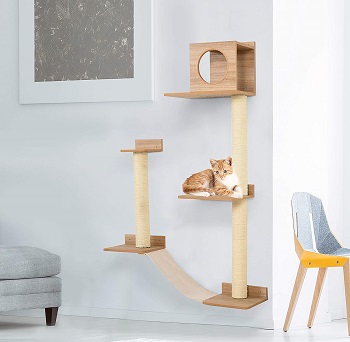 Small And Big Pole
The small pole has 2 while the big one has 3 wall-mounted pieces acting as platforms. The 3rd and top one on the larger pole acts like a cat condo. The posts are wrapped in sisal rope and the whole thing is made with pine wood. Each platform minus the condo is 11.7-in deep.
In Short:
Has 2 sisal rope wrapped poles
At its highest, it's 61.5-in tall
Can be mounted to walls
Each platform is 11.75-in deep
Comes with an 11-in deep cat condo
Made out of pine wood
BEST PLAY CAT POLE
Big Nose Wall Mounted Cat Pole
Mounting To Walls
The 43-in tall post gets mounted to walls from 3 points with brackets and stainless steel hardware. If you'd like you can buy another to make it even taller. On the post, you'll find wrapped sisal rope and 2 solid wood boards that have a 0.7-in thickness. Additionally, it comes with a plush basket hammock.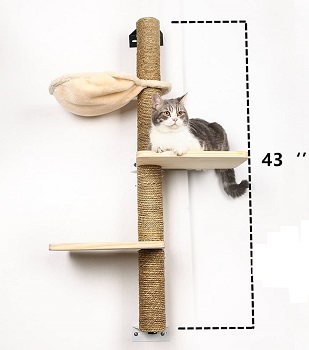 Weight Limits And Size
Each component can hold up to 15 lbs which is good enough for a standard large cat. The basket hammock has a 12-in diameter and the platforms are 9.9-in deep and 13.8-in wide. In case you want more from a cat play pole, check out others in the cat jungle gym will article.
In Short:
The post is 43-in tall
Gets mounted from 3 points with stainless steel screws
Comes with 2 0.7-in thick platforms and a basket hammock
The hammock has a 12-in diameter
The solid wood platforms are 9.9-in deep and 13.8-in wide
The post is wrapped in sisal rope
BEST CHEAP CAT STAND
S Lifeeling Cat Climbing Pole
Pole Diy Works
Although the post is only carpeted and not wrapped in sisal rope, you can DIY the whole thing by buying some sisal or paper rope, whichever one is cheapest. The base and 3 platforms are also carpeted with beige fabric but you can get it in black as well. For more features on your cheap cat stands, check out the extra tall cat tree article.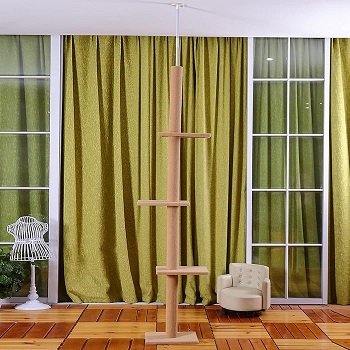 Base Size And Platform Thickness
The base is 10.6-in wide and 17-in lo long which is pretty narrow so the way it stays stable is with the tension rod that makes it go from the bottom to the ceiling. It can be up to 113-in tall but the post is made up of smaller posts and you don't have to assemble it with all of them. When assembles as intended, it has 3 platforms each having a 0.6-in thickness.
In Short:
It's fully carpeted with beige fabric
The post can be DIY wrapped in sisal rope
Features 3, 0.6-in thick platforms
The post consists of smaller posts and not all have to be used for assembly
Can be up to 113-in tall
Has a tension rod on top
BEST COOL CATS POLE
Catry Cat Scratch Post Tree
Standalone Tree
The models we reviewed so far were either wall-mountable or go from floor to ceiling. This tree stands out because it's neither of those things so it's only natural that it's cool. It looks like a sunflower and if you don't find that it makes it one of the cool cat stands, check out our other models in the flower cat tree.
Base, Stem, And Head
It has a rounded 17-in long and wide base, a post wrapped in green sisal rope so that it looks like a flower stem, and a sunflower head-shaped platform. On top, the platform features scratchboard that resembles sunflower seeds and there are even lattice decorations on the edges. Overall, it's 26-in tall and comes with a hanging bug toy.
In Short:
Shaped like a sunflower
It's 26-in tall
Has a 17-in wide and long base
The post is wrapped in green sisal rope
Has a platform with scratchboard on top
The platform edges feature lattice decorations
BEST MODERN CATS POLE
Downtown Pet Supply Deluxe Cat Pole
How It Looks
Want to feel as if your cat is in its private jungle playing? You can make it happen with this product whose pole is wrapped in faux liana leaves and features a faux grass base and platforms. You'll get three platforms and each one is 14-in wide and 8-in deep.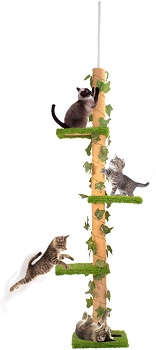 Height And Build Material
The modern tree pole is made using chipboard and its pole is wrapped in sisal rope. At the top of the pole, you'll find a white tension rod that allows you to adjust its height anywhere from 93-in up to 97.5-in. If your idea of a modern cat stand is something else entirely, read the narrow cat tree article for more
In Short:
Made out of chipboard
Has a sisal rope wrapped post
The height can be adjusted from 93-in up to 97.5-in
Features 3 platforms and a base
The platforms and base are carpeted with faux grass
The pole is wrapped in faux liana leaves
The platforms are 14-in wide and 8-in deep
BEST OUTDOOR CAT POLE
Purrfect Perch Outdoor Cat Tree
Ground Stake And Pole
The way you'll assemble this piece is to place it into the ground. The ground stake that goes in is made out of galvanized metal meaning that it'll better resist rusting and corrosion. The metal pole out of the crows is powder-coated so it's still rust and corrosion-resistant.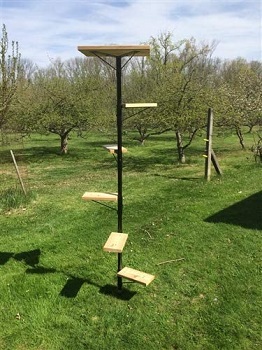 Platform Wood And Height
The platforms sit on metal frames and using the proper tools, you can change their height and otherwise spiral pattern. They're made out of cedarwood, there are 6 of them, the top one being the largest. The pole outside the ground is 66-in long. For more outdoor cat stands and trees, check out the weatherproof cat tree article next.
In Short:
The ground stake is made with galvanized metal
The out of ground pole is powder-coated
Has 6 cedar wood stairs, the top one is the largest
You can change up the platform height using the proper tools
The out of ground pole is 66-in long
BEST SISAL CAT STAND
PawHut 9′ Adjustable Height
Post And Platform Carpets
On this product, the post is not fully wrapped in sisal rope but instead, only partially while the rest is carpeted with soft plush just like the 3 platforms. There's a basket hammock coming with it as well and you'll find a tension rod on top that allows you to adjust its height to fit most ceiling heights anywhere from 90.5-in to 102.25-in.

Build Material And Base
It's made using P2 particleboards and its base is 15.75-in wide and 13.5-in long. It is colored brown but it comes in a beige and grey color as well. If you'd prefer that your sisal cat climbing pole was fully wrapped in it, read about others in the extra tall cat tree article.
In Short:
Made with p2 particleboards
Features 3 platforms and a basket hammock
It's carpeted with brown plush
The post is partially wrapped in sisal rope
The base is 15.75-in wide and 13.5-in long
The height can be adjusted from 90.5-in up to 102.25-in
How To Pick A Cat Stand
A cats pole should be easy to choose but you might want to make sure if it is the right pick for you. We'll talk about their advantages, disadvantages and mention some general cat tree things you should know so that you pick the best one for you and your cat.
Main Benefit – The main benefit of these trees is that they are large but don't use up much space. They also elegantly blend into homes since the platforms and additional features are all centered around the single-pole they usually have. Even carpeted, they'll look trendy and modern.
Some Disadvantages – The disadvantage that might occur is that they don't have much going on. A few platforms and a pole are all you're going to get most of the time and sometimes, but rarely, a hammock or a condo will be included. A cat tree should feature all things but if you're intending for it to be your cat's home but rather, only a play area, they should do just fine.
Tree Stability – The stability of these products is showcased in two ways. Either by wall mounting or by the products being floor ceiling cat trees. If you're still scared that the tree might tip over, you can always place them next to a wall or in a corner.
Cheaper Prices – Cat trees are usually expensive but these aren't. The main reason for a cat tree price are the shipping costs since they're shipped whole so they take up a lot of space when shipped but these are usually made with smaller poles that connect so the price is going to be cheaper.
Carpets Use – Carpets are a great way to make your cat feel secure, not fearing that it will fall climbing the tree. Since they'll be gripping the carpets with their claws, no matter the tree height, both kittens and adult cats can use them. For larger cats, you'll want to make sure that the platforms are wide and long enough and that the weight limit goes above 10 lbs.
To Sum Up
Although these cats poles are not all that different from one another, there are still some noticeable differences that can either make or break the product, carrying from person to person so that's why we simply won't recommend one article to you. If you'd like to check out models with more features and rest areas, you can read about cat condo towers or about cat hammock trees. For all cat tree types included in one large and detailed article, read the cat tree houses article next.