Have you had difficulties with finding the best cat condos out there so you decided to look for help in terms of searching for one?
We promise that we only reviewed the best in this article and if you continue reading it, you are sure to find one that's suitable for you and your cat. The reason why is that we made sure to review a plethora of different models like cheap ones, modern ones, even cool and cute ones but that's definitely not all of them.
The Summary
Best 20 Cat Condo Towers
BEST OF BEST CAT CONDO
Pawz Road 69 Inch Cat Tower
2 Condos, 1 Tree
Instead of one, you'll get 2 cat condos if you get this tree. Both have 2 entrances but do differ in size offered inside them. They're located on the 2nd and 3rd level and adult cats and kittens can easily access them since each level features a ramp ladder for access. For fewer condos and more other features, be sure to read the huge cat condo article.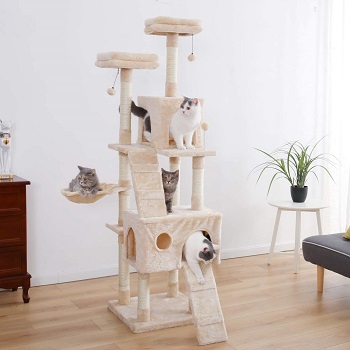 Carpet Colors
It's fully carpeted and colored beige so it will definitely blend well into minimalist homes since it's easy on the eye. It has a 19.3-in long and wide base and it's 69.3-in tall. Apart from the already mentioned features, it also has 4 posts partially wrapped in sisal rope, a hammock basket, and 2 cushioned top bed platforms.
In Short:
Features 2, 2 entrance condos
Has a 2nd and 3rd level accessible via ramps
Features 2 cushioned platform beds
The base is 19.3-in long and wide and it's 69.3-in tall
It's fully carpeted with beige plush carpets
Has 4, partially sisal rope wrapped posts
BEST FOR LARGE CAT CAT CONDO TOWER
Rabbitgoo Cat Tree Cat Tower
Adjustable Base
If it weren't for this category, we'd place this tower in the unique category for the simple reason that it has 2 smaller bases and one can be placed otherwise to make the whole tree fit and look different in your home. You can make the base square shaped or you can make it so that the tree fits into corners.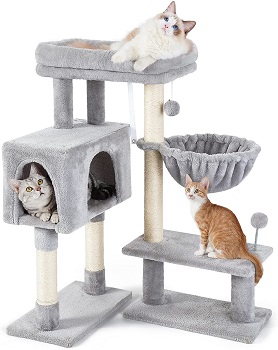 Posts And Height
The condo sits on 2 small sisal wrapped posts and features 2 entrances. It has 5 more posts and only one is fully wrapped in sisal rope. It comes with a hammock basket, a platform, and a cushioned platform making it 38.1-in tall. If you'd prefer a bigger cat condo for large cats altogether, we suggest you read the article linked below for more.
In Short:
Has 2 small adjustable bases
Can be placed into corners
Features 7 posts, 3 wrapped in sisal rope
The condo has 2 entrances
It features a regular and a cushioned platform
It's 38.1-in tall
BEST CHEAP CAT CONDO AND TOWER
Yaheetech Spacious Cat Tree
Approximate Price
Apart from being cheap, its price lingering in the realm of the two-digit number, this tree tower is also an amazing space saver. The reason for that is the base whose shape allows you to place it into corners. Due to this, you'll also naturally place the tree in the best spot possible for cats. If you can afford to spare a little more on a cheap cat condo, read the cheap cat tree house article next.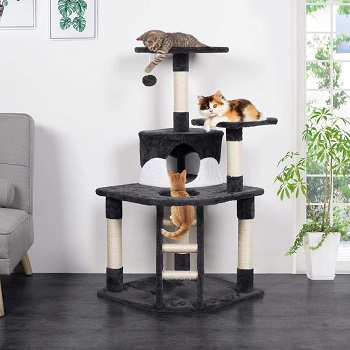 Stability And Details
You can secure it to the wall so that you don't have to fear that it's going to tip over or be visibly unstable. The condo is placed on the 2nd level as wide as the 32-in wide base. It's accessible via a ramp ladder. Its steps are covered with sisal rope and there are 5 more posts partially covered with it. Apart from everything already mentioned, it has 2 platforms, the highest one sitting at a height of 48-in.
In Short:
Has a 32-in wide base and 2nd level for stability
Can be secured to a wall
The base shape allows you to place it into corners
Has 5 sisal rope wrapped posts, and a ladder with 3 steps wrapped in it
Features 2 platforms
It's 48-in tall
BEST MODERN CAT TREE CONDO
New Age Pet Ecoflex Kitty Klimber
How It's Made
The back wall of this product is a long flat ecoflex material board that allows you to place the tree next to the walls to make it look amazing. If looked at from the bottom to the top, it is wider on the bottom and gets narrower as you go up which also makes it more stable. If you'd prefer a traditionally modern cat condo, you can read the mid-century modern cat furniture article next.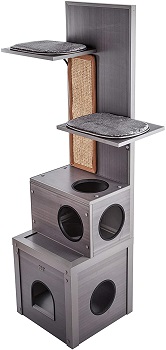 Base, Condos, And Other Things
Its base is a large 3 entrance condo that's 15-in wide and long and on top of it, there is a smaller condo with 3 entrances still. It features scratchboard and two additional climbing platforms each featuring its own removable carpet. Ecoflex is a material that won't split crack or warp and it also won't absorb cat odors or absorb liquids.
In Short:
Has a tall flat board back
Features a 15-in wide and long base condo
Has an additional smaller condo, both have 3 entrances
Has 2 platforms with removable carpets
Has a scratchboard
Made out of ecoflex
BEST OUTDOOR KITTY CONDO
Aivituvin Outdoor Cat House
Inside Size
Although you can get this product for your usually indoor housed cats, you can also buy it to help a few feral cats out if you want to. In this case, you'll be helping one, maybe two since it does have a large interior. To be specific, on the inside, it's 22-in long, 16.9-in wide, and 18.3-in tall.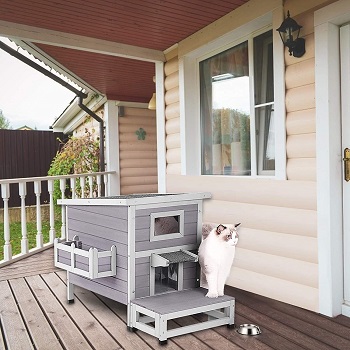 Entrances And Top
The front entrance features a PVC curtain for better insulation and a window o top of it. It has a side decorative balcony where you can place potted plants, has an elevated stand in the front, a waterproof asphalt roof and it has a back escape door in case a cat gets scared and need an exit route. If this outdoor cat condo is not the right fit for you, one in the outdoor cat tree house article might be.
In Short:
Has one room inside that's 22-in long and 16.9-in wide
Has a side decorative balcony for plants
The front entrance features a PVC curtain
Has a back escape door
The top is slanted and features a waterproof asphalt roof
It's elevated from the ground
BEST 2 STORY CAT TREE AND CONDO
Trixie Falco 2 Story Cat Condo
Tube Condo
The condo on this product is a tube whose outer walls are made out of sisal rope fibers for scratching. Apart from that, there's also a sisal rope post right next to it that features a cushioned bed platform on top. Each condo has its own entrance and there's a larger entrance hole in the front for both condos.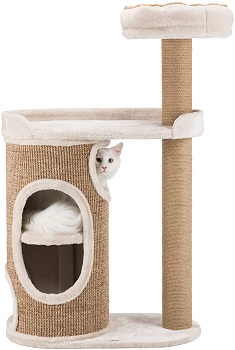 Condo Top, Carpets, And Size
On top of the condo, you'll find an additional platform with raised edges. The tree is fully carpeted with plush carpets and it's 46-in tall at its highest point so it is considered small but can still be used by multiple cats. For more variety concerning 2 story cat condos, you can read the article linked below.
In Short:
The 2 story condo tube sits on a base
It features 2 platforms, one cushioned
Each condo has 2 entrances
The outer walls are carpeted with sisal rope fibers
Features an additional sisal rope post
It's 46-in tall
BEST BLACK CAT CONDO
Ace Pet Palls Stylish Cat Tree
How It Looks
The thing that makes this tree stand out most is that the condo and highest point platform are colored black and white and look like they're knitted baskets. The 3 posts are wrapped in cream white paper rope while the 2 platforms and the base are carpeted with black paper rope fibers.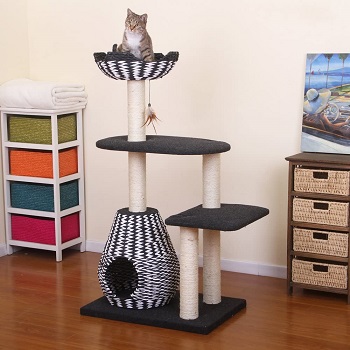 Entrance Diameter And Other Proportions
The condo has a 7.8-in diameter entrance hole while the base is 26.7-in wide and 18.5-in long. At its tallest point which is the knitted basket-looking platform, it's around 49.2-in tall. There's definitely more variety for products like this black cat condo in the contemporary cat furniture article.
In Short:
Has a bottom condo with a 7.8-in diameter entrance hole
The condo and top platform look like knitted baskets
Has 3 paper rope wrapped posts
It's carpeted with black paper rope fibers
Features 2 platforms
It's 26.7-in wide, 18.5-in long, and 49.2-in tall
BEST CARPET CAT CONDO TOWER
Catry Cozy Cat Tree Condo
Height And Condo
The condo of this tree is located at the very top of the tree that's 50-in tall. It's partially covered and tube-shaped so it's not your traditional carpet cat condo. For more traditional options, you can read the carpeted cat trees for large cats article next.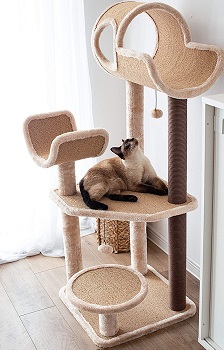 Low Pile Carpets
It's carpeted with low pile plush so cats will have no problems climbing it. Apart from that, it features 3 paper rope wrapped posts, a concave platform, a regular platform, and 2nd level. The base is 19-in long and wide and due to how everything is positioned, you can even place it in corners.
In Short:
Has a partially covered tube condo at the top
Features a second level
HAs a concave and regular platform
Carpeted with low pile plush
Features 3 paper rope wrapped posts
It's 50-in tall
Can be placed into corners
BEST HOUSE CAT TREE CONDO
Go Pet Club Cat Tree Condo House
Play And Rest Spots
A house is supposed to feature plenty of rest and play features so that its use by a cat is maximized. This one has 3 posts carpeted with plush and wrapped in sisal rope, a ladder also partially wrapped in sisal rope, a condo on the 2nd level a raised edge platform, a regular platform, and hanging rope and mice toys.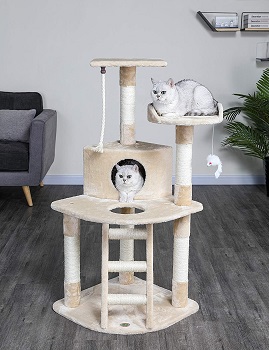 Base, 2nd Level, And Condo Shape
Both the base, 2nd level, and condo are shaped like 1/4 of a circle. The 2nd level is also as big as the base and the two things combined allow you to place this 47.5-in tall tree into corners. Other than that, it's 32-in wide and 25-in long so if you'd prefer a narrower but taller cat condo house, read the article we've linked below for more.
In Short:
Can be placed into corners
Has a 2nd level as wide as the base for stability
The condo is featured on the 2nd level
It's 47.5-in tall, 32-in wide, and 25-in long
Has 3 posts and a ladder wrapped in sisal rope
Has 2 platforms and it's fully carpeted
Comes with a few hanging toys
BEST HAMMOCK CAT CONDO TOWER
Mellcom Indoor Cat Hammock Tree
Condos And Hammocks
Two hammock baskets, a hanging hammock, and 2 large condos can only mean one thing, this tower can house multiple cats. If you'd rather have a tree designed for one cat, you can read about other models and learn more along the way if you read the cat condo with hammock article next.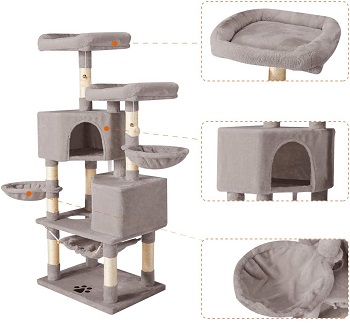 Carpets And Proportions
It's fully carpeted with grey plush carpets, features 6 posts wrapped in sisal rope partially, has 2 cushioned perches and it has a 2nd level that's as big as the base for extra stability and no fear of this 23.6-in long, 17.7-in wide, and 57-in tall tree tipping over. If you are fearful, you can secure it to a wall as well.
In Short:
Has the 2nd level and can be secured to a wall
It's 23.6-in long, 17.7-in wide, and 57-in tall
Has 6 posts partially wrapped with sisal rope
Has 2 condos, 2 hammock baskets, and one hanging hammock
Has 2 cushioned bed perches
BEST COOL KITTY CONDO
Tardo Large Wall-Mounted Cat Bed
Capsule Thickness
Your cat can lounge out at the highest place in your house with this condo since it can get mounted on walls. Don't worry, you'll still be able to see your cat since the flooring is capsule-shaped and made out of transparent acrylic that's 0.3-in thick. For more different but nonetheless cool cat condos, you can read the article we've linked below.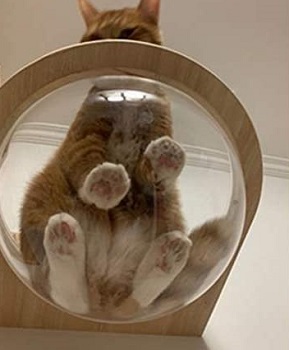 Materials And Colors
The frame and the bit that gets mounted to walls is made out of solid wood and painted with natural colors. It's great for large cats up to 18 lbs and has a diameter of 11.8-in. To make full use of it, you can easily combine it with other products that don't have to be from the same manufacturer since a lot of these products are made with the same type of wood and colored the same.
In Short:
Gets mounted to walls
Has a solid wood frame
Features a transparent acrylic capsule
The capsule is 0.3-in thick and has an 11.8-in diameter
Made for large cats up to 18 lbs
BEST CUTE CAT CONDO
Acro Wood Cat House
Cute Subjectivity
What's considered cute is entirely subjective and up to your own personal preferences but it's hard not to think of this condo as one since it's shaped like a house, features plenty of holes as decor details, and has rounded corners for a soft look. Nonetheless, if you don't find it to be a cute cat condo, you can read the article linked below for other models.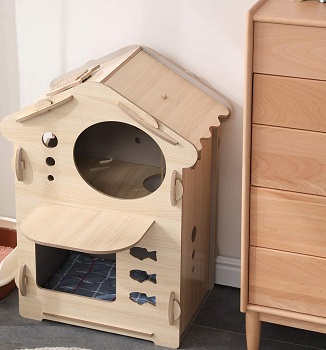 Materials And Features
It features 2 levels and it's made using MDF P2 Boards. The board is rarely thin and the method used to assemble it doesn't require any tools or glue. It features a cat pad inside that's removable and washable and it features 2 cat scratchpads. Overall, it's 23.6-in long, 23.4-in wide, and 31.5-in tall.
In Short:
Shaped like a house
Made with p2 MDF boards
Doesn't use glue or screws for assembly
Comes with a cat pad and 2 scratchpads
It's 23.4-in wide, 23.6-in long, and 31.5-in tall
Has 2 levels
BEST HANGING CAT TREE AND CONDO
K&h Pet Products Hanging Cat Condo
Door Attachment
The reason why this is a hanging condo model is that you can hang it on doors. It is 65-in tall but it can virtually mount on any door. All you need to do is mount the frame on the door top, attach the condo and secure it from the bottom. It's 23-in wide so width also won't be a problem.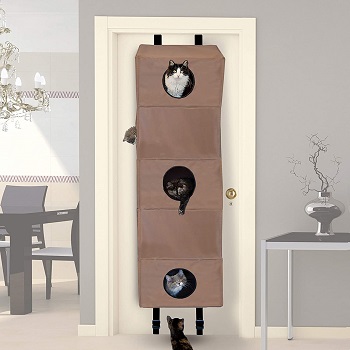 Front And Sides
In the front, you'll find 3 peepholes on different levels so your cat or cats can take a look around while inside while the 2 entrances are found on the sides. It has 5 levels, each level featuring a corrugated plastic floor for durability and stability. You can always check out other models in the hanging cat condo article.
In Short:
Can be hung on almost any door
It's 65-in tall and 23-in wide
Has 5 levels, 3 peepholes, and 2 entrances
The level floors are made with corrugated plastic
Made with soft fabric materials
BEST LUXURY CAT CONDO
Myzoo Window Cat Perch
Use Location And Build Materials
We're firm believers that luxury items don't have to be expensive but what we feel they should be is unique, quality, so that it does justify the price. This condo is meant to be mounted on walls. It's made with solid wood and has an acrylic capsule out front for clear views.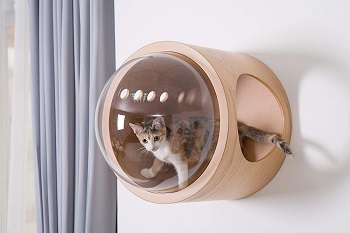 Other Uses And Size
If you don't feel secure mounting it to a wall, you can use it as a floor unit as well. It has one entrance hole and right across it, ventilation holes. It's 18.7-in deep, 15.7-in tall and the whole has an 8.6-in diameter. If you'd like to check out more luxury cat condos to make your verdict, you can find them reviewed in the linked article below.
In Short:
Made out of solid wood
Has an acrylic capsule front
The entrance hole has an 8.6-in diameter
It's 18.7-in deep ad 15.7-in tall
Can be mounted on walls or put on floors
BEST SMALL CAT TREE AND CONDO
Feandrea Cat Tree Condo
Tree Toys And Features
If you have a kitten that loves to play, it will definitely enjoy the sisal rope sticks with hanging ball toys it features on top of one of the 2 sisal rope wrapped posts. It has 2 platforms, one being a lounging bed platform and a condo at the bottom so kittens can easily access it.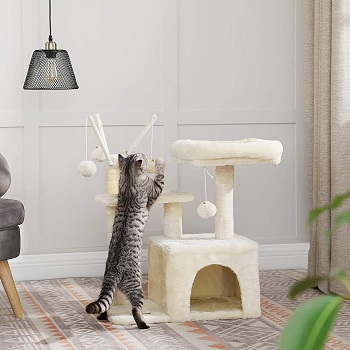 Height, Width, And Length
It's fully carpeted with plush so that cats can easily climb it and feel secure while doing so. At its highest point, it's 28.3-in tall and it's also 20.9-in wide and 12.6-in long due to the base. You can learn more about this small cat condo and others in the cat trees for small spaces article.
In Short:
It's 28.3-in tall, 20.9-in wide, and 12.6-in long
It's fully carpeted with grey plush
Has 2 sisal rope wrapped posts
Has a sisal rope and hanging ball branch toy
Features 2 platforms, one is cushioned
BEST TALL CAT CONDO AND TOWER
Furhaven Tiger Tough Interactive Cat Tree
Height And Adjustable Height
This tree can't get any taller. In fact, it has an adjustable height thanks to the cleverly hidden tension rod at the top. It's carpeted in grey plush just like the rest of the tree and expands from 100-in up to 113-in. It's placed on one of the 4 poles, 2 of which are fully wrapped with sisal rope.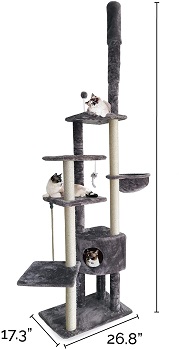 Tree Components
The condo is elevated from the ground with the already mentioned poles and you'll also find 4 platforms and a hammock basket on the tree. It has a base that's 26.8-in long and 17.3-in wide so it's also a narrow tree. You can check out our other options for a tall cat condo in the extra tall cat tree.
In Short:
It's 100-in tall and can be up to 113-in tall
Has a 26.8-in long and 17.3-in wide base
Features 4 posts, 2 of which are wrapped in sisal rope
Has 4 platform perches
Comes with a hammock basket
It's fully carpeted in grey plush
BEST UNIQUE CAT TREE AND CONDO
Made4Pets Cat Tree 5 Level Tree
Removing The Carpets
We've already reviewed a 2-story cat condo and although this one is also one, it's definitely an elegant choice for anyone wanting a bit of modernity in their home. To start with, it's not carpeted so that the wonderful woodwork of the p2 particleboards can come to shine to their fullest.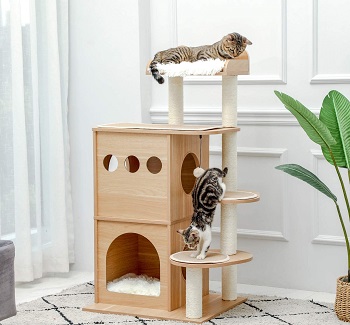 Condos, Post, And Size
Although it's not carpeted, it still features removable carpets on the 4 perches. The condos are stacked on each other and they each have 2 large entrances. It also has 3 posts wrapped fully in sisal rope and it's 23.6-in wide, 19.6-in long, and 47.2-in tall. For even more unique cat condos, check out the amazing cat trees article.
In Short:
Has 2 condos with 2 entrances
It's made with CARB P2 particleboards
Features 4 perches and removable carpets for them
It's 23.6-in wide, 19.6-in long, and 47.2-in tall
Has 3 posts fully wrapped in sisal rope
BEST WOODEN KITTY CONDO
Feandrea 33 Inch Mdf Cat Tower Condo
Unique Shape
It's truly hard to explain the shape of this tree but what we can say is that it's uniquely shaped. The condo is part of the base, has a corner entrance and a large vent hole that can act as an additional entrance. If you're not blown away by the looks of this wooden cat condo, check out other models in the all-wood cat tree article.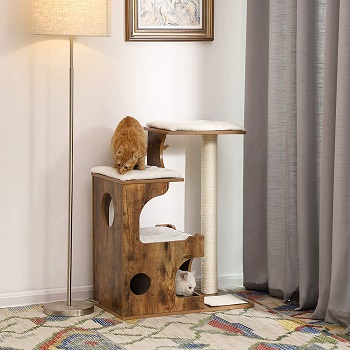 Material Used
The platforms are huge and all part of its CARB-certified boards' frame. All feature removable cushions and there's even a large and thick post wrapped in sisal rope. The condo features a bed and don't worry, all of the cushions are washable. It's 26-in long, 15.7-in wide, and 33.9-in tall.
In Short:
Has a large corner entrance condo
Features 3 large platforms with removable cushions
It's made with CARB-certified boards
It's 26-in long, 15.7-in wide, and 33.9-in tall
The condo features a bed
Has one large sisal rope wrapped post
BEST 72 CAT TREE CONDO
BestPet 72 Inch Condo Cat Tree
High Point
What we mean by 72 is that this tree is, at its highest point, 72-in tall. Nonetheless, it doesn't look overcrowded like many do and it's very stable due to the 2nd and 3rd levels that support the base and rest of the features. Instead of one, it features 2 condos with 2 entrances so it can be used by multiple cats. You can definitely check out other options for a 72 cat condo in the linked article below about 72 cat tree towers.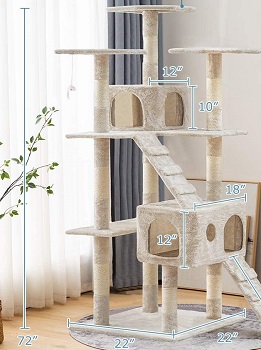 Multi-Cat Tree
It can easily be used by multiple cats and holds up to around 40 lbs. No cat is that heavy so there's really no limit to which cats it can house. The 2nd and 3rd levels both have access ramps and there are 3 added platforms. it has 3 posts partly covered in sisal rope and it's carpeted fully with beige, skin-friendly plush.
In Short:
Has a 2nd and 3rd level
Can hold cats up to 40 lbs
Features 2 condos with 2 entrances each
HAs 2 ramp ladders for level access
Has 3 additional platforms
It's carpeted with beige skin-friendly plush
BEST WALL CAT CONDO
Kerbl Cat Tree Dolomit Wall Mounted
Assembly And Center
We've reviewed plenty of wall models but never quite like this one that's a full-blown tree mountable on walls. The pieces that get mounted to walls using the included screws are wooden just like the frame of the tree and everything is focused around 2 centerpiece posts. For more beautiful options like this, read the extra large cat tree article.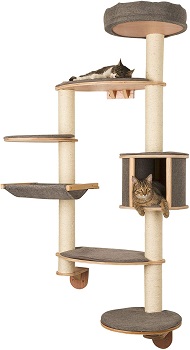 Posts, Height, And Details
The 2 pots feature glued sisal rope on them. The taller one that's around 72-in tall features a condo in the middle, a bottom platform, and a top cushioned raised edge platform. They're connected with 2 more platforms, and the smaller tree features another platform and a hammock. The platforms are carpeted with grey removable carpets.
In Short:
Made to be mounted on walls
Has an overall height of 72-in
Has removable grey carpets
Comes with a taller and shorter sisal rope wrapped post
Features a hammock, condo, bed platform, and added platforms
The screws for mounting are included
How To Pick A Cat Condo
To get you on your journey of choosing the best cat condo for yourself and your cat, it's important to teach you something about them and cat trees in general as well so that you can make your verdict, knowing full well that the one you chose is the best possible choice for you.
What Is A Cat Condo – Cat condos are just another way of describing cat trees but there is something specific about them nonetheless that can easily be defined. The enclosed space where your cat can run off to regain confidence and stop fearing anything is what a cat condo is.
More Condos And More Entrances – If you've seen a cat tree with multiple condos, it's likely that tree is made to be used by multiple cats. Another thing that can prove that is if the condos have more than one entrance. It's usually two, but some even go for three entrances.
Cat Condo Tree Safety – The biggest question anyone could probably ask themselves is if these trees are safe. The short answer is they are. If you're not certain, some can be attached to a wall as it is and it's also a safe choice to put them next to walls. In terms of tree height, a tall cat tree might look fairly unsafe but know that with a carpeted tree, a cat will easily grip any part of the tree so focus on that if you think your cat is clumsy.
Tree Location – There are certain cat tree placements inside homes that are safer but we already discussed those. Cats are territorial creatures and one reason why they might love cat trees so much is that they give them a vantage point and allow them to thoroughly view their surrounding. To get the best possible view but to feel safe, a corner cat tree placement will be a great option.
Getting Cats Acostumed To Trees – Although it seems as if cats have a mind of their own and are hard to train and get costumed to new things, it's nothing that treats placed on various heights of the tree, a little patience and time can't solve. You can also try by placing an already familiar toy on the tree so that they associate the smell with something already safe.
How Cat Trees Help You – To start, most, if not all cat trees feature sisal or paper rope posts that cats can scratch at, the carpets are place they also can claw at and all of that will be an aversion to prevent them from destroying things like your furniture, sofas, carpets, and many other things.
To Sum Up
The whole purpose of this cat condo tree article was to get you familiar with all of the possibilities out there so that you can make your choice and not have to worry whether it's the right one or not. In order for that to happen, we had to place the condos into categories so they're all very different and incomparable. That's why we can't recommend one to you. In case you do want to read more about some other types of trees, you won't be making a mistake by reading about carpeted cat trees or about heavy-duty cat trees. In case none of that interests you but what does is to get a full understanding of all the cat tree types available, read the post on the best cat trees.