Have you been trying to find an adequate extra-large cat tree for your household?
Then read our new post about the best six models for you no matter if you have small or big cats. Find out all the important features that every model comes with. Buy a safe and quality cat tree and make your fur friends happy!
The Summary
Best 6 Extra Large Cat Trees
BEST OF BEST XL CAT TREE
AmazonBasics Extra Cat Tree
For All Cats
This cat tree by AmazonBasics is suitable for cats of all sizes, ages, and breeds. Cats from small to extra-large sizes can play and climb this tree with no problem. The unit will accommodate from one to four cats. The maximum carrying capacity is 45 lbs.

Multiple Levels
This extra-large cat tree includes multiple levels, platforms, condos, perches, and scratching posts. The tree is supported by columns. They keep it stable and well-proportioned. Cats can jump between levels, climb the columns, and play with interactive toys.
Promotes Healthy Behavior
If you have one or more indoor cats, such a unit will keep them active and occupied. This cat tree extra large invites cats to play and stay active on a daily basis. It promotes healthy life and satisfies all of their everyday needs. This indoor cat tree is simple to assemble and easy to keep clean.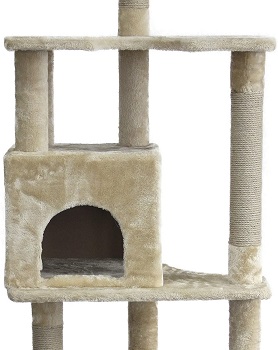 Strong And Durable Material
The AmazonBasics large and tall cat tree is made of strong and high-quality material. The scratching posts are wrapped in natural jute fiber. They keep your cat's nails and claws healthy and strong. The unit is sturdy, durable, and pet-friendly.
In Short:
suitable for cats of all sizes
this is a multi-level cat tree
includes scratching posts and perches
there are 2 cat condos
made of strong and sturdy material
BEST WITH XL PERCH EXTRA-LARGE CAT TREE
Armarkat Extra Large Perches Tower
Spacious And Tall Design
Armarkat's tall and XL cat tree allows your cats to climb, jump, perch, and lounge. It includes multiple levels, interactive toys, a cat condo for extra large cats, scratching posts, and elevated perches. This cat tree will be your cat's new favorite indoor cat playground.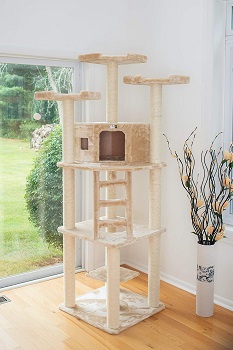 Large Perches
There are three large elevated perches on the top of this unit. The dimensions of the two perches are 14″ X 14″, and the third one measures 15″ X 15″. Cats of almost all sizes can climb this cat tree with extra-large perches and observe their surrounding from a high place.
Size And Capacity
Armarkat XL cat tree will not fit just anywhere. The overall measures are 40″(L)X33″(W)X80″(H). The cat condo's dimensions are 17″(L)X17″(W)X12″(H). This cat tree will hold a maximum weight of 80 lbs. It is a cat tree for multiple cats.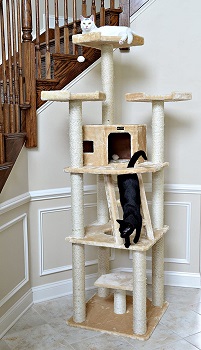 For Active Cats
Indoor cats need to play, climb, and jump as much as the cats that spend time outdoors. In order to provide your cat with a healthy environment, consider getting them this cat tree by Armarkat. It includes all that every cat needs to stay healthy and happy.
In Short:
this tree is tall and large
it includes a large cat condo
ideal for indoor cats
helps cats to stay active
there are three large perches
large cats fit this tree too
BEST WALL XL CAT TREE
Kerbl Cat Tree Dolomit Tofana Wall Mounted
Saves Space
Kerbl's cat tree is large, tall, and spacious. It is a modern alternative to a classic cat tree. It gets mounted on the wall. Such a unit is ideal for modern households but also for small spaces. This attractive and space-saving cat tree will catch the eye of every visitor.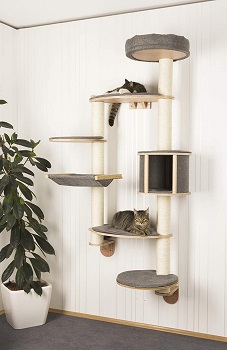 Easy To Mount
The unit needs to be assembled and mounted on the wall. The instructions for the installation are included, as well as the tools. This extra-large cat tree includes a woven fabric cushion, a Velcro strap, and screws for the installation.
For Climbers
If your cats love to climb and stay in a high location, they will surely like this unit. There are multiple scratching pillars included that help your cat to climb and perch. Active and playful cats will be grateful to you if you buy them this cool and unusual cat tree.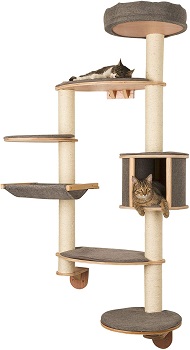 Useful Details
The overall size of this unit is approximately 72.8" H. The unit comes out of the wall about a foot and a half. The unit will hold pretty big cats with no problem. It is sturdy and strong. The quality and price are high.
In Short:
space-saving wall cat tree
mounts easily on any wall
includes instructions and tools
for active cats that love to climb
the unit is tall about 72.8"
BEST FOR LARGE CATS XL CAT TREE
Vesper High Base XL Cat Tree
For Multiple Cats
If you live in a household with more than one cat, you may like this unit. It is quite attractive and looks nice with most home decors It is ideal for cats that love to explore, climb, play, and scratch. There are three platforms included, scratching pillars, and one big cat condo.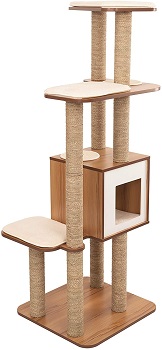 Firm And Sturdy Unit
Vesper's XL cat tree is constructed of MDF and solid wood. This material keeps the tree steady and makes it long-lasting. This tree is safe for multiple cats and it keeps them active and occupied. The wide base prevents this unit from wobbling.
Cozy Cat Condo
This is a perfect cat tree for XL cats. It includes an extra-large cat condo for big cats. The condo comes with a foam cushion that keeps your cats warm and comfortable. It is removable with ease and you can wash it when necessary.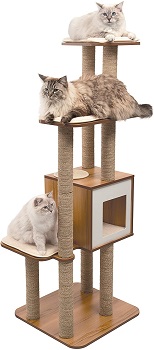 Keeps Claws Healthy
Multiple columns are included. They keep this tree stable and well-balanced. The columns are wrapped in scratching sisal material. Sisal's rough texture attracts cats and makes them want to scratch and maintain their nails and claws healthy and strong.
In Short:
for households with multiple felines
ideal for larger-sized cats
includes a roomy cat condo
the unit is made of MDF and wood
comes with scratching pillars
BEST CONDO EXTRA-LARGE CAT TREE
Rabbitgo Multi-Level Cat Tree
Choose The Color
The Rabbitgo extra-large cat tower comes in three neutral colors. You can choose between light gray, dark gray, and creamy beige. Pick the tree that you like most and that best matches your home decor.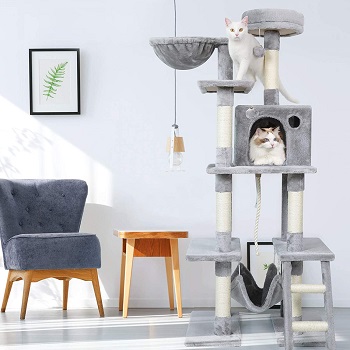 Fun Activity Center
This cat tree is designed to accommodate multiple cats. It includes all the fun and creative content to make cats happy and keep them active. There are cat ladders, multiple platforms, perches, a basket, a hammock, an extra-large cat condo, and teasing toys.
Satisfy's Cats' Needs
With all the content included, the Rabbitgo ladder cat tree will meet all of your feline's needs. Your cats can jump, climb, and explore. They can scratch the posts and keep their claws healthy. When they get tired, your fur friends will feel relaxed and cozy inside of a condo.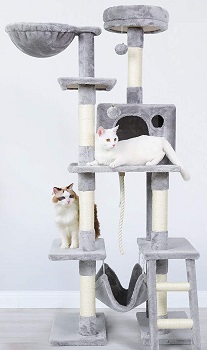 Made Of Quality Materials
This cat tree XL size is made of heavy-duty particle wood. It is covered in skin-friendly plush which keeps cats warm and cozy. The scratching posts are covered in durable and natural sisal rope. Your cats can sharpen their claws, stretch after the nap, and leave their visual mark on the tree.
In Short:
choose between three colors
this tree is fun and amusing
included creative content for play
there is a large cat condo for sleep
natural sisal posts keep claws healthy
BEST CORNER EXTRA-LARGE CAT TREE
Hey Brother XL Size Tree For Cats
Heavy Base And Stable
This very large cat tree by Hey Brother is sturdy and stable. It is a well-proportioned unit with firm posts and platforms. The enlarged baseboard helps to keep the unit stable. It avoids wobbling and allows you to place the unit in a corner. The anti-toppling fittings are included too.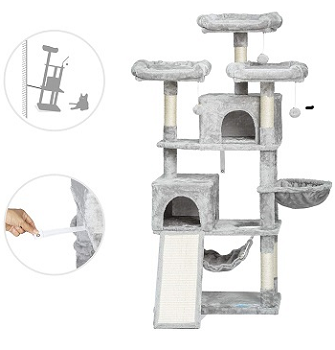 Sisal Posts
There are multiple scratching boards and pillars included. They help to maintain your cat's nails healthy and allow cats to climb to higher levels. Your cats will prefer to scratch on these scratching posts, then your furniture and sofas.
Comfortable Sleeping Space
This tree includes three extra-large cat condos for big cats. They provide cats with a cozy and calm environment. The unit is covered in safe and warm plush. Cats will enjoy to sleep and rest on this unit. Such a fluffy material is highly adored by cats of all ages.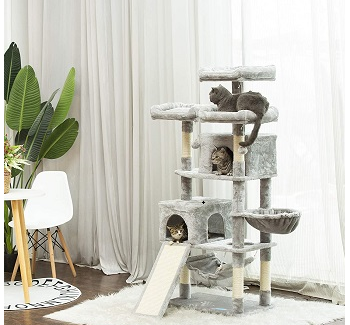 Capacity And Dimensions
This multi-level cat tree measures about 71.65" x 20.86" x 20.86" . The unit is suitable for three or four cats of all ages and sizes. This tree is sturdy and long-lasting. It is perfect for households with active and playful cats. This is one of the best cat trees for multiple cats.
In Short:
this tree can be put in a corner
it has a heavy and stable baseboard
this multi-cat tree is long-lasting
made of quality material
includes three large condos
How To Pick: XL Cat Trees
Extra-large cat trees are not perfect for every household. If you have only one cat, a senior cat, or a lack of space, you should look for another indoor cat tree. However, if you are a multiple-cat owner, then a spacious and big cat tree will be a saver. Active cats will love to climb the tree and jump between levels. Apart from that, they will always find a cozy condo or perch to relax and sleep. Make sure the unit you are buying is stable, safe, and easy to maintain clean.
Large And Spacious – If you have enough space at home and you are a multi-cat owner, then a wide and spacious cat tree will be perfect for your household. Such units have an elaborate design. They are ideal for indoor cats and include all the content that is needed to satisfy their needs.
Cozy And Comfortable – Big and wide cat trees come with perches, baskets, and cat condos. They are oftentimes entirely carpeted and soft. If not, they will include warm cushions. Cats love sleeping and resting in a cozy environment. It makes them feel relaxed and safe.
Amusing And Fun – Apart from all the coziness, large and XL trees and towers for cats are incredibly entertaining. They have multiple levels, scratching toys, platforms, and interactive toys. Cats love to climb to high levels and observe their surroundings. Sometimes, your cats will play for hours and then choose to rest inside of a cozy cat condo.
Stability And Durability – Most cat trees of large sizes are well-proportioned. They come with a heavy and wide base to keep them stable. Some units can be attached to the ceiling or the wall. One thing you should have on your mind before buying is the quality. If the unit is made of strong and firm material, then your new cat tree will last longer.
Simple To Assemble – Most cat trees require a simple and quick assembly. The detailed instructions should always be included, as well as the tools and hardware. We consider that you assemble your new extra-large cat tree with another adult. It will be easier, faster, and you will do it properly.
To Sum Up
All things considered, we find that the Armarkat Extra Large Perches Tower is one of the best extra-large cat trees on the market. It meets all the needs of indoor cats. It provides them with a comfortable and fun environment. This cat tree with large perches will hold cats of all sizes. Check out more cat activity trees before you buy and make sure your new unit is safe and made of quality materials.