Are you in search of the best easily-washable cat tree?
Look no more because you have come to the right place. In our article, you will find all the details about the best models that are easy to maintain and clean. Read our buying as well and choose the model that meets all your needs.
The Summary
Best 6 Washable Cat Trees
BEST OF BEST WASHABLE CAT TREE
Pawmona Multi-Level Cat Tree
White And Tall Design
The Pawmona tree for cats is a white cat tower with five levels. It is 60" tall and allows your cats to climb, play, and rest. It is made of durable wooden material and it is covered in plush. It will fit into any modern home decor and make your cats active and entertained.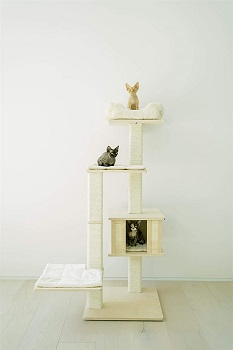 Soft And Warm Tree
This plush-covered tree is comfortable and cozy. Cats like to rest in soft places and they will love to sleep and snuggle on this tree. The Pawmona white cat tower tree will fit up to three medium-sized cats. This tree is space-saving. It is a perfect unit that your cats will use for their everyday activities.
Easy To Clean
Pawmona tree for cats is simple to clean. You can easily vacuum the plush. The white color of this easily-washable cat tree will help you notice when it is the right time for you to clean the unit. Maintain it regularly and make sure your cats are staying in a clean place.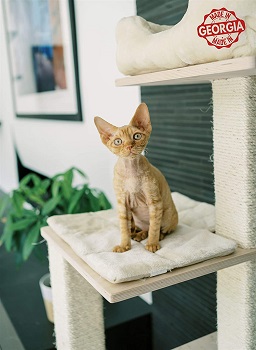 All The Extras
As already noted, this tree includes five levels. Its base is wide which makes it stable and firm. There is one spacious cat condo included. The tree comes with many scratching posts that are made of natural sisal. Your cats will get to rest on cozy cushions as well.
In Short:
tall and white cat tree design
the tree includes five levels
comes with one spacious condo
there are many sisal scratching posts
it is made of wood
this cat tower is firm and stable
BEST SMALL WASHABLE CAT TREE
Feandrea Washable Vintage Tree
Small And Vintage
The Feandrea tree for cats is made of dark wood, sisal, and initiation fur. It is firm and sturdy. It comes with a vintage and rustic design. It is modern and it will look nice in any household. The size of this unit is 26" X 16.5" X 34.65" (L x W x H).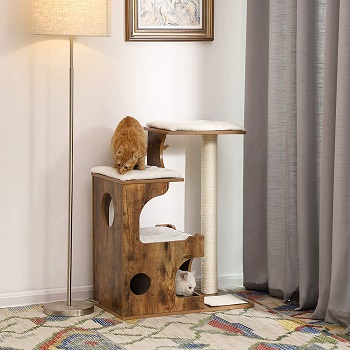 For Older Or Cuddly Cats
This small cat tree is ideal for cats that are not very active or playful. There are some cats that don't like climbing but prefer hiding under the bed. If this is the case with your cat, then we are sure your fur buddy will like this tree by Feandrea. It includes a spacious and cozy bottom cat condo.
For One Or Two Cats
We suggest that you get this unit if you have one or two adult cats. Your cats will get to choose where to rest – inside of a condo, or on one of the three perches. There is a sisal scratching post included and it will help your cat maintain healthy its nails.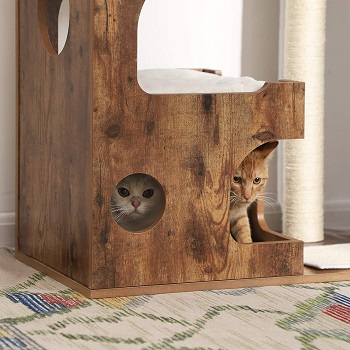 Why Buy This Tree?
Feandrea washable cat tree is a tree that is perfect for all cats, including the older ones. It is soft, warm, and fluffy. It is simple to assemble and maintain. The tree is space-saving and it will fit in almost any corner of your home. It is made of high-quality material.
In Short:
made of quality material
beautiful vintage design
includes posts and perches
comes with a bottom cat condo
ideal for older cats
tree's capacity is 2 adult cats
BEST TALL WASHABLE CAT TREE
Lazy Buddy Big Cat Tower
Spacious And Fun
If you have more than one cat, and you want them to be more active, we are sure you will find this unit interesting. This tall cat tree for large cats by Lazy Buddy will convert even the laziest cat into an active one. It has multiple levels, a cat condo, and a hanging rope.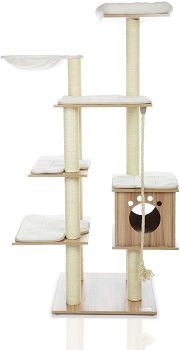 Firm And Sturdy
The Lazy Buddy tree for cats is stable and firm. It has a wide and heavy base. It comes with a thickened board and it is safe for your cats. We suggest you get this unit if you have one or more adult cats. For extra stability, place the tree next to the wall.
Removable Mats
Every level of this tree comes with soft mats and cushions. They can all be removed when necessary. You can easily wash them, dry them, and put them back on. This is another easily-washable cat tree. Use a soft and clean cloth to clean the surface.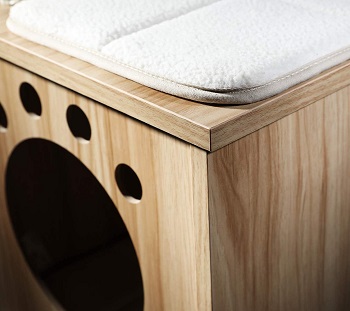 No-Tool Assembly
Just like any large or tall cat tree, this model comes unassembled and needs to be set up. All hardware is included and you will spend no more than 20 minutes setting this tree up. The user manual with the installation guide is included.
In Short:
ideal for two adult cats
it can fit three smaller cats too
the tree is simple to maintain
assembly lasts less than 20 minutes
removable mats included
there is one condo and many fun levels
BEST CHEAP WASHABLE CAT TREE
Nova Microdermabrasion Cat Tower
Cozy And Ideal For Resting
Many times, cats choose their special place where they like to relax and sleep. Often they sleep and cuddle on warm and fluffy cushions or blankets. This washable cat tree includes ultra-soft cushions that cats adore. They can be placed inside of a cat condo and on perches.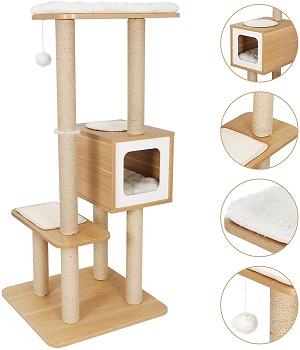 Perfect For Playing
Apart from an ideal resting zone, this cat tower by Nova Microdermabrasion will be a perfect playing unit for your cats. There are sisal scratching posts included as well as a hanging toy. This tree has three levels so your cats can climb and jump up and down the tree.
Wide And Heavy Base
This is a wide cat tree. It is stable and sturdy. It is heavy-based and it is not simple to overturn it. This tree will fit up to two adult cats. They will get to have all the fun. We consider this tree safe. If you want the tree to be extra stable, place it next to the wall.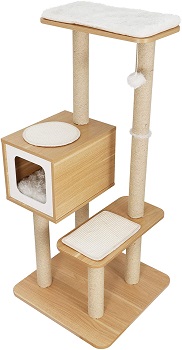 Easy To Set Up
All of the tools that are necessary for the setup are included inside the package. The assembly will last no more than 20 minutes. The instructions are included. This tree is super solid and well-balanced. Its overall quality is high and the price is affordable.
In Short:
this tree will be a perfect resting place
comes with three platforms
it includes one spacious condo
there is a hanging toy for play
the tree is ideal for two adult cats
the assembly is easy and quick
BEST FOR KITTENS WASHABLE CAT TREE
Tangkula Tree For Small Cats
For Small Cats
This small cat tree by Tangkula is ideal for smaller-sized cats or kittens. It is not advisable to get this unit if you have adult cats because if heavy cats play on this tree, it may easily be overturned. The dimensions of this unit are 27'' x 19'' x 46'' (L x W x H).
Modern And Unique Design
Tangkula tree for cats is made of easy-to-clean material. You will need no more than a soft and moist cloth to maintain it clean. This 3-layer washable cat tree is practical and functional. It has a beautiful and stylish appearance and includes a condo and a balcony.
The Sturdy Construction
The material that was used for the construction is MDF, engineered wood, PVC, sisal, and sponge. This cat tree will be stable, firm, and sturdy as long as it is used properly. Again, be sure you get this unit only if you own smaller-sized cats.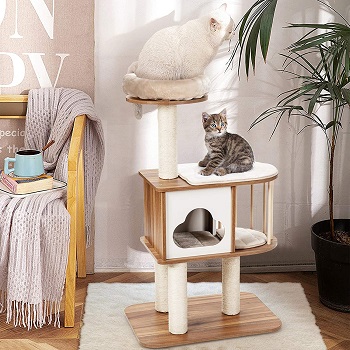 Sisal Posts
If you are tired of your cats scratching your furniture, then you should look for a cat tower that includes sisal posts. Tangkula tree for cats comes with four posts made of rough and quality sisal. It will save your sofas and couches from being scratched and it will help maintain your cat's nails healthy.
In Short:
perfect for smaller-sized cats
the design is beautiful and unique
this tree is made of MDF and PVC
it includes a condo and a balcony
there are four sisal scratching posts
BEST MODERN WASHABLE CAT TREE
Catry Climbing Relaxing Tree
For One Cat
The Catry cat tower tree is modern and comes with a unique design. It is designed for one smaller-sized adult cat or for a kitten. This tree is made of sisal rope, laminated board, and fleece. It is soft, cozy, and easy to wash.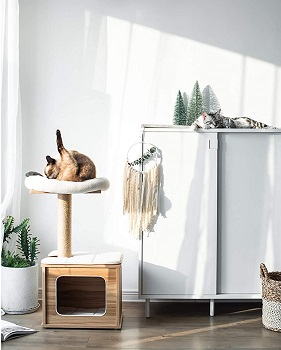 Play And Rest Area
Your cat will get to sleep and relax inside of a bottom cat condo. The condo is spacious and includes a soft and warm cushion. The top of the condo serves as a perch and includes another cushion, as well and the top platform that is supported by a scratching post.
The Construction
This washable cat tree is made of particleboard. It is stable as long as it is used properly. The combination of jute fiber and paper rope makes your cat play without harming its nails and paws. If you want to be sure the tree is stable enough, put it next to a wall.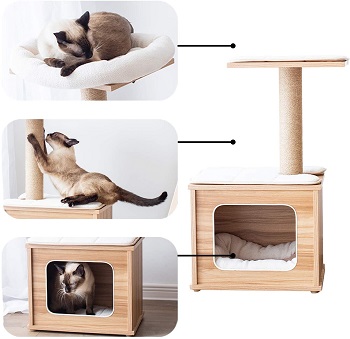 Useful Details
This tree is small and perfect for one cat. The material that is used for construction is of good quality. It is not advisable to use this tree outdoors. The price of this unit is very affordable. This unit measures 19.4 x 15 x 8.9 inches and weighs 15.9 pounds.
In Short:
Catry tree is perfect for one cat
it is modern and small
it comes with a condo and platforms
the tree is simple to maintain
the price of this unit is budget-friendly
How To Pick: Easily Washable Cat Trees
Cats love hygiene. They like to spend time in clean places. Also, most of their waking time, cats spend grooming. Getting your cats a washable cat tree that is easy to clean is very important for their health. However, there are several other characteristics that you have to consider before buying. Your new cat tree needs to be of the right size, long-lasting, firm, and it should fit all the cats that you have at home.
The Easy-To-Clean Material – An ideal cat tree that is easy to clean is a tree of any high-quality material. For example, to clean the wooden and steel trees, simply use a clean and soft cloth and wipe the dust off of trees. The carpeted trees can be vacuumed. Many trees include cushions that can be washed, dried, and easily put back on the tree.
The Right Size – The size of your new tree depends on a few factors – your cat's personality, the number of cats you have at home, and their size. There are cats that like to spend time in high places and are active a lot. Those cats will require a tall and big tree. On the other hand, if you have older cats or cats that prefer hiding under the bed, get a smaller-sized tree. There are so many cool, unusual cat trees on the market that will make your cat's life interesting and fun.
Durability And Sturdiness – If you have more than one cat and if they are of medium to large size, then we suggest you get a firm wooden tree. It will last longer and it won't overturn. Wooden trees are generally safer and more secure. However, if you have one cat that doesn't play often and it is not very heavy, a simple particleboard cat tree will be just fine!
The Extras And Cat Toys – Many trees for cats already include all sorts of content for play or sleep. Choose according to your cat's preferences. There are simple trees that include platforms, condos, and scratching posts. That said, there are cats that like to jump, climb, and play a lot. If your cats are very playful, get them a tree with all the listed content, and make sure it includes levels, interacting toys, scratching pillars, etc.
Where To Buy? – We suggest that you don't buy just any washable cat tree. Make sure that the tree comes from a manufacturer that you completely trust. Also, be sure to buy from a reliable retail website. Always read customer reviews to know that the product you are buying is worth spending money.
To Sum Up
Most of the time, cats will love to spend time on a tall and fun cat tower. Getting a washable cat tree will make it easier for you to maintain it clean. The model that we consider worth buying the most is the one by Lazy Buddy. We like the fact that this tall narrow cat tree carries adult cats. You can simply remove the cushions and convert it into an all-wood cat tree no carpet and clean it easier.