If you are in search of a cat tree house outdoor use, then we invite you to read our article and find out more about the best models.
We have made a top list and divided six cat tree houses into different categories. Read about all of them and see which unit will suit you the most.
The Summary
Top 6 Cat Tree House Outdoor
BEST OF BEST CAT TREE HOUSE OUTDOOR
NewAge Pet EcoFLEX Albany House
EcoFlex Construction
The NewAge Pet's cat tree house outdoor is surely one of the best houses that you will find. The unit is made with ecoFlex. Thanks to that, this cat house is weatherproof and waterproof. Moreover, it will never crack or rot. Another good thing is that it won't succumb to bugs as well.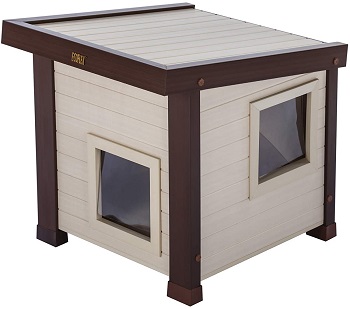 Multiple Doors
Cats don't like to feel trapped because this creates anxiety. In order not to feel stressed, cats need to have multiple enter/exit doors. This house includes doors at the front and side and this is just what cats need to feel fine.
Simple Assembly
Don't worry about the complicated setup. You can assemble this tree house in no time. Also, the installation process requires no tools. All in all, this sturdy cat tree house will keep your cats happy and safe for a long time.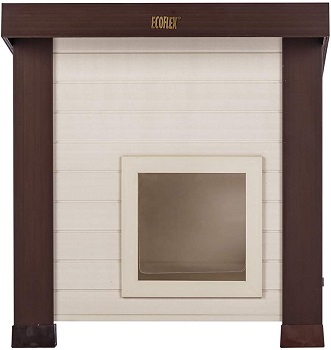 Useful Details
Overall size of this unit is 20.1" H x 20.1" W x 22" L. The interior dimensions are 6.9" H x 16.9" W x 16.7" L. This house will accommodate multiple cats. It is suitable for kittens, small, and medium-sized cats.
In Short:
ecoFlex sturdy cat house design
rot-proof and weather-proof
includes multiple doors
easy to set up with no tools
keeps cats safe and happy
suitable for small to medium cats
BEST 2-STORY CAT TREE HOUSE OUTDOOR
Pawhut Outdoor/Indoor Wood Shelter House
Activity House Design
Pawhut outdoor/indoor cat playground house is perfect to keep your cats busy, satisfied, and relaxed. It includes a spacious cat condo, a cat ladder, and a balcony. Cats can both play and sleep inside of this unit. The roof is resistant to water.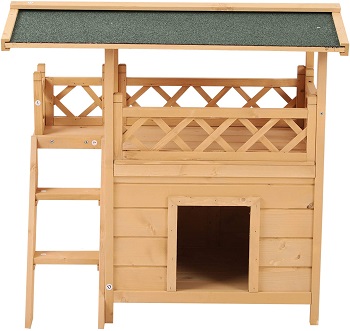 For Fun And Sleep
First of all, the condo included is here to provide your cats with a spacious and safe shelter. It will accommodate two adult cats or three smaller-sized ones. Secondly, the ladder and balcony are here to keep your cats happy and occupied. Also, you can add cat toys to the house as well.
Firm Construction
Pawhut's cat tree house outdoor and indoor use is made of strong fir wood material. It makes the house durable, sturdy, and stable. Besides that, the unit is coated with a finish that is resistant to water. This big cat condo house will accommodate up to 4 cats.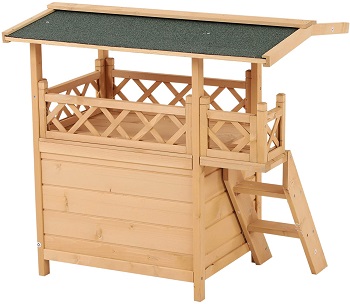 Satisfies Your Cats' Needs
This shelter house is here to make your fur friends feel relaxed and busy with their friends. It is an ideal unit both for active and cuddly cats. Cats can climb, play, and jump up and down the house. Also, add a warm cushion or a fluffy blanket to the condo to make cats feel warm.
In Short:
beautiful activity house for cats
resistant to water and safe
includes two levels
there is a big cat condo
comes with a spacious balcony
BEST WOODEN CAT OUTDOOR TREE HOUSE
Aivituvin Wooden Feral Cat House Enclosure
Size And Capacity
Aivituvin's cat tree house outdoor use measures 37.4″ L x 30.8″ W x 33.5″ H. It is certainly a nice and beautiful house that will not only look nice in your garden but also make your lovely fur friends happy. This unit can accommodate up to 2 cats of 18 lbs.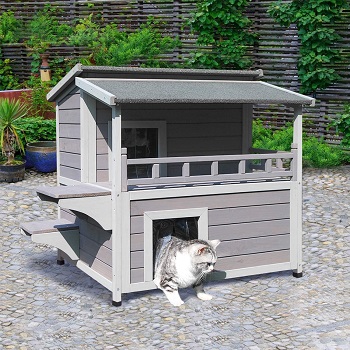 Condo, Balcony, Ramp
The unit includes a big cat condo. On top of it, there is a nice balcony with an asphalt roof. Also, this unit comes with a jump ramp. It eases climbing and jumping to the balcony. Also, your cats will use it as their favorite place for sunbathing.
Solid Wood Construction
When it comes to construction, you should know that this cat tree house is made of solid wood material. This is certainly a big plus because the tree is not only durable and strong but also pet-friendly and eco-friendly.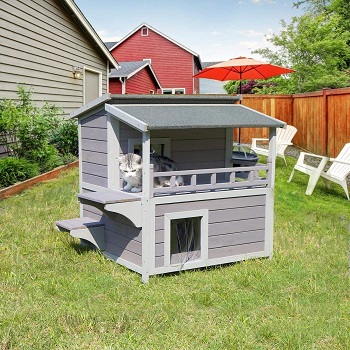 Pet-Friendly And Safe
As already stated, this solid wood tree house for cats provides your lovely fur friends with a natural environment. It helps cats to feel safe and relaxed. Also, it protects the environment and is non-toxic.
In Short:
ideal for up to 2 adult cats
includes a condo and a balcony
there is a jump ramp
made of solid wood material
safe, pet-friendly, eco-friendly
BEST HEATED CAT TREE HOUSE OUTDOOR
K&H Birchwood Manor Cat Tree House
Top-Quality Material
The cat tree house outdoor by K&H is a Birchwood shelter for one cat. Just like other models that we have already seen, this outdoor tree is resistant to all temperatures and keeps your cat warm during cold nights. Another interesting detail is the heating feature.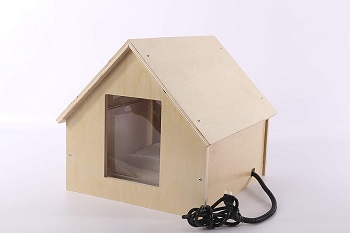 Heated Cat Shelter
What we particularly love about the K&H small cat house for outdoor use is the included heating pad. The pad includes a thermostat. As a result, you can control the temperature and keep your cat warm. Read on to find out more useful information about this interesting unit.
The Assembly Process
As you may assume, this unit needs to be assembled as well. However, the process is quite easy and quick. As opposed to some of the listed models, this unit requires tools for the setup. But don't worry, the screws are included as well as the setup instructions.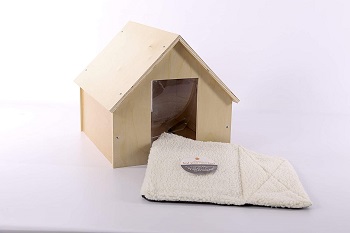 Warning Instructions
In order to use this cat condo tree house properly, read the user manual. To keep it short, be sure not to put any bedding, cushions, pillow, or mats inside of the house and on top of the heating pad because it is not safe.
In Short:
made of Birchwood material
includes a soft heating pad
the pad is thermostatically controlled
assembly is quick and easy
the screws are included in the package
don't put extra mats on the pad
BEST MODERN CAT TREE HOUSE OUTDOOR
Catrimown Triangle Cat House Weatherproof
Cool Outdoor Cat Shelter
Catrimown's triangle cat tree house outdoor is an unusual and cool unit. Its design makes it attractive and fun. When it comes to size, this tree house for outdoor cats measures approximately 20.5" L x 15.75" W x 21.2" H. It is another functional and weatherproof outdoor shelter.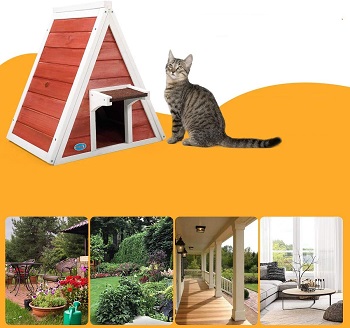 Double Door
Similarly to another model that we have previously seen, Catrimown's tree house includes double doors. This will not only help your cats to access or exit the house easy but also it will not make them feel trapped. We consider this unit safe and functional.
Eco-Friendly Material
Besides design and doors, it is equally important to mention the material used for the construction. The Catrimown cool cat condo house is made of solid wood and eco-friendly and waterproof asphalt. This keeps the tree sturdy and stable for a long time.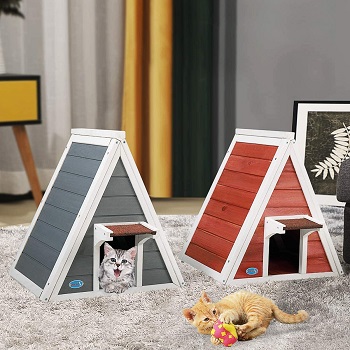 Easy To Maintain
Don't forget to keep the house clean because cats love to stay in a clean environment. Luckily, this unit is simple to keep clean. Access the house through one of the doors and use a cleaning cloth to wipe off the inside. Do this regularly
In Short:
attractive and fun triangle design
weatherproof and water-resistant
includes double access doors
simple to maintain clean
made of eco-friendly material
BEST SMALL CAT OUTDOOR TREE HOUSE
Petyella Heated House For Outdoor Cats
General Overview
Last but not least. Petylella's cat house is a small and comfortable unit. It is water-resistant, but not completely waterproof because it has openings for air circulation. For this reason, keep it under a covered area. For example, under the stairs or a balcony.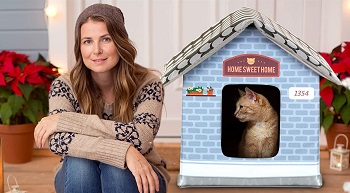 Keeps Cats Warm
This is another model that includes heating. The heating mat comes with a chew-proof cord. Your cat will stay warm and dry even on the coldest days. Petyella's cat tree house outdoor is an ideal shelter for stray cats or pets that prefer staying outdoors.
Cozy And Safe
This small cute cat condo is incredibly comfortable and completely safe. Feel free to use it both indoors and outdoors. Control the temperature and keep your kitty cat warm and safe. Be careful not to put another mat on top of the pre-installed mat.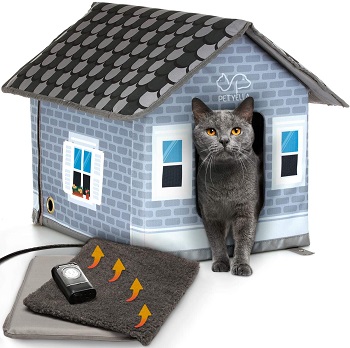 The Capacity
As can be seen from the pictures, Petyella's condo house will accommodate one cat or a small dog. Pets under 25 pounds will fit comfortably. Also, if you have kittens, we are sure two or three of them will fit as well!
In Short:
small and cute house condo
for cats and dogs under 25 pounds
heated mat is included
keeps cats warm and cozy
water-resistant, but not waterproof
How To Pick: Cat Tree House Outdoor
If you want to buy a cat tree house outdoor use and you still don't know which model to buy, then keep on reading our guide. Cat tree houses are ideal for cats that love to stay outdoors. They are spacious, perfect for playing and napping as well. Follow our tips and be sure to buy the unit of the best quality for your little friends.
Perfect For Outdoor Cats – In case your cats love to spend time outdoors, then a tree house will be just what they need. Such units are perfect shelters for your lovely pets and their friends. Place them in your garden, backyard, your terrace, or anywhere that you find suitable. Besides that, you might want to get a cat house for protecting street cats. If that is your reason, then you are in the right place. Such a unit will make all cats feel happy and safe.
Different Models – The model that will be perfect for you depends on your cats' needs and the number of cats you have. For example, if you have one cat, a small house will be just fine. It will keep your cat warm and safe. On the other hand, if you are a multi-cat owner, you will need a larger unit. Also, you can often choose between heated and unheated houses. It is your choice.
Fun Play Zone – Cat houses, especially those with more space, are usually very fun! You can add interactive toys to the house and scratching posts. Moreover, if you hang a dangling ball somewhere, your cat will love to play with it. If you get a large house for multiple cats, they will surely enjoy it. Especially if it has two or three levels. Your cats will get to jump up and down the levels or simply rest on the balcony or inside of a condo.
Cozy Sleeping Space – No matter the size, a house for cats is certainly a cozy space for napping and relaxing. If your new unit does not already include pillows and cushions, then you can add them to the house to allow your cats to feel comfortable and warm. Most small houses will accommodate one or two cats, whereas big houses will welcome two to five cats at the same time. Such units often come with a big cat condo, balcony, or multiple platforms.
Sturdy And Weatherproof – In order to buy the best cat tree house outdoor, you will need to make sure it is made of firm material. In our opinion, cat houses made of wood are the best. Outdoor cat houses and trees are weatherproof and waterproof. They will keep your felines safe and secure. Most units withstand both high and low temperatures. Buy a house that is made by a reliable manufacturer. Also, don't forget to read customer reviews and order from a trustful online webshop.