Are you trying to find the best cat condo house for your lovely kitten?
Then look no more because you have come to the right place. In this article, we have reviewed the best six models and divided them into different categories. Read more about the best of best, carpeted, modern, and other cat houses and trees with condos.
The Summary
Top 6 Luxury Cat Tree Condo Houses
BEST OF BEST CAT CONDO HOUSE
Prestige Cat Tree Maine Coon Cat House
Quality And Solid Construction
First of all, this is a cat tree with a condo and three elevated perches. It is ideal both for fun and cozy activities. Secondly, the tree is made of solid wood which keeps it stable. Thanks to the wooden material, the structure will last you a long time. Also, it will prevent wobbling and shaking.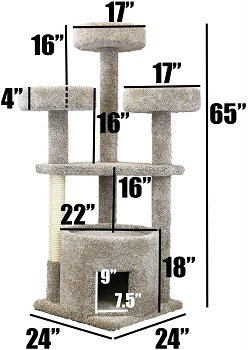 Plush And Warm Carpet
Cats love to sleep on cozy materials. So, if you get your cats a carpeted tree, they will be more than grateful to you. Prestige Cat's cat condo house includes skin-friendly plush covering which keeps cats relaxed, warm, and makes them want to relax on the tree even more.
Size And Capacity
The overall size of the Prestige Cat tower is 24″W x 24″ D x 65″H. This is a tall solid wood cat tree. So, before buying, be sure it fits into your home with no problem. The unit will accommodate both small and large cats. If you have a Maine Coon, you can get this tree as well.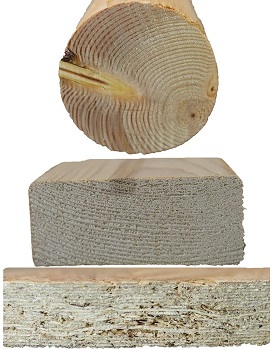 Sisal Rope Posts
Scratching posts are very important because they help your cats to sharpen their claws and mark their territory. Also, cats scratch to stretch after waking up. In case you don't have a scratching board at home, cats will soon find an alternative and might damage your furniture.
In Short:
solid wood construction
includes a condo and perches
skin-friendly plush carpeting
accommodates small and large cats
stable and long-lasting unit
BEST CARPETED CAT TREE CONDO HOUSE
Bewishome Large Cat Tree Condo Sisal Posts
Comes In Two Colors
Bewishome's tower for cats comes in two neutral colors – dark or light grey. Both models look nice and blend in well with most home decors. Choose the one you like most. However, do not let the nice design be the only quality that matters. Read on and learn more details about this unit.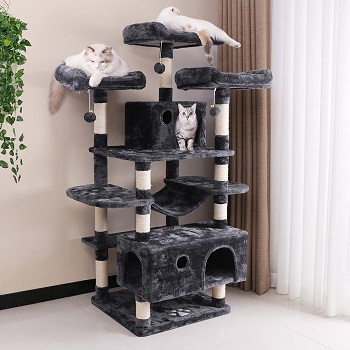 Spacious And Big
This cat tower with condos, a hammock, perches, toys, and posts is perfect for a multi-cat household. It is roomy and can accommodate cats of all sizes, ages, and breeds. The overall dimensions are 36.6″L x 30.7″ D x 62.2″H. This is another unit that you should make room for!
Skin-Friendly Carpeting
Thanks to the warm carpet covering, Bewishome's cat condo house will certainly be one of the most favorite sleeping spaces for your cats. The soft and cozy carpet is safe for cats. Also, it keeps them warm and makes them cats feel stressless.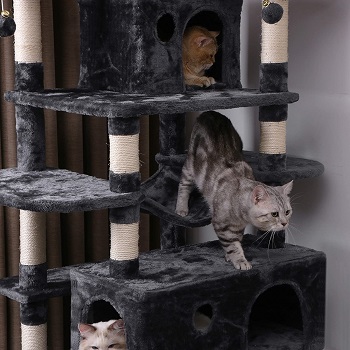 Meets Cats' Needs
Cats have jumping and climbing needs and thanks to the size and equipment of this multi-level cat tree, they will have a lot of opportunities for all of their activities. Also, the teasing toys dangle from top perches and attract cats' attention by swinging back and forth.
In Short:
comes in dark and light grey
wide, large, and roomy tree
includes two condos and perches
teasing toys dangle from the top
ideal for multiple cats
BEST MODERN CAT CONDO HOUSE
Furhaven Tiger Tough Cat Tree
Soft Surface
Thanks to the soft plushy covering, Furhaven tiger tough cat tree is another luxury cat tree condo house that provides cats with a comfortable surface to sleep on. The cover is made of faux fur material. It is safe and skin-friendly. The condos are carpeted from the inside as well.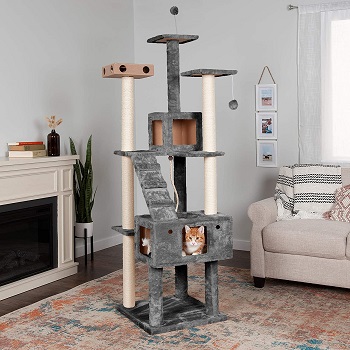 The Equipment
Firstly, there are multiple platforms and two elevated perches included. Besides that, the tree comes with sisal posts for scratching. Then, there are interactive toys as well as a cat-IQ busy-box to keep cats occupied and busy. All in all, this is a fun cat tree for cats 10 weeks and up.
The Setup
Just like many other trees with condos, Furhaven's cat condo house needs to be set up. However, you shouldn't worry because the package includes easy-to-follow instructions. Also, the process is simple and fast. One or two adults can set the tree up in no time.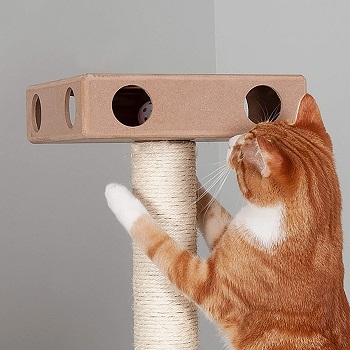 The Overall Quality
In our opinion, this is a tree made of fine quality materials. It is stable, comes with a good balance, and includes all the equipment necessary to make cats happy. The cost of this unit is medium. We wouldn't say it is too expensive. Check it out for more details.
In Short:
soft and cozy surface
tall and multi-level
includes a cat-IQ busy box
there are condos and perches
quality and long-lasting tree
BEST CORNER CAT TREE CONDO HOUSE
Go Pet Club Cat Tree Condo House
Pet-Friendly And Safe
This medium cat tree is made by Go Pet Club manufacturers. It is 100% safe and pet-friendly. Thanks to the multiple pillars, the tree is well-balanced and stable so there is a small possibility it will tip over or collapse easily. Also, the baseboard allows you to place it in a corner as well.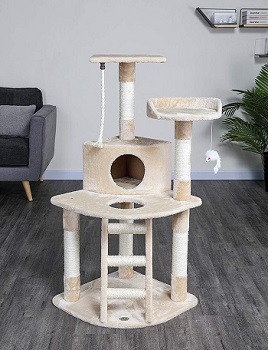 Compressed Wood Construction
The tree is made of high-quality compressed wood material as well as skin-friendly plush covering. As a result, it keeps cats warm, cozy, and safe. The overall quality is fine and the unit should last you a long time, as long as you use it correctly. This means that no more than two large cats can stay on it at the same time.
Ramp And Condo
Go Pet Club's cat tree with ramp is fun and entertaining. The ramp helps your cat to climb to the first-floor cat condo. Also, the steps as well as pillars, are lined with natural sisal rope which allows climbing. The condo is carpeted from the inside as well. This means it is cozy and warm.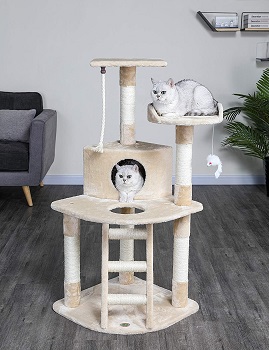 Posts And Toys
The scratching posts allow your cats to scratch and keep their claws strong. Not only that, but they ease the climbing as well. Besides the posts, this cat condo house includes a hanging rope and a dangling mouse. Cats love to play with such toys. It keeps them busy.
In Short:
made of compressed wood
pet-friendly tree with toys
there are a ramp and a big condo
pillars are lined in sisal
ideal for two large cats
BEST LUXURY CAT CONDO HOUSE
Nova Microdermabrasion Cat Tree Tower
Choose Between 5 Colors
In contrast to other models, the Nova Microdermabrasion luxury cat tree condo house allows you to choose between five colors. Pick between a dark grey, beige, blue, brown, or light grey. This nice cat tree will surely look fine with most home decors.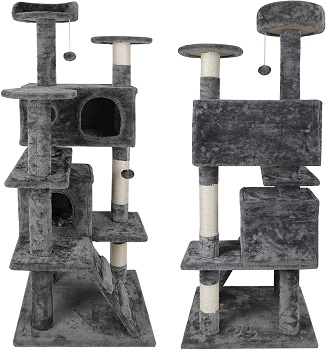 Multiple Levels
Thanks to the numerous levels, this unit will allow your lovely furry friends to jump, climb, and play as much as they need to. The wide base keeps the unit stable as well as multiple pillars that add balance to the structure. Other than the platforms, this tree comes with condos, a ramp, perches, and more.
Keeps Cats Away From Furniture
If you have been living with an indoor cat and no cat tree, then you must know what it seems like when your cats scratch your sofas. It is a cat's natural instinct and scratching helps to keep their nails strong and healthy. Thanks to the sisal-rope posts, this tree will satisfy all of your cats' scratching needs.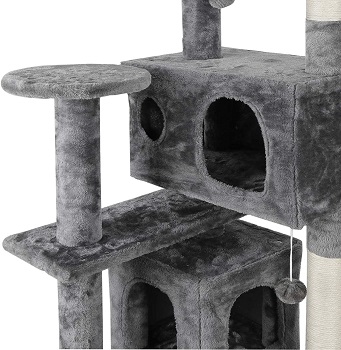 Useful To Know
This cat condo house is made of particleboard material. The surface is covered with pet-friendly plush material. The unit is ideal for cats from small to medium size. It is an adult cat tree, but it will not be the right one for very big cats such as Maine Coon.
In Short:
pick between five colors
includes multiple levels
helps to meet cats' scratching needs
made of particleboards
pet-friendly and soft covering
BEST MULTI-LEVEL CAT CONDO HOUSE
Yaheetech 51in Cat Tree Tower House Play
General Details
Yaheetech's tall tree will hold both smaller-sized and medium-sized cats. It is constructed out of particleboards. Just like other models on this list, the unit is covered with skin-friendly plush. If you live with kittens and adult cats, this tree will be the right one for you.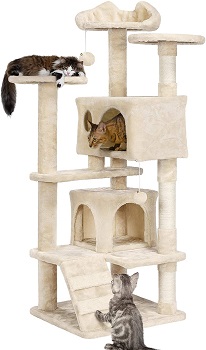 The Condos
Thanks to two condos and different platforms, multiple cats can sleep and relax on this tree with no problems. There is just enough space for each cat to feel cozy. One condo is small, and the other one is bigger. They are carpeted both from the outside and inside.
High Perches
Most cats love to stay in high locations because they can observe the area around them and feel confident. Thanks to the elevated perches, your felines can climb and lounge. The perches are simple to climb. They include hanging toys to keep cats busy and active.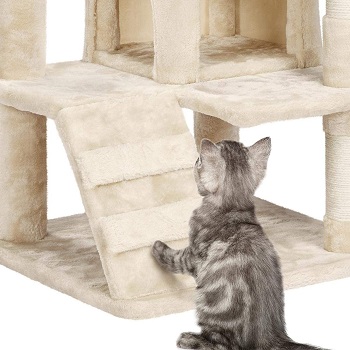 Good To Know
Apart from the dangling toys, there are multiple scratching posts included. The overall size of this cat activity tree is 11.2″L x 11.2″Wx 9.5''H. This unit made of quality materials. The cost of this cat condo house is affordable.
In Short:
ideal for small to medium cats
made of particleboards
includes two cat condos
there are dangling toys as well
two elevated perches keep cats confident
How To Pick: Cat Condo House
The luxury cat tree condo houses are pieces of cat furniture that most cats simply love because they get to relax and nap in them. Every cat owner knows that cats spend most of their time sleeping. So, it is important that your new tree includes comfortable and warm condos and houses. It will not only make cats feel safe, but it will also help to reduce feelings of anxiety and stress.
Cat Trees With Condos – Most cat towers and trees include a condo, bed, perch, or other similar equipment. In our opinion, it is very important that a cat has its special and private sleeping space. Shy cats especially love condos because they can hide during nap time. If you have multiple cats, be sure to buy a tree with more than one condo.
Coziness And Spaciousness – It is important that you look for a tree with condos that are large enough to accommodate your cat. Not every cat tree condo will fit all cat sizes. Although cats love to cuddle up and sleep, they still need to have enough space to fit comfortably. Moreover, in many multi-cat households, some cats love to sleep with their best cat friend.
Large Offer – Feel free to choose between a large variety of models. There are short, medium, tall, large, wide, and other trees. Also, you can choose between a simple cat tree or a modern, rustic, or wall-mounted tree. All in all, it doesn't matter which model you prefer. What actually does matter is the tree's quality.
Quality And Durability – In our opinion, the best cat trees are made of wood or other solid material. However, they are pricier and not everyone can afford them easily. In short, all you need to look for is a sturdy cat tree with a good balance. Some units can be attached to the wall for extra stability. Don't forget to check the tree's maximum load too.
Buy Online – We suggest that you check the online market. You will surely find the right model very soon. Besides that, if you buy from a reliable webshop and a quality manufacturer, you will surely get a long-lasting cat condo house tree. Should anything happen, you can always contact customer support and they will be more than glad to help you out.
To Sum Up
Now that you know more about cat condo house trees, you might have found the right model for your household. In our opinion, the best tree on this list is Furhaven Tiger Tough Cat Tree because it includes all the necessary equipment to make any cat happy. This cat tree toy comes with a cat-IQ busy box which differentiates it from other models. Other than that, it is an indoor cat tree for cats of almost all sizes, breeds, and ages.