If you are looking for cat climbing toys or toy towers for cats, then you are in the right place.
In our article, you can read more about the six models that we have put on our top list. See why we liked them and read all the important details about each one of them. Don't miss reading the buyer's guide we have made to help you find the best model for your household.
The Summary
Best 6 Cat Climbing Toys
BEST OF BEST CAT TREE TOY
Mellcom Cat Toy Tree House
Activity Cat Tree
Mellcom's cat tower toy is ideal for indoor cats. First of all, it is a unit that keeps cats busy, occupied, and active on a daily basis. It includes all that cats need in order to stay healthy and happy. There are both toys and cozy sleeping spaces for your cats to relax as well.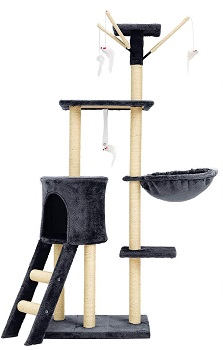 Fully-Equipped Design
The tree stands on a wide base. There are multiple pillars that keep the unit stable and well-balanced. When it comes to equipment, this tree includes a ramp, a big cat condo, platforms, a basket, and toys. This is certainly one of the best fun cat trees on the market.
Strong Construction
Thanks to the sturdy and high-quality material, the tree is one of those that will last you a very long time. It is made of particleboard material. The wide and heavy baseboard helps the tree to remain solid so your cats can play and jump between the levels with no problem.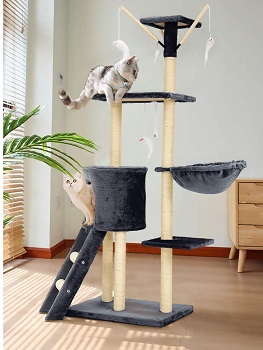 The Dimensions
If you have two or three adult cats of medium size, this unit will surely meet all of their needs. The size of this tree toy is 19.7″H x 13.8″W x 55.2″H. It is a medium to tall cat tree that looks nice in every household. Place it next to a wall for extra stability.
In Short:
ideal for two active cats
includes fun toys and a ramp
there is a big condo too
sturdy and stable cat tree
stands on a wide and heavy base
BEST SMALL CAT TOWER TOY
Cupets Cat Tree Hanging Toys
Perfect For Kittens
The Cupets' cat tree is a small unit and fits in every household with no problems. It is ideal for kittens or very small cats. The unit is covered with a plush and skin-friendly material. As a result, small kitties love to both play and relax on it. It keeps them warm and makes them feel safe.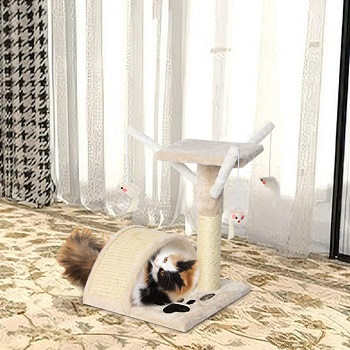 Size And Capacity
The tree's overall size is 12.99″L x 12.99″W x 15.7″H which means that this is a short cat tree. It is space-saving and long-lasting. Moreover, the unit will hold kittens from 0 – 10 lbs. It is a multi-functional unit with pet-friendly equipment.
Scratching Arch
The scratching post in the shape of an arch is here to make your kitties sharpen their claws. Thanks to it, your lovely cats will get to keep their claws strong and healthy. It will help to meet their natural instincts and save your furniture from damages too.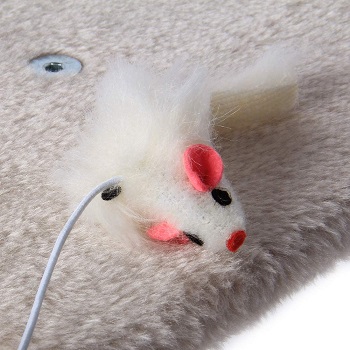 Teasing Toys
The unit comes with multiple teasing toys. They swing back and forth from the top and attract your cat's attention. The elastic rope can easily be pulled very long. Kitties love to play with such toys and enjoy their activities for hours.
In Short:
kitten tree with teasing toys
includes a scratching board
small and short dimensions
skin-friendly plush cover
multi-functional and pet-friendly
BEST CHRISTMAS CAT CLIMBING TOY
Boluo Christmas Tree Cat Toy
Christmas Cat Tree
Boluo manufacturers have made a perfect gift for your cats for Christmas. This scratch-post cat tree toy measures from 7.5'' to 20.9'' and it comes with a circular base and Christmas decorations. Thanks to its overall size, this tree will accommodate cats of all ages and up to 10 lbs.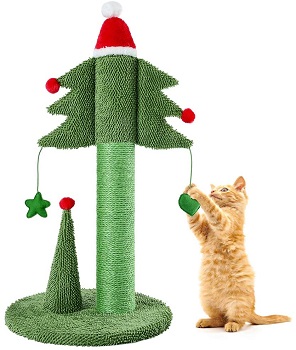 No Shaking
Thanks to the heavy circular base, this tree will not shake or wobble even if your cat jumps on it from distance. In case you want to add extra stability, we suggest you place the unit next to a wall because it will help to avoid tipping over.
Sisal Rope Material
Almost all unit is covered with natural sisal rope. As a result, this is an ideal tree for scratching and meeting your cat's natural instincts. This is above all a fun tree for cat's activities. It is perfect for cats that stay indoors most of the time. Also, it will help to prevent furniture scratching.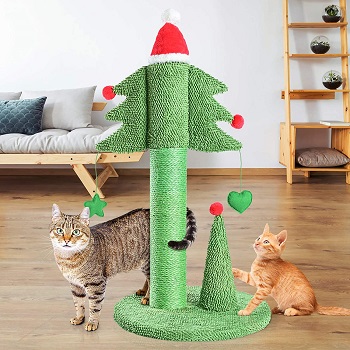 Simple To Set Up
Minor assembly is required. The unit is made of four pieces – two posts, a Christmas hat, and a base. Simply put all the pieces together and you will have your new cat climbing toy ready in no time. The quality of this fun cat tree is quite good and the price is affordable as well.
In Short:
cat toy shaped liked a Christmas tree
includes natural sisal material
fun and ideal for scratching
helps kitties to climb as well
sturdy and solid construction
BEST CARPETED CAT TOWER TOY
S-Lifeeling Unique Cat Toy And Furniture
General Details
The S-Lifeeling cat tree measures 18.1″(L)*18.1″(W)*55.1″(H). It is a tall tree with carpets that will keep your cats warm, cozy, and relaxed. Other than that, the unit is perfect for playing, climbing, and scratching too. It is an all-in-one activity center for indoor cats.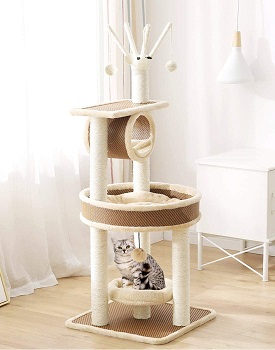 Perfect For Climbing
Thanks to the rattan cover, your cats can climb and scratch for as much as they want. This cat tower toy is ideal for cats that love to stay in high locations and feel confident by overlooking the area around them. This indoor cat playground will surely be your cat's new favorite piece of furniture.
Ideal Sleeping Zone
Besides the scratching pillars, toys, the unit includes two cat beds and a top platform as well. There is also a tunnel that cats love to sleep in too. There are removable cushions included and they keep your lovely cats warm and relaxed.
Sturdy And Good Balance
Thanks to the strong construction, this unit will last you a long time. It will help your cats to jump and climb on a daily basis while keeping them safe and secure. The unit has a good balance and looks nice with any home decor.
In Short:
tall playground for cats
includes two cat beds
there is a cat tunnel too
ideal for climbing
meets cats natural instincts
BEST FLOWER CAT CLIMBING TOY
Catry Cat And Kitten Climbing Toy
Sunflower Cat Tree
If you want to get an unusual cat tree for your household, we would definitely recommend you to check out this unit by Catry. It looks like a sunflower and brings colors to your home. This green and yellow cat tree is nice, functional, and long-lasting.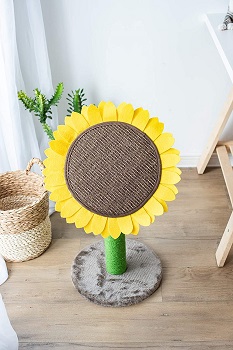 Multiple Functions
Not only is this cat tower toy going to meet your cat's scratching needs, but it will also be a nice and comfortable cat bed. The flower is large and spacious but accommodates only one adult cat or two small cats at the same time.
Scratch Post
Thanks to the sisal scratching post, your cat will surely prefer to sharpen its claws on this flower rather than on your furniture. If you want to keep your furniture undamaged, then this unit will be just what you and your cat need. Sisal material is rough, skin-friendly, and long-lasting.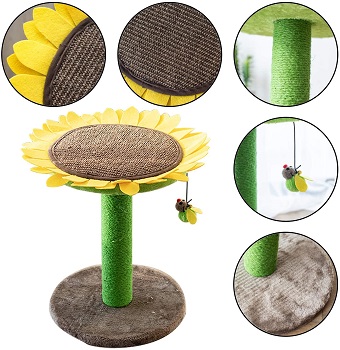 Durable Construction
Catry's flower cat tree is another durable unit that cats love to spend time on. The combination of MDF, sisal, felt, jute, and fleece makes the structure stable, long-lasting, and strong. This tree is functional, safe, pet-friendly, and nice-looking at the same time.
In Short:
cat tree shaped like a sunflower
includes a scratching board
ideal for sleeping as well
made of MDF and sisal material
long-lasting construction
BEST INTERACTIVE CAT TOWER TOY
Petstages 3-Tier Cat Toy
Promotes Healthy Life
This cat tree toy by Petstanges is ideal to keep your cats happy and busy. It is an interactive toy with 3 levels of tracks. Moreover, the tracks include 3 colored moving balls and they are here to entertain your cats. If you have playful cats, they will surely love to ponce the balls and play for hours.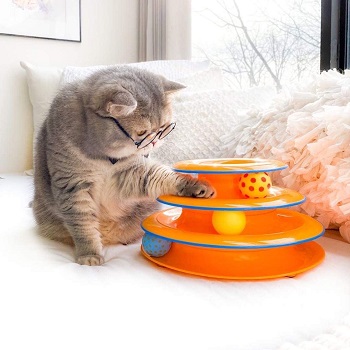 For All Cats
Whether you have kittens or adult cats, it doesn't matter because this unit will entertain cats of all ages and breeds. This toy is great both for single and multi-cat households. It will help to reduce stress, anxiety, and feline conflicts too.
Safe And Secure
Thanks to the non-toxic and pet-friendly material, the unit will keep your cats safe. The construction is strong and the balls are kept inside of the unit. Moreover, there is a small safety bar included and it keeps kittens from getting stuck while playing.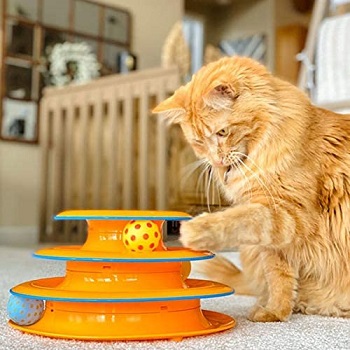 Sturdy And Non-Slip
This cat activity tree toy is made of durable and pet-friendly plastic material. Moreover, there is a non-slip base included too. It keeps the toy in one place during the play. The unit is affordable and convenient to have if you live with indoor cats.
In Short:
keeps cats busy and occupied
ideal for playful cats
non-slip base and sturdy construction
ideal for cats of all ages
safe, pet-friendly, and secure
How To Pick: Cat Tower Toy
In our guide, you will read more about the benefits that cat tree toys bring to your cats. Other than that, we will help you choose the right model for your household. Choose between small, medium, and large trees and toys. Be sure to know what your cat needs before buying. Check customer reviews and buy from a reliable manufacturer.
Benefits Of Cat Toy Trees – Cats are big sleepers and they spend most of their time relaxing and napping. However, when they are awake, cats love to play, climb, and explore. If your cats spend most of their time indoors, then you will need to make them active. A cat toy tree will help to meet your furry friends' needs. It will keep cats occupied and busy as well.
The Right Size – If you have one cat, then a tree of short or medium size will be just enough for your household. However, if you have a large cat or multiple cats, then be sure to get a taller version. Also, not every tree will have enough space to accommodate more than one or two cats. Check the tree's maximum load and buy accordingly.
Different Models – Thanks to the large variety of cat tree models on the market, you will surely find the right model in no time. Feel free to choose between interactive cat towers with toys, scratching posts, condos, and others. The more equipment a cat tree comes with, the better. Toy trees for cats will attract your felines' attention and keep them busy. It may help to reduce feelings of boredom, anxiety, and feline conflicts.
Setup And Cleaning – Almost all cat towers and trees need to be assembled, especially if you buy a large or wide cat tree. Usually, the assembly is quick and simple, so you don't need to worry about that. Also, the packages include easy-to-follow instructions as well. When it comes to cleaning, be sure to do it often because cats love to stay in a clean environment. It is important both for their mental and physical health.
Where To Buy? – In order to buy the best cat climbing toy or toy tower, we suggest you check the online market. Always buy from the manufacturer and website you trust. Remember to check customer reviews too and be sure that the structure you get for your pet will last you a long time.