Have you been trying to find cat climbing shelves to save your space and keep cats active at the same time?
Then you have come to the right place because we have prepared a top 6 list for you. Find out more about these cool models and learn all the important details about the models that we have reviewed.
The Summary
Top 6 Cat Climbing Wall Shelves
BEST OF BEST CAT CLIMBING SHELVES
Purife Wooden Cat Wall Steps
Attractive And Stylish
Thanks to the modern and elegant design of the Purife cat climbing shelves, this structure looks nice with any home decor. It consists of two shelves and a nice, long ladder that connects them. This simple cat tree shelf is fun and functional at the same time.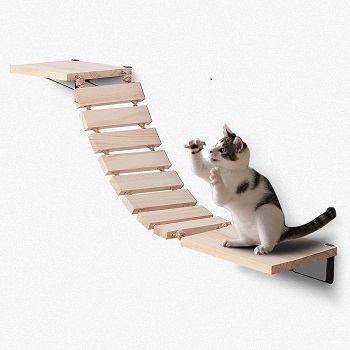 Sturdy Construction
Thanks to the natural pinewood material and metal brackets, the unit is solid and long-lasting. It is one of those pieces of cat furniture that lasts a long time. Install the structure properly and you will have nothing to worry about because it will keep your cats safe.
Keeps Cats Active
Cats love to play, climb, and exercise. If you have cats that stay indoors most of the time, such a unit is a must for your household because it allows cats to stay active on a daily basis. Besides that, a cat shelf will not occupy a lot of space which is great if you live in a small apartment.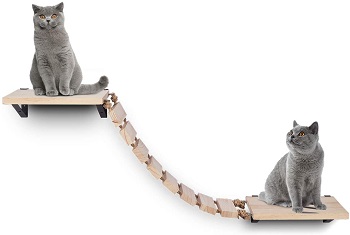 Safe For Cats
This is a 100% pet-friendly unit. It has no sharp edges and the material is eco-friendly and natural. Also, the mounting is quick and simple and all you need to do is follow the instructions. One or two adults can install these indoor cat tree shelves in no time.
In Short:
two shelves and a ladder
saves indoor space
sturdy and natural pinewood material
keeps cats active and safe
easy to mount on the wall
BEST CARPETED CAT CLIMBING SHELVES
Trixie Carpeted Cat Shelves
Set Of Shelves
Trixie's set of wall-mounting shelves for cats includes two steps, a big cat condo, and a hammock. In short, it comes with all the necessary equipment to make your cats feel happy and satisfied. Households with multiple cats will love this set because each piece of furniture will accommodate one cat at a time.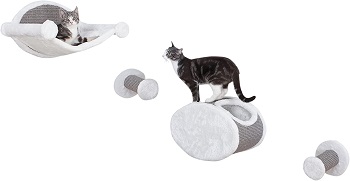 Carpeted With Plush
Thanks to the skin-safe carpet covering, the shelves, hammock, and condo are cozy and warm. This is a big plush for your feline because they love to sleep in a cozy and plushy environment. The reason for that is because it reminds them of their mother's fur.
Sisal Posts
Besides the soft carpets, Trixie's cat climbing shelves are covered with sisal rope material that attracts cats and helps to satisfy their scratching needs. Cats scratch not only to sharpen their claws and keep them healthy but also to stretch after waking up from a nap or leave a visual mark.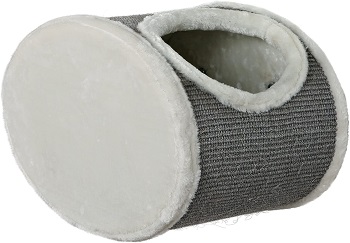 Installation And Cleaning
The package includes all hardware and instructions for the installation. One adult can do this job with no problem. Put the shelves up in no time and allow your cats to play and jump immediately. When it comes to cleaning, we suggest you vacuum the carpets from time to time to get rid of cat hair.
In Short:
this a set of wall shelves
ideal for active and playful cats
includes a condo and hammock too
easy to install and keep clean
carpeted with plush and sisal
BEST LARGE CATS CAT CLIMBING SHELVES
Fukumaru Cat Shelves For Large Cats
Nice Design
The Fukumaru shelf for cats is surely one of the nicest such units on the market. At least in our opinion. It comes with a simple design that looks nice not only in modern homes but also in households with a rustic interior. It consists of a wooden frame and a skin-friendly cover.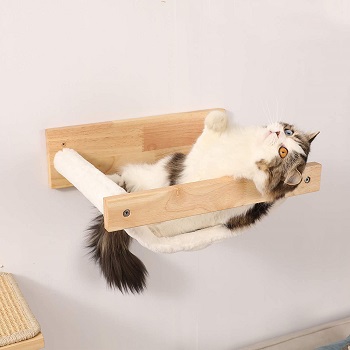 Perfect Relaxing Zone
Most cats love to sleep and lounge in high places and this is why Fukumaru's cat climbing wall shelf is ideal to satisfy your cat's needs. It is a unit for one cat of almost any size. Both small and large cats will fit with no problems.
Easy To Wash
When it is time to wash this cat shelf, simply remove the fabric and wash it in a washing machine. We suggest you do that regularly because cats love to stay in a clean environment. It is important both for their mental and physical health.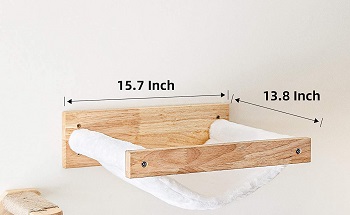 Simple To Mount
Just like other structures on this list, Fukumaru's modern cat wall shelves needs to be mount on the wall with screws. All the tools and instructions are provided by the manufacturer. In other words, the installation is quick, simple, and easily done by one adult person.
In Short:
attractive cat shelf tree design
made of wood and skin-friendly cover
ideal for lounging and napping
perfect for cats that love heights
easy and quick to install
BEST STYLISH CAT CLIMBING WALL SHELVES
The Refined Feline Floating Shelves Cat Tree
Sturdy Construction
The Refined Feline manufacturers have designed a sturdy shelf for multiple cats. First of all, this solid wood cat tree shelf is large and spacious, yet space-saving and functional. The structure mounts on the wall in no time. As well as other units, the package includes the instructions.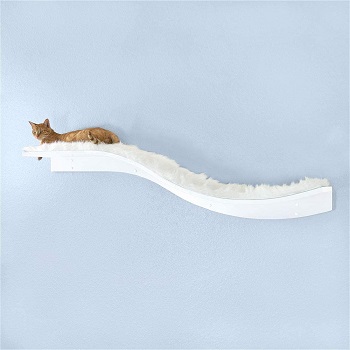 Carpeted And Warm
Thanks to the comfortable carpeting, this cat tree wall shelf will keep your cats warm and safe. The carpet can easily be removed when it is time for cleaning. Moreover, if you prefer it that way, you can simply take off the carpet and have an all-wood no carpet cat tree wall shelf.
Size And Capacity
When it comes to size, the structure measures approximately 61" long and 10.5" deep. The net weight is about 20 pounds and this wall shelf for cats to climb will accommodate multiple cats of all sizes and ages with no problem.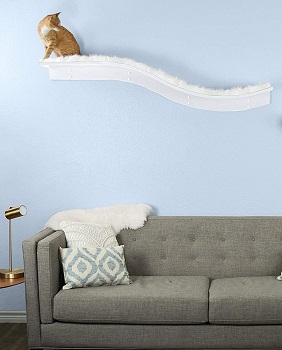 For Small Rooms
It doesn't matter if you live in a small or large apartment because these cat climbing shelves can easily be mounted on almost any wall. Although the structure is pretty large, it will save space and look nice above your couch, sofa, or anywhere else you find it suitable.
In Short:
made of durable and solid materials
includes soft plush carpeting
the carpets are easy to remove
easy to install on any wall
it will save your space
ideal both for lounging and jumping
BEST COOL CAT CLIMBING SHELVES
Petfusion 3-Piece Set Stylish Cat Shelves
A Three-Piece Set
This 3-piece set of cat climbing wall shelves is ideal for small rooms. The units are made of MDF material. The package consists of three shelves of different sizes. You can mount them as you wish and allow your lovely furry friends to jump and play.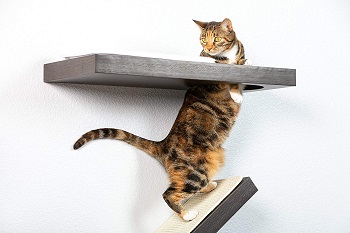 Minimalist Design
In case you like minimalist home decor, these shelves might be just what you need. Thanks to the attractive and elegant design, it will almost be unnoticeable that these shelves are made for cats. This simple cat tree for wall mounting requires no drilling for the installation.
Aolid Construction
As long as you install this structure properly, it will last a long time and long more than one cat at the same time. Thanks to the premium-quality MDF material, these sturdy and strong shelves will remain in one place even if two cats jump off of it at the same time.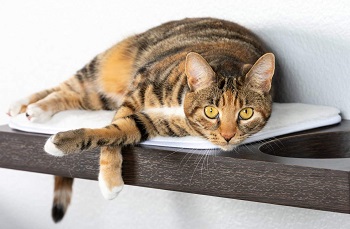 Useful Details
In the end, you must know the overall size in order to understand if you have enough space for the shelves. The overall measures of the largest shelf are 26" x 11" x 2" (lwh). The medium shelf's size is 18" x 8" x 2" (lwh) and the small shelf's dimensions are 8" x 8" x 2" (lwh). Use a soft cleaning cloth to dust off the surface.
In Short:
cat shelves package with 3-piece set
includes a large, medium, and small shelf
easy to maintain it clean
sturdy and solid construction
quick and simple no-drill installation
BEST BOOKCASE CAT CLIMBING WALL SHELVES
Bayka Bookcase Cat Tree For Lounging
A 2 in 1 Set Of Shelves
Bayka's shelves are here both for your and your cats. This is another set of three pieces of cat furniture. When it comes to cats' needs – they will get to climb the shelves, perch, lounge, and have fun. On the other hand, you can use the shelves to keep your books on them as well.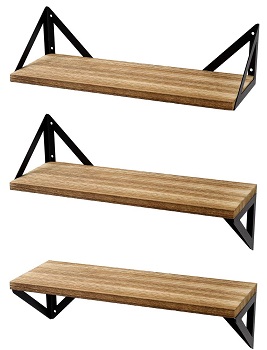 Nice Looking
Besides the functionality, the cat climbing shelves are nice-looking as well. The simple, yet attractive and luxury design, allows them to blend in with furniture of almost any style. This wall-mount bookshelf cat tower is made of industrial matte metal brackets and Paulownia wood material.
Customize And Adjust
Feel free to mount these pieces of the luxury cat furniture as you wish – horizontally or vertically. It depends on your likings or possibilities. Also, you can mount each shelf differently and use some of the shelves for your or your cat's needs.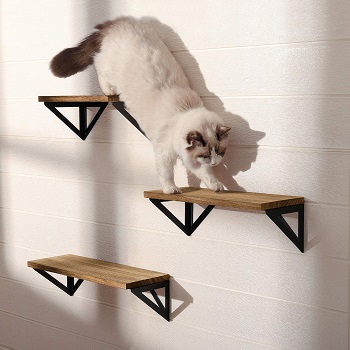 The Installation Process
All in all, the mounting will require no more than 20 minutes of your time. Just like you may assume, the instructions and all hardware are included in the package. The assembled size of the large shelf is 16.5 × 6 × 4.8", the dimensions of the medium shelf are 14.2 × 6 × 4.8". In the end, the small shelf's size is 11.4 × 6 × 4.8".
In Short:
ideal both for you and your cat
functional, nice, and elegant
luxury yet simple design
includes three pieces of shelves
easy to install on any wall
How To Pick: Cat Climbing Wall Shelves
If you want to keep your indoor cats happy and active, getting them shelves to climb is surely a great idea. Such structures save your space and keep cats occupied and busy. In order to get the right model, make sure it comes from a reliable manufacturer. Read on and find out more about the benefits, material, and maintenance.
For Healthy And Active Life – In order to stay healthy and satisfied, cats need to climb, play, and scratch. It helps them reduce the feelings of boredom, stress, and anxiety. In multi-cat households, indoor cat tree playgrounds and wall shelves for cats will reduce feline conflicts as well.
Cozy Napping Space – Wall shelves and trees for cats will not only allow your cats to stay active on a daily basis but will also be your cat's favorite sleeping zone. If your cats love to climb to high locations and observe the area around them, then wall shelves for cats a great solution for your household.
Saves Your Space – Cat owners and cats who live in small apartments love cat shelves. They save space, look nice, and provide enough room for all of your cat's activities. Other than that, they are sturdy and long-lasting. This means that as long as you assemble the unit correctly, it will hold multiple cats with no problems.
Sturdy And Firm – Thanks to the strong material and proper installation, you can be sure your new shelves will hold both small and big cats at the same time. However, before you buy, check the structure's size and maximum load. Also, be sure the unit is made of fine material. Check customer reviews as well.
Easy To Maintain Clean – If you get non-carpeted cat climbing shelves, all you need to do is dust off the surface with a cleaning cloth from time to time. On the other hand, if you get a carpeted structure, use a vacuum or lint roller to get rid of cat hair. Lastly, some units include cushions. They are usually easy to remove and can be machine washed.
To Sum Up
To conclude, the Bayka Bookcase Cat Tree For Lounging is the piece of cat furniture that we liked the most. We liked these cat climbing wall shelves not only because they allow your cats to climb and have fun, but also because you can keep your objects on them. In case you want to read more about similar models, we invite you to check out our article about the best space-saving cat trees and hanging cat condos.