Have you been trying you find door hanging cat trees or condos?
Are you unsure of which model to go for?
Then read our article and find out all the details about these interesting units. Don't miss reading our buying guide too. Hopefully, it will help your find the most appropriate unit for your household.
The Summary
Best 6 Door Hanging Cat Condo Tree
BEST OF BEST HANGING CAT FURNITURE
K&H Door Cat Condo
Easy To Install
The K&H door hanging cat condo is simple to install. You can mount it on your door in less than several minutes. It will fit on any door. It folds down easily and takes no much space when stored.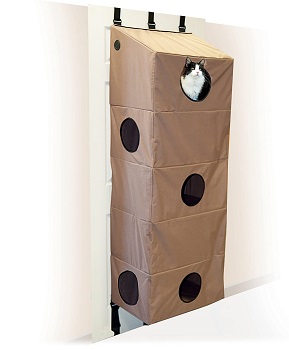 For Active Felines
Such a unit is ideal for indoor cats that love to play and climb. This big cat condo will also allow your cats to sleep and rest in a private space. There are 5 layers that your multiple cats can play on.
Interior Access
All the layers are connected from within. Your cats can jump between 5 levels from the interior. This condo comes with 7 peep-holes and allows your cat to view the outside. The fabric is breathable. This condo is pet-friendly and safe.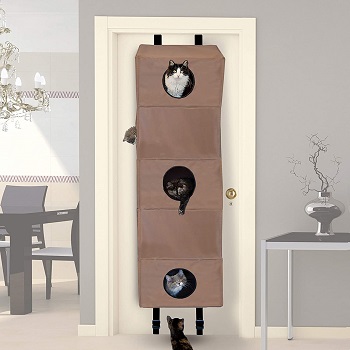 Waterproof And Durable
The material that the condo is made of is 600 Denier nylon. It is safe for pets and most importantly, the fabric is weatherproof. This condo is durable and made of high-quality material. It saves space and keeps cats active for hours.
In Short:
simple mount this unit
it will fit any door
the condo has 5 layers
all the layers are connected
the fabric is waterproof
this unit is breathable and safe
BEST DOOR HANGING CAT TREE
SmartCat Hanging Cat Tower
Four-Level Design
The SmartCat hanging cat tree comes with four levels. It is tall and fits on almost any door (from 79" to 82" H). This unit is stable and long-lasting. It comes with a spring-loaded bracket system that ensures stability.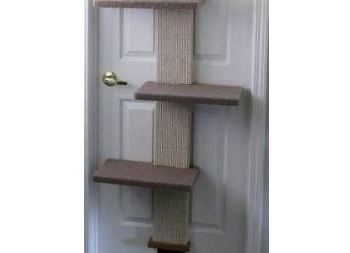 Promotes Healthy Life
Indoor cats need to be as active as outdoor cats. If you have cats that stay inside most of the time, you might like this product. It includes scratching posts that are covered in natural sisal. It invites cats to climb and play on a daily basis.
Easy To Mount
The package includes detailed instructions for the mounting. This cat tree can be mounted in no more than 15 minutes. We suggest that another adult helps you out. Install the tree correctly and ensure your cat's safety.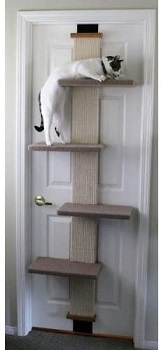 Size And Capacity
Overall dimensions of the SmartCat door cat tree are approximately 9 x 6 x 82 inches. The unit weighs 28.6 pounds. This cat activity tree is firm and stable. It will hold up to two adult cats with no problems.
In Short:
a four-level door tree for 2 adult cats
the unit is made of a rigid and firm material
it is long-lasting and space-saving
fit on any door from 79" to 82" high
easy to mount on the door
BEST HANGING CAT CONDO
MiMu Cat Condo
For Multiple Cats
The MiMu door cat condo is perfect for households with multiple cats. It will support your felines during playtime or sleep time. There are 5 levels that are internally connected. The peepholes are included too.

Doesn't Take Space
This is another saver for small apartments. The unit attaches to any door. It measures 16 inches wide and 13 inches tall. This hanging cat condo stands out from your door at approximately 15.5 inches.
Durable And Tall
The MiMu is a tall narrow cat tree condo. It invites cats to play and allows them to stay occupied. The unit is made of quality material – 600 Denier nylon fabric. It is waterproof and durable against cat scratches.

No-Tool Setup
The tree gets easily attached to your door with special connectors. The top-level can be zipped open. Attach the unit to your door with thick straps. Follow the detailed instructions and install this comfy unit in no time.
In Short:
ideal both for 1 or multiple cats
space-saving, narrow, and tall
made of durable and waterproof material
the setup is easy and fast
this condo has 5 levels and peepholes
BEST CARPETED DOOR HANGING CAT TREE
XXJF Door Hanging Cat Tower
Easily Portable
The carpeted cat tree by XXJF gets installed on any door. Just like the door cat tree model we saw before, this unit includes a spring-loaded bracket system too. This door hanging cat tree can be moved from room to room.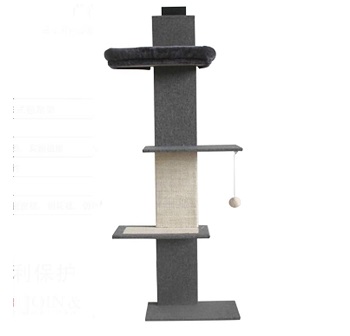 Nice And Attractive Design
This carpeted cat tree for large cats is interesting and will immediately catch the eye of any visitor. The unit will complement every room and it will make your cats active and occupied.
Simple To Clean
This unit can simply be removed from the door. It will help you with cleaning the tree. Simple vacuum the carpet if you want to get rid of the cat hair. The unit is made of easy-to-maintain sisal noodles and simple fabric.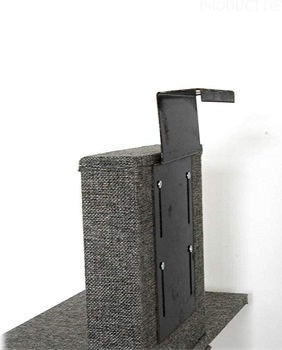 Fun Cat Playground
Indoor cats need to play, climb, jump, and stay active. The XXJF cat tree for doors will be your cat's new favorite indoor activity playground. The unit is safe and sturdy. It won't collapse if two large cats jump off of it at the same time.
In Short:
easy to mount on the door
it can be moved from room to room
the unit is carpeted and simple to clean
it is made of sisal and fabric
ideal indoor cat playground
BEST LARGE CATS HANGING CAT CONDO
One For Pets Over Door Cat Condo
Easy To Hang On Door
You will set this condo up in minutes. Hang this cat condo on any door. Alternatively, you can wall mount this unit as well. It is another high-quality piece of cat furniture that will save space in small apartments or small rooms.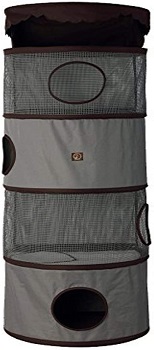 Dimensions And Capacity
The size of the One For Pets' hanging cat condo is approximately 23″ X 16″ X 69″. This is a 4-story unit. It includes transparent levels as well and allows cats to observe their environment from high places.
Breathable Cat Condo
The One For Pets cool cat condo is made of durable and top-quality nylon and a sturdy metal frame. It is pet-friendly and non-toxic. Your cats can breathe from the inside with no problem. This unit is well-circulated.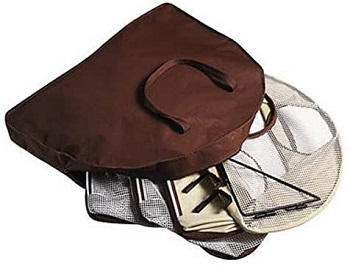 Removable Plush
When you feel like it is time to clean the over-the-door cat condo, remove the plush mat and wash it in a washing machine. Be sure your unit is clean. Cats need to live in a clean and safe environment. It is crucial for their health.
In Short:
easy to set up and mount on door
the unit is made of metal frame and nylon
this condo is well-circulated and breathable
the plush mat can be removed
clean this condo with no hassle
BEST SMALL CATS HANGING CAT CONDO
K&H Feline Hanging Funhouse
Ideal For Small Cats
Cats of small size or kittens will love to hang out in the K&H door hanging cat tree condo. This condo uses much less space than many other door hanging units. It will fit on any door and it is easy to attach.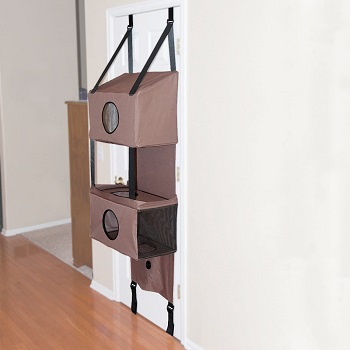 Wall Or Door Mounted
Feel free to choose where to install this unit. You can attach it to the wall as well. But if you know you are going to move the unit from room to room, we suggest you mount it on the door. This condo tree will be easy to take traveling too.
The Design
K&H small-cat door-hanging condo includes connecting levels, peepholes, and see-through mesh walls. It comes in brown. It is a breathable unit and keeps your cats safe. The size is 22″ x 12″ x 60″.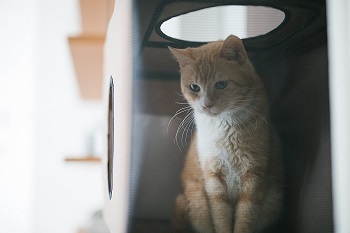 Top-Quality Material
You can feel relaxed knowing that your cats stay in a safe condo. This cute cat condo will hold both smaller-sized cats and cats of medium size with no problems. The material is high-quality nylon. It is pet-friendly and skin-friendly.
In Short:
fits small and medium cats
made of high-quality nylon
pet-friendly and breathable
included peepholes and see-through walls
keeps cats safe and active
How To Pick: Door Hanging Cat Trees And Condos
If you are still not sure if a door cat tree or condo is right for you, then check out our buying guide. Read more about the benefits of owning such a piece of cat furniture. Door hanging condos and trees are easy to mount and promote cat's healthy behavior. They are ideal units for households with a lack of space.
The Mounting – Installing and mounting door trees and condos is quick and simple. It usually takes no more than 10-15 minutes. Sometimes even less. The instructions are always provided by the manufacturer. Another perk of having such a unit at home is saving space. Feline owners who live in a small apartment will save space and make their indoor cats happier and more active.
Ease Of Maintenance – It is simple to maintain these units clean. If you get a door cat tree with carpeted perches, we suggest you vacuum the carpets to get rid of the hairs. Sometimes the carpets can be removed, so you can wash them in a washing machine as well. When it comes to cat condos, you can easily detach them when cleaning. Be sure you clean your cat's condo or tree regularly. It is important for their health.
Multiple Floors And Levels – We suggest you get a multi-level cat tree or condo. This is how you will make your cats active, happy, and occupied. Most cats will like to jump between levels. If you have more than one at home, check the unit's carrying capacity and safety features. Allow your fur friends to spend hours playing.
For Active Cats – Such units are perfect for active and social indoor cats. Most cats like to climb to high places and observe their surrounding. It makes them feel confident. If you want to prevent your cat from climbing your furniture, then be sure you find them an alternative.
Where To Buy? – Hanging cat condos and trees can be found online. The products that we have reviewed in this article are made of quality materials and can be purchased from a reliable website. Be sure you buy from a manufacturer customer trust. Check out the customer reviews as well!