Would you love to see your cat playing and resting on a black cat tree since this would also help you blend it well into your home?
You won't be left disappointed if you just continue reading this article since we only reviewed the best of the best and all-black models with some being black to an extent. To make it even easier for you to choose one, we decide to split all of the trees reviewed into categories like black and white, condos, large cat trees, and even small trees.
The Summary
Best 10 Black Cat Trees
BEST OF BEST BLACK CAT TREE
Designer Pet Products Sebastian Tree
Tree Looks
The product looks hollow and not so hollow boxes stacked on each other in no particular order. The box floors are where your cat will get to walk and climb this incredibly stable tree. Stable because it's wider at the bottom and narrower as you go up the tree.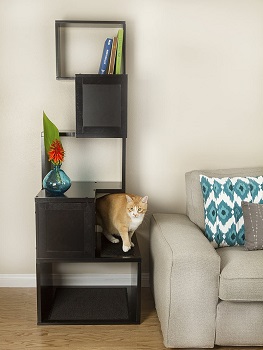 Product Features
The first level features a sisal rope fiber scratchboard carpet, the 2nd level features a condo with an entrance and there's a carpet on the 2nd and 4th levels. This allows you to combine uses and make it a shelf for cats tree and a bookshelf. For more info on this and other products, read the linked article below next.
In Short:
Made up of boxes
Features a condo
The 1st level holds a scratchboard
Has carpets on the 2nd and 4th level
Can be used as a cat tree or a bookshelf
BEST WHITE AND BLACK CAT TREE
Midwest Cat Furniture Tree
Features Pattern
The tree base is rounded and features an 18-in diameter but because some features go out of the frame, at its widest point it's 22-in wide. The base, platform, and tubular condo with 3 entrances are all carpeted with a lovely black and white rose pattern while the rest is strictly black.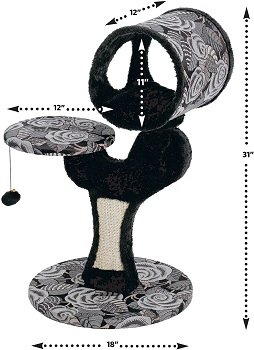 Post And Materials Used
The post of this tree is shaped like a minimalist tree and features scratchboard at the front made out of sisal rope fibers. The frame is made with solid wood for extra durability and the height of 31-in makes this black and white cat tree a small one. For more wonderful artistic cat trees like this one, read the linked article below next.
In Short:
It's 31-in tall
Has a rounded 18-in diameter base
The platform, base, and condo feature a rose pattern
The base post has a scratchboard
Its condo has 3 entrances
BEST CONDO BLACK CAT TREE
Go Pet Club 72 Cat Tree
Color Combos
The tree does feature white bits but don't worry, it complements well the black plush carpets the tree is covered in fully. The white bits are actually sisal rope posts and you'll get 4 of them. These posts are also partially covered 2ith the same black plush carpets.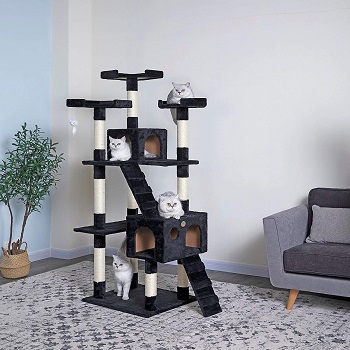 Dimensions And Details
There are 2, 2 entrance condos on it, located on the 2nd and 3rd level. They can easily be accessed by cats using the ladder ramp. At the top, it features 3 platforms with raised edges and the tree is 72-in tall, 33-in wide, and 22-in long. In case this black cat condo doesn't satisfy you, read about others in the cat tree with stairs article.
In Short:
It's 72-in tall
Features 3 platforms and a 2nd and 3rd level
Has 2 large condos with 2 entrances
The levels can be accessed via 2 ladder ramps
Has 4 sisal rope posts
It's carpeted with black plush
BEST ALL BLACK CAT TREE
Cat Craft Three Tier Floor Ceiling Cat Tree
Color Specifics
If you want to be specific about the color of this tree, it's charcoal black meaning that it's mate and dim in tone. The only thing not black on this tree is the tension rod that isn't really part of the tree but helps you adjust the height of the product to fit ceiling heights between 7.5 ft up to 9 ft.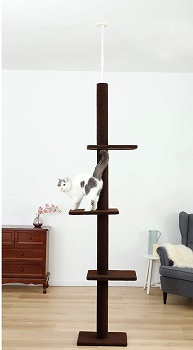 Platforms And Post
It has 3 platforms and each one is 17-in long and 10.6-in wide allowing you to use it as a medium cat or kitten tree. The post is also carpeted and although this all-black cat tree post doesn't feature sisal rope, it's still a scratching post. If you want to have a sisal rope post included, be sure to check out the minimalist cat tree article next.
In Short:
It's colored charcoal black
The top tension rod white
The rod helps to adjust height anywhere from 7.5 ft up to 9 ft
Has 3 platforms and each is 17-in long and 1.6-in wide
Made for kittens and medium-sized cats
BEST FURNITURE BLACK CAT TREE
Petmaker Ottoman Cat Furniture
What It Is
The product title says it all, this is an ottoman but below it, there is an entrance hole that allows it to become a cat condo as well. It has a black faux leather cover, features a reinforced bottom, has a removable top, and can even be collapsed for storage.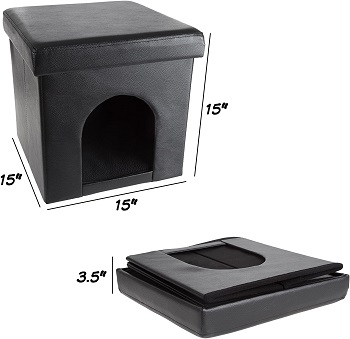 Size And Weight Limit
It's 15-in long, wide, and tall. The top is cushioned but it's made for cats to lounge out on it, not for people to sit on it since the total weight capacity is 100 lbs. If you don't find this black cat furniture to be a suitable choice for you, we suggest you read the modular cat tree furniture article next.
In Short:
Acts as an ottoman
Has a 100 lbs weight capacity
Features a reinforced bottom
Can be folded down
It's 15-in long, wide, and tall
Has a cushioned and faux leather cover
Features a condo below
BEST MODERN BLACK CAT TREE
The Refined Feline Modern Cat Condo
Multiple Functions
You can easily turn this product into a bookshelf closet due to the shape of its frame, minimalist design, and 5 platforms it features. The frame is hollow and made with metal tubes that are colored black while the platforms can feature faux fur pads that attach to the said platforms with velcros.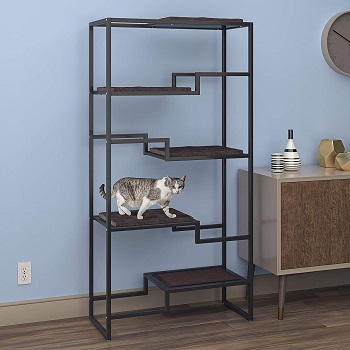 Frame Coating And Size
The frame is colored black due to the powder coat finish that also helps it become more rust and corrosion-resistant. The bottom platform features scratchboard while overall, the product is 62-in tall, 15-in wide, and 31-in long. If this black modern cat tree is too big for your liking, read the modern cat trees for large cats article for smaller models.
In Short:
Has a hollow, metal tube frame
Features 5 platforms
Comes with 4 faux fur pads that attach with velcros
The bottom platform features a scratchboard
The metal frame is coated with a black powder coat finish
It's 62-in tall, 15-in wide, and 31-in long
BEST SMALL BLACK CAT TREE
Feandrea Small Cat Tower
Compact And Abundant
Small and compact, this tree still features everything needed for a cat tree to function properly. It has a bottom base condo, a platform, cushioned bed platform, a basket hammock, and even a sisal rope post for scratching. It's 18.9-in long, 12.6-in wide, and 26.7-in tall.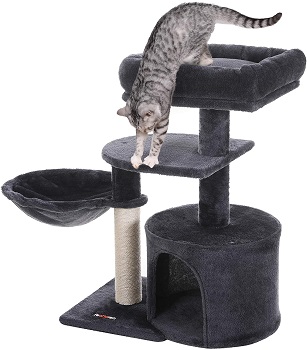 Carpets And Frame
It's carpeted with durable plush and its frame is made using particleboards that combine compressed wood and glued cardboard layers. In case you' like fewer carpets but the benefit of a small tree nonetheless, check out the cat trees for the small spaces article next.
In Short:
Has a particleboard frame
It's 19.9-in long, 12.6-in wide, and 26.7-in tall
Features a platform, cushioned platform, and hammock
Has a sisal rope wrapped post and condo
It's carpeted with plush material
BEST CHEAP BLACK CAT TREE
Yaheetech Carpeted Cat Tree Tower
Space Saver Tree
If you're looking for a two-digit number price tree, this is the one to get since it's also considered large and apart from being a money saver, it's also a space saver due to the base that allows you to place it into corners. If you don't really care about space-saving, you can read the cheap cat tree house article for more.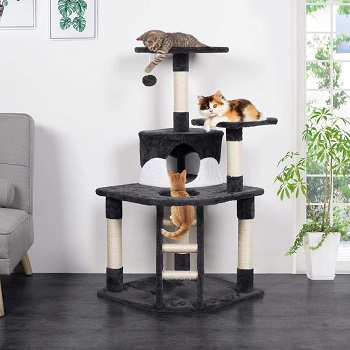 Plenty Of Features
It features a total of 6 sisal rope-wrapped posts. Three posts rise from the 32-in wide base and hole a 2nd level where you'll find a condo as well. This level can be accessed using a sisal rope-wrapped ladder as well. It features 2 additional platforms and it's carpeted with plush material while the frame of this 47-in tall tree is made using particleboards.
In Short:
It's price ranges in the 2 digit realm
Can be placed in corners to save space
Has a particleboard frame
Features 6 sisal rope wrapped posts
Has a ladder, 2nd level, condo, and 2 additional platforms
Its base is 32-in wide and it's 47-in tall
BEST CARPETED BLACK CAT TREE
Ace Petpals Modern Carpeted Cat Tree
Fully Scratchable
There's not a single piece of this tree that your cat won't get to scratch at since it's entirely carpeted with paper rope fibers. The condo and top lounge platform have a black and white knitted pattern while the 3 posts are wrapped in sisal rope so your cat can scratch at them, as well.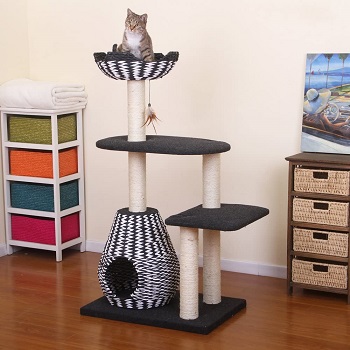 Platforms And Size
Apart from the previously mentioned parts, the last mention-worthy features are 2 platforms. It's 27-in long, 19-in wide, and 49-in tall. and also features a hanging feather toy. If you'd like to check out more unique and modern products like this one, read the contemporary cat furniture article next.
In Short:
Carpeted with paper rope fibers
Has a knitted pattern basket condo and top platforms
Features 3 sisal rope wrapped posts
Has 2 empty platforms
It's 27-in long, 19-in wide, and 49-in tall
BEST WITH LITTER BOX BLACK CAT TREE
Sweet Barks Designer Cat Washroom Xl
Box Functions
Although it may seem like this is just an ordinary cat box that will contain unpleasant smells well, it's not all there is to it. You can use it as part of your house furniture and place your personal things on top. On the inside, it has two compartments separated by a divider.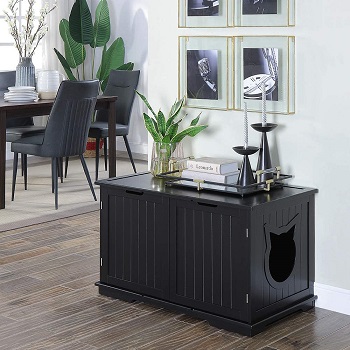 Doors And Space
It's 37-in long, 21-in wide, and 22-in tall on the outside and can fit almost all litter boxes inside, that includes even the large automatic litter boxes. It has 2 cat head shaped entrances and The front features a double entrance for you to clean it with ease. In case you'd like to check out all of your options, read the cat tree with litter box article next.
In Short:
Has 2, cat head shaped cat entrances
Features a double front entrance for cleaning
Has 2 divider areas inside
On the outside, it's 37-in long, 21-in wide, and 22-in tall
You can place your personal things on top
Can fit even large automatic litter boxes inside
How To Pick A Black Cat Tree
A black cat tree is easy to pick in terms of color but if you've made it this far, you will have noticed that there are a lot of differences between the types available. We've made this buying guide to clear the air and help you choose the best one possible suitable for your needs by discussing important information that every future car tree owner should know.
What Makes Trees Black – The main culprit to make almost any tree colored black are the carpets covering the frame that's usually made out of some form of woo. It's rare or almost impossible to find a tree that's black but not carpeted. In the case of it happening, wood veneers are commonly used but still, the wood would not be fully black.
Carpet Quality And Use – Carpet quality is determined by how thick the fibers of the carpet are. A carpet with let's say a pile of 2000 faux fur or fleece fibers is going to be of less quality than the one with 4000 fibers on the same trees. carpets can be low pile or high pile and that would determine the "fluffiness" of the carpet. Carpets help cats feel safe when climbing the tree because they can grip it and not fear falling off.
Important Tree Features – Every tree should have rest and play features. The most common rest features are things like a condo that also allows cats to hide away when they're stressed or frightened, hammocks, and cushioned lounging platforms. Of course, most of these can become plat features as well but some of the more known play features are platforms positioned at varying heights and sisal rope posts and scratchboards.
Tree Size – A small tree that's 30-in tall can be just as good of a cat tree for large cats as a 60-in tall tree that's considered big. What determines the size of a cat that can use it is the size of its features. For instance, we'll take condo entrance holes, hammock and platform sizes, etc…One thing that is recommended though is to get a shorter tree for kittens or smaller and clumsy cats.
Tree Use And Placement – A black cat tree, or in any other color, is a very important part of an indoor house cat. They can help prevent furniture damage and allow them to exercise regularly. Knowing about where to place a tree is going to be of great service to cats as well since they're territorial animals and like to know what's happening in their surroundings. Because of this, a great place to put your cat tree would be in a far corner of a room where they can be safe from the back due to the wall and keep an eye on every part of the room.
Getting A Cat Used To A Tree – If your cat is not fond of its new tree right away, don't get discouraged because all they need to help with the transition is time. You can help them by placing a familiar scent toy on the tree or hiding some treats on the multiple levels and features of the tree so that they can easily realize that it's nothing to be afraid of.
To Sum Up
A black cat tree is easy to pick out if you know what you're looking for since there are so many different models out there. The categories they are in are incomparable so we won't end this article by recommending one to you. What we will do though is recommend you to read either the modern cat trees article or the cool cat trees article in case you'd like to check out more unique models that blend well into homes. If not, you can read the cat trees for sale article to get a full understanding of what they can be and what types exist.