Want to fully embrace your contemporary home and keep it looking fancy but still help your cat have fun with a modern cat tower?
You can make it happen fast if you keep on reading this article where we reviewed all sorts of cat trees and even furniture. Some of the products reviewed include large cat furniture pieces, cat condos, beds, wooden products, and many more.
The Summary
Best 20 Modern Cat Tree
BEST OF BEST MODERN CAT TOWER
The Refined Feline Cat Tower
Wood And Veneers
This is a fully wooden tree and that's visible from just looking at it. It's made with plywood but features oak wood veneers. It's colored with an espresso finish and has a 20-in wide and long base. On the base, you'll find a cat condo and rising from it, a curved stand.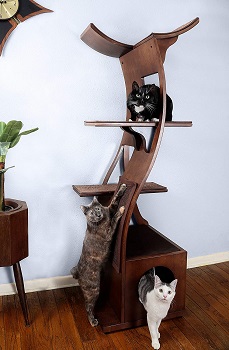 Contents Of The Tree
The stand features 2 flat platforms and at the very top, a curved one that acts as a solid hammock or perch. The condo can feature a cushion that comes with is and the platforms feature velcros that allow you to attach Berber carpets on them. If you don't think this will be a great fit for your home, make sure you read the designer modern cat tree article for more.
In Short:
Made with plywood
Has oak wood veneers and an espresso finish
The base is 20-in wide and long
Has a bottom cat condo and a curved stand with platforms
The 3rd, highest platform is curved
Platforms feature velcros for Berber carpet attachment
Comes with a cushion
BEST BED MODERN CAT TREE
Penn Plax Cat Walk Furniture Bed
How It Looks
The best way to describe the shape of this piece is to say it looks like a coffee table, It's elevated from the ground with 4 slanted legs and has a platform with raised left and right side edges. These sides also feature holes that act as carrying handles. It's 10.5-in tall, 14,5.in wide, and 31-in long.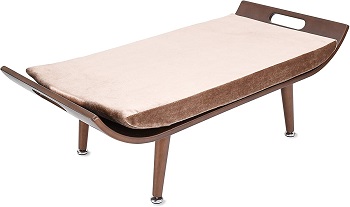 Frame And Cushion
The bed frame is made with fiberboard and has a brown lacquer finish. The bed features a brown and light brown colored cover that closes and opens with a zipper so you can easily wash it when needed. If you're looking for a cat bed as part of a tree, check out other models in the mid-century modern cat furniture article.
In Short:
Made with fiberboard
Has a brown lacquer finish
It's elevated from the ground with 4 slanted legs
Can be carried with 2 handles on the raised top edges
It's 10.5-in tall, 31-in long, ad 14.5-in wide
The cushion cover can be zipped open and washed
BEST CONDO MODERN CAT TOWER
Feandrea 33 Inch Cat Tower
Small Height
The piece belongs to small cat towers in terms of height since it's 33.9-in tall. Due to the base, it's 26-in long and 15.7-in long so it's back with being larger. Directly on the base, you'll find a cat condo a corner entrance and a vent hole a little carpet, and a post covered with sisal rope.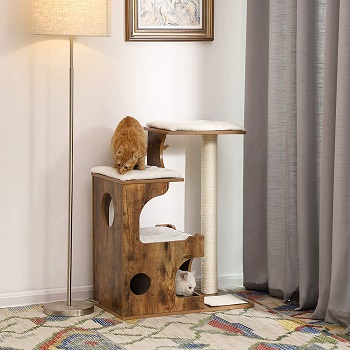 Platforms And Extras
At the top of the condo, there's a platform with a cushion and another platform with a cushion. Sitting at the top of the post is another cushioned platform but there are noticeable dark wood veneers on it that make it look more modern. You can check out more than just this modern cat condo in the designer cat furniture article.
In Short:
It's 26-in long, 15.7-in wide, and 33.9-in tall
Has a condo with a corner entrance and vent hole on the base
Features a sisal rope post
Has 3 additional platforms
Covered with dark wood veneers
Features a cushion for each platform
BEST FURNITURE MODERN CAT TREE
Katris Modular Cat Tree Furniture
Cardboard Made
The product is made with cardboard but it's heavy-duty, looks like wood, and can hold up to 300 lbs of weight. It's modular meaning you can use it as more things than just one. It's made to function as Tetris blocks and you can make a cat tree, shelves, a coffee table, and more from this wonderful modern cat furniture. You can check out more products in the modular cat furniture article.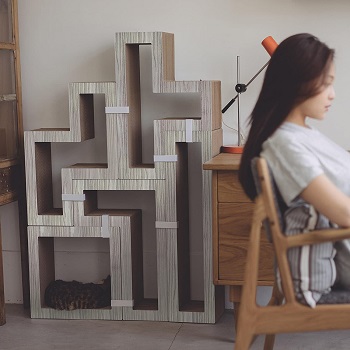 Tree Functions
It features 10 clips that will help you connect the block if you decide to use it as just a cat tree that's connected. You can expand on it by buying more and it includes 5 catnip bags as an extra. If assembled as the example, it's 8-in wide, 40-in long, and equally tall.
In Short:
Made with cardboard
It can hold up to 300 lbs of weight
Acts as Tetris blocks
You can secure the blocks together with 10 clips
You can split the blocks and make things like a coffee table
Comes with 5 catnip bags
Example assembly makes it 8-in wide, 40-in long, and 40-in tall
BEST MINIMALIST MODERN CAT TOWER
PetFusion Cat Activity Wall
Mdf Wood
If you have dark wood shelves or any type of shelf in your home, you'll easily blend those with this tower. It's made up of 3 shelves of varying sizes but all are made with MDF wood. If you'd prefer an on-the-ground minimalist modern cat tree, read the minimalist cat tree article for other models.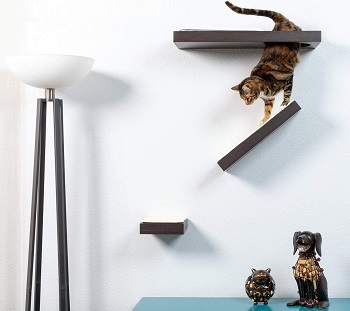 Assembly And Weight Limit
The medium-sized board can be mounted as a slanted piece and features velcros that allow you to attach a carpet to it. It mounts to the wall using zinc wall anchors so all you need for assembly is a hammer and screwdriver. They all can hold up to 30 lbs and all are 2-in thick.
In Short:
Features 3 MDF wooden shelves
They easily mount to walls with zinc wall anchors
Requires a screwdriver and hammer for assembly
The medium shelf features velcros and a detachable carpet
Can hold up to 30 lbs of weight
Each board is 2-in thick
BEST FOR LARGE CATS MODERN CAT TREE
The Refined Feline Metropolitan Cat Tree
Metal And Wood
The frame of this furniture tree is made with metal tubes that are powder coated for protection against corrosion and rust. There are 5 levels in total and each level features a large composite wood material platform. You can use them as shelves for your things or as cat climbing shelves.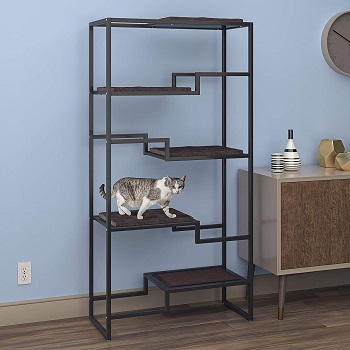 Height And Levels
Overall, it's 62-in tall, 31-in wide, and 15-in tall. You can place it next to a wall to make it look like an ordinary shelf. You will get a sisal scratch pad and 4 washable cushions with it as well. If you want to check out more modern cat furniture for large cats read the linked article below next.
In Short:
It's 62-in tall, 31-in wide, and 15-in tall
Has a powder-coated metal tube frame
Features 5 levels
The platforms are made with composite wood
Comes with 4 cushions and a sisal rope scratchpad
The cushions are washable
BEST HOUSE MODERN CAT TOWER
PawHut 56″ Cat Tree
Activity Features
With this product, you won't just be getting a cat house that's shaped like a house and has 2 entrance holes but a whole activity tree as well. If you'd prefer to tone it down with modern cat houses, read the cat indoor tree article we've linked below for more detailed reviews.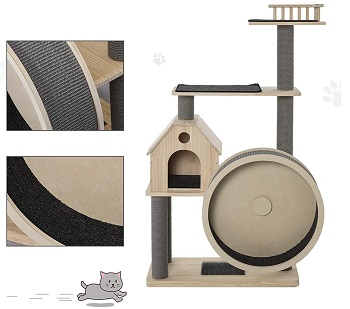 Posts And Size
It has 4 posts of different heights that are all covered with grey sisal rope. It has a stand-alone base that's 31.5-in wide, and 19.75-in long and it's 56.25-in tall. It has 3 platforms that feature removable carpets and a run wheel that's covered with sisal rope on the outside and inside. Overall, it's made with pinewood.
In Short:
Comes with a 2 entrance condo shaped like a house
Has 4 sisal rope covered posts
Features 3 platforms
Comes with a cat run wheel
The wheel is covered with sisal rope on the inside and out
It's 31.5-in wide, 19.75-in long, and 56.25-in tall
Made with pinewood
Has removable carpets
BEST PERCH MODERN CAT TREE
Naomi Home Nala Triple Cat Tree
Perch Number
If you have multiple cats and they all like to rest on perches you'll enjoy this tree that features 3 large perches with raised edges. the bottom perch is the largest while the top one is the smallest. They form the shape of stairs visually. You can learn more about perch trees and their functions in the cat perch for large cats tree article.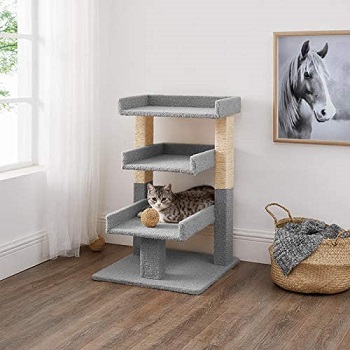 Frame Size
This modern cat perch is covered with grey plush carpets and features 2 posts covered partially with sisal rope. The sisal rope is oil-less and lasts longer than the average sisal rope. Overall, it's 20-in wide, long, and 31.3-in tall. It even features a playball.
In Short:
Fully covered with grey plush carpets
Has 2 oil-less sisal rope posts
Features 3 perches of different sizes
The perches have raised edges
It's 20-in wide, 20-in long, and 31.3-in tall
Comes with a playball
BEST HAMMOCK MODERN CAT TOWER
Amazon Basics Cat Condo
Hammock Placement
The star of this product is the hammock that sits in the middle of two jute fabric posts at their very top. You can attach a hanging ball on it as well so your cat has something else to play with. The base is carpeted and has a square shape so it's 15.7-in long and wide.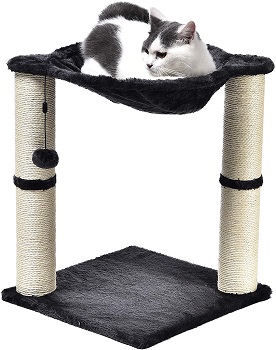 Tree Height
It's also 19.9-in tall so it's considered a small cat tree. It's good for kittens and small cats so if you'd prefer to have a modern cat tree with a hammock made for larger cats, you can read the cat condo with hammock article next to find them and learn more about them.
In Short:
The hammock sits in the center of two posts at the top
The posts are covered with jute fiber rope
it's 20.9-in tall, 15.7-in wide, and 15.7-in long
Designed for small cats and kittens
Comes with a removable hanging ball toy
BEST CORNER MODERN CAT TREE
Poils Bebe Cat Condo
View Angle And Levels
Your cat can rest and keep an eye on its surrounding with almost a 360-degree view with this product. it features three levels, the bottom two are covered but have large corner entrances. It's shaped like a square and easily fits in corners because of it. It's 16-in long, wide, and 28-in tall.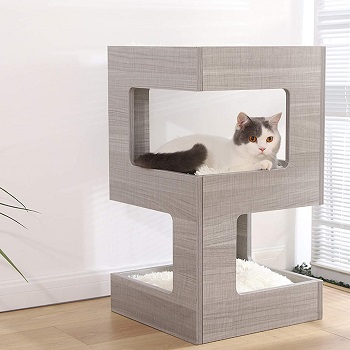 Color And Cat Number
It's made with wood that's colored light grey and each level features a faux fur cushion for your cats to relax. We used the plural of cats since each level is large and overall, you can use it for 3 cats. If you'd prefer a more space-saving modern corner cat tree, take a look at the modern wood cat tree article next.
In Short:
Made with grey colored wood
Has 3 levels
Comes with 3 faux fur pillows
Gives cats an almost 360-degree view on each level
It's 16-in long, wide, and 28-in tall
BEST WOOD MODERN CAT TOWER
Vesper Wooden Cat Furniture
Shape And Materials
Shaped like a box with 3 levels, the 2nd level featuring only a back wall and cover, it's easy to blend it into your home. It's made with MDF wood and colored white and walnut. The 2nd level also features a sisal rope post and it comes with 2 cushions made out of memory foam.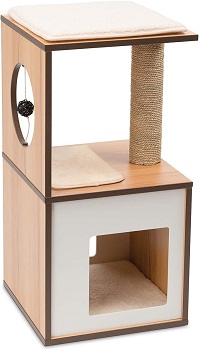 Quality Cushions
One of the memory foam cushions can be placed inside the bottom condo that features one entrance hole. The 2nd level features a hole where you can insert a rattan ball toy for your cat to play with. It's decently small with its height of 28.5-in and width and length of 14.5-in You can check out bigger models than this modern wood cat tree in the linked article below.
In Short:
Made with MDF wood
It's colored walnut and white
Has 3 levels
Come with a cat condo
Has 2 memory foam cushions and a rattan ball toy
It's 28.5-in tall and 14.4-in wide and long
BEST TALL MODERN CAT TOWER
SmartCat Multi-Level Cat Climber
Tower Placement
If you have a door in your home you'll be able to place and blend this tall modern cat tree into your home with no problems since you can attach it to almost any standard door frame. If you'd prefer the tree was a standalone one, check out our article about tall narrow cat trees for more.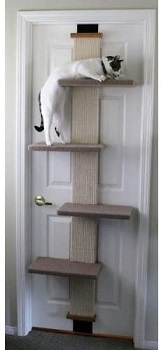 Tower Contents
It consists of a back wall that goes on the door that has a sisal rope post in the front. It attaches to the bottom and top spring-loaded brackets. It has 4 carpeted platforms and each platform is 17-in long, 8.5-in wide, and 1-in thick. it fits on doors that are 79 to 82-in tall.
In Short:
Attaches to doors that are 79-82-in tall
Has 4 carpeted platforms
Each platform is 17-in long, 8.5-in wide, and 1-in thick
Has a back wall covered with sisal rope
Gets mounted to doors with spring-loaded brackets
BEST BLACK MODERN CAT TREE
MidWest Cat Furniture
Black And Patterned
You won't just be getting a black carpeted cat activity tree but one that has some decorative carpets patterned with black and white flowers. The base, platform, and condo are carpeted with this. Its post is made to look like a simplified tree with 2 branches and a sisal rope scratch post.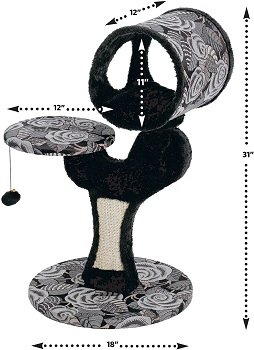 Shape And Dimensions
The condo is nothing more than a tube featuring multiple entrances and exits. It is around 31-in tall, 22-in long, and 18-in wide. If, after all, you've decided against a black modern cat tree, you can read the artistic cat trees article for more fun designs and colors.
In Short:
 Has a black carpeted stand
The platform, condo, and base have a floral pattern
The condo has multiple entrances
Comes with a hanging ball rope toy
It's 31-in tall, 22-in long, and 18-in wide
Features a sisal rope area on the post
BEST CUTE MODERN CAT TOWER
Acro Wood Cat House
Wood Used And Features
The MDF wood this tree is made out of is a material commonly used in making furniture. It has 2 levels, curved corners, multiple entrance holes, and ventilation holes all shaped differently, a house roof-shaped top and it assembles without the use of screws or glue.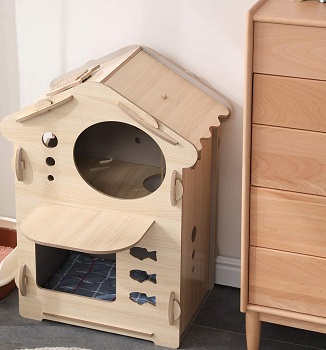 Cushions And Scratchboards
It features 2 scratchboards and features cushions on both levels that are removable and washable. You'll get detailed instructions on how to assemble it. Overall, it's 23.6-in long, 23.4-in wide, and 31.5-in tall. If you'd prefer to check out cute modern cat trees colored with lovely colors, check out the cute cat condo article next.
In Short:
Made with MDF wood
Has 2 levels
It's 23.6-in long, 23.4-in wide, and 31.5-in tall
Shaped like a house
Has Cushioned bottom
Features 2 scratchboards
BEST CLIMBER MODERN CAT TREE
PawHut Wall-Mounted Cat Tree
Wall Mounting
The product is fully mountable to a wall. This includes the 2 scratch posts, a fabric ramp, 5 platforms with one platform covered. The platforms are made with pine wood and the 2 posts are fully covered with rope for scratching at them.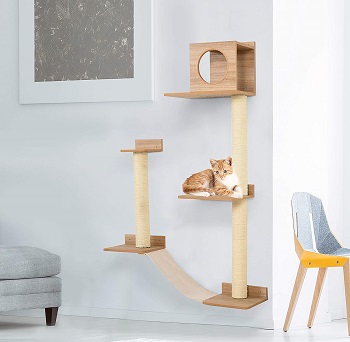 Height And Weight
It's hard to talk about its Dimensions but if assembled the way it's recommended, it's 61.5-in tall. It's best used with smaller cats since it has a weight capacity of 10 lbs and the total net weight of the whole thing is 23.1 lbs. If you'd prefer a modern cat climber that doesn't mount to walls, then check out the artistic cat trees article next.
In Short:
Includes 2 posts covered with rope
Munts to walls
Features 5 platforms
One platform is covered and acts like a condo
Made with pine wood
Has a 10 lbs weight capacity
It's 61.5-in tall at its tallest point
BEST WALL FURNITURE MODERN CAT TOWER
Bayka Floating Shelves
Shelf Number
This product is just three shelves of different sizes that can act as cat climbing perches or you can use them as you would any ordinary kitchen or house shelf. If this is not your idea of modern cat wall furniture, make sure you read the modern cat wall shelf article.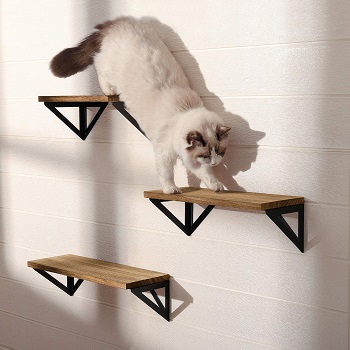 Exact Proportions
All you need to mount them are screws. The brackets needed for mounting are made with metal while the shelves are made out of solid wood. The largest shelf is 16.5-in long, the medium one is 14.2-in long, and the smallest one is 11.4-in long. All of the shelves are 6-in wide and 4.8-in thick.
In Short:
Made with solid wood
You'll get 3 shelves
From largest to smallest they're 16.5-in long, 14.2-in long, 11.4-in long
Each shelf is 6-in wide and 4.8-in thick
Mounts to walls with screws and metal brackets
BEST FLOOR TO CEILING MODERN CAT TOWER
Cat Craft Three Tier Cat Tree
Adjustable Height
Whether you have a small apartment with a 7.5 ft tall ceiling or a large apartment with a 9 ft tall ceiling, this tree will fit there. This is due to the tension rod that adjusts to the already mentioned heights and everything in between. It features 3 levels in the form of shelves.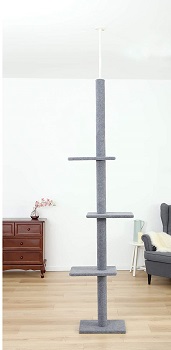 Material Coverage
The plush is covered in grey, fitting most home decors, The plush can be scratched at as well and its base is 16.9-in long, 10.6-in wide. The point of this modern floor-to-ceiling cat tree is that it saves space so if you want to check out more models, be sure to read the minimalist cat tree article next.
In Short:
The base is 16.9-in long and 10.6-in wide
Has 3 levels
Features a tension rod on top
Fits on ceilings with a height of 7.5 ft up to 9 ft
Covered with plush cats can scratch at
BEST FOLDING MODERN CAT TREE
Goopaws Cat Foldable Cat Tower
X Shape
Think of this product as a ladder where the hard material boards form the shape of the letter x. The end comes together when you want to fold it down and store it. The spaces at the bottom and its top are where you'll find the cat condo made out of plush material and a hammock.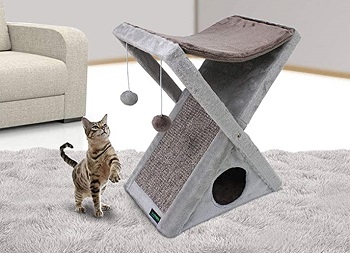 What It Features
The condo has a cushion on the inside that you can easily remove and wash as well. One side of the x is a full panel that features a sisal rope scratchboard as well and you'll get 2 hanging toy balls for your cat to play with. It's 25.5-in tall and 20.3-in wide. If you want to check out modern folding cat trees, check out the linked article below.
In Short:
 Shaped like the letter X
One panel features a scratching posts board
Has a hammock at the top
Features a condo at the bottom
Comes with a removable and washable cushion
Features hanging play balls
It's 25.5-in tall and 20.3-in wide
BEST WHITE MODERN CAT TOWER
Zoovilla White Tree
Ladder Shape
The thing that we can accurately compare this product to is a ladder. This also means that you can fold the whole thing down just like a ladder. If you're more of a traditionalist when it comes to your modern white cat tree, be sure to read the linked article below for more.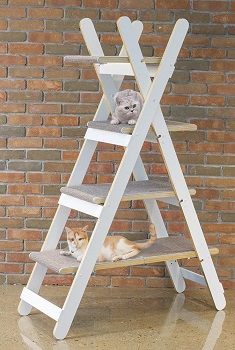 Levels And Carpets
It has a total of 4 levels. It's made with engineered wood and the platforms are fully carpeted. The 1st level platform is the largest and it is smaller from that point. Everything needed for its assembly is included and it's around 40-in long, 17-in wide, and 60-in tall.
In Short:
Shaped like a ladder
Has 4 levels
Made with engineered wood
The platforms are fully carpeted
It's 40-in long, 17-in wide, and 60-in tall
BEST SMALL MODERN CAT TOWER
PetPals Cat Tree Tower
Colors And Contents
The brown posts and grey platforms and base go so well together to make this small modern cat tree a wonderful addition to homes. If you have little space to spare and don't think this one will fit well into your home, read the cat trees for small spaces article next for more.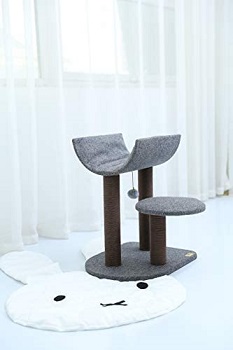 Materials Used
The 3 brown posts are covered with a paper rope that's better suitable for cat skin and claws. while the single platform and concave resting area at the very top are covered with felt. it comes with a hanging ball toy as well and it's 20-in long, 15.5-in wide, and 23-in tall.
In Short:
Has 3 brown posts
The platform and concave sleep area are grey
Covered with paper rope and felt
Comes with a hanging ball toy
It's 20-in long, 15.5-in wide, and 23-in tall
How To Pick A Modern Cat Tree
For you to choose the best possible modern cat tower for yourself, we first need to define them, then it's only right to talk about all of the possibilities that they give, about cat tree functions in general and what they're good for. We won't just talk about these things though but you can find out the rest by continuing to read the article.
Defining Modern Trees – Gone are the days where your cat tree is fully covered with plus material and takes up a lot of space in your home. Modern cat trees are made to blend well into your home either by their double function, their exquisite looks, or simply their size and area of placement.
What Are They For – We'd recommend anyone that has an indoor housed cat to get one for themselves. They will keep your cats active, prevent them from getting fat and it will also save your furniture and other house appliances from damage. Think of them as cat homes.
Unnoticeable Trees – If you don't want the cat tree to be noticeable, we'd advise you to get modern cat tree furniture or wall cat shelves. Depending on the type you get, they will have a double function. Sometimes they can act as a cupboard, sometimes they act as a coffee table, sometimes they're just shelves or if you don't need the extra furniture in your house, you can find models that are nothing more than wall-mounted trees or grounded cat furniture.
Determining Tree Height – The recommended height of your tree will be determined by your cat's age and size and secondly their behavior. If you have a clumsy cat, for instance, we don't recommend getting a tall cat tree. for kittens and small cats, a 2ft tree will do just fine while for larger cats, you can spare to go with a tree that's up to 6ft tall although there are higher models as well.
Cat Tree Placement – Of course you're going to place your cat tree where you find it's the most suitable but if you want to think about what your cat might like as well make sure you place the tree where your cat will have a better view of its surroundings. It's a good idea to place them near a window as well.
To Sum Up
It's only natural that you're going to pick your modern cat tower by your apartment size, cat size, financial capabilities, and by what tree you can blend best into your home so we can't possibly recommend one. If you're interested in checking out other models and different types of trees, be sure to read the posts on the best tall cat tree or the best cool cat tree. If you want to get a full perception of what a tree can be and what models exist, you can read the best cat tree for sale article here.