Are you in search of unique and attractive cat furniture such as modular cat trees or similar?
Having trouble finding the right model?
By continuing reading our article, you will learn more about the best six models. Read our buying guide as well and follow our five tips on how to choose the best unit for your household.
The Summary
6 Best Modular Cat Furniture Reviews
BEST OF BEST MODULAR CAT FURNITURE
Katris Modular Furniture
Cool And Unique
Katris cat tree is anything but ordinary. It is a rare and unusual cat tree that has multiple purposes. It will help your cats to climb, stay entertained, and active. Also, this unit will have a purpose for you as well. Use it as an interesting piece of furniture.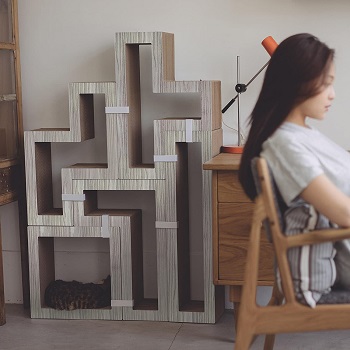 Build It Yourself
Choose the purpose of this modular cardboard cat furniture. The unit will blend in nicely into any modern and stylish home decor. Use this unit not only as a cat tree but also as your coffee table or bookshelf. You choose and you build.
Durable And Firm
The material that this multi-purpose cat tree is made of is heavy-duty cardboard. This cat tree is durable and sturdy. It can hold up to 300 pounds. Multiple cats can scratch and climb this unit and it won't collapse, break, or overturn.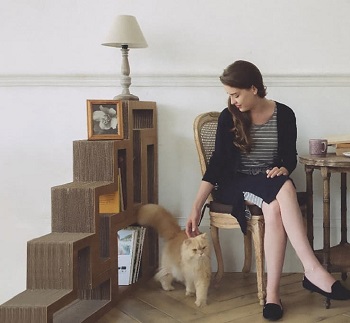 Easy To Set Up
The assembly is simple and quick. There are 10 clips included that will help you secure the blocks together. The assembly is DIY. One or two adults can do the job easily. This modular cat furniture can be changed in different combinations.
In Short:
made of cardboard material
the design is rare and unusual
this unit is sturdy and durable
it is made of heavy-duty cardboard
the tree holds up to 300 pounds
it is a multi-purpose piece of furniture
assembly is DIY
BEST CARDBOARD MODULAR CAT FURNITURE
Catty Stacks Cardboard Cat Furniture
Cardboard Cat Furniture
Catty Stacks modular cat furniture is a combination of cat cubes that make cats happy and entertained. We are talking about versatile sturdy boxes that come with multiple purposes. This unit will be your cat's favorite new toy – a climber, a tunnel, a cozy perch, a lounger, and many more.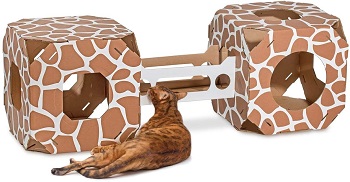 Tough And Long-Lasting
It may seem that this modular cardboard cat furniture is not very sturdy. However, only high-quality material was used to design this unit – corrugated and heavy-duty cardboard. The boxes are assembled quickly and easily. It is almost impossible for your cats to break this unit.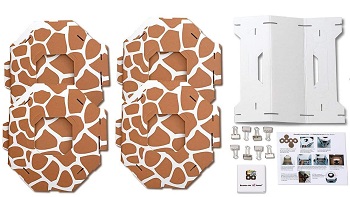 Stackable And Easy To Secure
Stack boxes and assemble them as you wish. Create a large and tall cat tree, or build your cats a spacious and comfortable resting space or a 2 story cat condo. The boxes are crafted from pet-friendly and eco-friendly materials which ensure durability and security.
In Short:
cardboard cat stackable boxes
quick and easy to assemble
create your cats a fun and cozy tree
easy to set up, DIY assembly
the price is affordable
BEST WITHOUT CARPET MODULAR CAT FURNITURE
Petmaker Modular Cat Condo
For Small Pets
Petmaker's modular cat furniture is a big condo for cats of all sizes and breeds. It is suitable for smaller-sized dogs as well. This is a foldable condo that is easy to assemble and disassemble. Petmaker's big cat condo is made of black faux leather.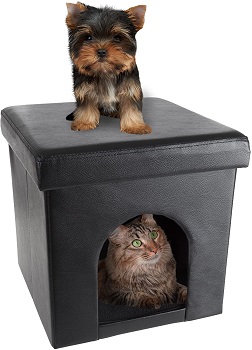 Space-Saving And Cozy
In case you don't need to use the condo at a certain moment, simply fold the unit and store it. This space-saving modular piece of furniture for cats is easy to store or take with you on travel. It is a safe and comfortable sleeping environment for your cats.
Includes A Soft Pillow
One soft cat cushion is included within the package. It perfectly fits the condo's interior. The cushion is removable which helps with cleaning. The pillow can be machine washed and easily put back inside the condo.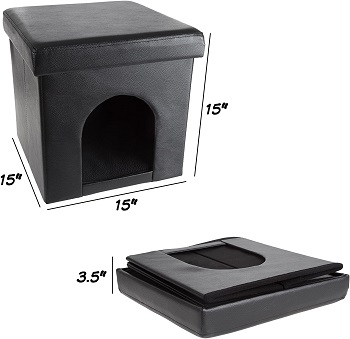 Useful Details
The dimensions of this condo for cats is 15" (L) x 15" (W) x 15" (H). The measures of the folded unit are 3.5" (H). This cozy pet hideaway will fit most spaces. The price of this unit is very affordable. It will look nice next to any cat tree.
In Short:
perfect for all cats and small dogs
the condo is spacious and easy to setup
the interior includes a soft pillow
the pillow is simple to remove and wash
cost of this cat condo is budget-friendly
BEST TALL MODULAR CAT TREE
Trixie Modular Cat Tower
Perfect For Scratcher Cats
Households with indoor cats that love to scratch a lot will be very satisfied with this unit. This tree is almost entirely wrapped in natural sisal. It invites your cats to scratch the tree and not your furniture. Forget about damaged sofas.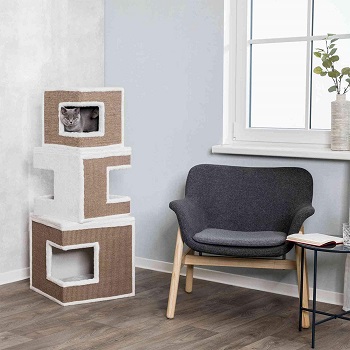 Multi-Level Cat Tree
Trixie's multi-cat tree will hold up to three medium-sized cats. It has three floors. There is a spacious cat condo on each floor. The ground-floor condo the one on the top both have two entrances. The middle condo has one entrance. The tree is ideal for sleepers, scratchers, and climbers.
Soft And Cozy
This cat tree tiwer by Trixie manufacturer is warm and comfortable. It is a perfect unit for cats that love to sleep and lounge. The condos include one white and soft cushion each. The cushions are easy to clean and maintain. They make your cats feel warmer and more relaxed.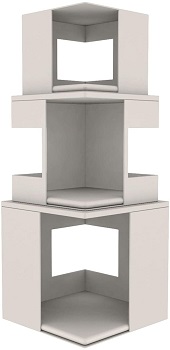 Simple To Setup
The assembly is required. The package includes instructions that are easy to follow to set this modular cat furniture up. Also, the hardware required for the assembly is included as well. One or two adults will do the job easily and quickly.
In Short:
this tree is ideal for scratchers
suitable for cats that love to climb
an optimal cat tree for sleepers too
each floor has a spacious cat condo
each condo includes a soft cushion
the assembly is simple and quick
BEST FOR LARGE CATS MODULAR CAT TREE
Pawz Cat Tree Condo Modular
Firm And Steady Tree
The cat tree by Paws is made of quality material. The wide and heavy-duty baseboard makes the tree stable and well-balanced. There is a security strap included. It allows the tree to be anchored to the wall. This will keep the tree in one place.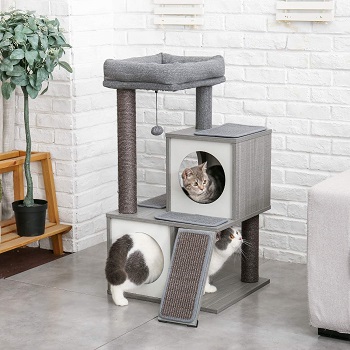 Cozy And Private
There are two cozy and spacious cat condos included. Each condo includes two large entrance doors. It makes cats feel cozy and comfortable. Both condos include a soft cushion that is simple to remove if necessary. The Pawz manufacturer creates quality and private modular cat furniture that cats love.
Promotes Healthy Life
The Pawz cat tree will keep your fur friends occupied and active all the time. The elevated perch includes a teasing cat toy that hangs and swings back and forth. There are scratching posts included too which invite your cat to sharpen their claws and keep them strong healthy.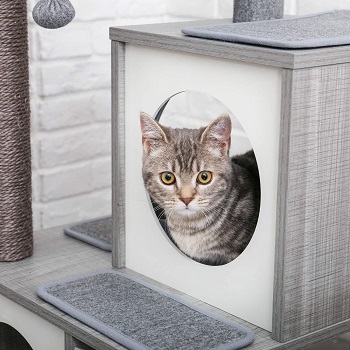 Size, Weight, Capacity
This sturdy cat tower measures 9 x 17 x 3 inches. it is a tree that will satisfy all of your cat's needs. The unit's net weight is 33.25 pounds. The heavy base guarantees the tree's stability. Households with two or three medium-sized cats will love this tree. The tree will hold one or two large cats as well.
In Short:
firm, sturdy, and stable cat tree
comes with multiple platforms
includes two roomy cat condos
a teasing toy swings from the top perch
suitable for 3 medium-sized cats
it can hold 2 large cats as well
BEST CORNER MODULAR CAT TREE
Polis Bebe Modern Corner Cat Tree
Modern Design
The cat tree by Polis Bebe is unique and different. Its design is modern and elegant. This tree looks nice in any stylish or elegant household. It is a multi-level cat tree that will easily fit up to three cats at the same time. This tree comes in urban gray color.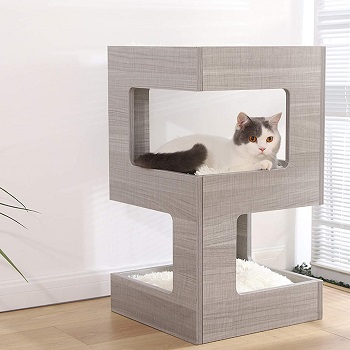 For Small Cats
Smaller-sized cats or kittens will particularly enjoy this modular cat furniture. They will get to climb this tree, play on it, or sleep on it. The tree is sturdy and long-lasting. It is about 28 inches tall and it promotes cats' healthy behavior.
Two-Level Condo
This attractive cat tree includes two large and spacious cat condos. It keeps your cats warm and relaxed. The tree includes soft pillows that perfectly fit each cat condo. The tree's unique design makes it easy to put in a corner as well.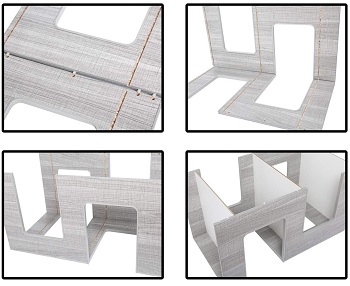 Easy To Set Up
You will need no more than 10-15 minutes for putting this cat tree together. Also, one or two adults will do the job quickly and with no hassle. The easy-to-follow setup instructions are provided by the manufacturer.
In Short:
modern corner cat tree
attractive and unique design
this tree has two cat condos
this cat tree is 28" tall
ideal for smaller-sized cats
How To Pick: Modular Cat Furniture And Trees
In order to buy the safest and quality furniture for cats, we invite you to read our buying guide. We have listed some of the qualities that every modular cat tree or piece of furniture should include. Buy modular trees or other furniture if you would like to have unique and different units in your home. Be sure they are safe, of the right size, and include all that your cat likes and need for a happy life. Consider your cat's personality and know what your lovely pet needs.
Modern And Unique – Modular furniture for cats is different, special, and attractive. Such units will look nice in all modern or elegant households. They will attract not only your visitor's attention but your cat's as well. Modular trees, towers, condos, and other furniture promote cat's healthy behavior and blends in your home perfectly.
Fun And Entertaining – Cats love to spend time in high places, climb multiple platforms, or rest in cozy places. Know your cat's personality and the most appropriate model for your cat. For example, short cat trees will be ideal for senior cats or cats with a shy personality. On the other hand, tall, multi-level, or unusual trees, cat bookshelves, or similar types of cat furniture will be a perfect choice for playful cats.
They Come In All Sizes – If you have one indoor cat, we advise you to get either a smaller-sized tree or condo or a narrow, tall cat tower with cat beds and perches. But if you have two or more adult cats that love to play, climb, scratch, and jump, then a tall, multi-level with scratching posts and hanging toys included will be your right choice.
Check The Holding Capacity – Again, not every cat tree or condo will hold the same number of cats. Most trees will hold up to two adult cats. However, note that there are trees that will carry only kittens, one adult cat, or even up to four or five large cats. Make sure the tree or cat condo you are buying is safe, heavy-based, and of the right size.
Where To Buy? – We advise you to buy the modular cat furniture online. Check reliable and trustworthy webshops. Never buy a cat tree or a piece of furniture from a manufacturer you don't trust. We recommend that you consider our reviews and read other customer reviews as well. The website we trust most is Amazon.com.
To Sum Up
As our number-one pick, we choose the Pawz Cat Tree Condo Modular. We like the fact that this modular cat tree can fit cats of all sizes and ages. It is one of the best-looking cat trees for large cats, sleepers, and climbers. Also, this modular cat furniture tree includes a cat tree toy that will keep your fur friend occupied and active for hours.