Are most of the litter boxes that you've been looking for lately too small and unpractical to clean and you really want to find an automatic litter box for large cats?
You don't have to anymore because we've got just what you need. Continue reading cause in this article we collected some of the greatest litter boxes to be big enough for large cats and on top of that, most of them are automatic and require little to no cleaning and we even have cheaper versions if you have a tight budget.
The Summary
Best 5 Automatic Litter Boxes For Large Cats
BEST OF BEST EXTRA LARGE AUTO CAT LITTER BOX
PetSafe ScoopFree Automatic Cat Litter Box
Long-Lasting Litter
What really sells this litter box is not so much the box, but the litter. It dehydrates solid waste and absorbs liquids. It doesn't stick to the cat's paws and is almost 100% free of dust. It gives you great control over odors. It will last you up to a month's use but replacing it might be a bit expensive.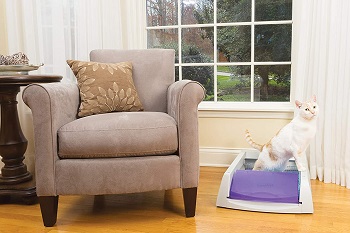 Litter Tray Options
The trays where the litter is located are disposable. This, again, means that you will have to replace them and spend more money on it but you can avoid this extra cost by buying a reusable tray, and then all you're left to fo is to buy litter now and then.
Adjusting To The New Box
To better adjust your cat to the new environment and an automatic litter box for large cats, when you're first starting, you can mix in old litter and these new litter crystal which will make it easier for your cat to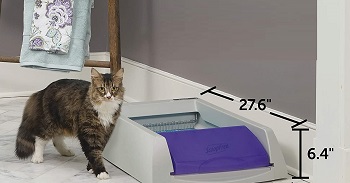 Cleaning Up
The way it cleans up solid waste is by using a rake. The cleaning cycle is activated and the rake begins scooping up solid litter which is then placed into a dirty litter storage unit that is sealed to prevent odor from coming out of it. The built-in sensor on the electric litter box will stop the rake from cleaning if your cat is inside the box so it's safe for them.
In Short:
Litter crystals come in disposable trays
Has a sensor that stops the rake from working if your cat is in the box
Solid litter is placed into the litter storage unit
Liquid litter is absorbed by litter crystals
BEST SELF CLEANING LARGE AUTOMATIC LITTER BOX
Pet Zone Smart Scoop Automatic Litter Box
Disposing Of The Litter
This automatic litter box for large cats will make litter disposal a hands free job. The cleaning cycle is turned on automatically by a sensor that detects motion. The rake gathers waste and places it into a reusable container that you can cover with a plastic bag. All that is left to do from there is discard the waste and the bag and place inside a new one.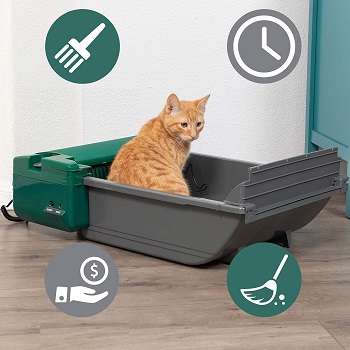 Odor Elimination
Odors will be eliminated and trapped inside the dirty litter container with a carbon zeolite filter that has its own pocket inside the container to be placed in and the container is closed so no more than little to no odor goes out of it.
Plain Litter Use
This automatic litter box doesn't require you to use special types of litter. With it, you can use plain old light clumping clay litter and it doesn't have to be branded so if you already have a preferred type of litter that you've been using that fits the description, you can continue using that.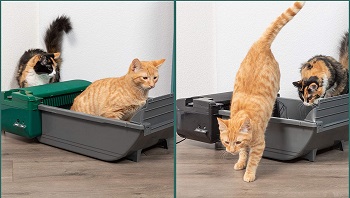 Additions For The Litter Box
With the self-cleaning litter box for large cats you get 1 carbon zeolite filter that absorbs odor when places inside the container for dirty litter and a month worth of plastic bags to easily dispose of litter that gets in it. YOu can use any type of small plastic bag of course.
In Short:
Dirty litter container is reusable
With the box, you get a month worth of plastic bags
Eliminates odors with a carbon filter
Scoops up litter automatically with a rake
BEST MECHANICAL LARGE AUTOMATIC LITTER BOX
Litter Genie Cat Litter Box
Flexible Plastic Build
This cat litter box can virtually fit into any space. It's made out of really flexible and soft plastic so if you have a tight space reserved for the litter box but are worried if it's going to fit, you can push it and it will adjust to the small space because of this trait.
Smooth, No Edge Build
It's built with no corners so this prevents litter builds up in the nooks and crannies that would, after a while, become pesky because clean up would be harder and odors might come off the litter that would be trapped inside.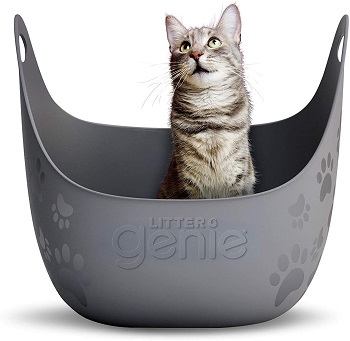 Transport And Cleaning
This automatic litter box for large cats has handles on top to make transport much easier and cleanup as well. on top, it has a nozzle so that throwing out litter can be a breeze and that it doesn't make you worry if litter will scatter all over the floor.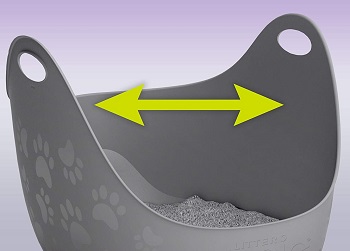 Workaround For No Aid In Cleaning
This mechanical litter box doesn't have additions to make cleanup easier but you can wor around it and get a sifter and another bowl so that cleaning litter and saving litter can be easier.
Sleek And Functional High Wall Design
It's built with high walls but isn't enclosed to give your cat privacy while preventing litter scatter on the floor but so that it doesn't look enormous and like an eyesore to your household.
In Short:
The plastic material is highly flexible and soft to fit small and tight spaces
Has rounded and seamless edges to prevent litter build up inside
Has high walls to prevent litter from scattering around it
Transport is made easy with handles on top of it
BEST EASY CLEANING AUTO LITTER BOX FOR LARGE CATS
Omega Paw Self-Cleaning Litter Box
The way It Looks And Why
One side of this automatic litter box for large cats has a U-shape and for a reason. This is so that you can roll the box on that side, get it back to its original position, and clean the litter. It has a closed-off top that's locked into place with plastic clips that can be unclipped to separate the top from the bottom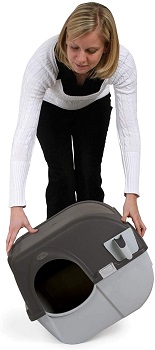 How It Functions
The way the Omega Paw self-cleaning litter box cleans litter after rolling it is through a sifter. The litter falls into space with closed grided walls and the solid litter clumps don't pass through and go into the container. After rolling it back you simply pull out the container where dirty litter clumps are trapped, throw it out, and place the container back inside.
Litter Build Up
There can be some litter build up in cracks between the top and bottom parts. The reason for this is because the plastic clips might not be as strong to hold everything together well but it's an easy fix since the top can be taken off to clean the litter box.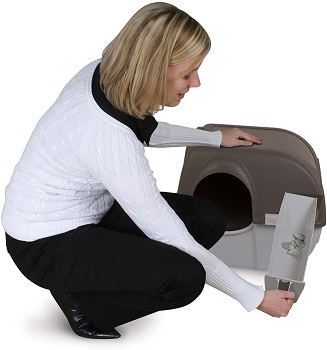 No Smart Additions
The entrance hole is large enough for cats of most sizes to go inside. It is spacious enough from the inside as well. You should use clumping clay litter with it for it to work best and the only problem that might arise from that is that the litter might stick to the cat's paws and be scattered around the litter box since it doesn't have a ramp to clean their paws. But you can easily solve that proble with a robot vacuum for cat litter.
In Short:
Has a closed top that's connected to the bottom with clips
Lacks additions to keep space around the box clean
Cleans litter by sifting it by rolling the whole box
dirty litter is contained in a pullout container to easily throw it out
BEST CHEAP EXTRA LARGE AUTOMATIC CAT LITTER BOX
Purina Tidy Cats  Litter System
More Than One Additional Expense
Although it'll save you some money when you first buy this automatic litter box for large cats, in the long run, there might be some build-up of additional expenses. The reason for this is because to be kept clean and effective, you'll have to use disposable urine pads and litter pellets.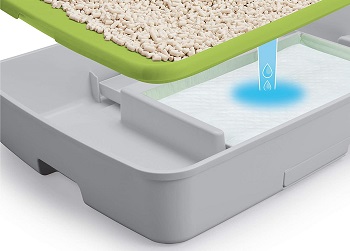 Urine Pads Placement And Functioning
The urine pads are placed inside the pullout tray. They are placed on the bottom because litter pellets don't absorb urine, they let it through so the urine will go down to the urine pads that will absorb the liquid and prevent odors from spreading.
Pellets As Litter
The litter pellets keep solid litter on top of it. You won't have to dig to find solid litter and you scoop it up with a scoop that comes with it. The scoop is kept safe on the high sides of this litter box. The high sides are here to prevent litter scatter all over the floor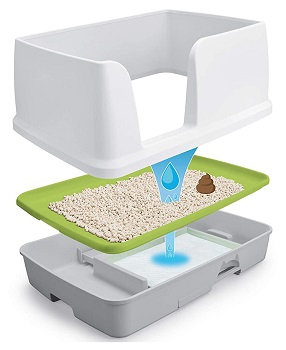 How Long Before Buying Needed Supplies
Y0u'll get a pack of 4 urine pads with the cheap self-cleaning litter box. Urine pads need to be changed weekly if you have one cat. It'll work fine without them but you might have problems with odor if you don't use it. Another thing you get is 2, 3.5 lbs bag of litter pellets. These will last for 2 months before you have to buy more if you have one cat.
In Short:
Litter pellets keep solid litter on top of it for easy scooping
Pads on the bottom in a pullout tray absorb urine for up to a week
With the package comes a month worth of urine pads and litter pellets
How To Pick An Automatic Litter Box For Large Cats
Although they are readily available to buy, with so many options it is hard to choose which automatic litter box will suit you best so to narrow down your options you should think about things like how much money will you be spending long term for it, how well the litter box does the job of eliminating smells and much more.
Odor Elimination – Odor elimination should be a great concern because they can really build up in your house and it's a hassle to get rid of. For good odor elimination either focus on the litter that dehydrates solid litter and absorbs urine or you should go with the ones that place litter in a closed-off container that also has a carbon filter that will absorb the smell. Also, you can go with air purifiers for cat litter.
Cheaper Alternative Additions – If you want a good automatic litter box that performs well you'll have to keep buying additions. What you can do to save money is to find cheaper alternatives that are of similar quality because branded stuff will always be more expensive.
First-Month expenses – To make it a bit easier for your pocket, for the first month of use, you'll usually get all the supplies you need for it to work. With branded litterboxes, this is to encourage you to keep using the special litter
Recommended Litter Type – Which litter you should use mostly depends on how the box cleans litter. If it sifts litter, you should use clumping clay litter, and if it self cleans it'll usually be litter crystals or pellets but some allow for clumping clay litter to be used as well to save you some money. usually, you should just go with the litter that is said to go well with it.
To Sum Up
There's only so much to think about when buying these and by simply eliminating, the one automatic litter box for large cats that stands out in overtime cost-saving, good functionality, size, and build design is thePurina Tidy Cats Litter System . If automatic is not enough for you and your large cat and you want to do little to no cleaning when it comes to litter boxes read the post about the best self-cleaning litter boxes for large cats and if you're looking to get something cheap but still the same then you should read this post about cheap automatic litter boxes.