Have you been struggling to find a great self-cleaning litter box for large cats because a lot of them are not categorized as litter boxes for big cats?
We've done the work for you, found and reviewed the best ones to fit your cat's size comfortably. We've gone through automatic ones, cheap ones, and even self-sifting ones so all you need to do is continue reading and find the one that fits your budget, lifestyle, and cat best.
The Summary
Best 5 Self-Cleaning Litter Boxes For Large Cats
BEST OF BEST LARGE CAT SELF CLEANING LITTER BOX
Pet Zone Smart Scoop Automatic Litter Box
Silent Operation
If you're looking to get an automatic litter box for large cats that's quiet when it's running this is the box for you. When the cleaning process starts, the noise coming from the litter box is 4 times more silent than other litter boxes of the same type and similar functions.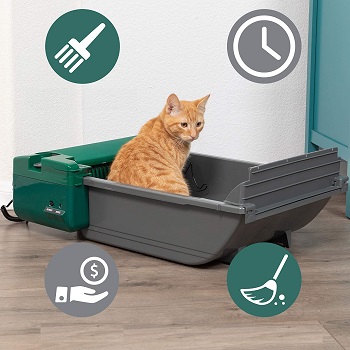 Choosing Litter That Works With It
This self-cleaning litter box doesn't require you to use special branded litter that is hard to get by and expensive. It will do just fine with any type of clumping clay litter. The only requirement is that it's lightweight, the rest is up to your and your cat's preferences
Little To No Odor Experience
The way that this litter box cleans litter is with a rake that is activated after 15 minutes of your cat leaving the box. The rake runs through the litter and scoops up any clumped up pieces of litter, places them in a closed container that can be covered with a plastic bag and that has a socket to place a carbon filter inside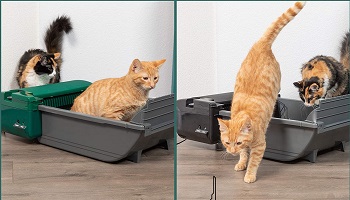 Useful Supplies Included
You will get one carbon filter with the box that absorbs odors and a monthly supply of plastic bags to get rid of litter without having to pick it up with a scoop. Another thing that helps with mess is the high walls that prevent litter from scattering if your cat likes to dig through the litter.
In Short:
The cleaning process begins 15 minutes after the cat leaves
Cleans litter by scooping it with a rake
Dirty litter is placed inside  a closed-off container
Absorbs odor with a carbon filter located on the lid of the container
The container can be lined with plastic bags
Comes with one carbon filter and months worth of plastic bags
BEST MULTI-CAT LARGE SELF CLEANING LITTER BOX
Nature's Miracle Multi-Cat Litter Box
Tips For USe
If your cat is having a hard time adjusting to this self-cleaning litter box for large cats they provide you with a few tips on how to make the transition easier seeing as it's an automatic litter box and your cat might be confused or scared at the beginning.
Multi-Cat But Why?
The reason this is a litter box for multiple cats is that it can fit more litter at once. The box has more space to put litter inside and can hold the weight of litter needed for more than one cat.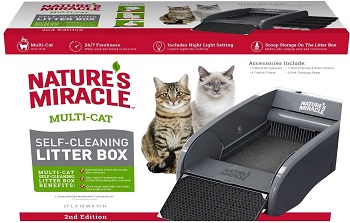 Beginning To Clean
Cleaning commences when a motion sensor activates the rake to scoop clumpy litter and places it inside a disposable box that is equipped with carbon filters. The rake can be removed so that you can clean it and the way you clean it is with a scoop that has grided edges to remove any litter that might have gotten trapped in the rake.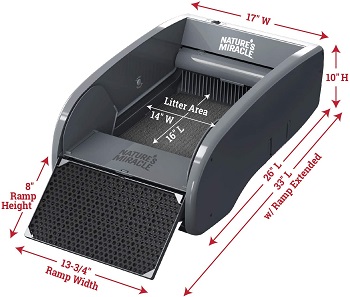 Preventing Litter Scatter
To make sure that litter gets scattered on the floor as little as possible the litter box is equipped with tall walls and a ramp that cleans the cat's paws when they exit the litter box by walking on it.
Extra Expenses
Additional costs that might come up after a while are new litter containers and carbon filters seeing as they're disposable but the box includes four of each for first-time use.
In Short:
Built-in motion sensor activates the cleaning process
Access ramp cleans the cat's paws which prevents litter tracking
Dirty litter is placed into containers with carbon filters
Containers and carbon filter are disposable
BEST CHEAP LARGEST SELF CLEANING LITTER BOX
LitterMaid Multi-Cat Self-Cleaning Box
Automatic Or Manual Activation
You can set this litter box to activate automatically or manually. What allows you to do this are the three on, off, and clean button. This can come in handy for various reasons. Some of them are that your cat might be shy when first starting to use and another one is to save power and let you be in control of when it cleans.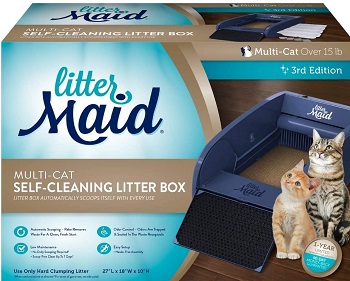 Cleaning Cycle
When the cheap auto litter box is set to run automatically, the rake will go through the litter, scoop out the excess, dirty and clumpy litter and throw it in the litter bin after every use. This is made available because of a smart motion sensor.
Disposable Components
The litter bin that comes with this box is disposable. YOu'll get 4 of them when you're buying this self-cleaning litter box for large cats. It also comes together with 4 carbon filters that are also disposable and can be placed inside it to keep odors contained.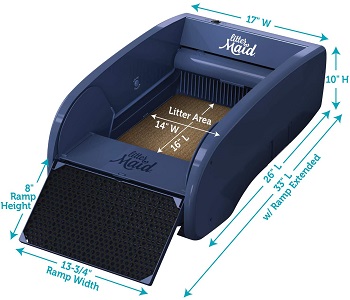 How Long Before Cleaning
If you use this box correctly and as instructed, you are looking at cleaning it every 7 days. This doesn't include the litter scatter on the floor that might happen but the product puts in its best effort to make this minimal by using an access ramp for cleaning paws and tall sides build.
In Short:
Can be set to work automatically or manually with the push of a button
Access ramp and tall sides prevent litter scatter
Cleaning happens when the rake scoops dirty litter and places it inside a bin
IF used correctly, cleaning it can be an every 7 days thing
BEST EASY-CLEANING LARGE SELF CLEANING LITTER BOX
Purina Tidy Cats Breeze Multi-Cat Box
Specialized Stackable Parts
It's made up of three parts that come together easily when they're stacked on each other. You just need to make sure that they're stacked on the correct sides. the bottom part is reserved for urine pads, the middle plastic piece is for litter and the top part is here to create a tall sidewall build.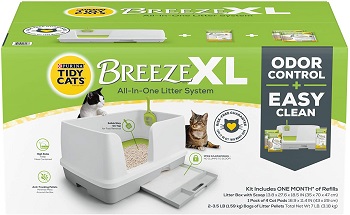 Dimensions Of The Box
This is an extra-large self-cleaning litter box. It can easily handle two or more cats or one cat if your cat likes that much space. The square footage comes to a value of about 4 which is more than enough for your cat to feel comfortable enough.
Working With The Box
To work, it uses litter pellets and urine pads. The litter pellets are dust-free and prevent litter scatter on the floor that is usually caused by it sticking to your cat's paws. They also keep solid litter on top and don't absorb liquid one. The urine pads absorb urine and eliminate odors and for one cat they have to be changed weekly.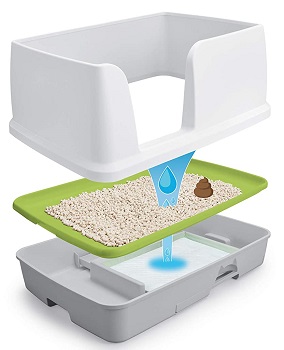 Beginner Extra Supplies
Not only is it cheap, but the much-needed supplies that come with it are all you need for 2 months of use if you have one cat. You'll get 4 urine pads for a month of use since they have to be changed weekly and 2 bags of 3.5 lbs litter pellets. You'll also get a scoop to shovel out the solid litter and throw it out.
In Short:
With the box come 2 packs of 3.5 lbs litter pellets, 4 urine pads, and a scoop
It provides your cat with about 4 square feet of space
Stackable three-part structure
The top part has high sided to prevent litter from going on the floor
BEST SELF-SIFTING LARGE SELF CLEANING LITTER BOX
Omega Paw Cleaning Litter Box
Closed Top Litter Box
This self sifting litter box has a closed-off top. It easily comes off and connects to the bottom using chrome-plated clips. To clean it whole, you simply have to take off the top, and when you're done put it back and secure it in its place with them.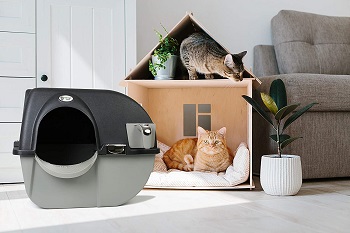 New Model Enhancements
The omega paw elite litter box differs from older models of this type of box with the chrome-plated clips that better keep connected the top and bottom and by having a grided piece of plastic on the entrance to clean the cat's paws from litter that might be stuck on them.
Box Shape And What It's For
One side of this box has a U-shape curve. this is so that you can roll it on to its top side. the reason you'd do this is that this is how the box cleans litter. After you put it back in its place clean litter is found back in its place and dirty litter is then contained in a separate container that you can pull out to dispose of litter easily.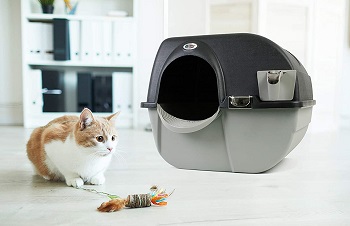 The Way It Cleans Litter
The way this box cleans litter is actually by sifting it. Inside of the box, on the side, there is a grilled piece of plastic that sifts litter, and above is the container for dirty litter. Clean litter sifts through and back and dirty litter rolls and fall inside that container.
In Short:
 chrome-plated clips keep the bottom well attached to the top
Litter is cleaned by rolling the box on it U-shaped side
The inside has grills to sift and clean litter
Dirty litter is located in the pullout container for disposal after rolling the box
How To Pick A Self-Cleaning Litter Box For Large Cats
To be fit for use by a large cat, self-cleaning litter boxes need to have tweaked a few characteristics. The first and most obvious one is litter box size and how much litter can fit inside other key characteristics depend on litter box type and how they clean themselves.
Litter Scatter Prevention – Large cats, although a big enough box will be enough for them will much more effortlessly scatter litter over the floor, especially if they do like to burrow their own litter so the box that has high wall sides or even a ramp to prevent tracking on the floor will o a long way when it comes to less cleaning.
Cleaning Time – How often you'll have to clean the box is up to you, your cat, and the capacity of the litter box. Mostly, you'll be able to not clean an electric litter box for about a week, and mechanical will have to be cleaned depending on how they clean litter and what supplies they use to eliminate odors.
First Time Access To Supplies – You're going to pay enough as it is so why not make it useful and get some supplies with the box. They will usually provide you with a month worth of supplies needed for the proper functioning of the litter box. This is mostly true for automatic types of litter boxes
Operational Sounds – If your self-cleaning litter box is automatic some sounds are going to be produced whenever it is turned on. This might become annoying especially at night when you're sleeping so be careful with automatic boxes and check if they run silently.
To Sum Up
Picking a self-cleaning litter box for large cats can be a challenging task if you don't know what to focus on to provide your cat with the best one. After reviewing all of them the one that stands out the most performance vise, how easy it is to clean it, and how much more you'll have to spend on crucial supplies in long-term use is definitely the Pet Zone Smart Scoop Automatic Litter Box. IF reading this article made you appeal to the self-cleaning type of litter boxes but you're a bit low on cash so you want to find a cheap one read this post about cheap self-cleaning litter boxes and if you just want a litter box that's easy to clean without all the automatic stuff hassle read the article about easy cleaning litter boxes.