Do you have a large cat so most litter boxes are just too small for them and now you're looking to buy a large self-cleaning litter box?
You've found your ticket to a solution then because in this article we reviewed the best ones you can find on the market and not only that, but we've also chosen the best ones for categories like cheap, automatic, mechanical and more.
The Summary
Best 5 Extra-Large And Large Self Cleaning Litter Boxes
BEST OF BEST LARGE SELF CLEANING LITTER BOX
PetSafe ScoopFree Litter Box
Smartphone App
If you have a smartphone, and who doesn't these days, you can connect the phone to an app called My PetSafe app. With it, you can track your cat's health and litter box from anywhere. You can also see their activity and get notifications when something happens.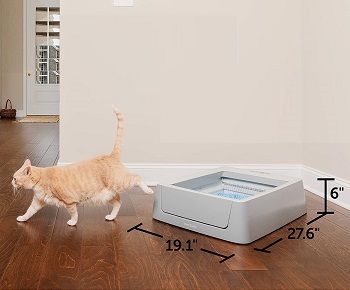 Cleaning Solid Waster
The cleaning cycle begins 20 minutes after your cat leaves this large self-cleaning litter box. Solid waste is placed into a waste container with rakes that sift through it and trap solid waste which you then remove when needed
Disposable Litter Boxes
The litter trays are disposable so this will, in the long run, cost you more money but each disposable electric litter box will last you for about a month before having to buy a new one and it does the job of preventing odor coming from the litter well.

What's On The Litter Box
On the litter box, you'll find located 4 buttons. One to connect the box to your phone app, one to manually turn on the rake to start the cleaning process a health counter, and a button to reset the health counter to zero.
In Short:
Comes with an app to track your cat's health
Litter boxes are disposable and need replacing every month
The litter box has 4 buttons on it to control it manually
Cleans solid waste with a rake
Cleaning begins 20 minutes after your cat leaves the box
BEST AUTO EXTRA LARGE SELF CLEANING LITTER BOX
Nature's Miracle Single-Cat Litter Box
Cleaning With A Rake
The way this litter box cleans solid waste is with a rake that you can that automatically turns on after your cat uses. This is done so with the help of a built-in motion detector. The rake can also be removed when you need to clean it and you can do so with a provided scoop.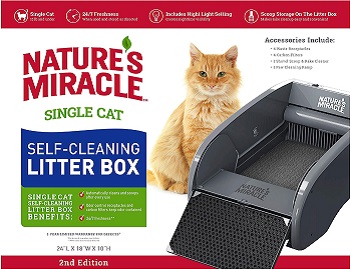 Preventing Odor
The way this large self-cleaning litter box keeps odor contained is with good litter containers that also use carbon filters to provide extra good odor control. Another addition that is not related to odor management is a night light to give your cat some visibility during the night.
Dirt Around The Litter Box
For more cleanliness around the self-washing litter box, the walls are built high to prevent litter scatter all over the surrounding floor, and the ramp from which the cat accesses the litter box is made in a way to clean the cats' paws when they exit the litter box.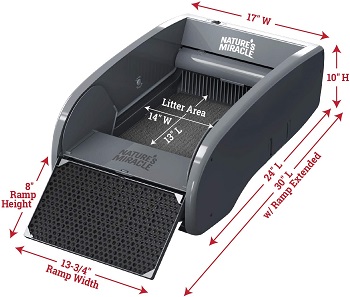 Needed Additions
The accessories that come with the litter box are 4 litter containers, 4 carbon filters, 1 scoop for cleaning the rake and litter, and the paw cleaning ramp. Additional costs overtime include carbon filters, waste containers, and, of course, litter.
In Short:
Comes with 4 carbon filters, litter containers, and a scoop
Has high side walls and a paw cleaning ramp
Has a light for visibility during night
Solid waste is cleaned with a rake
BEST MULTI CAT LARGE SELF CLEANING LITTER BOX
LitterMaid Single Cat Litter Box
Litter To Use
The litter you should be using with this large self-cleaning litter box is clumping litter that is hard. This will give you the best results in terms of functionality. Litter is cleaned with a rake that automatically turns on and places litter inside a container.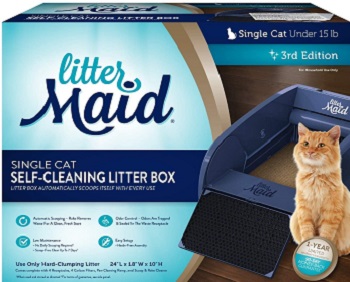 Scooping And Cleaning
You'll still have to scoop litter every 7 days more or less so if you're looking to get a large self cleaning litter box that doesn't require you to scoop waste not even once, you might want to look for something different. The scoop comes with the box.
How It Contains Odor
Odor control is achieved with waste containers that the waste travels to when the cycle of cleaning runs. They are disposable so buying them constantly will not serve your wallet well. Another thing you'd also have to buy frequently is carbon filters that go with the container to provide better odor control.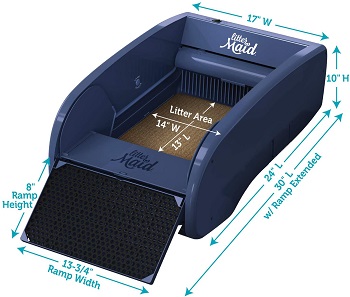 Ensuring Clean Space All-Around
Other ways to ensure a clean space that this litter box does is with the high sides build and a ramp to clean cats' paws when they leave the littering area. It also comes with an attachment to fit vacuum hoses when you want to clean it with a robot vacuum for cat litter.
In Short:
With the litter box, you get carbon filters and disposable litter containers
Also comes with an attachment for a vacuum hose for easier cleanup
recommended litter to use is a heavy clumping litter
Scoop for litter and rake cleaning comes with the box
BEST CHEAP SELF CLEANING LITTER BOX FOR LARGE CATS
SpeedySift Cat Litter Box
3 Part Build
3 parts make up this litter box. A litter pan, a lid for the pan, and plastic bags. Each part has its own functionality and purpose and, with the addition of litter, make up a simple yet highly functioning large self-cleaning litter box.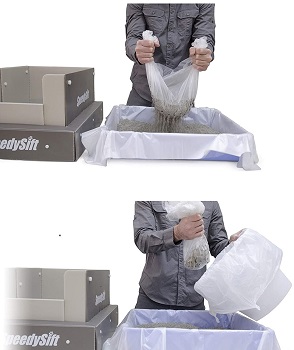 Cleaning Litter
The plastic bags are stacked and are placed all together on top of the pan. When you wish to clean this large elf cleaning litter box you simply lift the bag with the litter inside and it will sift through on to the new bag. Dirty litter is contained in the plastic bag and then you throw it out.
Pan And Lid Size And Material
The pan is quite wide and lengthy and it comes complete with a high-sided lid. The lid is made out of plastic and the high sides can be replaced if you have a really messy cat that might damage it or make it dirty beyond the point of repair.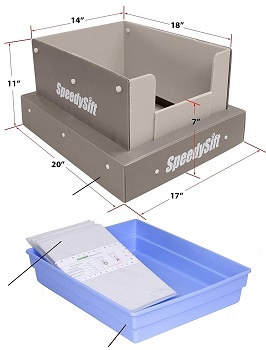 Saving Money
You will have additional expenses when it comes to this cheap auto litter box and they include buying the litter containing plastic bags and of course litter. You'll get 4 packs of plastic bags with it and each package includes 14 bags. As for the litter, it is recommended to use clumping and heavy litter.
In Short:
 You get 4 packs of 14 plastic bags
The whole box consists of a top lid and litter pan
Additional costs include buying plastic bags for litter
Litter is cleaned by sifting it through the bag
BEST SELF SIFTING LARGE SELF CLEANING LITTER BOX
Omega Paw EL-RA20-1 Roll N Clean
Entering And Exiting
This hooded litter box has an entrance hole that is large enough to fit cats of most sizes and the inside is spacious enough too. In front of the entrance, you'll find a grided piece of plastic whose purpose is to clean your cat's paws of litter that is stuck on their paws.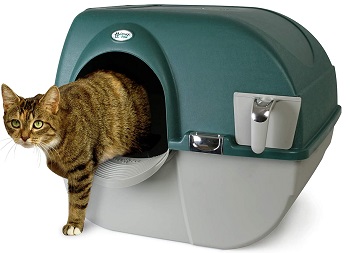 Roll To Clean
The way it cleans litter and leaves you with fresh and clean one is simply by rolling the whole box and then rolling it back to its original position. You may need to thump this large self-cleaning litter box a few times sometimes but it should work without it as well.
Inside Of The Box
The inside of the Omega Paw Roll n Clean large litter box has an area with grided sides to where the clean litter sifts into and sifts back to its place. Above it is a litter container placed inside that you can pull out. this is where the dirty litter goes when you start the cleaning process.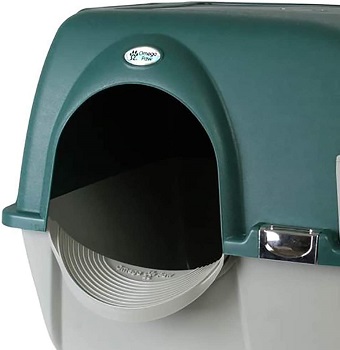 How To Clean The Box
When you want to clean the whole self-sifting litter box, you can do so by simply detaching the bottom from the top that is held in place with locking clips that are chrome plated. This will ensure that litter doesn't go into cracks and crevices and eventually falls out of the box creating a mess.
In Short:
Cleans itself by rolling it
dirty litter is contained in a pullout box for easy disposal
Cleans litter by sifting it
Chrome-plated clip keep attached the bottom and top
How To Pick A Large Self Cleaning Litter Box
Cleaning litter boxes can be a real hassle if you're busy with other things in your life and if you have grown up large cat you want to get them a box that's big enough for them to comfortably do what they need to so choosing the right large self-cleaning litter box can be a challenge on its own if you don't know what you're looking for.
Access Hole/Ramp – If you're getting a litter box that has only one access hole or door make sure you do your research To find out about the dimensions of the hole because some cats might not fit through the hole even though it is built for cats of all sizes.
No Direct Contact With Litter – Every once in a while, you will have to clean the litter and the litter box. Just because the box is self-cleaning doesn't mean that it still doesn't require your hand to assist with cleaning after some time so if you want to make that painless as possible look for disposable litter trays or sifting litter boxes because this will help with cleaning when it's time for it
Added Expenses – Most additional expenses come with buying an automatic litter box and they mostly have something to do with odor control. That usually includes a carbon filter for ventilation and disposable litter containers. You do get some with the box but if you want for your only additional expense to be smallet consider buying a different type of box or use an air purifier for cat litter.
Open Top/Hooded Top – Open Top litter boxes will usually have high sides to prevent litter from scattering all over the surrounding floor and with hooded top ones you don't really have to worry about that. Closed top litter boxes seem larger so if you don't want the box to disbalance your living area you're better off with an open-top one.
To Sum Up
With everything said and considered there is one large self-cleaning litter box that just stands out and that is theNatures Miracle litter box. It cleans itself and when you need to clean it on your own, it provides you with everything needed for it, and additional expenses besides litter include only the disposable litter containers and carbon filters for better odor management. Now if you have multiple cats and want to get a litter box that can serve them all read this post about the best self-cleaning litter boxes for multiple cats and if you're a bit tight on money so you can't afford all these expensive self-cleaning boxes read the post about cheap self-cleaning litter boxes.