Have you recently bought a litter box only to find out that there's a lot of unpleasant odor coming from it so now you're searching for an air purifier for cat litter?
we've done the research for you. found out what makes an efficient litter box air purifier, gathered the ones that were best, and reviewed them for you. You will find different types of air purifiers like multifunctional ones, small ones and so much more.
The Summary
Best 5 Air Purifiers For Cat Litter Dust & Smell
BEST OF BEST LITTER BOX AIR PURIFIER
LEVOIT H13 True HEPA Air Purifier
Silent Operation
When operating, it will operate very quietly. If you put it on low speed the sound produced will be around 25 dB and if you put it on high speed it will operate at around 50 dB. To put it into perspective, this means that it will be as silent as a peaceful night or a library. If you want something as quiet as this air purifier that does the job of cleaning quite well and with little to no of your help robot vacuums for cat litter might be for you as well.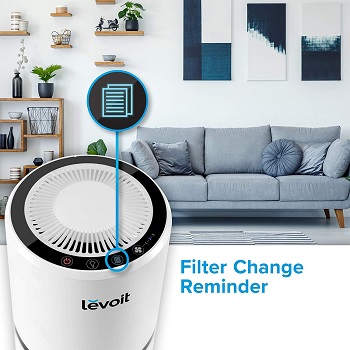 3-Stage Air Filtration
It filtrates air in 3 different stages. The first one is through the pre-filter, the second one through the HEPA filter, and last but not least, through a carbon filter. It will catch anything from tiny dust particles and odors to pet hair. It is capable of removing particles that are as small as 0.3 microns and will do that with 99.7% efficiency. Since it does the job of cleaning out air so well it might be best to use it with automatic litter boxes for multiple cats.
Filter Replacements
You will have to replace the filters from time to time. That means buying new ones, but this air purifier for cat litter has a smart indicator that will tell you when the filter needs replacing. One filter will usually last about 6 to 8 months of use before having to change it.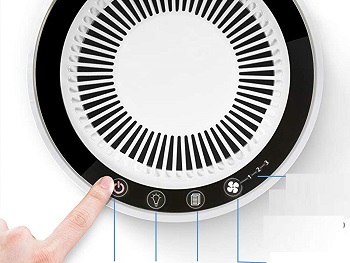 Air Filtration Room Size
It is suitable to be used in small and medium rooms. It clears out 129 square feet of air 4 times per hour. meaning that in an hour it'll clean out, all together, 516 square feet of space. The motor that runs this air purifier will provide great stability and a large lifespan of this air purifier.
In Short:
Quiet operation ranging from 25 dB to 50 dB
Filters will last about 6-8 month before they need to be replaced
Filters out 516 square feet of space in an hour
Uses a HEPA true filter, carbon filter, and a pre-filter
BEST COVERED LITTER BOX AIR PURIFIER
Catit Cat Litter Box Air Purifier
Installment Of The Product
To install this air purifier for cat litter you don't really need anything. You will have to put 2 filters inside the plastic container for it and stick it anywhere or to the roof of the litter box. It is non-toxic and unscented but it's best to put it on the top so that your cat doesn't knock it off by accident.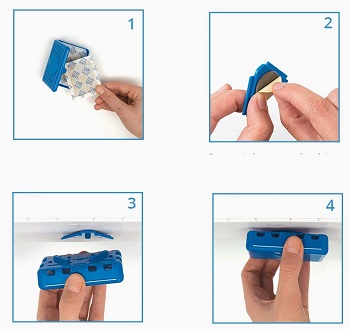 Odor Absorption Percentage
Cats' noses detect smells 15 times better than a human can so they are sure to get irritated if unpleasant ammonia odor keeps coming from a closed top, self sifting litter box. It will reduce 80% of ammonia odor coming from urine and about 40% or solid litter odors
Filter Disposal And Replacement
These air purifiers will last for about a month before you have to replace them with a second pair. They are easy to dispose of, all you need to do is throw them in the trash. To remind you of when you have to replace them, the company will allow you to sign up to their page to get reminders when it's time to do so.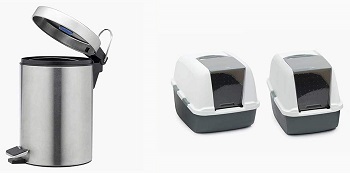 No Chemical Air Filtration
With the container, you will get 2 air filters that will last you a month of use. The way they work is not by using chemicals that might be harmful to your cat, rather it uses a naturally occurring process where the filters absorb odor just like a sponge would absorb water.
In Short:
Simple to install by just sticking the filter container with filters inside the litter box
Filters need to be replaced in a pair of two every month
Absorbs 80 % of ammonia odors and 40% of solid litter odors
Doesn't use chemicals to work so it's safe for the cat
BEST LARGE ROOM AIR PURIFIER FOR LITTER BOX ODOR
Bissell Smart Purifier
Light Indicated Air Quality
It features a light that will change color and indicate how well your air quality is. They are blue for great air quality, yellow for medium air quality meaning it could be better but is good, and red for poor air quality.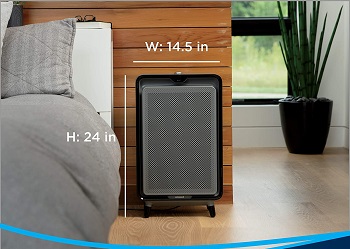 3 Times Filtered Air
This air purifier for cat litter will filter the air in three stages to ensure great air quality and to make sure that most odors and things alike are filtered. it will go through a pre-filter made out of fabric, next through an activated carbon filter, and next through a HEPA filter.
Large Area Filtering
It will filter all air in an 800 square feet room every hour which means that it'll not only filter the air close to your cat's litter box but also your whole room if there is a need for it. To set the speed, power, and other settings you will do so with a button located on the purifier. Even though a lot of self-washing litter boxes do a pretty good job at keeping odor contained since this air purifier filters such a large room, it'll be good to use it from time to time for them
Storage And Placement
As for storage and placement in the house, you don't need to worry about long cords since with it, you can cover up and store the cord and as for placement in the house, it can be standing next to a wall since filters are accessible and work on only one side of it.
In Short:
Light changes on the purifier tell you what is the quality of air in a room
Power Speed and other settings can be changed with a button on the purifier
The cord can be stored and the purifier can be placed next to a wall
filters air in an 800 square feet room in an hour
BEST SMALL ROOM AIR FILTER FOR CAT LITTER
GermGuardian GG1100W Air Sanitizer
Compact Size
This air purifier for cat litter is small in size making it compact and able to fit into most small spaces. It's 7-in tall and you can mount it to a wall by just plugging it into any electrical socket so that it's out of harm's reach for your cat and so that it doesn't bother you.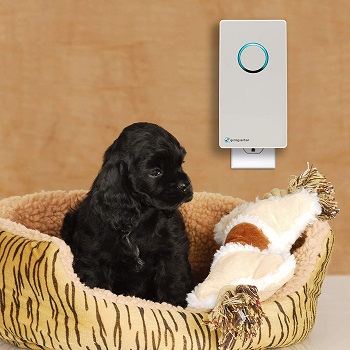 No Filter Air Purification
Unlike most air purifiers, this one doesn't use filters to purify the air. It uses a single UV-C lightbulb that will last for about a year before it needs to be replaced. They are special lightbulbs made specifically for air purifiers so buying those is crucial for good product performance. It will go well with cheap self cleaning litter boxes for large cats since it also won't break the budget.
How It Kills Germs
The UV-C lightbulbs kill germs and other odor-causing bacteria. The light produced by the lightbulb will change the genetic structure of bacteria and germs which then kills them.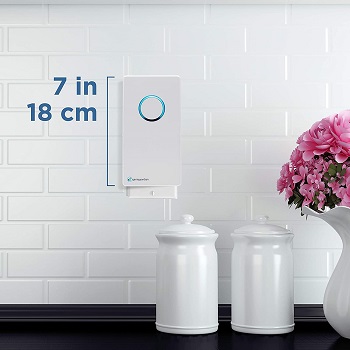 Power Usage
If you're wondering how much electricity this purifier uses, it uses less energy than a standard lightbulb. Of course, you can choose to have it work or not however you want because it doesn't need to be running constantly. This will also affect the lightbulbs life span.
In Short:
The purifier uses UV-C lightbulbs to clean air
It's 7-in tall and can be plugged into an electric socket
UV-lightbulb changes genetic construction of bacteria which kills them
One lightbulb can last up to a year, depending on how often you use it
BEST ADAPTABLE AIR PURIFIER FOR CAT LITTER
Purrified Air Litter Box Air Filter
Adapts To The Litter Box
This air purifier for cat litter can be placed next to most litter box types including easy cleaning litterboxes that closed or have an open top. You can use it with dome-shaped cat litter boxes, open cat litter boxes, cages, and even when you're traveling inside a car for example. For dome-shaped litter boxes, you may need to get an extension.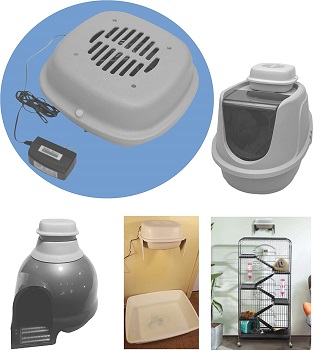 Instructions For Use With Different Litter Boxes
The manufacturer made sure to provide detailed instructions on how to make this air purifier work with big brands of litter boxes like PetSafe if you have a litterbox with a privacy cover. There's an extension you can get to mount it to a wall for open types of litter boxes
How It Works And What It Does
When you plug it in it will work constantly meaning there is no option to turn it off without having to plug it off. This is to make sure that you always have odorless air. It will help with drying litter if you're using a an electric litter box that mostly uses clumping clay cat litter.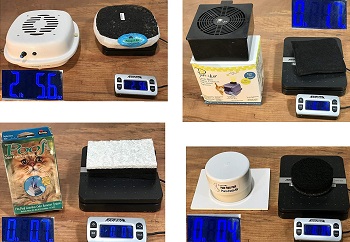 Special Blend Of Materials For Filtering
It uses a combination of activated carbon that is best know to ventilate and absorb odors coming from litter and other ingredients like zeolite. One cartridge will last 4-7 months before having to be replaced with another that will come to cost you about $30.
In Short:
Uses a combination of activated carbon, zeolite, and other materials to filter air
One filter container will last 4-7 months
Helps dry litter which makes it last longer
Adapts to different types of litter boxes
How To Pick An Air Purifier For Cat Litter
First and foremost, air purifiers for cat litter should be safe for you and your cat. There a lot of variations on how these products work to purify the air and some may not be as safe as you think or even that effective so doing your research on what you need and how they for to purify air will be of great help
UV-C Lightbulb Air Purification – Not a lot of research is done when thinking about if UV-C emitted light is harmful to humans and animals. Ultra Violet rays are usually harmful to your eyes and skin so the question that you have to ask yourself is if UV-C does the same if you're being exposed to it for longer periods of time
HEPA And Carbon Filter Air Purification – Although HEPA filters are very effective and can collect small particles to 0.3 microns in diameter if you're looking for an air purifier that will be efficient when it comes to deodorizing your cat's litter box always look to pair the HEPA filter with a carbon filter for maximum efficiency.
Room Size – You don't need a large air purifier if your focus is only on your cat's litter box. Most of these air purifiers will be focused on deodorizing a whole room from all odors and they will come to be expensive so opting for a small deodorizer to focus on your cat's litter box that doesn't cost much should be enough
Litter Box Air Filtration – For deodorizing Litter boxes you really don't need to go big, especially if the litter box has a closed-off top. Filters that are similar in size to carbon filters that usually come with automatic litter boxes and self-sifting ones should be a good enough solution.
To Sum Up
There are so many products and a lot of varieties to choose from when it comes to air purifiers for cat litter but in the end, you really don't need much since your focus is deodorizing smells coming from the litter box so the best one to that, that is safe, doesn't use complicated technologies and is cheap is the Catit Magic Blue Cat Litter Box Air Purifier. Now if you're still in a need of a litter box but want it to be simple to use with an air purifier read this post about mechanical litter boxes and if you already got both of those and your problem is litter getting everywhere in the house read the post about best robot vacuums for cat litter.