Do you own more than one cat and you just don't have the space to get more than one litter box so now you're searching for an automatic litter box for multiple cats?
We've gathered the best ones that fit the description and reviewed them to make it easier for you to choose the one for yourself. They are different from one another in many ways so we've put them into categories like self sifting, the ones that are easy to clean, and more to make the choice even easier.
The Summary
6 Best Automatic Litter Box For Multiple Cats Reviews
BEST OF BEST LITTER BOX FOR MULTIPLE CATS AUTOMATIC
Nature's Miracle Multi-Cat Litter Box
Motion Detected Cleaning
This litter box will automatically clean the litter every time your cats are done using it. This is due to the motion sensor that's located on one of the sides inside it. It cleans litter with a rake that will collect any solid litter and clumps and place it inside a waste bin.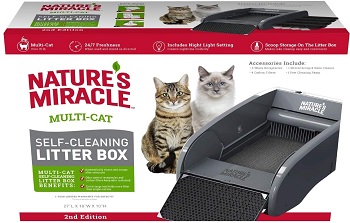 Waste Bin And Carbon Filter Use
The collected waste ends up in the waste bin that is closed so that odors are better contained inside it. Another way that odors are eliminated and minimized is with carbon filters that can be placed on the lid of the waste bin.
Clean Space Around It
To ensure a clean space around the electric litter box, this automatic litter box for multiple cats is made with high walls. This is to prevent litter from falling on the floor if your cat is a digger and if some litter gets stuck on the cats' paws, there's an access ramp that has little holes to clean them from litter.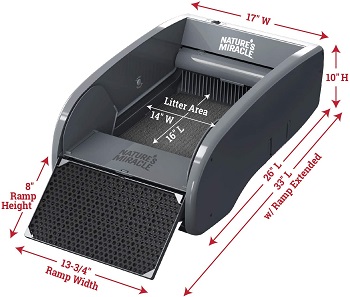 Extra Supplies Needed For Functioning
The box comes with 4 waste bins and 4 carbon filters that are both disposable. You will also get a scoop for cleaning the rake that comes off. The litter box also has a light to give your cat and you some visibility during the night. This is really convenient seeing as cats are most active during dush and dawn.
In Short:
Has a built-in motion detector to begin the cleaning process
The scoop that comes with it can  be used to clean the rake and scoop out dirty litter
To eliminate odors it uses a carbon filter and waste container that can be sealed
Carbon filters and waste container are disposable and both come in a pack of 4
BEST SELF SIFTING MULT-CAT AUTOMATIC LITTER BOX
Omega Paw Self Cleaning Litter Box
How It's Made
This self-sifting litter box has a closed top. It has a big enough entrance whole to fit large cats and can equip enough litter inside to be a great self sifting litter box in a household with multiple cats. It's made entirely out of plastic with the exception of the chrome-plated clips that keep the bottom and top part connected.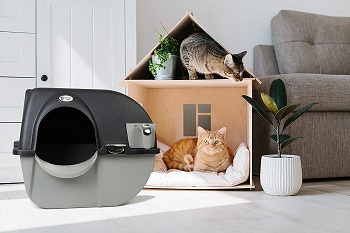 Clean Cat Paws After Use
The entrance hole features a grided piece of plastic that, when your cat walks on it upon exiting the litter, cleans their paws to prevents excess litter from going on the floors. There's no need for additional protection for it since the box has a closed top and only one entrance hole.
Divided Space And Different Uses
The bottom plastic part has space for placing litter inside and a separate space that's divided with a grated piece of plastic. The reason for it because this is where the litter sifts into upon rolling the whole box on its top. After placing it back to its original position, the clean litter will come back to the littering space.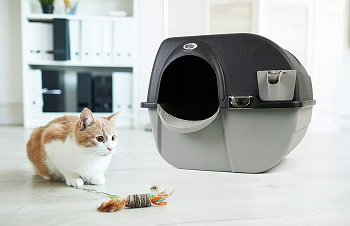 Top Part Features
The top part of this automatic litter box for multiple cats doesn't have much stuff but it does have a crucial part for cleaning the litter box. The container located on the right side is reserved for dirty litter to fall into it when you clean the litter. It has a handle on the outside so that you can pull it out, dispose of litter and place it back inside to use it again.
In Short:
Has a bottom and top cover part
The top consist of a pullout bin where dirty litter is contained
The bottom part is reserved for littering and cleaning litter by sifting it
To sift the litter you simply roll it on its top side and back
BEST EASY-CLEANING AUTO LITTER BOX FOR MULTIPLE CATS
Purina Tidy Cats Litter System
3-Part Construction
This easy cleaning litter box is a 3-part litter box. Each part serves its own purpose and they all come together to make this box stay clean with ease. The top lid prevents litter scatters, the middle part houses litter, and the bottom part with a pullout tray is there so that urine pads can be placed inside.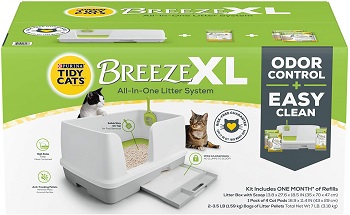 A Months Worth Supplies
This box will come with 2 bags of 3.5 lbs of pellet litter. If you have 2 cats in your household, these two bags will last you a month of use before having to buy more. It also comes with 4 urine pads and a scoop for taking out litter, it also has a place to put the scoop away located on top of the litter box.
Litter Pellets Functions
Litter pellets that come with the box are dust-free and don't stick to your cats' paws. They also let litter stay on top so you don't have to dig for dirty litter in this automatic litter box for multiple cats when you're taking it out. They don't absorb urine, they let it through to drip onto the urine pads.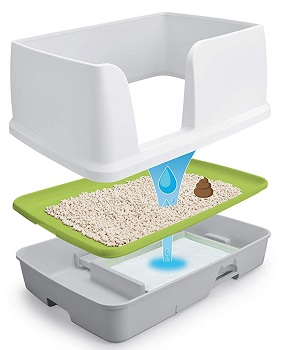 Urine Pads And Replacement Time
The urine pads will get rid of the ammonia odor that usually comes from urine. It will absorb any urine for 7 days if one cat is using it. If two cats are using it you should replace them every 3 days. They are easy to replace because they are located on the bottom of the box in a pullout tray.
In Short:
Uses urine pads located in the bottom tray to get rid of ammonia odor
Comes with 2 bags of 3.5 lbs of litter pellets and a 4 pack of urine pads
Litter pellets keep solids on top for a no digging experience
The box comes with a provided scoop for cleaning
First-time supplies will last you about a month of use for a two-cat household
BEST LARGE CAT AUTO KITTY LITTER BOX FOR MULTIPLE CATS
CatGenie Self Washing Self Flushing Cat Box
Setting Up The Box
This self-cleaning litter box for large cats can be set up in your bathroom or washing room. The reason for it is because for it to work, you will have to connect it to a cold water draining system either with your toilet or your washing machine. For you to do that you will get a T-adaptor.
Cleaning Options
For it to start cleaning, you will have to activate it either manually, set it to run automatically after every use, or run automatically 4 times a day. It will scoop out solids, liquify and then flush them down the drain.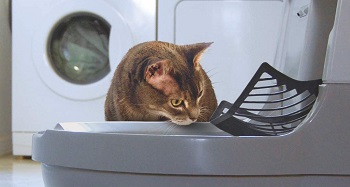 Washable Litter Like Granules
Liquids will be contained in the special washable granules that will need to be replaced after some months of use. It cleans the granules with water and a Sani-solution that is safe for your pet, After washing them, the warm air will dry them.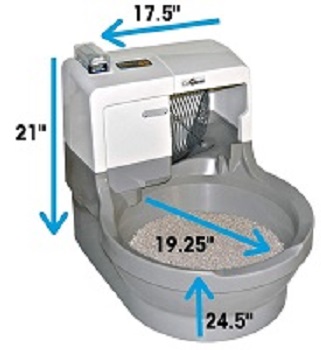 Supplies Coming With The box
With this automatic litter box for multiple cats, you will get 1 box of these special and washable granules and 1 sanisoultion pack for cleaning them.
Granules Material
If you're wondering what these granules are made of to resemble litter so that your cat can better adjust to it, it is actually plastic but made with natural materials.
In Short:
Connects to the waterline of a toilet or washing machine
It's easy to set up with a provided Tadaptor for it
Litter like granules are washable and reusable
Solid litter is scooped up, liquified and drained
Uses the toilets' or washing machines' cold water to clean
BEST CHEAP LITTER BOX FOR MULTIPLE CATS AUTOMATIC
LitterMaid Multi-Cat Automatic Litter Box
Cleaning The Box And Its Components
To easily clean the whole box when there's a need for it, on the sides, you'll find located handles that are easy to lift for exactly that. Another thing that will make cleaning of the box much easier is the rake that can be removed to clean if much more efficiently.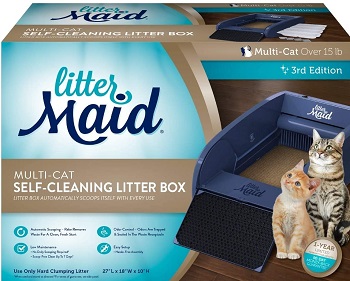 Provided Supplies And Accessories
Cleaning the rake will be done with a provided scoop. The scoop has gridded front edges that fit perfectly into the rake to scrape off any excess litter from it. You will Also get 4 waste containers that you can seal off and 4 carbon filters. These two are disposable parts and will need replacing over time.
Turning On The Box To Clean
Automatic cleaning will start after a motion sensor detects motion. The rake will scoop up solid litter and place it inside the container. To prevent odors from spreading outside this automatic litter box for multiple cats the container can be sealed off and it can hold a carbon filter inside.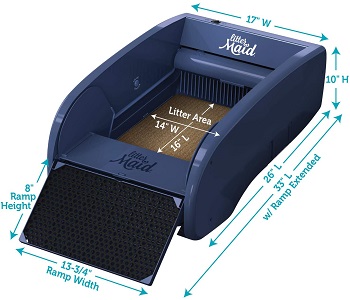 Operating Modes
This cheap self-cleaning litter box has 3 different operating modes. These are on, off, and clean. You can set it to run for 7 days straight without the need to scoop out litter. Litter will scatter on the floors as little as possible because of tall sides and a paw ramp that cleans the cat's paws.
In Short:
Can be set to run manually or automatically
Has a paw cleaning access ramp and tall wall sides for no litter scatter
Comes with a scoop, 4 carbon filters, and containers
Allows for a no cleanup experience up to 7 days
How To Pick  An Automatic Litter Box For Multiple Cats
For an automatic litter box for multiple cats to work and be as efficient in cleaning as possible, there are some things to think about like how often will the box clean itself, how does it clean itself, how will it incorporate into your household and other things so here are a few to get you on the right path of decision making.
Waste Containers – Since there are a lot more solids to scoop and place inside, you should think about how big the containers are, are they well-sealed and are they disposable or not. Your best bet would be to have a waste container lined with a plastic bag to easily dispose of litter without having to get the container dirty.
Operating Modes – With more than one cat using the litter box, there will be more times when the box needs to clean the litter so it's important to have operating modes so that the litter box doesn't run too often. YOu will usually be able to set it to run automatically or manually.
Clean Space Around The Box – More cats usually means more mess, especially around the litter box when they exit the litter box with litter stuck on their paws. There isn't a way around to stop it completely but accessories like a ramp for cleaning the paws or robot vacuum for cat litter can be a good way to minimize it.
Cleaning Types – These Litter boxes will not always have the same way of cleaning themselves so it's important to know which ones exist. There are self-cleaning litter boxes and the ones that require you from you to clean it without much hassle like self sifting litter boxes. Self-cleaning boxes will look a bit more elegant and sturdy in your household.
To Sum Up
Automatic litter boxes for multiple cats need to be large, have multiple choices for cleaning, they have to require from you little to no effort on cleaning it regularly and of course, it's always food to have as little expenses as possible and the one that fits all these descriptions best is the CatGenie Self Washing Self Flushing Cat Box. Now, if all of these cost just a little bit too much for your budget check out this post aboutcheap automatic litter boxes and if you just need an automatic box for your big cat read this post about automatic litter boxes for large cats.