Is automatic an appealing choice to you for a litter box but you don't want to spend too much on it so you're now looking for a cheap automatic litter box?
Worry no more because we've gathered the best ones that as little money can buy. Even though they're cheaper than most, they still have outstanding performance when it comes to their main function and you'll get to even choose between self sifting, self-cleaning, the ones for multiple cats, and more.
The Summary
Best 5 Cheap Automatic Litter Boxes
BEST OF BEST CHEAP AUTOMATIC LITTER BOX
Pet Zone Smart Scoop Automatic Litter Box
Cheaper In The Long Run
Although it is a bit more expensive than others, what really sells this cheap automatic litter box for large cats is the added costs that will accumulate over time. It will allow you to buy cheaper alternatives to the needed supplies and some parts don't ever need replacing that other types of these boxes require you to change frequently.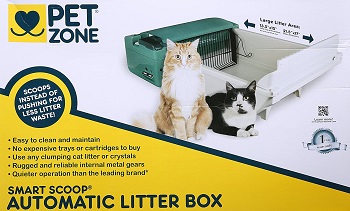 Parts Of The Litter Box
It consists of a rake for cleaning solid litter, a waste container that can be closed, a socket to place carbon filters in, space for placing litter inside, and added first-time supplies include a carbon filter and 6 plastic bags to dispose of litter without having to get your hands dirty.
How The Cleaning Cycle Works
The way it starts the cleaning cycle is by a sensor that recognizes movement and turns on the automatic rake that runs through the litter and scoops out solid clumps of it. Next, it places it inside the container that is lined with a plastic bag. The container closes and no odors come from it because it's closed and has a carbon filter socket that absorbs odors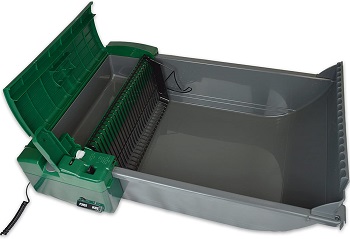 Litter To Use And Operation
It doesn't require you to use branded litter types. You can use any type of clumping litter that is lightweight. When operating, it is very quiet as to not disturb you or your cat. To put it into perspective, it is 4 times quieter than other litter boxes of this type.
In Short:
doesn't require special branded litter to work
Cleans solid litter automatically after every use
Solid litter is placed inside an closed off container
Carbon filter inside the waste container absorbs odors
6 pastic bags and a carbon filter is included
BEST SELF-CLEANING CHEAP AUTO LITTER BOX
PetSafe Simply Clean Litter Box
Additions To The Box
Since it's silent when it's running, the cheap self cleaning litter box is equipped with a LED light to indicate and let you know when the litter box is working. You'll also get a carbon filter for odor management.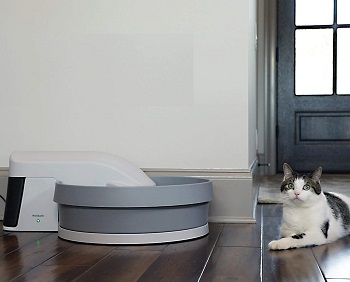 Reduced Odors
To reduce and minimize the odors coming from the dirty litter, this cheap automatic litter box has a place where you can put a carbon filter on the lid of the container that will absorb them. Another way to do that is with the lid that is closed so litter doesn't come into direct contact with the surrounding air.
Disposing Of Dirty Litter
For easier and much cleaner disposal of dirty litter, the container can hold a plastic bag so that the litter drops in it so whenever you have to dispose of dirty litter you simply do it by grabbing the plastic bag, throwing it out, and placing a new one inside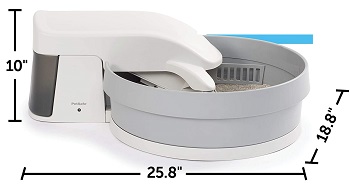 Rotation Cleaning
The box cleans by sifting litter and gathering any clumps of it and then placing it inside the waste container. the bowl rotates slowly for an hour and a half to complete a full circle and then stops for the same amount of time. the litter used doesn't have to be branded. it can be any clumping litter.
In Short:
Cleans litter by sifting and collecting it inside a waste container
The litter box makes a full rotation every hour and a half
Works silently as to not disturb you or your cat
LED light indicated when it's working
Available for use with any clumping clay litter
BEST FOR MULTIPLE CAT CHEAP AUTO LITTER BOX
LitterMaid Multi-Cat Litter Box
Standard Added Expenses
The waste bins and carbon filters for this box come in a pack of 4. They're disposable so buying more will be mandatory if you want the litter box to run the way it is intended to. Other standard overtime spending is reserved for litter but it doesn't use any special kind of litter so you're free to use the one you like or are used to.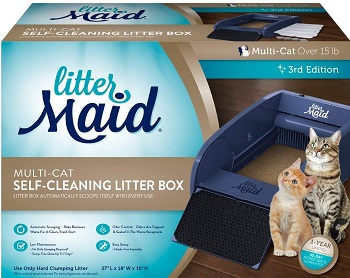 No Litter On The Surrounding Floor
To prevent litter from scattering all over your floor, this cheap automatic litter box for multiple cats has high walls all around it and a ramp from which your cats can access and leave the litter box. When they do so, the ramp will clean out their paws from any excess litter.
Sensor Triggered Cleaning
It will start to clean out dirt litter clumps and put them inside a waste bin with a carbon filter when the motion sensor is triggered. It can work up to 7 days before you have to clean out the waste bin. It operates in three modes and you can choose to run it manually as well.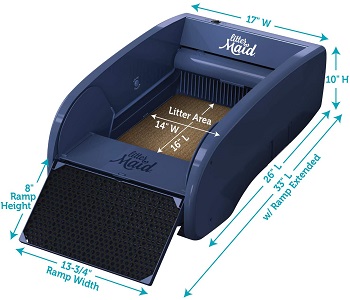 Cleaning The Rake
To clean the rake, you will get a scoop that has grided edges. Additionally, you can use the scoop to throw out dirty litter if your cat is still getting used to the new litter box and its automatic operation mode.
In Short:
4 disposable waste containers and carbon filters are included
the waste containers can sealed for less odors coming from it
Includes an access ramp and tall sideds for less litter scatter
The rake can be taken off to be cleaned with a provided scoop
BEST SELF-SIFTING CHEAP AUTOMATIC LITTER BOX
Catit SmartSift Litter Box
Pull The Lever To Clean
Cleaning litter with this box is made easy. There's a lever on the side of the box that you can pull to the front and then back to clean litter. What happens when you do this is that the box where litter is located turns and sifts clean litter and drops dirty litter into a box located below that can be pulled out to dispose of dirty litter.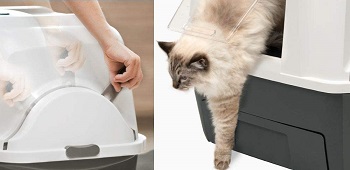 Odor Containment And Absorption
The self sifting litter box has an integrated carbon made filter to ventilate the space inside since it's a closed top cheap automatic litter box. Another way that this box ensures better odor control is with the access door that is closed because of the hanging door.
Litter Condition Observation
On the top, there's a window for you to monitor how much litter is inside so you don't have to take apart the whole thing for it. Another thing on the top of the box is the hole for maintenance so you can refill litter quick and easy.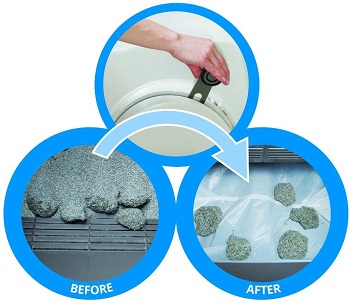 Large Waste Bin
The waste container can hold up to 2 weeks' worth of litter. a plastic bag can be placed on it for easier and much cleaner disposal and you'll get two bags for it that are the perfect fit for it. To dispose of litter simply pull out the drawer from the bottom, dispose of litter and place it back.
In Short:
The waste container is large and can hold up to 2 weeks worth of litter
Has an integrated carbon filter on the to side for better ventilation
Cleans litter by sifting it with a simple pull of a lever
On top there is a window for monitoring and maintenance
BEST MECHANICAL CHEAP AUTOMATIC LITTER BOX
Noba Cateco Cat Litter Box
3 Part Box Assembly
Assembling this box is a three-part process. It consists of the top that serves the purpose of high wall sides to prevent litter scatters, the middle pan is used to place litter inside it and the bottom tray is used to place urine pads.

Air Circulation And Odor Prevention
The high walls extension, besides being used to prevent litter from falling on the floor, contains odors. To provide you with proper air circulation, the bottom where the urine pads are located has holes to do that as well.
Deep Litter Box
This cheap automatic litter box is very deep so preventing litter scatter will not only be done with the high wall extension but also with the litter box. Litter that you can use with this litter box can be any clumping or absorbent litter. It will not work well with pellets though. For cleaning litter, you'll get a scoop to do so.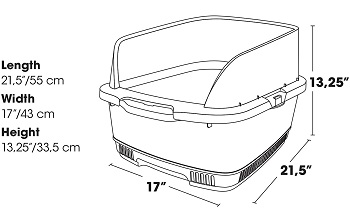 Urine Pads And What They Are For
The urine pads in the mechanical litter box are not made to absorb all urine. They are here to absorb excess urine so that urine doesn't float in the litter and so that fewer odors come from the litter. You will get a pack of 10 urine pads with the box. The urine pads should be replaced every 3-4 days or when soaked.
In Short:
tray for urine pads has wholes for better air circulation
Can be bough with an extention to prevent litter scatter
The box for placing litter is very deep
Excess urine drops onto the urine pads that need to be changed every 3-4 days
Solid litter is cleaned with a provided scoop
How To Pick a Cheap Automatic Litter Boxes
To find a cheap automatic litter box is a task to be feared. they differ so much in price and functions and the beginning price can fool you if you're not careful with thinking about cost that might accumulate over time so to take apart all of their functions and to weigh out the pros and cons is important.
Electric Litter boxes –  Electric litter boxes will always be more expensive than mechanical ones but in this category, you can find far cheaper ones. They will turn out to be cheap in the long run since a lot of times, replacing supplies will be cheaper since you can choose to use different types and not just branded supplies.
Mechanical Litter Boxes – Since they are cheaper, the thing to worry about with these boxes is how easy and fast they are to clean. The simplest way to clean litter will be by sifting it. The litter will be placed into a separate container and be ready to dispose of. They will require you to clean them more often and odor prevention might be more difficult.
Litter Cost – Among other supplies, the one that you'll always have to keep buying is litter so getting a box that can work great with most types of litters is important. You don't want to discover that you're only able to use one type of litter that is expensive.
Carbon Filters – Carbon filters, in mechanical and electric boxes, is the go-to way to get rid of odors. They differ in size, price, and how long they will last. They are a great and arguably the cheapest way to ventilate the space where they are placed.
To Sum Up
Litter boxes can be affordable. There are always going to be cheaper alternatives to expensive products and cheap automatic litter boxes have a clever way of being cheap because it's not only the product price that determines if it's affordable. Additional expenses also have to be taken into account and of course, how well the box does what it's supposed to and the best one that fits all of these descriptions is the PetSafe Simply Clean Litter Box. Now if you have more money to spend, self-cleaning boxes appealed to you and are looking for a litter box for not just one but more cats, read this post about the best self-cleaning litter boxes for multiple cats and if it's just one cat but a big one then check the post about self-cleaning litter boxes for large cats out.