Are you a big fan of cats so you got yourself another cat and are now wondering if you can buy one self-cleaning litter box for multiple cats?
Well, you can. There is a market for litter boxes that can be used by multiple cats and we've gathered some of the best to help you with your search. We will review in it all kinds of boxes ranging from cheap to automatic and so much more than that.
The Summary
Best 5 Self-Cleaning Litter Boxes For Multiple Cats
BEST OF BEST ELECTRIC LITTER BOX FOR MULTI CATS
Purina Tidy Cats Litter System
What Comes With The Litter Box
The things you get in the box are the litter box, a scoop, 2, 3.5 lbs packs of pellet litter, and 1 pack of 4 urine pads. You have everything you need to last you a month of use so for the first month, you don't have to worry about additional expenses.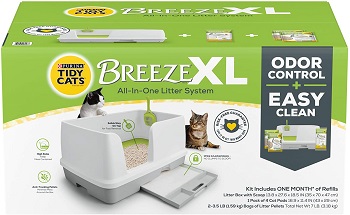 Litter Pellets
The litter does not clump so the solid litter stays on top of it for easier cleaning. The urine will pass through it meaning that they won't absorb it and go to the down level where a urine pad is located. This litter is dust-free and it doesn't stick to the paws of your cat.
Tall Sides Build And Purpose
Besides the specific type of litter, another way to ensure that the outside of the box is clean is by this self-cleaning litter box for multiple cats having tall sides. If they don't then simply use a robot vacuum for cat litter.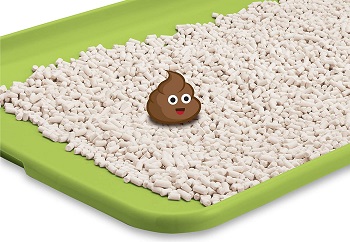 Construction And How It Works
It's made up of 3 stackable parts the bottom has a pullout where you put urine pads so that gives you odor control, the second part is where the litter goes to and the last one is the tall sides and entrance hole. Set up is easy and cleaning is simple as well because of the urine pads and litter that this box uses.
In Short:
Stackable, 3 part construction
Litter doesn't get buried with litter pellets
Urine Pads on the bottom absorb urine
Comes with 7 lbs off pellet litter, 4 urine pads, and a scoop
BEST AUTO SELF CLEANING LITTER BOX FOR MULTIPLE CATS
Nature's Miracle Multi-Cat Self-Cleaning Litter Box
Cleaning The Solid Waste
After every use, a cycle will run that cleans solid waste with a rake and places it inside of a litter container with carbon filters for odor control. This is made available because of a built-in sensor that recognizes movement. The rake can also be taken out when you have to clean it.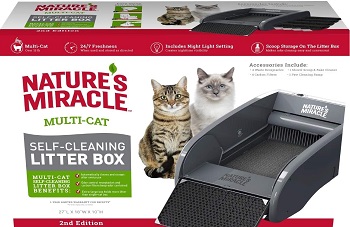 Less Mess Around The Box
For even less mess, this self-cleaning litter box for multiple cats is built with high walls around it to prevent litter from scattering all over the floor. Besides that, the point from which your cat goes in and out of the box has a ramp that will clean your cat's paws and prevent litter tracking
Scoop Use
Although the solid waste is cleaned automatically, that doesn't mean it cleans liquids. The way you will clean liquids is with a provided scoop if you have clumping litter. The scoop can also clean the rake and the box has a place for putting the scoop away.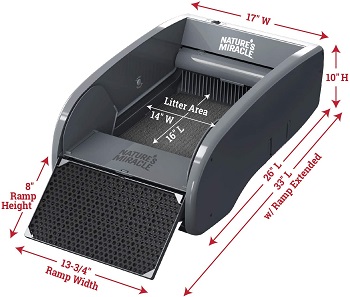 Controlling Odor
The sealed litter containers and carbon filters that do well with managing odors are disposable meaning that you'll have to buy them frequently when you use them up. For first time use, you will get 4 of each to last you sometime before having to buy more for this multi cat automatic litter box.
In Short:
Cleans solid litter automatically
Litter containers and carbon filter are disposable
Liquid litter has to be cleaned with a scoop
The package includes 4 containers and carbon filters that are disposable
BEST CHEAP MULTI-CAT SELF CLEANING LITTER BOX
Pet Zone Automatic Litter Box
Cheap And Automatic
This self-cleaning litter box for multiple cats is probably the cheapest one you'll find. The reason for it is because it works well with any type of clumping clay litter and the waste container is reusable. All you have to do is place a plastic bag in it and remove it and place a new one inside when throwing out dirty litter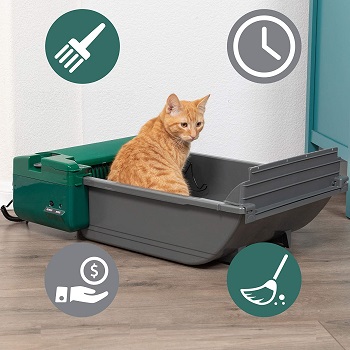 Activating The Cleaning Cycle
When the sensor detects movement, this will trigger the cleaning process after 15 minutes. The rake, along with the litter container, will move forwards along the whole line of the litter box, scoop out the dirty solid litter, place it in the litter container and go back for the cat to use the box again.
Odor Management Aids
Besides the sealed off litter container, another thing that aids with odor control is the carbon filter located on the seal for the litter container. This can and should be replaced over time. It is quiet when operating so that it doesn't disturb you or your cat.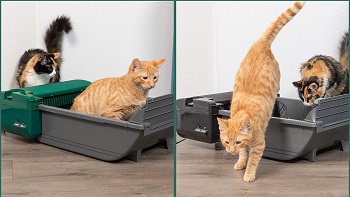 What Comes With The Box
The things you get when buying this cheap auto litter box are 6 bags for placing inside the litter container that makes cleanup convenient and easy and 1 carbon filter that absorbs odors.
In Short:
Odors are reduced by using carbon filters and closed plastic container
Litter container can be lined with a plastic bag for easy litter disposal
1 carbon filter and 6 plastic bags come with the product
Functions with any brand of clumping litter
BEST EASY SELF CLEANING MULTI-CAT LITTER BOX
LitterMaid Multi-Cat Litter Box
Weekly Litter Disposal
You don't have to scoop the litter daily. It should be enough to scoop it every 7 days after litter builds up. Litter is cleaned automatically after every use. The way the cleaning cycle is activated is by a built-in motion sensor. Litter gets scooped up by a rake and is then placed into the litter container.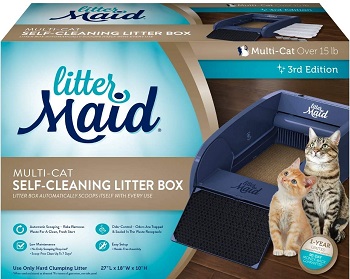 Free Of Odors
Little to no odor coming from the litter box is achieved by sealed plastic litter containers that are filled after the cleaning cycle. They also have a compartment to put in a carbon filter that absorbs odors well and you can get an air purifier for cat litter if you want.
More Expenses
The litter containers and the carbon filters are disposable so you'll have to buy more after some time for about a month, the 4 included plastic containers and filters will be enough to ensure that the litter box works the way it should with no additional costs in that period.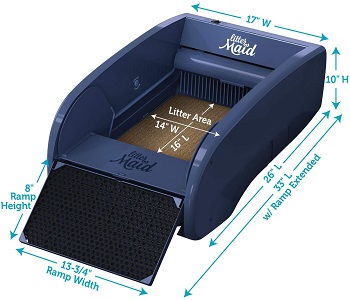 Cleaning The Rake
The scoop that comes with the self-cleaning litter box for multiple cats has a grided front edge that serves to clean the rake. As for litter, the litter you should use with this litter box is hard clumping litter. This will give the best results when it comes to operation.
In Short:
Scoop that comes with the box designed to clean the rake
Includes 4 disposable containers and 4 carbon filters
You should dispose of litter every 7 days
No additional expenses for about a month
BEST SELF-SIFTING MULTI-CAT ELECTRIC LITTER BOX
PetSafe Simply Clean Cat Litter Box
Absorbing The Smell
On the seal, up from the waste container, you'll find located a slot to place in carbon filters that will absorb odors and keep your house odor-free. You will get one carbon filter with the box but you'll have to buy more in the long run.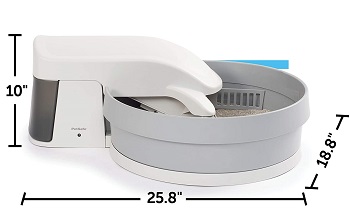 Doesn't Disrupt The Cat
This self-cleaning litter box for multiple cats operates quietly to not scare your cat away or make noise that will disturb you. Additionally, it doesn't have any noticeable moving parts except for the bowl that moves very slowly, and completes the spinning cycle every hour and a half
Litter Type And How Much To Use
This self sifting litter box will best work with clumping clay litter. To know exactly how much litter to put in, there is a mark on the inside of the bowl that indicates how much litter to put. You shouldn't go over the line when filling the box with litter.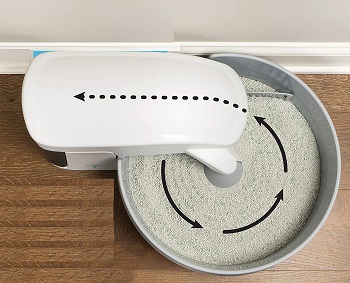 How It Cleans
The dirty litter is collected and placed into a container in which you can put a plastic bag for easy waste disposal. The Clean litter is sifted and stays in the box. It means that it will use litter efficiently and you won't have to replace litter that often.
In Short:
The cleaning cycle lasts 90 minutes
Dirty litter Container can be covered with a plastic bag for easy litter disposal
Uses carbon filters to deodorize
Comes with 1 disposable carbon filter
Quiet when operating
How To Pick A self-cleaning litter box for multiple cats
Being large enough can't be the only function you want to be looking for when choosing a self-cleaning litter box for multiple cats. There are things to consider since these boxes self-clean and to do so, they have to be made smart and with things like container size, operation noise, and more things in mind.
Litter Type And Amount – If more than one cat is going to be using one litter box you will be spending a lot more money on litter. The way you should look at it is if one cat spends a certain amount of litter, 2 will double that, and so on. Cleaning will be more frequent so making sure that you get litter that you don't have to clean and replace that often will help a lot.
Controlling Odor – What will usually aid you in containing odors are carbon filters that absorb smells and sealed off plastic containers and they do a pretty good job in doing so. The only problem is that they are disposable. You can find a way around it and get a litter box that has a reusable litter container that you line with disposable plastic bags to dispose of litter but the carbon filters will always be an added expense.
Container Size – With multiple cats, you'll have to dispose of litter more often because the container will fill up much faster so minding the size of the container will help greatly with having to dispose of dirty litter. Usually, litter boxes that are made to be used by multiple cats will keep this in mind.
Quiet Operation – Self-cleaning litter boxes will produce some sound when operating so getting one that is said to operate quietly will be of great help. The reason for that is that cats might get scared or be disturbed by the sounds coming from the box. Plus, you will benefit from quiet operation as well which is a trait for electric cat litter boxes.
To Sum Up
Having more than one cat and cleaning up after them can be a challenging and time-consuming job so getting a self-cleaning litter box for multiple cats can be a smart move if you choose right and the best one to choose might just be the Pet Zone Smart Scoop Automatic Litter Box. It's quiet when it's turned on and working, and has little additional expenses. Now if self-cleaning is not your cup of tea and you want to mostly rely on yourself when it comes to cleaning the litter box rad the article about easy cleaning litter boxes but if you want to stay in the self-cleaning category but are looking for something that won't break the bank read the post about cheap self-cleaning litter boxes.