Has money been tight these days but you're in need of a litter box so you want to make it so that it's a cheap self-cleaning litter box?
If you continue reading this post, you are sure to find exactly what you're looking for. In this article, we reviewed some of the best litter boxes that won't break the bank that differ in size, functionality and so much more so there's something for everyone.
The Summary
Best 6 Cheap Self-Cleaning Litter Boxes
BEST OF BEST CHEAP SELF CLEANING LITTER BOX
Purina Tidy Cats Breeze System  Litter Box
Accessories Needed For Functioning
With it, you'll get a few useful additions that are needed for the proper functioning of the litter box. These include a scoop, a pack of litter pellets, and a pack of urine pads. The urine pads and litter pellets will last a month of use before having to replace them with new ones.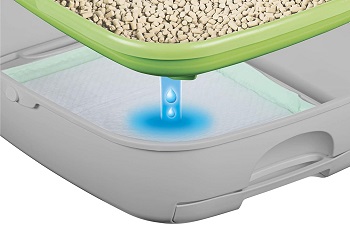 Urine Pads Use And Placement
The urine pads can be placed in a tray below the litter area. a pack of urine pads consists of 4 sheets. 1 sheet will provide good urine absorption and odor elimination for a week before having to be replaced with a new one.
Recommended Litter To Use
Litter pellets that come with this cheap self-cleaning litter box and that are recommended for use with it, although you can find other similar options to replace it, don't absorb liquids, The reason for it is so that they can travel through and down to the urine pads located below. Digging for litter won't be a problem with it because solids stay on top of it.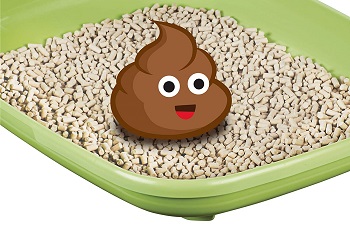 Stackable Part Build
The cheap auto litter box is made of three easily stackable parts. The bottom is reserved for urine pads, the middle layer is reserved for litter and the top part gives you a high wall construction to prevent litter from going away from the box and onto the floor.
In Short:
Uses urine pads that are placed in the bottom tray to absorb litter
Recommended litter to use is pellets or something similar in function
Dirty litter stays on top for easy scooping
Comes with a monthly supply of litter pellets and urine pads
BEST SMALL AFFORDABLE SLEF CLEANING LITTER BOX
Le You Pet Quick Cleaning Cat Litter Box
Shape And Its Purpose
This affordable litter box looks like a cradle that stands on a pedestal. You can swing it and the reason for it is to begin the cleaning process. The covered part is made to trap clean litter when you clean it and the exposed part is for your cat to litter.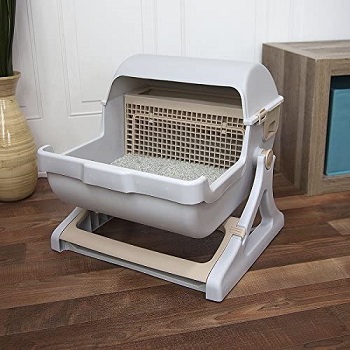 Assembly Process
You will have to assemble this litter box but assembly is made easy and requires no additional tools. After you're done, place the litter inside and you're ready to begin using it. It's made entirely of plastic so it might feel like it's not durable or sturdy enough
Simple Cleaning
Cleaning litter with this box is made simple. When you wish to clean it, you swing it in an upwards direction and wait for the litter to sift through the grided plastic divider. Next, you put it back in its place, lock it in so it doesn't swing, dispose of litter and you're done.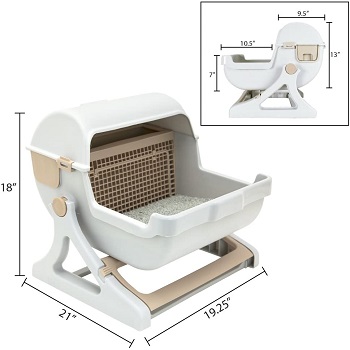 Dirty Litter Management
The dirty litter falls into a container that you can pull from the side of this cheap self-cleaning litter box. This can happen because above the grided plastic divider, there is a hole to where the dirty litter travels to when you begin the cleaning process.
In Short:
Assembly is necessary but doesn't require additional tools
The cleaning process sifts the litter and divides dirty litter into a special container
Made entirely out of plastic
Shaped like a cradle to fit most spaces
BEST LARGE CHEAP SELF CLEANING CAT LITTER BOX
SpeedySift Cat Litter Box
Litter Box Assembly
You don't need any additional accessories to clean this self cleaning litter box for large cats except for plastic bags. Assembly of the Box is easy by simply placing the stacked up plastic bags on the pan, put the top lid on, place the litter inside and you're all set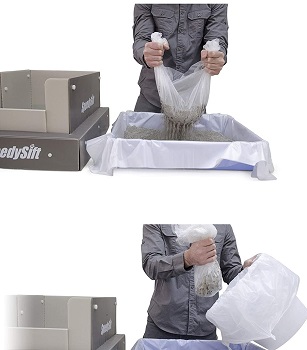 How To Clean The litter
The cleaning process will start when you decide to remove one of the stacked bags. Remove the top lid and grab a bag on its ends, lift it and the litter will sift through the holes on the plastic bag while the dirty litter will stay trapped in the bag. After that, you throw away the plastic bag and you're done.
Materials And Parts Of The Box
The box is made of corrugated plastic. This means that it's layered which makes it really firm and durable. The bottom pan is made from heavy-duty plastic. The top lid consists of a base to fit inside the bottom pan and the walls are built high. The height of the wall can even be changed and if your cat damages them in some way it is replaceable.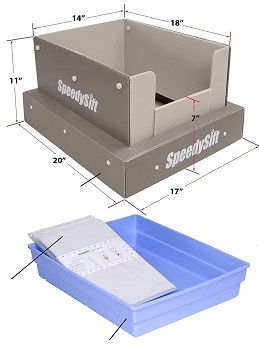 Accessories Used To Make It Work
The recommended litter to use is clumping clay litter that is heavyweight. You don't get litter with the box, but this cheap self-cleaning litter box allows you to use your favorite litter if it fits the description. It comes With 4 packs of 15 plastic bags, 14 being sifting bags and one bottom plastic bag to cover the pan and keep it clean.
In Short:
Heavyweight clumping clay litter is the recommended litter to use
Comes with 4 packs of 14 plastic sifting bags
Comes together with  a litter pan, plastic sifting bags, and a lid
You can adjust the height of the tall walls and replace them if needed
BEST MECHANICAL CHEAP SELF CLEANING LITTER BOX
Catit SmartSift Litter Box
Side Lever Function
Cleaning starts when you pull the lever on the side of the box. When you do this, the clean litter will sift through a gridded piece inside. this will separate clean litter from dirty one and the dirty litter will get trapped inside a container on the bottom that can be covered with a plastic bag for easier disposal of it. The container can be lined with plastic bags and you'll get 2 of them with the box.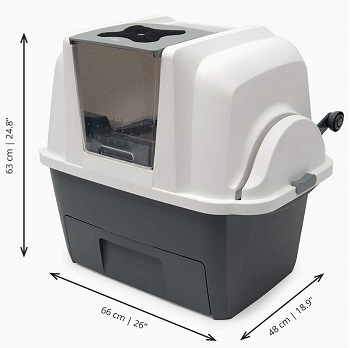 Adaptable Litter Choice
To work properly, this cheap self-cleaning litter box will require you to use clumping clay litter but it can be of any sort so if you're used to using this type of litter you can stick to your old one and you don't have to make adjustments for your cat to get used to the new litter.
Litter Box Access And Ventilation
This mechanical litter box has a closed top and your cat can enter it through the one access door that is hinged. Since ventilation in the box because of this might be minimal the box has a large built-in carbon filter that will ventilate the inside of the box.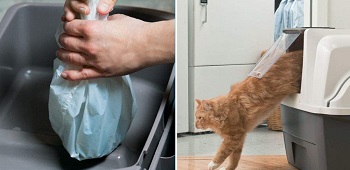 Window Monitor
For you to access the litter box and place inside new litter and check on how much the litter is filled and if the box cleaned itself properly you will be provided with a window from which you can see and do all of these things.
In Short:
Cleans litter by pulling a lever that activates the cleaning process
You can use any type of clumping clay litter with it
Dirty litter is contained in the bottom drawer
The bottom drawer can be lined with plastic bags for mess-free cleanup
BEST AUTO AFFORDABLE SELF CLEANING LITTER BOX
Pet Zone Smart Scoop Automatic Litter Box
Litter Scatter Prevention
Although you might not be able to prevent some litter scatter over the surrounding floor, you can lower the chance of that happening by buying litter that prevents tracking. Another thing that ensures less litter from being scattered are the tall walls of the box. You can also use a robot vacuum for cat litter.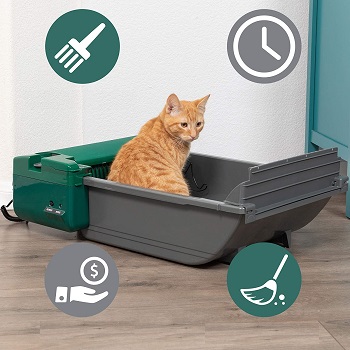 Smell Minimization
Odors coming from the dirty litter are minimized with carbon filters that are placed inside the box where the container for dirty litter disposal is located. Another way that it minimizes odor is by having the container sealed and closed after the cleaning cycle ends
Mess-Free Litter Disposal
For litter disposal that is mess-free, this cheap self-cleaning litter box allows for the dirty litter container to be covered with any plastic bag. You will get a pack of these that will last you a month before using them all up.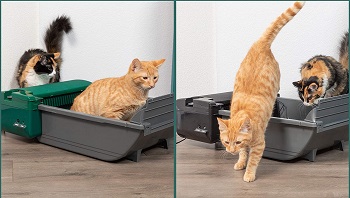 Sensor Activated Cleaning
The way the cleaning cycle is activated is through a sensor. It detects motion and after 15 minutes of your cat leaving the box, it'll start itself. The rake will go through the litter and scoop up clumps of dirty litter place it inside the waste container.
In Short:
Litter is cleaned with a sensor-activated automatic rake
Monthly supply of plastic bags for waste disposal comes with it
Uses any kind of clumping clay litter
The carbon filter that comes with the box absorbs odors
BEST EASY CHEAP SELF CLEANING LITTER BOX
Litter Spinner Easy Cat
Build Material And How It's Used
This litter box doesn't use any kind of electricity to run. It works with your help. It's made of plastic, has a tumbler shape, stands on a plastic pedestal for rolling in place, and has a small entrance hole so not every cat will fit inside it so before buying you should make sure your cat is small enough for it.

Fast And Easy Litter Cleanup
To clean litter, you simply have to roll it a few times and it does the job for you. Dirty litter will be placed inside a box that you can pullout to dispose of dirty litter, place it back in and your cat is ready to use it again
Solutions To Litter Scattering
It prevents litter scatters on the floor because of its shape, the position of the entrance hole, and the way you clean this cheap self-cleaning litter box. It doesn't have a ramp for cleaning your cat's paws to completely make it litter scatter free but there are options to solve that like buying an anti-tracking mat to place in front of it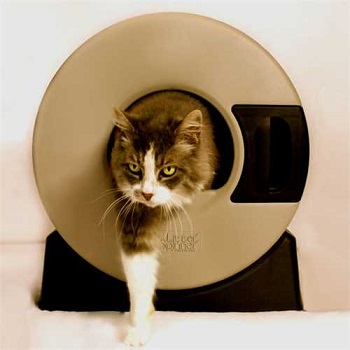 How It Handles Odors
It doesn't use any carbon filters to keep odors contained except for the fact that it's closed off and has a really small entrance hole. This might have to encourage you to clean the litter box more to help with odor control.
In Short:
Made entirely out of plastic
Rolls in place for cleaning
Has a small entrance hole that some cats might not be able to get through
Doesn't use any popular deodorizing accessories
Can be used with any clumping litter
How To Pick a cheap self-cleaning litter box
Although low in price, there's a lot you can get out of a cheap self-cleaning litter box. It's just a matter of picking through what's important and what will make a litter box well, They will vary in size, cleaning type, and price so it's important to recognize which ones will give you the most for the lowest price.
Price Range – A good and cheap box will usually be under 80 dollars. They will not use electricity to run and everything you need for them will be a carbon filter to collect odors and litter. IF you're looking to buy an automatic litter box, you're looking at a price range of 100 dollars and up.
Automatic Litter Boxes – The cheapest litter boxes will rarely be automatic or use sensors to self-clean. These are far more expensive alternatives like electric litter boxes but even in this category, you can find good and proper functioning ones for a smaller price than what you would usually get them for but in the end, the cheapest ones will always be mechanical.
Litter Cleaning Types – These cheap litter boxes will usually use sifting methods for cleaning and it's the best one that money can buy seeing as you save litter because clean litter doesn't get thrown out beforehand and sifting types of litter boxes usually use clumping clay litter which is a far cheaper alternative than most.
Added Expenses – In the end, a lot of what makes a cheap litter box is by how much added expenses you'll have in the long run. If you only have to buy litter to make it work properly and it's a basic, nonbranded and cheap kind this will do you good in the long run but you'll have to sacrifice some great functionalities like odor control so decide what you can work with and stick to that
To Sum Up
It's sometimes hard to be forced to buy a product but your budget is low. You want to give your pet the best things for him and for you so to do exactly that the best cheap self-cleaning litter box you can get is definitely the SpeedySift Cat Litter Box. Cleaning it is easy, buying it is cheap, it's made out of good and durable plastic materials, and additional expenses only include litter and buying stacked sifting plastic bag. If you have a little more money to spend and automatic cleaning boxes appeal to you read this post about automatic litter boxes for large cats and if you don't want to complicate and just want a simple litter box check this post about easy cleaning litter boxes out.