Is cleaning litter a job you just can't stand so you've found yourself wondering if easy clean litter boxes are something that exists?
You're in luck because yes, they do exist and not only that, there's a lot of different kinds to choose from like cheap ones, the ones for large cats and that's just the beginning. Continue reading and you are sure to find something that suits your taste and needs.
The Summary
Best 6 Easy Cleaning Litter Boxes
BEST OF BEST EASIEST LITTER BOX TO CLEAN
IRIS Large Hooded Litter Box
Cleaning Made Simple
The scoop that comes with the Iris easy clean hooded litter box is grided meaning that when you scoop out litter, it will sift through the clean litter which will, in turn, save you money on buying litter and make cleaning simple. Another thing that is sure to keep the space around the litter box clean is the walkout grid that cleans cats' paws.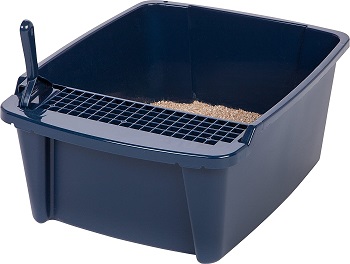 Hooded Top
The hood is tall and spacious which will not make your cat feel cramped inside and it is not completely seethrough so that you can have some supervision over your cat, but also, your cat will have the privacy that she or he needs.
Access Door
The easy cleaning litter box access point is through a door that is hinged so that your cat can walk in or walk out of this easy clean litter box with ease. Another thing that this door is made for is to better contain odors inside by closing off the access hole when your cat is going through the door.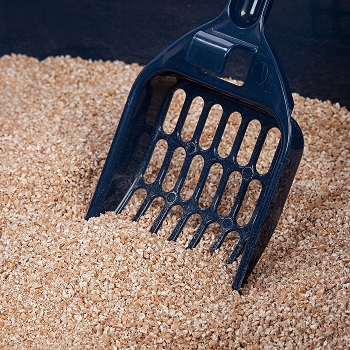 Coating Finish And Box Durability
The high polish finish of the bottom makes cleaning even easier. The box is made to be sturdy and stand in place with the bottom and its sturdy feet so there is little to no chance of the box being turned over which would create a mess
In Short:
Gridded scoop helps clean litter and leave clean litter inside
Closed top and hinged access door contain odors well
Bottom feet make it sturdy
The high polish finish makes cleaning even easier and it makes the bottom stain-free
BEST FOR MULTIPLE CATS EASY CLEANING LITTER BOX
Purina Tidy Cats Hooded Litter Box System
First Time Use Additions
With this litter box, you will also get a pack of disposable urine pads and 3.5 lbs of pellets that serve as litter. All the things that you get and have to buy once you've used it up will last you a month of use after you start using the litter box and its contents.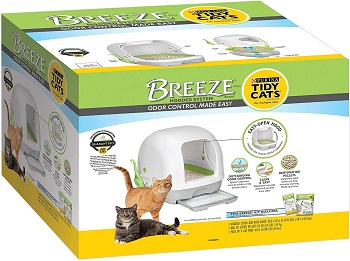 Recommended Litter Type
For future use, you should keep buying pellets since pellets let through urine and dehydrate solid urine. They are free of dust and stop tracking which means that they won't stick to your cat's paws so they won't leave litter around the house.
Urine Pads
The urine pads are placed below the pellets inside a retractable pan. They are disposable but can last you for about a week if one cat is using the litter box. If two cats are using it it will last for about 3 days. They keep your pets litter area dry at all times and provide good odor management.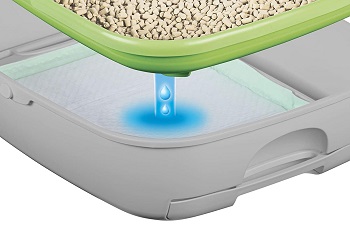 Hood Of The Box
The hood is made up of two parts. the one that stands still on the back and the one that is hinged to the sides of the first one so you can close off this easy cleaning litter box completely with the only access being the door or you can push it up for when you need the space for cleaning.
In Short:
The hooded top is hinged for easier access when cleaning
Comes with litter pellets and disposable urine pads
Works best with litter pellets
Can be used by 2 cats
BEST SMALL CAT EASY CLEAN CAT LITTER BOX
Smart Choice Pet Litter Spinner
The Way It Works
This litter box spins in place because it's shaped circularly and it's placed on a rolling pedestal. The reason for this is because this is how you clean the litter. You roll the circular shape a few times and that should be the first and biggest step of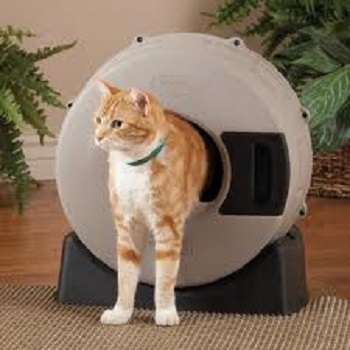 Holes Featured On It
In the middle of the circular shaped box is a hole. The hole could virtually fit any cat but it's so small that it's probably best if smaller cats use it. Another that you are able to find on it is the one for emptying out litter. It's plugged with rubber so that you can control when litter comes out.
Step By Step Cleaning Guide
Inside you'll find located a gridded plastic plate that separates the littering area from the cleaning area. When you roll it, the clean litter goes through the holes of the grid and comes back to its original place while the dirty litter goes through and is placed inside a container that you are then able to pull out and throw the litter away.

Litter Best Used With It
The sifting and cleaning process of this easy cleaning litter box will make it work if you use clumping clay litter. Otherwise, you'll still be left with some dirty litter inside.
In Short:
 Cleans litter by rolling the box
Best used with clumping clay litter
The box rolls in place
Cleans litter through sifting
Dirty litter is placed in a pullout container to throw out
BEST LARGE CAT EASY SCOOP LITTER BOX
Furrytail Glow House
Access Points
Your cat will be able to access it through two points. One, directly to the litter box that has a semi-transparent door to close it off to give your cat some privacy and two. By passing through the gridded flor that cleans your cat's paws and entering the littering space.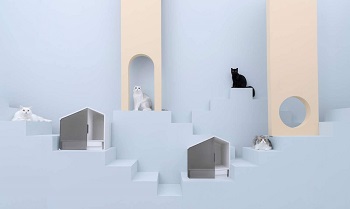 Door Access Suggestion
You should keep the doors closed at all times because this house is built in a way that when they're done littering, they go back through the gridded floor that cleans your cat's paws and keeps the place around it clean. The door can be used to open when you're cleaning the litter box.
Bottom Compartments
The whole thing seems to be a bit elevated from the ground. This is because below, there is a compartment for storing accessories, like a grided scoop and you can choose to pull out the litter box for easier cleaning.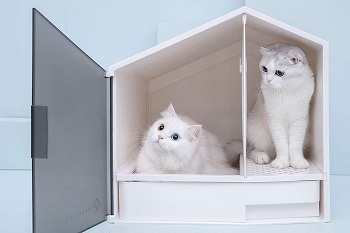 Handling Odor
This easy clean litter box should be cleaned regularly. It's made from ABS resin and although there is no chance of urine leaking, it stays inside and has no filters to ventilate the area so odor might be a problem if you're not a regular cleaner. But, you can get an air purifier for cat litter for it.
In Short:
Has 2 access points. one for cleaning and one for cat entry
Gridded floor cleans the cat's paws upon exiting
below the box is an accessories compartment
The litter tray can be pulled out for easier cleaning
Comes with a shovel for scooping
BEST SELF CLEANING EASY CLEAN CAT LITTER BOX
Omega Paw Roll 'n Clean Litter Box
Smart Additions
It comes with thoughtful additions like clips for locking in the top with the bottom that are chrome plated, a grated piece of plastic in front of the entrance to clean cats' paws after use, and a cool black color for the top. the color can also be blue if you choose to buy that model.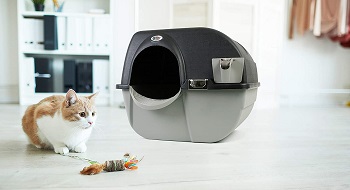 Entrance Hole Size
The entrance hole and the inside of this easy clean litter box are made so that they can fit all ages and sizes of cats. the litter box is made from even more durable plastic materials so that it doesn't break under the litter or your cat's weight pressure.
Process Of Cleaning
The way it cleans litter is by you simply rolling the hole box a certain amount and then get it back to a normal position. The way the inside of the box is designed will do everything else for you and then you simply have to pull out the litter container and throw out excess litter.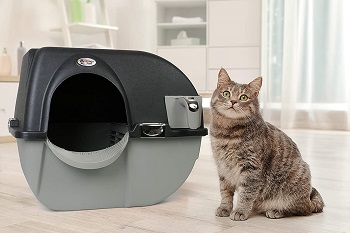 Three Space Construction
Inside the mechanical litter box are three chambers. The one where your cat litters, the one that's divided from that area with grided plastic plates so that clean litter can stay contained inside until you put the box in its original form, and on top of that gridded area is an empty space with only a litter container inside of it.
In Short:
 Cleans litter by rolling the whole construction
dirty litter is contained separately in a pullout container
uses grids to sift out clean litter from dirty litter
Chrome-plated clips keep the box from separating
BEST CHEAP EASIEST TO CLEAN LITTER BOX
Pet Mate Arm Sifting Litter Pan
3 Part Construction
This litter box is made up of 3 parts. 2 litter boxes and one sifting pan. The whole thing is made of durable plastic and it even has a reinforced bottom for even more sturdiness and durability.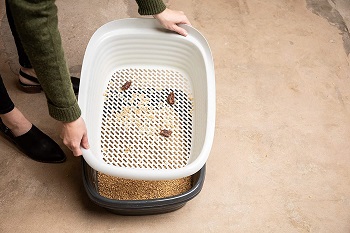 Reinforced Parts
The reinforced bottom is there to withstand any heavyweight that might come from the litter when cleaning the box. The litter you would use with this type of product can be any kind as long as it's able to sift through the hole of the sifting pan.
How To Clean
The cleaning process is easy. When you want to clean this easy cleaning litter box you lift the sifting pan with litter inside and wait for it to sift through in one of the pans. After, that you throw out litter that is left on the sifting pa, then place it into the other pan, pour litter over it, restack and place it back.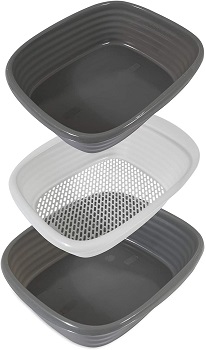 Product Coating
The whole product is coated with antibacterial protection so that it doesn't produce odor-causing bacteria. Another way you can prevent odor is by choosing good litter that contains odors well.
In Short:
Consists of 2 pans and a sifting pan
Cleans litter with your help by sifting it
Antibacterial coating prevents build up of bacteria stains and ultimately odor
Reinforced bottom prevents braking under litter weight
How To Pick An Easy Cleaning Litter Box
With different designs and innovative cleaning processes, cleaning litter has become a breeze and has made these products truly easy cleaning litter boxes. There are some things you should look out for because they can differ greatly in the way you clean the litter, litter that is best used with different types of product,s and much more.
No Scoop Method – For you to clean the litter box with is you should look out for litter boxes that come with a scoop. This is the most generic way that you can clean litter and there so many better and efficient ways to clean litter like sifting so if the litter box comes with a scoop, know that the only way of cleaning litter will be with it.
Choosing The Right Litter – The Right litter can also help a lot when cleaning litter. Clumping clay litter will usually be the most efficient way to clean out litter that involves sifting in some way but other litter types can dehydrate solid litter and not absorb liquid one so that it can then pass through to a different area that will handle that litter well.
Litter Containers – If a litter box has a pullout litter container you can sure that cleaning out litter will be as easy as pulling the container out, throwing the litter, and placing the container back to its original place. The rest of the litterboxes design will make sure that litter is contained there without you having to put it there with a scoop or hands
Odor Prevention – Cleaning doesn't have to be a problem but one thing that can pose a problem after a while is the odors that might come from the litter or the box itself. These litter boxes should be coated with something that prevents bacteria from forming and that it doesn't stain because, in the long run, you won't be able to get rid of that type of odor. As for odor coming from the litter, you can minimize the smell with carbon filters or by choosing a different type of litter, or even by having a closed access point so the odor stays in the box.
To Sum Up
When products are made to fit into the same category there are always the ones that come out on top as the best. That doesn't mean that others aren't great but some are just better. The same goes for easy cleaning litter boxes and the one that comes on top is definitely the Purina Tidy Cats Hooded Litter Box System. Now if easy cleaning isn't your thing and you completely want to be left out of that equation read this post about self washing litter boxes and if with this article, you've found sifting and appealing method of cleaning read the post about self sifting litter boxes.