Are you tired of cleaning your cat litter box and want to buy a self-washing litter box?
Luckily for you, tons of litter boxes fit this description and we've reviewed the best ones you can get. There's a lot to choose from and each one does something best so we've put them in categories like automatic, automatic for multiple cats, and more.
The Summary
Best 5 Self-washing Litter Boxes
BEST OF BEST FLUSHING LITTER BOX
PetSafe Ultra Automatic Litter Box
Looks And Setup
The self-washing litter box comes in 2 colors and with a hooded top to give your cat privacy if that's what you're looking for. It's easy to set up and after that, you simply let it be and this self sifting litter box will do its' job for weeks before you have to do anything about it.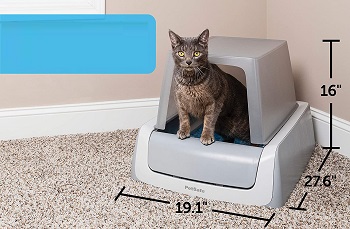 Crystal Litter
What makes this electric cat litter box so great is not so much the litter box itself but the crystal litter. It comes in a beautiful color but it's not only pretty. It's free of 99% of dust and it controls odor very well as well by absorbing liquid secretions and by dehydrating solid secretions.
Health And Safety Additions
It has a health tracker that follows how many times your cat has used the litter box. This might help you predict some health issues that your cat may have. It covers litter and keeps the box clean by sifting the litter every once in a while with a rake. It has a sensor that stops the rake if your cat's inside.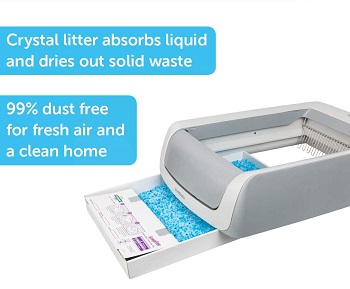 Additional Costs Over Time
When you buy this automatic sifting litter box you'll get a couple of disposable trays that also contains the crystal litter, but these trays have to be removed after prolonged use which means you'll have to buy them more often. A better option would be to buy a reusable one and then just simply buy the crystal litter when you need it.
In Short:
Rae automatically sifts the litter
Health tracker follows the litter box usage by your cat
Sifts excess litter with a rake
The built-in sensor stops rake when it's in use
comes with disposable trays with crystal litter included
BEST AUTO FOR MULTIPLE CATS FLUSHING LITTER BOX
LitterMaid Multi-Cat Self-Cleaning Litter Box
Large Cat Use
This litter box is designed in a way that multiple cats can use it. It supports weight over 15 lbs and seeing as an average house cat weighs 10 lbs, it might as well be a litter box for multiple large cats.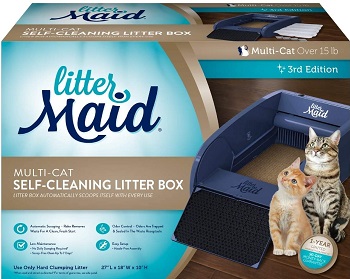 Odor Management
The way the automatic litter boox for multiple cats controls odor is not through the litter itself but also by containing litter in disposable sealed waste collecting area that also has carbon filters for even better odor control. The excess litter will be scooped up by a rake so you don't have to worry about doing it yourself but you'll get a scoop for cleaning nonetheless.
Additions For Clean Space
It's made with high walls so that the litter doesn't shatter all over the floor and the ramp to access this self-washing litter box is made in a way that it cleans the cats' paws when they are done using the litter box. The addition of handles on the side of the box makes clean up simple and easy
Using The Litter Box
Each time your cat uses the litter box, the rake will scoop out excess litter. This option can be turned off so that you decide when the litter box will clean itself. This is also good for allowing your cat to get familiar with the litter box.It also has a sensor that will stop the rake from running when cats are inside.
In Short:
Comes with a scoop, litter containers, carbon filters, and paw clean ramp
Rake can be set to work automatically or manually
High wall construction prevents litter from scattering
Made to be used by multiple cats over 15 lbs
BEST AUTO FOR LARGE CATS FLUSHING CAT BOX
Natures Miracle Self Cleaning Litter Box
Additional Costs
Additional costs that come with this self-washing litter box are of course litter, litter containers, and their filters. When you buy the product, you will get 4 containers and their carbon filters, but after you've been using it a while, you will have to buy more if you want the best performance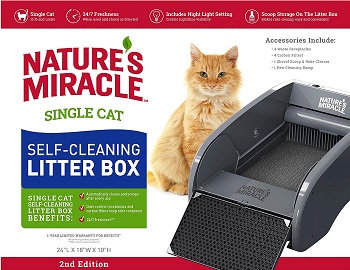 Litter Box Built
This automatic litter box for large cats is simple to set up and use. The high walls surrounding it will prevent litter from scattering all over your floor and the ramp from which the cat can access it is made to clean the cats' paws after using it.
Useful Features
The motion sensor activates the automatic rake so that it's turned on every time your cat is finished using the litter box. The rake can easily be removed when you have to clean it. Another useful feature is a night light that will give your cat some visibility during night time.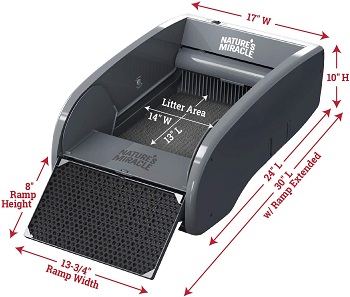 Kitten Use Warning
If you have a kitten that is less than 6 months old or weighs less than 5 lbs, this litter box is not recommended for them. What you would do in this situation is turn it off, use it as a mechanical litter box until your cat is old enough or weighs enough.
In Short:
Made to be used by cats over 5 lbs and under 15 lbs
Comes with 4 litter containers and filters
Has a light for visibility during night
Automatic rake can be removed for cleaning
A sensor turns on the rake after every use
BEST SELF-WASHING FLUSHING CAT BOX
CatGenie Self-Washing Self-Flushing Cat Box
Setting It Up
This self-washing litter box is literally a toilet for cats. Setting it up might seem like a hard task, but you get everything you need to do so. You will have to connect this litter box to a water drain pipe with a T-adaptor so that it shares water with a washing machine or you can connect it to a toilet with drain hooks.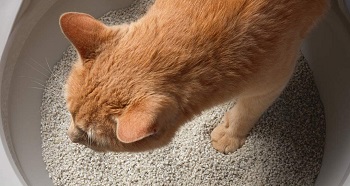 Solid Litter Containment
The Catgenie self-washing cat litter box automatically scoops up any solid litter and turns them into a liquid that then goes down the drain or toilet. You won't have to worry about replacing litter because the litter is washable and reusable. The machine does this all on its own.
Washing The Litter Granules
Using water and a SaniSolution that is safe for cats, the cat genie self-washing cat litter box washes and scrubs the litter granules. After that, warm air dries them so that they can be used again. This ensures that the granules air odor-free and reusable.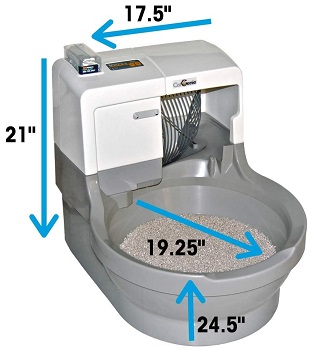 What's In The Box
The package for this easy cleaning litter box includes one box of litter granules and a SaniSolution liquid. The only money you'll have to be spending again for consistent quality functioning is the SaniSolution For cleaning the litter granules.
In Short:
Connects to and uses water from pipe drain or toiler
Provides everything you need for set up
Litter granules are reusable and washable
The litter box cleans itself
SaniSolution and water clean the granules
BEST CHEAP SELF WASHING CAT LITTER BOX
Omega Paw Self-Cleaning Litter Box
How It Looks
This litter box has a closed-off top, a container for litter, litter scoop and it has clips to hold the top of the box well which can be removed as well. It takes up more space than others because it's built tall and large altogether.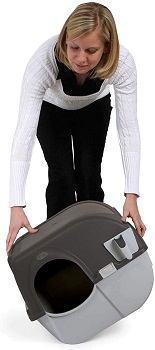 Different Approach To Self Cleaning
When it comes to cleaning, this self-washing cat litter box is a bit different. The way it's cleaned is by rolling it and putting it back to its original position. after that, you take out the box where the litter is contained and clean it out.
What Litter To Use
For best results when using the self-washing litter box, you should use clumping cat litter meaning that it doesn't really absorb liquids but it rather clumps the affected litter to form a solid mass.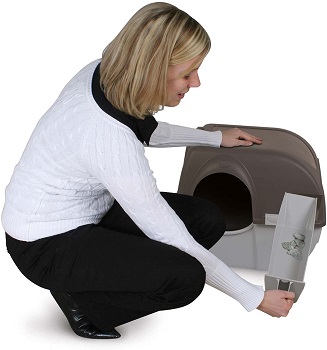 How It Functions
With this cheap self-cleaning box, the litter isn't contained in a special area for it. it's contained in the littering area from which point it goes into the scoop. The clean litter passes two times through the grids. Once when you're separating the clean litter from the dirty one, and the second time when it goes back to the littering area clean. If you're worried you're going to use too much litter, there are mars on how much to put in.
In Short:
Self cleans with your help
Has grids that, when it's rolled, contain clean litter
Recommended litter to use with it is clumping litter
Comes with a scoop, litter container, grid and littering box, and top
How To Pick A Self Washing Cat Litter Box
There's something about new technologies that sometimes make us worried if they're worth the money spent and if they're safe. self-washing litter boxes can be a great asset but still, there's so much where something could go wrong because they differ largely in build, functionality, the way they dispose of litter and more so choosing the best one might not always be an easy task.
Motion Sensor Activation – Since they're automatic, they should have a motion sensor to start the cycle of cleaning. It's good to have one because if you're busy, you can't always be there to turn it on when you're cat is done using it. The cleaning cycles prevent odors from spreading so if they don't have a sensor, maybe you're better off with a different one
Tall Wall Build – Because most of the time, you're not cleaning out the litter box, there might come a time where there's mess around the litter box. Tall walls or enclosed litter boxes prevent that so if you're looking to clean even less, opt for a tall wall litter box. But, owning a robot vacuum for cat litter is also a good solution.
Additional Costs – With most of these, you'll have additional cost every once in a while, depending on which type of litter box you choose. These may include litter, litter containers, filters for odor control, and even trays. With some, you can't avoid most of these extra costs but with others, you just may.
Litter Quality – All of these work well, but the key to a good litter box is not only the box but the litter as well. You should be looking for ones that have high absorbing power, are dust-free and that may last you a long time. Litter boxes are designed to keep odors to a minimum, but it will work best if you have good litter
To Sum Up
With self washing cat litter boxes, a lot can go wrong. The promised odor control that you get with these can depend on a lot of things and of course, there are additional costs that you'll have if you decide to go automatic so the one that we'd recommend is definitely the PetSafe Ultra Automatic Litter Box. You can easily avoid more than just one additional cost by getting a reusable tray for litter and the quality of the litter that you would use with this box is of great quality and is long-lasting. If self-cleaning litter boxes don't provide enough odor control for you the consider reading this post about air purifiers for cat litter and if size is the problem so you're looking for a bigger litter box read this post about extra large self cleaning litter boxes.