Are you tired of all the automatic litter boxes being sold today and want a simple but great mechanical litter box?
You're in for a treat because we've gathered the best one that fit into categories like the ones for multiple cats, large cats, self sifting, and more. All you have to do is c0ntinue reading this article and decide when something appeals to you.
The Summary
Best 6 Mechanical Cat Litter Boxes
BEST OF BEST MECHANICAL LITTER BOX
LitterMaid Multi-Cat Self-Cleaning Litter Box
Self-Cleaning But Mechanical Nonetheless
This product is a self-cleaning litter box. The reason why it's mechanical is that you do have to clean every once in a while. This is made possible and simple because of the handles on the outside of the box that lift easily and the rake, that you're supposed to clean comes off to be cleaned with ease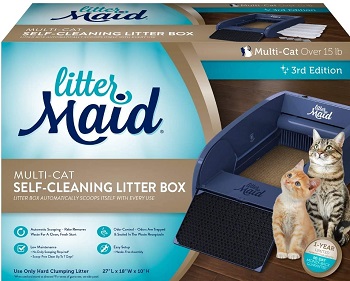 Litter Cleaning Technique
It gathers litter with a rake that scoops it and places it inside a waste container that can also contain a carbon filter for minimizing odors. Automatic cleaning like this is made possible because of the motion sensor located on the inside of the box that starts the cleaning process when motion is detected
Supplies That Help With Odor Control
The waste container and carbon filters that aid in containing odors coming from the dirty litter are disposable and you'll get 4 of each with this mechanical litter box. Another thing that will help with cleaning the litterbox itself is the provided scoop that can clean the rake and if need be, scoop out dirty litter.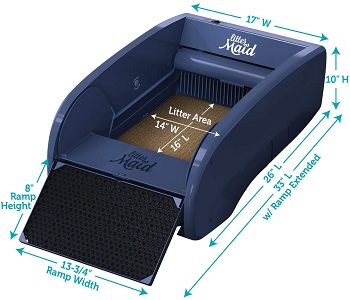 Clean Inside And Out
It will allow you to not scoop out the dirty litter and clean the whole box for up to 7 days and give you a clean space not only inside the litter box, but also outside. This is made possible with the tall wall build and an access ramp that cleans the cat's paws when exiting the litter box through it.
In Short:
Clean litter automatically after every use
The whole box should be cleaned every 7 days
Automatic rake can be taken off to clean with a provided scoop
Stores litter inside a disposable container with a carbon filter
Gets you 4 disposable containers and carbon filters for odor elimination
BEST EASY CLEANING MECHANICAL CAT LITTER BOX
Purina Tidy Cats Litter Box System
Design That Provides Odor Control
To give you good odor control, this mechanical litter box is designed to separate liquids and solids if used with the right additional supplies. The bottom tray is reserved for urine pads that go through the litter meaning they don't get absorbed and end up there.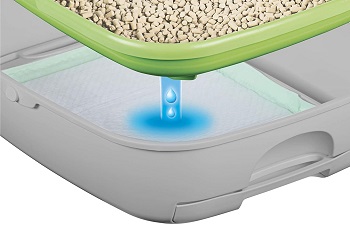 How You Clean It
It will be required from you to clean solid litter with a scoop but it is made to be easy if you use litter pellets since with them, the solids stay on top and you don't have to dig for them. The solids also get dehydrated with it, it is free of dust and doesn't stick to your cat's paws to prevent tracking.
Use Of Urine Pads
The urine pads will absorb urine that gets on them and prevent ammonia odor from spreading. You will have to change them weekly if you have one cat in your household. They are located below the litter and its tray in a drawer that you can pull out to change them when needed. You can always add an air purifier for cat litter if you want.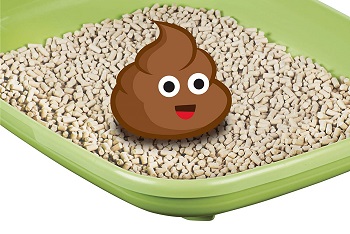 Included Supplies Needed For Functioning
If you decide to buy it, You will get supplies that will last a month before having to buy new supplies. These include a bag of 3.5 lbs litter pellets and a pack of urine pads that contains 4 of them inside. Other supplies that are reusable include a provided scoop that can be placed on the tall sides of this litter box
In Short:
The box comes with a bag of litter pellets and a pack of urine pads
Litter pellets dehydrate solid litter and don't absorb urine
Urine pads get rid of ammonia odors
Provided scoop for cleaning solids
BEST CHEAP MECHANICAL CAT LITTER BOX
Smart Cat Box Value Pack
Handling Liquids And Solids
You can choose to use urine pads with this mechanical litter box but that won't be necessary since the bottom drawer where the urine goes to is deep enough to hold liquids without them spilling over and onto the floor. All you have to do when it fills is empty it, clean it, and place it back.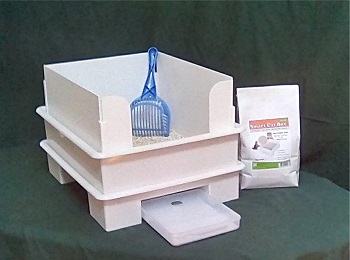 No Additive Litter
The litter that you get with the box that works best with it is safflower seed litter. It acts similarly to litter pellets. It doesn't absorb urine, it lets it through to drop into the urine drawer, its almost 100% dust free and doesn't contain additives like sodium bentonite.
 At Home Cat Health Tracker
This litter box is designed with your cat's health in mind. You can easily check for concerning differences in your cat's urine. You can even buy a home urinalysis test that will test for three key parameters. this is a lot cheaper than having to go to the vet every time if you think something's wrong.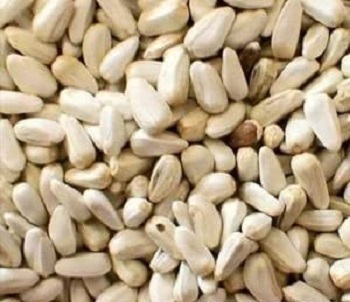 An Abundance Of Extra Supplies
There's a lot of things that come with this box and they are as follows: a set of 5-in wall extensions to prevent litter scatters, a scoop, 2 bags of 4 lbs safflower seed litter, and an anti-tracking mat. It is more than enough for first-time use and for a clean space inside and around the litter box so you don't need a robot vacuum for cat litter.
In Short:
Comes with 2 bags of safflower seed litter, scoop, wall extensions, and anti-tracking mat
At-home tests can be bought to do a urinalysis to track your cat's health
Doesn't require urine pads to work because the tray is deep enough
Safflower seeds litter doesn't contain additives like sodium bentonite
BEST LARGE CAT SELF SIFTING MECHANICAL LITTER BOX
SpeedySift Cat Litter Box
Sifting Plastic Bags
The way that this litter box cleans litter is through sifting and it uses plastic bags to do that. The plastic bags have holes on them that, when the bag is lifted, sifts clean litter on to the next plastic bag seeing as they're stacked on each other and that's how a pack of these bags is placed in the designated place for it.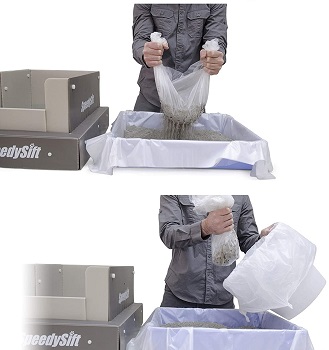 Scoop Free Litter Disposal
After the litter is sifted using the bag, dirty litter and its clumps get trapped inside the bag to dispose of them. IN a pack of plastic bags, you get 14 of them stacked on each other and one without holes to act as protection of the plastic tray where litter is placed
Layered Plastic Build
This mechanical litter box is made entirely out of plastic. It might seem like it's cardboard but it's actually layered polypropene plastic that is lightweight and the layering makes it extremely durable.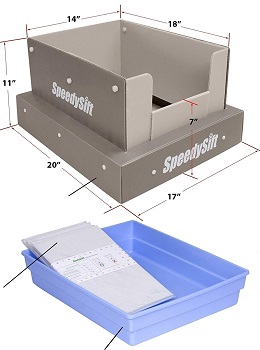 Adjustable Wall Sides
The lid of this self sfiting litter box has a wide area to fit the tray size and slightly narrowed high sides. They might come in handy if your cat likes to dig through or burrow litter that will make it scatter. You can even adjust the height and even if it ever gets damaged, you can replace just the lid.
In Short:
Comes with a pack of 14 disposable plastic bags
Sifts litter with plastic bags that have holes
The lid is made out of layered polypropene plastic making it durable
High wall sides are adjustable in height and can be replaced
BEST LARGE CAT SIFTING MECHANICAL LITTER BOX
Omega Paw EL-RA20-1 Roll N Clean
Entrance Hole Size And Use
The litter box for has a closed top and one entrance hole. The entrance hole is large enough to make a self-cleaning litter box for large cats. Right in front of the entrance hole, you'll find located a plastic piece that is made to clean your cat's paws of any excess litter.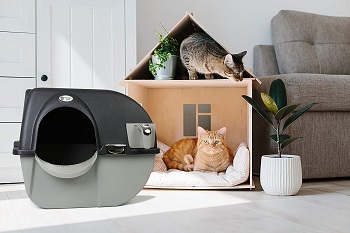 Top And Bottom Connector
The thing that holds the top and bottom part together is the chrome-plated clips. The crevices between the two parts are better sealed with them and prevent litter from going inside them that would create unpleasant smells in the long run if you don't clean the whole box that often.
Bottom Areas
The bottom part consists of a littering space and to the side of it is a piece of plastic with holes that is used to allow litter to sift through into the other area when you roll this mechanical litter box on its top side to clean it. When you roll it back, the clean litter will come back to the littering space.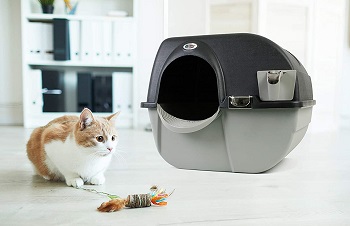 Contents Of The Top
The top area only has a container that has a handle on the outside for you to pull it out when needed. This is the place where dirty litter is contained after you finish the cleaning process by rolling the box. You simply pull it out, throw out the dirty litter and place it back inside.
In Short:
Has a top and bottom part that are connected with chrome-plated clips
The bottom part consists of littering area and space for sifting litter
The top part has a pullout waste container
Sift litter with you rolling the box on its top side
Has a large entrance hole that fits cat's of most sizes
BEST MULTIPLE CAT MECHANICAL LITTER BOX
PetSafe Deluxe Cat Litter Box
PetSafe Crystal Litter
What really sells this litter box for multiple cats is the PetSafe brand litter crystals. They absorb cat urine and dehydrate solid litter. They reduce odor 5x better than regular clumping and clay litter. On the bottom, you'll find holes that will promote airflow to make the crystal last longer. It will last about a month in a household with one cat.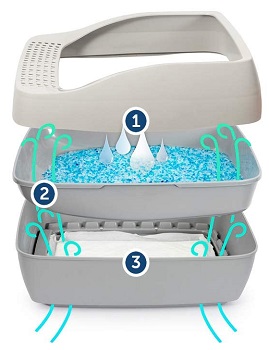 Handling Urine With Litter And Pads
If you choose to use another type of litter, make sure that it's one that can allow for urine to flow below and into the section where a urine pad is located. As for the crystals, they will absorb most if not all urine, the rest will drip onto the urine pad. It will also give you some odor elimination
Top Part Build And Uses
We've covered already two parts that this box consists of, the last one is the top part that acts as high walls to prevent litter scatter on the floor. Additionally, it has anti-tracking holes where your cat accesses the litter box that cleans your cat's paws from excess litter.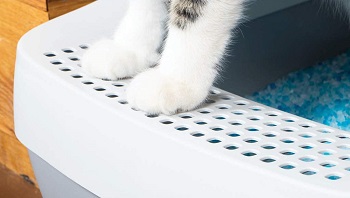 Supplies And Their Replacements
The mechanical box will come with a bag of 4.5 lbs crystal litter that will last about a month for one cat, a scoop for cleaning out the solid litter, and a hook to store it, and one urine pad. If you like the crystal litter and the urine pads, both will cost you around $30 dollars and will last about 2 months for one cat before having to buy more.
In Short:
Litter crystals that come with the box dehydrate solids
Litter crystals absorb most if not all liquids
The rest of the liquids flows through and on to the urine pad in a drawer below
Top part is made as protection from litter scatter and has holes in ramp to clean the cat's paws
Additionally, it comes with a scoop and urine pad
How To Pick A Mechanical Litter Box
Since they are mechanical litter boxes, they will require you to be active when it comes to cleaning them but there are some measures you can take to make the job simpler, shorter, and with minimum odors. These things definitely include your choice of litter And if you're able to use supplies like litter pads but also some other things.
Bottom Urine Drawer – This drawer is a thing you will more often than not see as parts of these litter boxes. They are very useful because litter doesn't soak in excess urine, it makes the litter last longer and a lot of them will be made in a way to get rid of ammonia odors coming from the urine.
Special Litter Types – The litter you choose will play a large role in how little odors are coming from the litter box. If the litter you're using dehydrates solids and lets through urine, the box will have to have a urine pad drawer. Choosing these types of litter instead of clumping litter will separate the job of cleaning solids and liquids and that will in turn reduce odors coming from it.
Anti Litter Scatter Accessories – Litter scatter will be a problem no matter what type of litter box you're using but if the litter box has high walls or a closed-off top this will help a lot with this. Consider looking into anti-tracking holes that will clean your cat's paws upon exiting the litter box that some of these boxes have built-in. Last but not least, litter type can help with this as well like litter pellets.
Sifting VS Scooping – mechanical litter boxes will clean in either of these two forms: by sifting or by scooping. Sifting litter will be easier since it's a hands-free job and it allows you to use any clumping clay litter and scooping is great if you have special types of litter that do better with reducing odors.
To Sum Up
Mechanical Litter boxes have a lot to offer even with automatic litter boxes taking the market by storm. They can provide good enough odor elimination and really don't take much to clean because of supplies that are available for use with them like urine pads and of course good quality litter. They are way cheaper than automatic litter boxes and that may be appealing to some so the one that will do best is definitely the Purina Tidy Cats Litter Box System. If you were looking for a mehcanical litter box just because they're cheaper you don't have to opt for those, there are cheap automatic litter boxes on the market so be sure to check that post out and if you just want something that's easy to clean read this post about easy cleaning litter boxes.